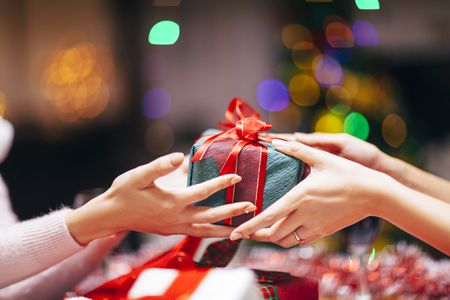 Christmas is just weeks away and we are here to help you as you get everything ready to celebrate the festive holidays in style. We have gift ideas that will delight the whole family this Christmas, including special gifts for the ladies, gents and kids you love and stocking fillers for everyone.
Christmas Gifts For The Lady Who Loves Color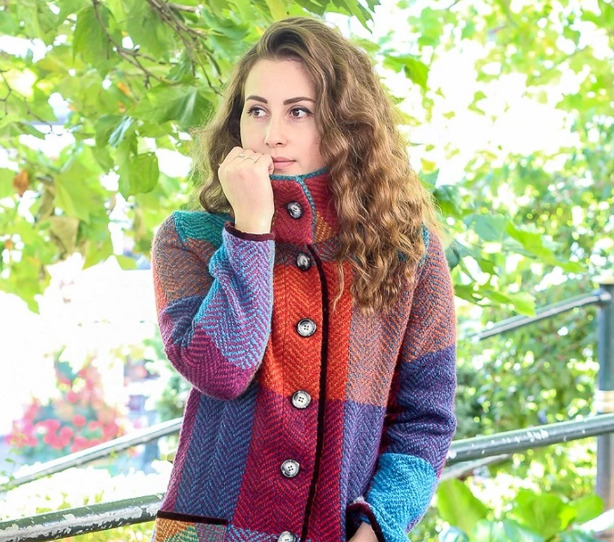 Add a pop of color to someone's Christmas this year with one of our beautifully bright gift options. We have something to suit everyone's taste, for the ladies in your life who love to wear warming pinks and oranges and the women who shine in festive reds and calming blues.
Give the gift of color this Christmas with a unique gift from Weavers of Ireland. An Emma Tweed Herringbone Coat in Donegal Red is sure to be a well-received gift thanks to its cheerful interwoven rainbow tones and red velvet trim. Another colorful option is the Sue Cape which comes in a stunning combination of orange, teal and brown. Both are flattering and practical at the same time.
The colder seasons are the perfect time to gift a stylish Newsboy Hat in popping pinks and purples, a wool Country Hat, or Ladies Peaky Blinders Hat. The wonderfully woven red, blues and oranges of these head-turning hats have a subtle rainbow effect handwoven with alpaca and natural wools.
For colorful accessories look no further than our tweed and leather handbags. The Fiona Bag comes in a voice for eye-catching rust or dark purple tweed and has a leather shoulder strap, perfect for wearing on the shoulder or cross-body. For back-pack lovers, we have autumn plaid or pink tweed and leather options handcrafted by Mucros Weavers too.
Christmas Gifts For Your Chic Sister and Mother
Do you have a sister or mother who always looks super chic no matter what they wear? We have the perfect gift inspiration for them. In our Christmas Gift Store, you will find some of the most stylish fashion pieces in Ireland. Unique, handmade pieces that they will treasure forever.
No wardrobe is complete without an elegant Celtic Knot Ruana wrap made from luxurious chenille and pure new wool. The striking Celtic pattern of this wrap symbolises protection and eternity. This chicest of ladies will fall in love with a Mucros Tweed Poncho, a sophisticated outerwear garment that will compliment any outfit. This luxury item is made from 100% tweed and lined with the softest satin for ultimate comfort.
For the style queen who loves tailored fashion, take a look at the Pamela Tweed coat and the Emer Tweed blazers in berry, teal or check. These pieces, from Jack Murphy Weavers, are inspired by period drama Poldark and create a beautifully tailored silhouette.
Christmas Gifts For The Sharp Dressing Gent
There's nothing quite as charming and smart as a man's tweed waistcoat. Classically tailored waistcoats suit men of every age and add a sharpness to any outfit. Dressed with jeans and a shirt for informal socialising or dressed up with a shirt tie and jacket – ready to impress – it's a look that all men should try. Choose from a range of flattering colours including navy blue and forest green or a classic tweed with rust check or flecks of red. Take this look a step further and gift your husband, father, or son with a classic fit Irish Tweed jacket too. The type of sophisticated jacket that lends itself to every occasion.
No smart dresser's wardrobe can do without a wide-brimmed hat or vintage flat cap. These Irish hats are timeless and loved the world over for their dapper style. Our Men's Boston Jack Wool Felt Hat is a gift that is sure to delight any sharp-dressing gent. Whilst the classic tweed flat cap is the gift they have secretly been waiting for.
Christmas Gifts For Your Favourite Brother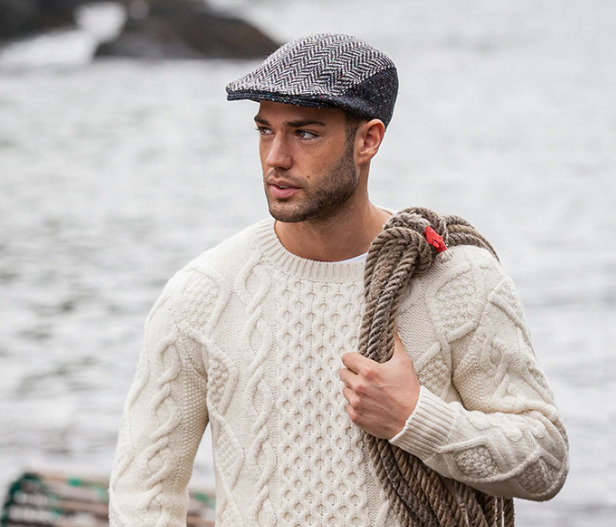 Not sure what to buy your brother for Christmas? We know for a fact that you can't go wrong with a quality made jumper. Even the brother who has everything needs a well-made jumper to see him through the cooler months. Buy him his new favourite jumper by choosing from our range of handmade Irish sweaters and cardigans. Your brother will love his new Aran cable fisherman sweater from our Christmas store or the ever-popular crew neck lambswool sweater. Both of these are made right here in Ireland with the highest quality wool.
Alternatively, choose a lighter option by choosing a traditional Irish Collarless Grandfather Shirt. These timeless shirts are durable and soft and made from brushed cotton. Popular with men and women alike, these comfortable shirts come in a range of colours, from crisp white to motor black along with a selection of blue and pinstripe options too.
Christmas Gifts For Enjoying The Great Outdoors
Alfred Wainwright once wrote, 'There is no such thing as bad weather, only unsuitable clothing'. We wholeheartedly agree. Especially since we're all making the most of the great outdoors this year more than ever before, which is why we are proud of our waxed and waterproof coat ranges.
For the women and the men in your life who love to get out no matter what the weather, look no further than our waxed coats, the ideal gift for anyone in need of a rainproof jacket. These coats and jackets are warm, waterproof and stylish to boot.
Keep your loved ones snug while they're out walking. A hand made wool poncho is a great gift for the active ladies in your family. There are a range of options available including hooded and cowl neck varieties, woven and knitted finishes and handcrafted details that add to the uniqueness of each look.
Gents who prefer a chunky jumper to help them fend off the cold will happily receive a snug tweed bodywarmer for when they are out exploring in the city or country. Available in navy or light grey, these gilet style outerwear options add a touch of style to any outfit.
Christmas Gifts For The Little People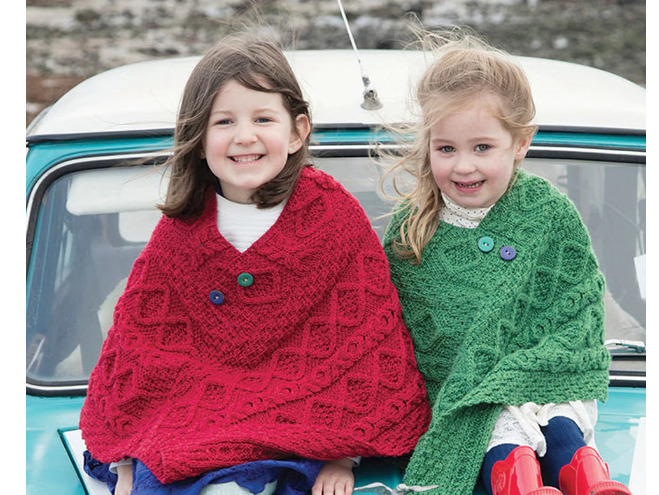 We all love buying for the children in the family at Christmas. Buying something special to delight the little people we love after Santa has visited is one of the best parts of the holidays.
Introduce your nieces and nephews to their first Aran Wool Teddy. This cute little companion is just 10.5 inches tall and has his (or her) very own hand-knitted moss green Aran sweater to stay warm. Teddy's friend the Aran Wool Sheep Teddy is a cuddly sheep that is sure to delight the little ones and give plenty of cuddles.
Are you the relative who loves to dress up the children in the family so they look even cuter than they normally do? Then you will love Baby Shepley Aran headband and hat with ears. You will also love the Baby Shepley cardigan and crew jumper. Both are Aran offerings that feature sweet little sheep heads.
For the little girl who loves adventures and fairy tales, we have the ideal gifts. Give them their very own little red hooded cape (available for ages 1 to 6 years old) or a colourful Aran poncho that will keep the cold away whilst they explore fairy trails and muddy puddles. Made of pure Merino wool, these children's ponchos are wear and tear resistant.
Christmas Gifts For The Home
Christmas is the perfect time to give your home a little refresh to make it extra inviting for guests. Add a welcoming splash of warmth with a Wicklow Tartan lambswool throw in festive reds and greens or an orange mohair throw that everyone will love to snuggle into. For added comfort, opt for some lambswool cushions for your sofas and beds.
To show off your love of your Irish heritage, kit your home out with a Merino Shamrock throw or a classic Aran patterned throw that will add luxury and texture to your family room and bedrooms.
If you are buying a homeware gift for a member of your family then you can't go wrong with a multi-coloured throw inspired by traditional Irish cottage life. These thoughtful keepsakes are popular with homeowners the world over.
Stocking Fillers For All The Family
We all like to get those extra little gifts for our loved ones at Christmas. Stocking fillers are fun, affordable presents that keep Christmas day full of squeals of excitement, warm hugs and sometimes even big laughs.
When it comes to choosing stocking fillers for the family we always advise looking for gifts that are practical, comfortable or that add color to the recipient's lives. That's why our Christmas Gift Store has practical but stylish gloves and scarves, cosy slippers and socks and colorful purses and accessories for you to choose from.
Stocking filler choices for him include dapper bow ties in striking and colorful tweeds. For the whiskey fan, there is even a green checked tweed hip flask that they will love!
Stocking fillers for her include beautiful fashionable ladies tweed gloves and our very popular Mucros Tweed purses in yellow and pinks. Perhaps they would like a wash bag in Kerry Tweed for their travel adventure or a Weavers of Ireland notebook for planning her day, starting a novel!
Whoever you are buying for this Christmas, buy with love and a little forethought and you can't go wrong. If we can help you with your search for the ideal gift, let our online agents know and we would be more than happy to assist.