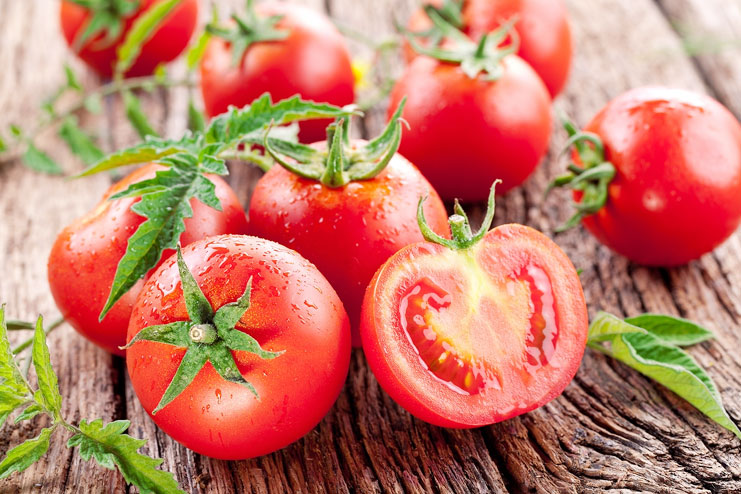 Tomatoes are also mentioned as "functional food," – which means that it provides more than basic nutrition. The primary reason for the benefits of tomato for skin, hair, and health is due to the presence of lycopene, which is a potent antioxidant, which is beneficial for health in varied ways. Tomatoes are available in the market in numerous varieties, namely plum tomatoes, cherry tomatoes, beefsteak tomatoes, and tomberries. Tomatoes are considered an essential ingredient in various beauty treatments. Yes, tomatoes are popularly used for skincare routines. Here is a list of benefits of tomato for the skincare.
Which Nutrients is Present in Tomato?
Tomatoes are a rich source of vitamin C and various other antioxidants. Tomatoes are loaded with other nutrients, including beta carotene, potassium, magnesium, lycopene, lutein, vitamin A, and vitamin B-1. The presence of these nutrients enhances the benefits of tomato for skin via topical application, as well as consumption.
How is Tomato Good for Skin?
Tomato should be a part of your regular skincare routine, including cleansing, toning, and moisturizing, in order to get benefits of tomato for the skincare. Some of the scientific studies present the evidence that ingredients resent in tomato care good for exfoliation, moisturizing, fighting cellular damage, and reducing the risk of sunburn.
Exfoliation 
Exfoliation refers to the procedure of removing dead skin cells to enhance the appearance as well as the health of the skin. Certain studies present the conclusion that pectin and flavonoids present in tomatoes are rich in antioxidant and cleansing ingredients that can aid in completing the skin texture. 
Moisturizing Effect
According to certain studies, a decreased level of potassium is responsible for dry skin, and tomatoes are rich in potassium. Hence, the application of tomatoes to the skin is good for addressing the issue of dry skin. 
Fight Cellular Damage
Free radicals contribute to skin damage. The presence of antioxidants like lycopene and vitamin C is beneficial for fighting free radicals. Hence, they are suitable for the skin to fight cellular damage. It is one of the best benefits of tomato for the skin.
Don't wait anymore and include tomato in your regular skincare routine to get healthy and glowing skin.