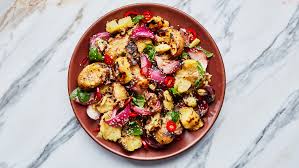 Potato is rightfully called the king of vegetables. These starchy beauties can be used in any dish and adapt to flavors well, can be used as a side dish or can be one of the main dishes. Here we have best and easy potato recipes to get you started.
Potato cakes and smoked salmon
ingredients
1/4 cup + 1 Tbsp. thin-sliced green onions
1/4 tbsp. kosher salt
shredded frozen potatoes (1 pound)
eggs, lightly beaten (2 )
all-purpose flour (1 1/2 tablespoons)
2 tbsp. canola oil,
cold-smoked salmon (3 ounces)
3 tbsp. light sour cream (optional)
 Directions:
Combine three tablespoons green onions, potatoes, salt, and eggs in a large bowl. Bind using flour.
Heat oil in a large nonstick pan. Make small balls of the mixture. Add to pan; slightly flattened. 
Repeat this procedure to get at least 8 cakes. Cook until cakes turn brown and crisp from each side. Place cakes on a plate. 
Place salmon and sour cream on every cake and the remaining sliced green onion.
Grilled potato salad
 ingredients
Yukon Gold potatoes, cut in half (6)
olive oil, 1/4 cup 
Dijon mustard (1 teaspoon)
red wine vinegar (2 tbsp)
 chopped fresh oregano leaves(2 tbsp)
coarsely chopped capers(1 tbsp)
red chilly flakes (1/2 teaspoon )
minced oil-packed anchovies(2 teaspoons)
 oil-cured olives(1/2 cup)
cherry tomatoes( 1 1/2 cups) halved
parsley leaves (1/2 cup)
 Directions:
· Heat grill to (350° to 450°) with a little area left unheated.
· Toss potatoes in oil; grill until marks appear, for about 8 minutes.
· Turn on the other side and cook until tender, 10 minutes with indirect heat.
· Let them cool and cut into chunks.
· Whisk remaining oil, with mustard, capers, chili flakes, vinegar, oregano, and anchovies in a large bowl.
· Mix all the remaining ingredients gently and cooked potato with oil mixture.
Read More:- Try these easy Super Bowl Recipes cooked in a crockpot.