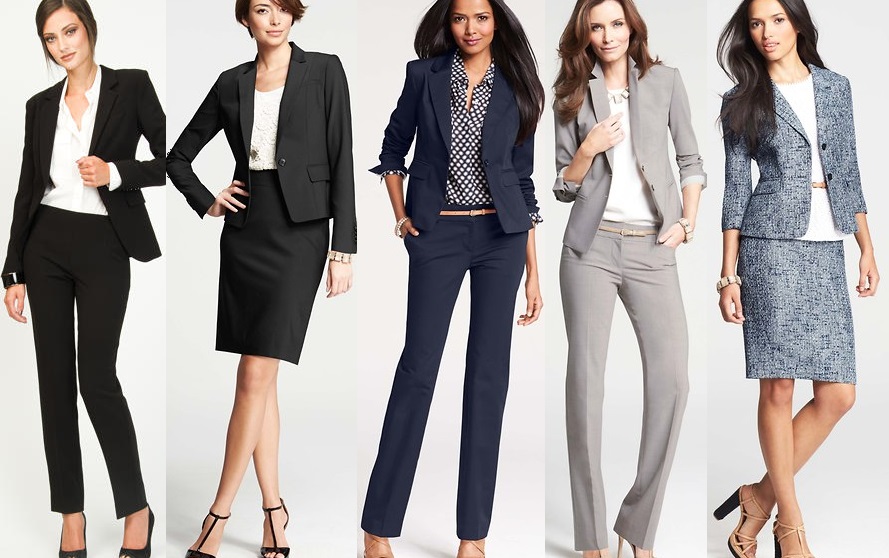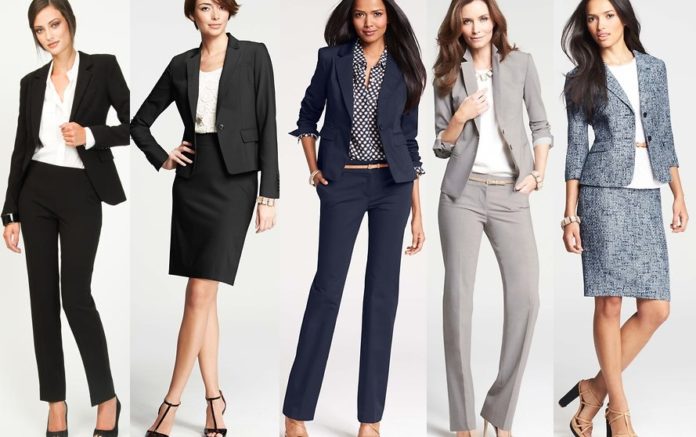 When going for an interview, what is the first that comes into mind is to make a good impression in the eyes of the employer. A perfect dress code plays a crucial part in the success of an interview procedure. Nobody wants to make a terrible impression or go in the improper dress code. Thus, we all look for some tips that assist us in making our interview dressing perfect.
It is always recommendable to keep some interview outfits that you can wear whenever there is an interview opportunity, and you have no hassle to prepare for outfits. This helps you in saving your time, and you can be more focused on your interview questionnaire.
The attire for your job interview completely depends on the post or type of job interview. However, the dress code doesn't matter a lot, but you should go for an interview in a tidy, well-dressed, and neat look. 
This article is based on the interview dress code ideas for women that covers what type of outfits best suited for what type of interview and position. I am sure that this post helps you in getting some inspiration and interesting outfit ideas for the interview.
Tips For Best Interview Attire For Women
Navy Blue Blazer
This is an all-time interview dress code that makes you look highly impressive in front of the employer. This can be a combination of the matching suit, collared shirt, blouse, blazer, and pant outfits, and wear flats for a perfect look for the business interview.
A three-piece outfit is best suitable for business interviews and makes you look appropriate for such interviews. Navy blue blazer not only looks professional to wear to an interview but it can also be worn on numerous occasions with different outfits.
This can be a perfect wardrobe and a perfect dressing for a job interview.
Button-Down shirt
Button-down shirts are the safest bet for a formal interview outfit. To experiment with your interview outfit, a button-down shirt in chiffon or silk can make you look highly impressive. It adds more details to your outfits and doesn't make you look boring at all.
With this outfit, you have various color options like pink, white, blue, black, and yellow look great. With this outfit, you can try to be a little creative while choosing the color and try to look more professional.
If you like this outfit idea, then remember that your neckline is modest. While wearing this outfit for an interview, make sure to properly tuck in and set the shirt and be careful that your cleavage is not showing and fully covered.
Black Dress and Tights
A good black dress to go with your personality never hurts on an interview date when styled correctly. Wear a dress with a structured fit and detailing like cap sleeves that give professional yet a modern look.
To add some life to your business formal attire, pair the dress with textured tights with subtle patterns like cable pattern, sheer stripe, ribbed, etc. Stay away from fishnets these do not look workplace appropriate for creating good first impressions.
Finish your look with black heels for timeless and classic business formals for the formal interview.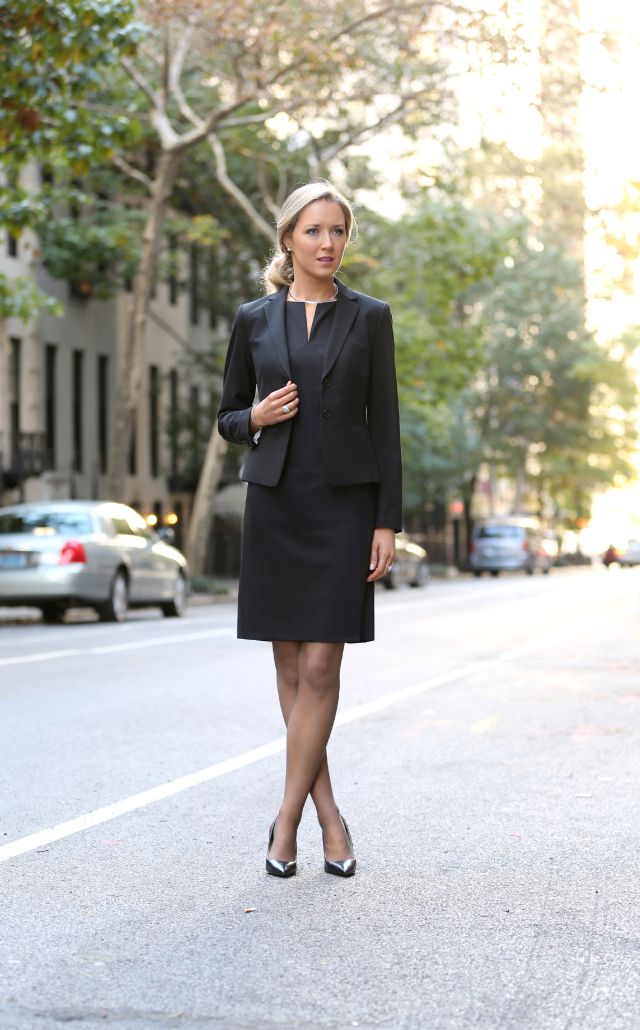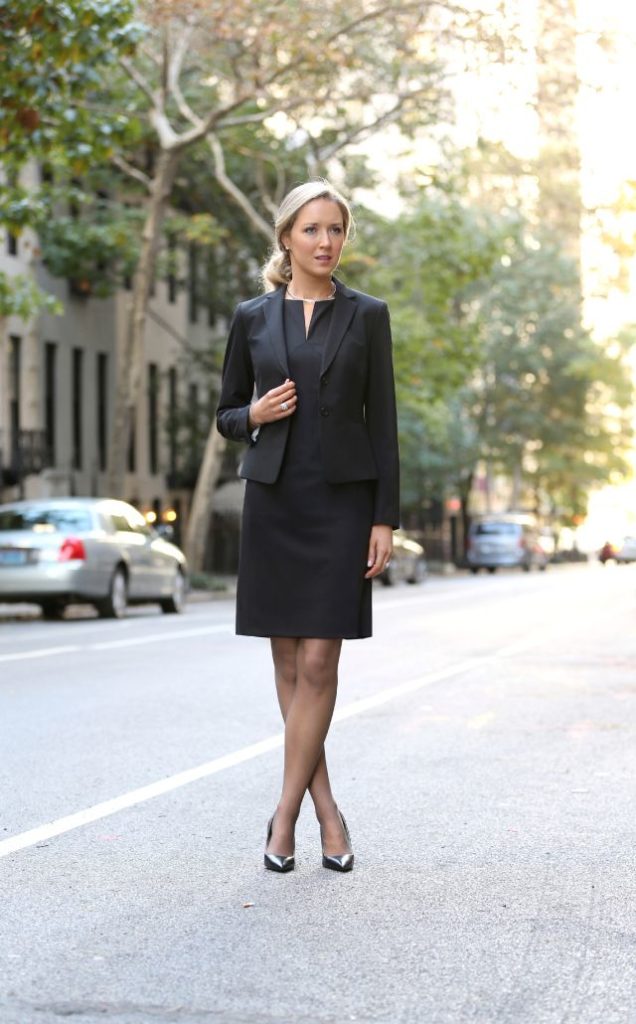 Black Suit or Dress
A black full suit or black dress is like a hallmark for a polished business wardrobe for women. Almost every expert suggests having a black dress as a business interview dressing code. If you are opting for a black dress, then make sure it skimps your knees.
If you choose to wear a suit, then make it your best outfit by wearing a black coat and black pants with a light greyish touch to your shirt. Also, choose a nice pair of heels that are comfortable to wear and low in height.
A black dress which is fit and has nice details is always soothing to the eyes and makes you look presentable as well as decent.
Detailed Blouse
If you are going for a casual interview, make sure to add your wardrobe with different types of detailed blouses. For instance, a blouse with a bow and completed with a skirt or dress pants and stud earrings make you look adorable and elegant during an interview.
Choose a skirt that is made with good quality fabric, or you can wear a pencil skirt of any color that goes with your blouse. The most recommended outfit for a casual interview is a detailed white blouse with a black silk pencil skirt.
You can also add your outfit with a jacket, depending on the weather.
Casual Interview Attire
Smart casual attire is perfect if you are going for an interview in a startup company. You would want to look professional and appropriate but not too formal.
Instead of showing up in dressier shoes and a black suit, you should go for something more relaxed and presentable. Dark wash jeans, khakis, a decent top will be a great choice.
Statement Dress
Adding your interview wardrobe with interesting, eye-catching colors will add life to your interview outfits. It is not necessary that your interview outfits need to be of limited colors like black, white, or blue, it is your choice to wear a dress of any color as you want.
However, one thing to make sure of is that your interview outfit must look decent and adorable. Funky or party wear dress code is not allowed in an interview.
You can choose a statement dress with good quality stuff. The dress may be a little expensive, but it can be an investment for your job interview that will pay you later. One thing to always make sure that the hemline and the neckline of your dress should be proper and avoid wearing short or low-cut dresses for interviews if you wish to look polished on a business interview.
Statement dresses are the recent fashion trends for interviews, especially when you are applying for the fashion industry.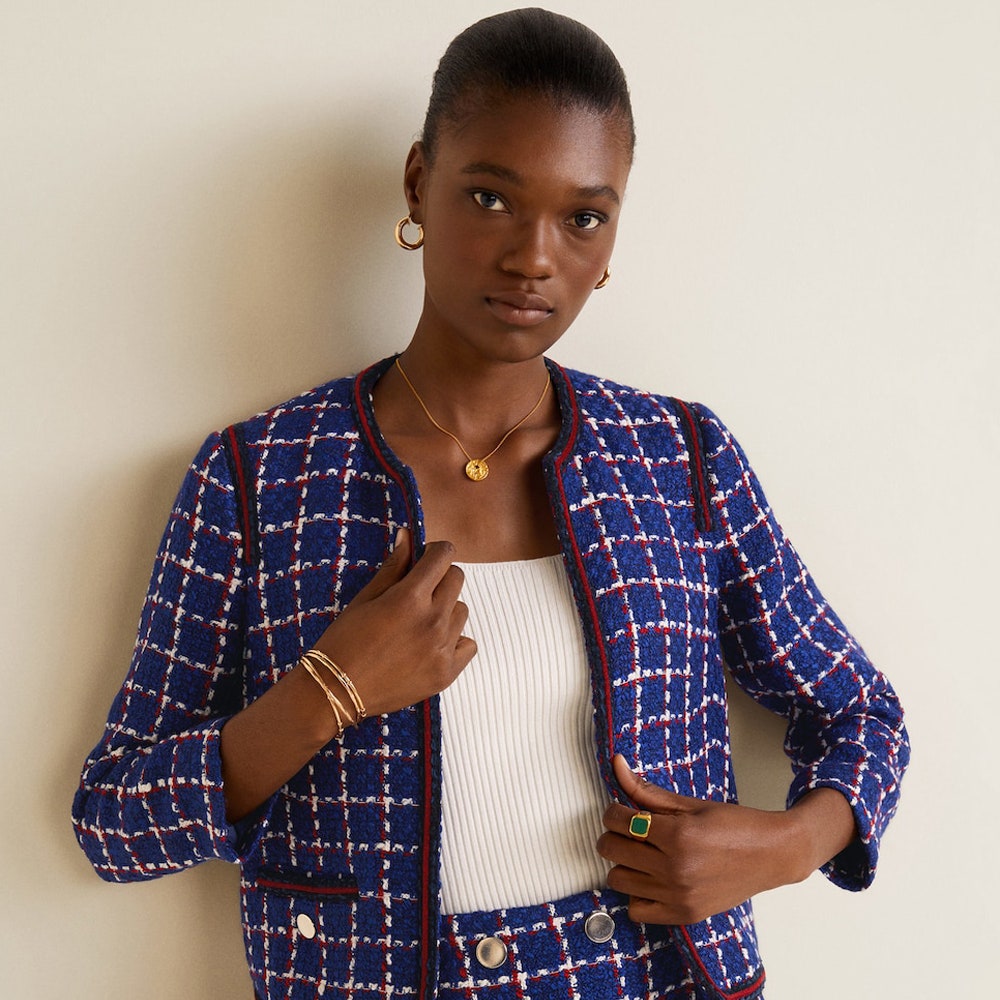 Add a Print Cardigan
Don't shy away from prints. Although you should stay away from anything that is flashy or bright whereas a two-tone print sweater can spice up the boring outfit while making you look professional.
If you are not going to be working in a formal office environment this idea for interview outfits for women will be the right choice. if you wish to go with prints remember to keep all the other things plain and with only one printed piece.
You are sure to rock your interview in this smart casual look by leaving a great first impression.
Go Menswear with a Khaki Mix-and-Match Suit
For your next job interview, you can pick a menswear-style khaki blazer or khaki pants that will make an extremely versatile piece in your wardrobe.
Blazer matching a skirt or paired with dark-wash jeans will look great for a casual company culture interview. When paired with navy blue bottoms, the pant suits combination will give you a dressier look.
You can wear a pink top to make your outfit pop or with a shirt with interesting collar detail. Another great option is wearing something with a Peter Pan Collar.
V-Neck Cardigan or Sweater
If you are going for a hiring manager position interview, you can wear a business casual outfit like a pair of jeans and a shirt. If you like, you can also wear a v-neck sweater on top of a shirt if it is a little cold.
With a v-neck sweater, you can wear dark wash jeans or wear jeans with a regular blue color. It makes women look simple and more dedicated to work. This is comfortable as well as best suited for casual interviews. You can wear formal shoes with this outfit.
This outfit idea is also good if you are giving an interview in a start-up or initially started the company.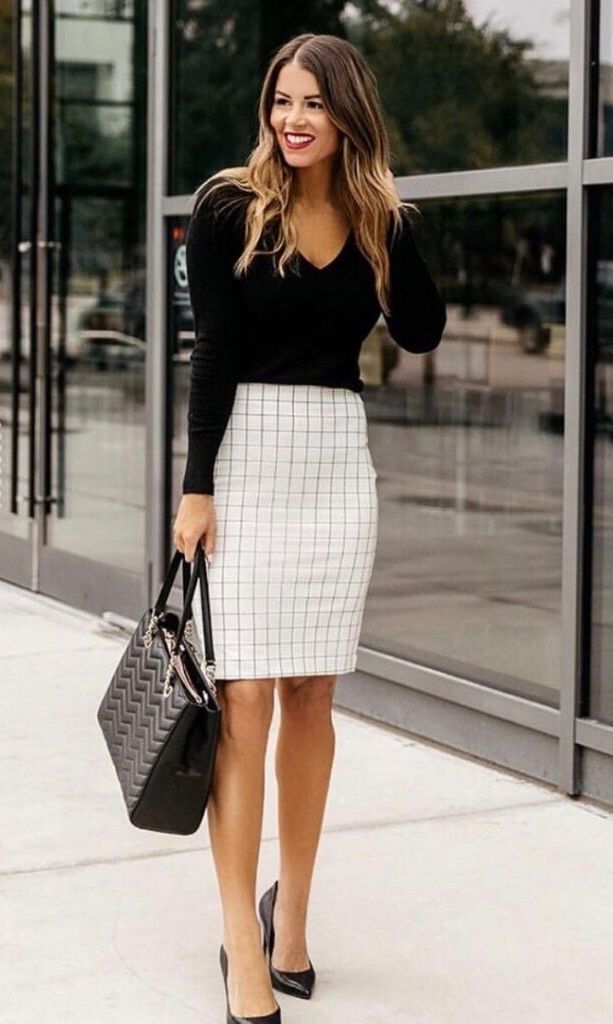 Best Job Interview Hairstyles
Just like the right interview attire, there are many ways of styling hair for a person going on a job interview for laza company. While some hairstyle ideas look trendy other women go for a more traditional look to not distract the employer. always go for a more polished and neat look like tying your hair in a ponytail or bun to go with your personality.
What Not to Wear to a Job Interview?
Regardless of what interview stage you are there are some rules for the things you should not wear. You would want to leave a good impression by dressing appropriately on your potential employer.
Regardless of what the company's culture is or the type of job you are interviewing you should always be noticed in a good way and stand out from other job applicants. From extreme high heels to excessive perfumes, flip-flops and low-cut tops there are so many things to be avoided.
Final Words
Thus, these are the few look types that you can wear to a job interview. Most of the fashion industry experts recommend this interview look to many people as they are elegant as well as a formal dress code.
Make sure to read about the company culture before going to interview and learn about their professional company norms. Choose your interview dress accordingly with the type and culture of the company.