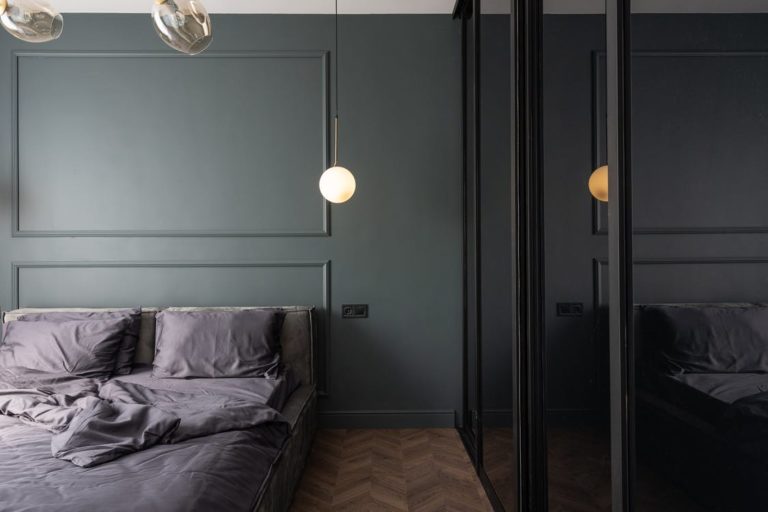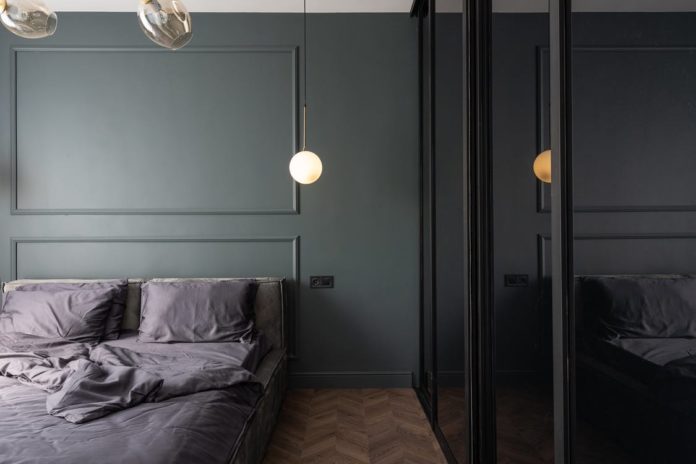 The thought of luxury black bedrooms makes everyone want to upgrade to one. While we love the light, airy feel of an all-white bedroom, there's something about the dark, brooding emotions of a black bedroom wall that we can't get enough of. The vibrant hue with rich contrast and an enhanced aesthetic may quickly change your space.
Rather than being afraid of its boldness, consider incorporating a darker feature into your bedroom, which may make your area appear brighter than you might think. Designers adopt the fresh, modern aesthetic, experimenting with Black on the walls, furniture, and eye-catching decorations to make even modest bedrooms feel spacious and open. Whether you commit to all-black paint or freshen your area with black furnishings, this timeless shade can speak volumes in your home while complementing several styles.
Read on for black bedroom ideas to spruce up your space.
Read More- Best Bedroom Decor Ideas For New Couples
Keep it All Black
Yes, We know Black is a striking color. And, except in minimal doses, many homeowners are scared to include this hue in their home design. But, on the other hand, these elegant examples may persuade you to reconsider a mostly black bedroom.
All-black interior design does not have to be dull or claustrophobic! Instead, incorporate various textures — silk, velvet, leather, stones, and so on — to bring life to your ultra-black bedroom decor.
A luxury black bedroom does not have to be completely black. Accents such as natural wood grain or metallics can help to lighten up a dark and melancholy color palette.
Black and white bedroom aesthetic
Nothing beats the traditional combo of the black and white bedroom. These hues are polar opposites, yet they produce a perfect bedroom palette when coupled with neutrals. The deep, rich tones of the black accent wall in this bedroom mix with the bright windows and bedding to create an airy atmosphere. It's anchoring while refreshing—all of which are crucial components for any sleeping place.
Keep It Light
A sleek bed with wooden boards on the walls framing is basic, clean, and streamlined in an all-black bedroom. A black bedroom designed with simplicity is more appealing than you ever imagined!
BLACK BEDROOM WALLS
Conversations in color can't avoid mentioning painting. Black bedroom walls will ace the appearance and are no longer viewed with apprehension. Days are gone when the thought of a black bedroom wall provoked a gasp.
Because the world is obsessed with grey tones, so seeing a charcoal wall art with the headboards back against it is highly prevalent, especially when contrasted with clean white. However, black requires more courage, and the depth of the color will be completely felt.
Read More- How to Re-Design Your Bedroom Following a Breakup
Luxury Black Bedroom Furniture
Without furniture, you can't have a chic, efficient master bedroom! In many situations, the nightstand, headboard, and other furnishings are the most essential aspect of creating your black bedroom's overall look.
The most apparent option for dark bedroom décor is black-painted wood furniture. However, when looking for or making your custom black bedroom furniture, pay great attention to the details. Choosing a matte finish versus a satin finish, for example, can make a significant change in the final appearance.
Although paint is inexpensive and straightforward, it is not the only technique to give your bedroom furniture a black edge. Experiment with textures like suede, velvet, black leather, and canvas for your headboard.
Remember that you will not be living in a black hole — furniture pieces will fill your black gap to deflect the shade so that it becomes a background, canvas, or shadow for the rest of the design.
Go completely bleed for the daring decorator, so darkness oozes over the ceiling and creates a sense of infinity, similar to staring up at the night sky.
Luxury Black Bedroom Ideas for Men
The macho black bedroom is well arranged. An outstanding design decision includes neutral tone hue stone flooring, black silver-plated furniture, and Black and chrome accessories. The dark army green accent paint complements the textured dark grey walls and ceiling well. Lilac silk throw pillows add a pop of color while staying true to the overall design motif.
Black bedrooms frequently seek to balance the somber atmosphere with splashes of color and design. The eclectic influenced design motif incorporates excellent furniture and accessories. The black bedroom walls, white ceiling, and light tone wood flooring complement the overall design plan. Bright green nightstands with a white bunk bed and drapes add a splash of color to the room. This bedroom is a calm and warm sanctuary thanks to a combination of textures specifically created and blended with such beauty.
All Black Bedding
If you don't want to spend a lot of money on your room yet like it to seem luxurious, choose all-black bedding.
Change up your bedding first to see what's out there for black décor without opening a can of paint (or investing in wallpaper). A black bedroom area mixes a soft black comforter with darker black pillows, blacklight fittings, contemporary wall art, and multiple carpeting for a monochrome aesthetic.
Modern Black Bedroom
In modern bedroom decor, black works incredibly well. It provides maximum contrast and accentuates your bedroom's various lines and curves.
Aside from the color choice, complete your bedroom interior with elegant furnishings. Avoid excessively decorative objects or décor with no purpose other than increasing clutter.
Although the modern design is simple, you are not confined to plain wall paint. Textured paneling or wallpaper will add interest to your bedroom decor without detracting from the monochromatic theme. Use this concept across the room or on a unique accent wall.
Read More- What Is A Duvet Cover, And How To Use It?
Luxury Black Bedroom Ideas for Women
This condo bedroom makes a pleasant place to mix the master bedroom and nursery if you love bright colors but don't dislike Black. The black accent wall continues to the drop ceiling above the queen size bed, complementing the white walls and ceiling. This room is well-lit, thanks to the large panel windows. Silver accessories, such as the lights and artwork, provide a well-balanced contrast to the overall design plan. When coupled with white, black bedrooms may be an appealing choice, especially if the space gets a lot of natural light from the outside.
Wrap Up
The luxury black bedroom can never go wrong. This article will assist you in making a decision as quickly as possible. What are your thoughts on these ideas? Do you think going all Black is bold?
Please let us know in the comments section below.