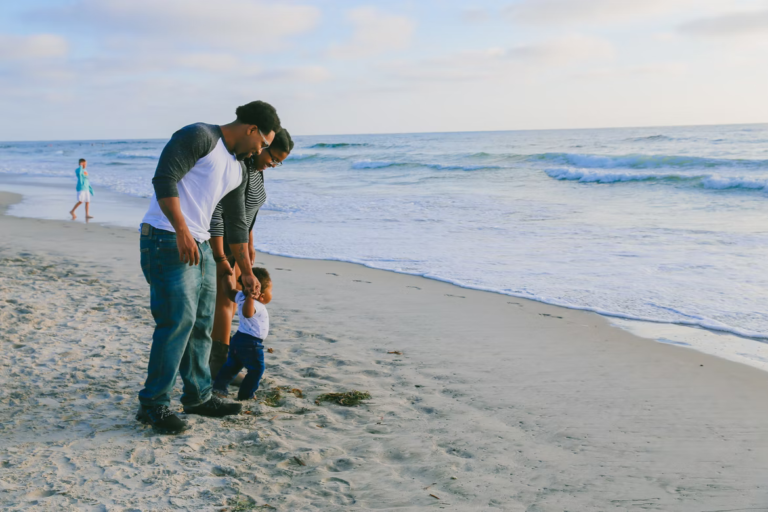 Source: Unsplash
A beach vacay is always a fun thing to do with family as it provides for a nice change of environment away from the huslte and bustle of the city. One of the things needed for a beach outing with young kids or infants will be a good beach stroller to bring them around the sandy turf.
When choosing the perfect beach stroller for your family, it is important to consider what you need and want in a stroller. There are many different types of beach strollers on the market, so it can be hard to decide which one is best for you and your family.
Here are some tips on how to choose the best one for your needs.
Sun canopy
When choosing the best beach stroller for your needs, it is important to consider sun protection. Look for a beach stroller that has a large or full-sized sun canopy to keep your child safe from the sun's harmful rays. Go for sun shades with UV ray protection for extra coverage from the harsh sun.
Of course, you should add sunscreen and rash guards for added protection, so that your little one feels more comfortable during the outing. This will help to make the trip more bearable and safer.
Stroller Tires
Summertime is a perfect time to take your baby out for a walk on the beach. However, if you're going to use a stroller, be sure to choose the right one with tires suited for the terrain and weather conditions. Look at the size of the baby stroller wheels. The bigger the wheel, the more easily it will roll over obstacles on the ground.
Since the beach is a sandy terrain, it can be dangerous if your stroller tires do not have enough grip to move easily, hence getting a stroller with three wheels increases maneuverability. Be sure to choose a 3 wheel stroller with all-terrain tires, and usually this would mean getting a 3-wheeler jogging stroller or all-terrain stroller for the task.
Also, do take a look at the tire brakes, as you need to ensure you can put on and put off the brakes as necessary for safety reasons.
Stroller Size And Weight
The size and weight of the beach stroller is also important – consider the size of the stroller and the weight of the stroller before purchasing. Heavier strollers are more difficult to carry and maneuver, even though they are sturdier in design. However, as the beach is a tricky terrain, getting a lightweight option will be the better choice.
This will reduce your burden of lugging around a heavy item, not to mention, traversing the sandy terrain since it will be difficult to push the stroller. You don't want to be carrying around an extra weight just because you're taking your little one for a stroll on the beach.
Try to find a lightweight jogging stroller to help you carry your child more conveniently while catering to your child's weight. Make sure that it's lightweight enough for you to carry around easily, but also large enough to fit all of your gear.
Stroller Storage Space
In order to choose the best beach stroller, you'll also want to make sure that the stroller has a large storage space where you can keep your baby essentials and beach bag. A trip to the beach may make your child thirsty easily since the environment will be warmer than usual, and you would want a good enough space to bring water bottles, wipes and so on to tend to your little one in time.
Stroller Fabric and Material
The type of fabric and material the beach stroller is made from is important. Some fabrics are more breathable than others, which will make it easier for your baby to stay cool and comfortable while you're out in the sun.
Check for more comfortable material that allows for good ventilation such as mesh fabric. Otherwise, your child may not be enjoying the trip much if he or she develops a rash from the uncomfortable sweat due to the stroller seat fabric.
Travel System
As there are many types of baby strollers on the market, you may need to consider if you need a travel system to carry your infant during the beach outing. There are infant car seats that can attach directly to the stroller frame, as well as standalone models that require a separate carrier.
Decide if a travel system is necessary, or whether your baby is old enough to do without the car seat or bassinet attachment.
Conclusion
To sum up, when you want to find the best beach stroller for your needs, you first need to figure out what you are looking for. Do you want a lightweight and easy to carry option, or do you want something that is more durable?
We recommend getting a lightweight jogging stroller, as the three-wheeled stroller has all-terrain tires well suited to the sandy beach terrain for you to maneuver around. Also, look into the stroller ventilation as well as the sun shade for breathability and weather protection.
Once you have determined what you need, it's time to look at the different types of beach strollers on the market. Once you have selected a model, make sure to read reviews and compare prices before making your purchase.