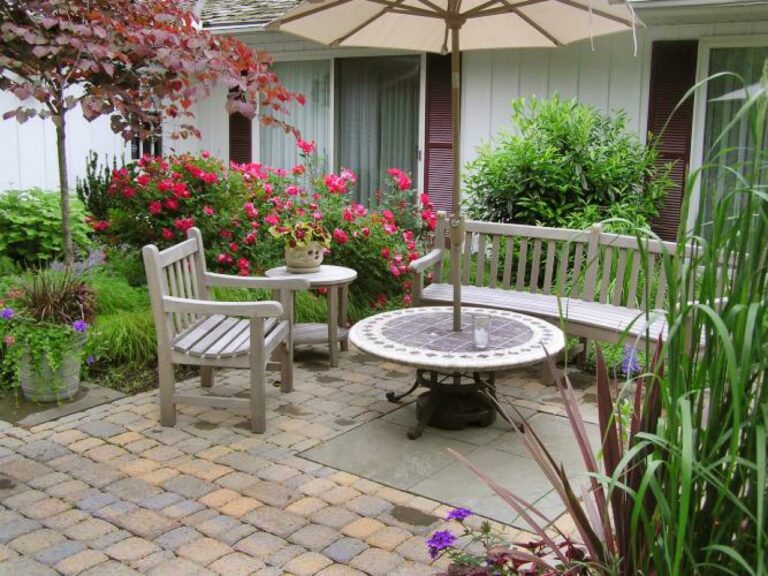 Choosing the best patio material for a cold climate has become one of the best additions to owners who love to host guests regularly and spend time with their loved ones. If done thoughtfully and correctly, then getting a patio installed in your backyard can significantly add to your property's value and provide you with ample living space to entertain guests and enjoy weekends.
When choosing a patio material, it primarily depends on factors like location, your budget, natural conditions, and personal preference.
Selecting the best patio material to withstand cold climates sounds like a challenging task but don't worry, we've got your back. Here we'll tell you about the 7 Best Patio Materials for Cold Climate and why should you choose one of them.
Read More- How to Install Perfect Landscape Lighting?
Concrete Pavers
With extended durability and versatility, concrete pavers can be the ideal choice of material for your patio. Their low porosity and density, which makes them immune to snow and water damage, can make your outdoor patio a huge success.
This recipe of concrete pavers is a tested one and can offer you much more than bricks ever could, and the best part is it can be molded into any shape possible through well-constructed forms.
Flagstone
If you are looking for something textured and detailed with earthy colors to choose from, then flagstone can be the best fit for your patio. This stone is one among the best patio material for cold climates and is our personal favorite as it fulfills the dual requirement of being durable and creating a warm atmosphere very well.
It is relatively easier to clean and is immune to water and salt stains. For flooring purposes, flagstones of usually 1½ inch thickness are laid directly into the soil or sand. Flagstones come in a variety of types, some of them being:
Sandstone
Limestone
Bluestone
Quartzite
Granite
The exceptional durability, low maintenance, and a wide range of color options to choose from make granite a popular choice of material for the patio. Very similar to concrete in its density and porosity, granite is extremely resistant to snow, ice, water damage, and salt and is the best fit for areas with cold climates. While granite comes in various colors, choosing any colored granite will help create a very warm and appealing ambiance.
Read More- 5 Roofing Materials to Consider for Your Home
Tile
Tiles are one of the best patio material For Cold climates because of their endless list of qualities. They are strong and durable and, if set properly, can serve as a great material for your patio. Tiles will last as long as necessary and will not rot, stain or decay. And even when cracked, they can be fairly easily replaced/repaired.
Tiles are available in a wide variety of colors, patterns, and styles that allow an incredible amount of creativity when designing your floor. After all, there is no reason why the floor of your patio should not be both useful and attractive.
Limestone
High quality and scuff-free finish make limestone perfect for patios. While other stones are prone to cracking and discoloring, limestone would stay the same as new even after years. Limestone slabs are extremely durable and a very popular choice for patios.
Since limestone is very dense, it neither gets too cold in the winter nor too hot in summers; it is considered one of the best patio materials for cold climates.
Travertine
If you are into luxurious things, then this one is for you. With a soft finish and an aesthetic look, travertine comes in various colors and patterns. If you want to create a warm and appealing look, you may go with this one.
While travertine is not as durable as its counterparts, it is surely the most attractive one and has the quality to maintain sufficient warmth during winters.
Bricks
Bricks are one of the oldest materials used by man for building patios. With advancements in building technologies, bricks can now be customized into desired shapes and colors to create a visually appealing ambiance.
While bricks aren't as durable as other materials used for patios, they require less maintenance and are easy to keep up. Regular cleaning and checking for damages can keep the brick patios new for years.
Read More- Is Dolomite Countertop a Good Choice For Kitchen?
Final Words:
Getting a patio installed at your home is always a great idea to add elegance, comfort, and value to your place. But there are some factors you need to consider before choosing the right material for your patio; these factors include the kind of design you want, the location of the patio in your house, weather, and your budget.
These best patio material for cold climates will help you choose the right one for your house. If you are planning to get one installed, give these materials a chance, and we are sure you won't regret it.