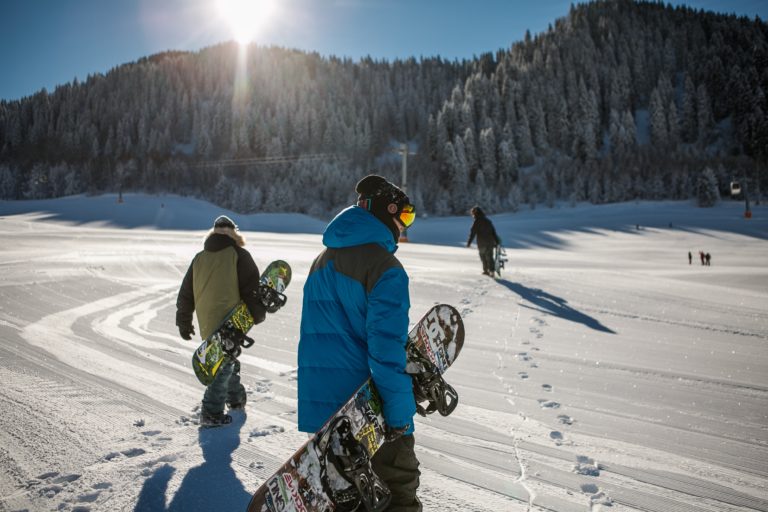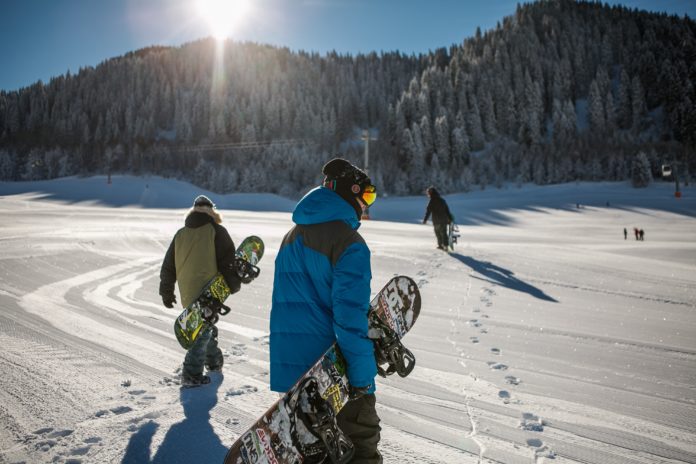 It is essential to put effort into choosing the best snowboard jackets for yourself. Choosing the right snowboard clothing is as important as choosing a snowboard or bindings. Whether you are a beginner or backcountry explorer or an in-resort rider, there are some things you need to consider when picking your best snowboard jackets and pants.
First, you need to consider where you are going for snowboarding, in what conditions, and for how long you will be staying outdoors. Once you get the answers to these questions, you need to consider what type of snowboarder you are to look into the technical aspects of jackets.
Waterproofing and Breathability
It is essential to attain a balance between breathability and waterproofing for a good snowboard jacket. If a jacket is extremely waterproof but not breathable at all, you will sweat and will be soaked completely in a couple of laps.
Shell / Insulation
Other key factors are insulation and shell for choosing the best snowboard outerwear. You can choose a jacket with soft shells, hard shells or insulation models.
Hard Shell has the ability to resist extreme weather conditions, especially when facing the mountains. The pants and jackets help in protecting against the wind and rain. Hardshell snowboard clothing is durable and breathable, which is why these are mostly preferred by regular snowboarders.
Softshells offer more mobility and decent breathability with waterproofing. You can pick an insulated option as well.
Sustainability and Durability
Choosing a sustainable option is a thing these days and is quite popular in the snowboarding industry too. Brands are putting more focus on creating sustainable clothing.
When making a new purchase, remember that the key to sustainability lies in the durability of the product. It is worth spending more money on a jacket that will last you more than five years then going for cheaper options every season.
Read More- These Winter Travel Packing Tips Will Be a Bliss for You While You Travel
Our Picks For Best Snowboard Jackets
Burton AK 2L Gore-Tex Swash ($450)
Burton's AK line is well-known for quality products, and their women's Embark and Men's Swash hit a perfect balance of comfort, protection, and features. The best snowboard jackets from Burton are lightly insulated and built around sturdy 2-layer Gore-Tex construction that shrugs off in high winds and heavy precipitation.
However, the interior is extremely soft and plush because of the mixed mash and stretchy taffeta lining. The snowboard jacket also offers premium features like a dedicated phone pocket insulated to keep the battery fresh and large mitten-friendly zippers.
Quiksilver Mission Insulated ($180)
If you are looking for the best snowboard jacket outfit for men in an affordable range, Quiksilver Mission will be the right choice. This specifically men's design contains all the essentials to get you down the slopes safely. Snow-blocking shell, wind, six total pockets, and powder skirt, it has it all. To provide extra warmth, Quicksilver snowboard jacket uses WarmFlight synthetic and provides sufficient insulation.
Available at half the price of Burton, this is a great buy; however, you will have to make some compromises. Everything from interior lining to center zipper or secure flap is one quality down than the former. The shell fabric is soft and also prone to absorbing moisture throughout the day. Raiders who snowboard a lot should spend a little more on premium quality and long-lasting design; however, this one is perfect for beginners.
Read More- Top Trends For Fashion This Winter
Volcom Bolt Insulated ($175)
This is the best affordable womens snowboard jacket with a wide range of options for the resort, park, and backcountry use. Volcom-specific Bolt offers a cozy interior paired with clean styling and all-rounder basic features at merely $175.
This snowboard jacket clothing is moderately insulated with 80 gram Polyfill and 60 grams in arms. The Volcom's Zip Tech system gives a nice touch, and if you pair it with Volcom pants, you can connect to make an integrated set-up that does a great job of sealing out moisture and drafts.
This women's snowboard jacket is not suitable for heavy snowfall. Also, you do not get any pit zips so teh jacket is way too warm for hikes during mild weather. If you like to go snowboarding only a few times a year, this jacket will do a great job.
Arc'teryx Sabre AR ($675)
If you need a technical snow jacket that is a combination of mobility, protection, features, and comfort, then our best snowboard jackets are from the Arc'teryx Sabre line. Everything about this design speaks premium- the large hood, lightweight but bombproof Gore-Tex, the sturdy fabric will last a long time in extreme conditions.
This snowboard jacket features the perfect fit and mobility, which you rarely find in jackets these days. Arc'teryx is our all-time favorite for battening down the hatches in stormy conditions or going on countryside hikes.
What prevents Sentinel and Sabre from coming in our top picks is the price tag of $225. The price is worth it for the amazing performance and excellent attention to detail you get. For people who always want the best without worrying about affordability, Arc'teryx is the best choice.
Read More- Gearing Up for Winter During the Offseason
686 Smarty 3-in-1 Form ($270)
For people who want the best for the buck, a 3-in-1 style snowboard jacket clothing sounds like the perfect choice. For one jacket, you get both insulated mid-layer with removable options for warmer days and also a waterproof shell. Out of all the 3-in-1 available, 686 smarty is our favorite. It has excellent outfitting with a burly outer layer that can block winds and shed moisture.
The zip-out jacket is insulated and is priced at $270, and manages to be a tough competitor to The North Face Clement Triclimate and the Patagonia Snowshot. Even though this is an amazing pick, it is slightly heavier due to additional snaps and zippers which connect the router as well as mid-layer.
Patagonia Snowshot Insulated ($329)
Patagonia is not an entry-level product; however, it has some amazon women snowboard jacket options and well snowboard outfits for mens. It features a Thermogreen synthetic fill insulated model that is perfect for keeping you comfortable and thanks to its smooth polyester taffeta lining for comfort. It also comes with in-house H2No wind and water protection along with a powder skirt and adjustable hood to seal the wet and cold outside.
One issue with this Patagonia jacket is the lack of breathability, and also, the warm interior is not fit for countryside hikes. The non-insulated Snowshot is best suited for milder climates and hikes.
Flylow Albert Insulated
If you are looking for the best stretchy shell and breathable snowboard jackets with lightweight warmth, then Flylow Alber insulated Jacket is what you need. This range is comfort packed with features providing extra mobility, PrimaLoft insulation, baffled interior, and puffy jacket-like feel.
The styling of this jacket is on point, with two-tone color options and 60 grams of synthetic insulation to keep you safe from cold without overheating. Flylow is best for active riders who require a range of breathability and mobility. It is not suitable to be used on wet snow. Riders who prefer extra warmth will be disappointed with the modest insulation on this one. 
Read More- Winter Weather Fashion Tips: How to Stay Warm and Stylish
Volcom L Gore-Tex Jacket ($285)
One of the most popular snowboard jackets is from Volcom L, a perfect combination of affordability and quality. It is available for under $300 with the 2-layer build, versatile non-insulated design, giving plenty of room for extra layering, and a solid storm hood to impress with protection and adjustability.
The Zip Tech performance on this jacket is excellent and comes connected with Volcom pants for giving bib-like protection. Volcom jacket has a bland styling with solid colors, shiny finish, the mesh lining looks and feels cheap. It has partial elastic waist closure that looks noticeably flimsy that premium brands. However, the mesh does a great job of wicking the moisture. If you do not mind the simple design, Volcom L is a well-rounded uninsulated snowboard jacket clothing option.
Trew Gear Jefferson ($299)
If you do not know about Trew Gear, it is an Oregon-based brand that excels in mid-range and also high-end snowboard outfits. Their designs follow clean styling with well-made features, look and feel, reminding us of Gore-Tex. The snowboard jackets also feature weatherproofing and durability as the performance hallmark.
Women's Astoria snowboard jacket outfit and men's Jefferson are the core of this 2-layer uninsulated jacket with a desirable price range, coverage, and toughness. With burly shells and long curls, this jacket excels in every condition:rowdy, wet or deep.
Like Flylow Trew Gear, Snowboard jackets are available in tri-color layout. Comfort the strong suit paired with excellent lining and pit zips with a nice assortment of exterior and interior pockets.
One con associated with this jacket is the lack of insulation, so it is not suitable for use in splitboard adventures. However, if you want a long-lasting shell, then Jefferson is a must-buy.
Roxy Jetty Block ($200)
Roxy is a leader in women's snowboard jackets, and their Jetty range hits a sweet spot in performance and price. The interior and shell are soft and smooth with polyester taffeta lining, which looks cozy with 120-gram insulation making it the warmest jacket on our list.
Roxy has nailed this range by adding features like a meat pocket for gloves and goggles, a pass pocket on the sleeve, media storage, and fun styling. Given the price range, the biggest cons of Jetty Block jackets is their weather protection feature. You do not get a DWR coating on this one, meaning it is not suitable for wet snow. 
Read More- New Arrival – Moncler Launches New Carbon-Neutral Puffer Jackets This Season
Snowboard Jackets vs. Ski Jackets
Given the similarities between these two sports, many ski jackets are capable of being used in snowboarding as well. There are a lot of crossovers in products when looking at different retailer sites, and brands like Arc'teryx and Patagonia specifically state their jackets work for both purposes.
The fit, however, is different with snowboarding jackets. Snowboarders like loose cuts for maximum movement and less restriction. They also prefer long back lengths for more protection and coverage when sitting on snow. Given the popularity of mittens with snowboarders, skiers find it difficult to grip the pole, so they stick with gloves. Many riders do not mind these minor differences between the two jackets and choose to pick whichever they like.
Final Words:
We hope you like this guide on the best snowboard jackets. Although there are some key points to consider when making your purchase, in the end, it is all about how much money you are willing to spend and the features you are ready to compromise on.