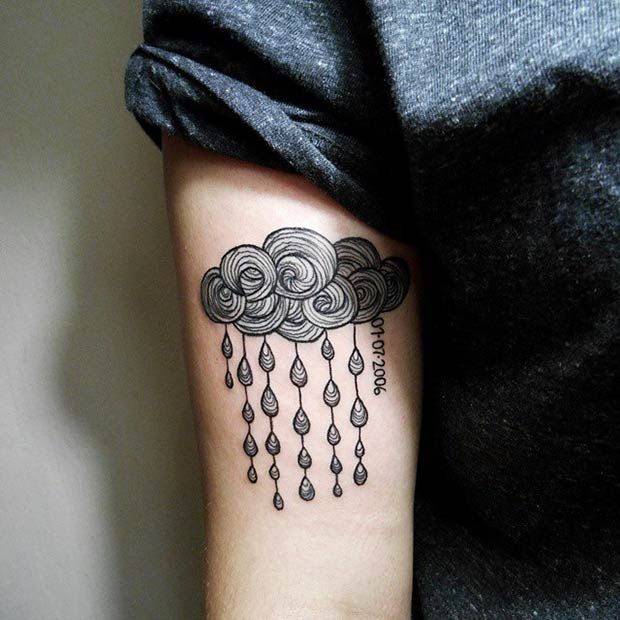 Cloud Tattoos Drawing Design Ideas – Tattoos have become a very classy thing nowadays. People and mostly youth, are very much inclined towards it. Tattoos come with abundant designs to choose from. 'Cloud tattoo designs is one of the most flexible designs in the world of tattoos. They can be inked on any part of your body in shape, size, and bright colors. Sometimes, Cloud design tattoos are personalized to signify a meaning or message. For Example- a fuzzy-furry cloud with a rainbow denotes happiness and hope. Whereas Cloud tattoos made with thunder strokes denote vigor and competence. They help make an affirmation. Therefore, cloud tattoos drawing design ideas can be a safe choice if you can't think of any other option. Here are some:-
Black and White Cloud and Water Tattoo
In this flawless black and white Cloud and water tattoo, components of water and air are portrayed. It is drawn with straight lines of rain, floccose clouds, and whirling waves of the ocean. People get these tattoos on their forearms/half hands. 
Read More- Best Vine Tattoo Ideas For Males & Females
Clouds and Landscape Line Drawing Tattoo
This tattoo represents a spiritual connection. It can be drawn on both men and women on their legs and arms. The simplicity is from 'Shining stars' to 'grasslands and fields' below, which conveys the motivational message. It is mostly made with Black and White ink.
Blue Billow of Clouds Tattoos of Arm        
As the name suggests, this tattoo is made in blue color and gives the appearance of bulging blue clouds. It shows as if the clouds are moving. The blue billow tattoo is unisex, and most people get it inked on their arms to give a clear look. Also, meanings like interpersonal growth and strength are signified.
Clouds, Lightning, and Waves Tattoo
Cloud tattoo arms are designed mostly for boys. In this, the lightning is dazzling out of the clouds symbolizing the anti-sociality, and waves drawn are crashing out of the ocean, symbolizing a hand coming out with its fingers in an upward direction towards the sky. The Clouds tattoo drawing in this requires no color involvement; it embraces itself in Black and White.
Single Black Cloud Tattoo in Abstract Style
It is a single cloud tattoo filled with solid Black color. It has a natural shaping and contouring on the Cloud, which makes it more visible. It is very dynamic in shapes and size, making it easier to get it drawn anywhere on your body. According to the sources, it was started by the Japanese, which later got linked with modernity.  
Read More- Some Popular Flower Ankle Tattoos To Show Off
Eye in Cloud with Lightning Bolts Tattoo
It is said that the 'Eye in Cloud' denotes the eye of god,, which is combined with religious and spiritual significance. The 'Lightning Bolts' crash out of the clouds accompanied by an eye leaning down. Eye connects the tattoo's essence to the reality of the world. Smaller in size, it can be drawn on any body part.
Whale in the Sky Tattoo with Clouds
Out of all the tattoos, this tattoo is one mind-blowing piece of art. A giant whale is peeking out of the fuzzy and soft clouds with several shining stars and a half-moon. Also, a boat is freely floating in the huge sea. 'Whale in the Sky Tattoo' covers a large space. Hence, resists you from inking it wherever you want. A very sharp detailing of the design and accurate patterns denotes the artist's creativity. 
Galaxy Moon and Clouds and Gray style Tattoo
This tattoo is majorly made on the back to reduce the hustle-bustle in it. People who are willing to get something distinct and queer inked on their bodies can opt for this cloud tattoo. As the name suggests, galaxies, stars, moon,, and clouds are drawn with grayscale ink. Moreover, a blue shaded can be added to give a transcendent appearance.
Thundering in Clouds and Lightning in Forest Tattoo
A scene of the forest is depicted on the Forearm of an individual. It is the most real-looking idea of the 'Storm Tattoo ideas.' In a dark stormy sky with thunderclaps and lightning striking the sky. At the bottom, the forest trees are rooted. A dark shade of Blue-Black can be seen in the tattoo. Again, the Forearm is the most suitable part for this tattoo. It gives you a powerful, appealing, and realistic look.
Black and White Swirling Clouds Chest Tattoo
This tattoo is specifically made for the chest to imply its look and meaning. A huge number of clouds come together to form one big Cloud. They give a round whirling pattern to the tattoo, which is made with both bold and light lines. The 'Black and White Swirling Clouds Chest Tattoo' is a unisex tattoo design; it looks good on both men and women. But, the neatness in work also plays a role in its appearance. The message that it entails is the close connection and love for friendships.
Read More- Epic Knee Tattoos Designs For Men
Diamond-shaped Sun and Clouds Tattoo.
'Forearm Cloud Tattoos' are the most common yet majestic tattoo designs. They are most visible and have enough space for various ideas. In this, a sun is made in diamond shape instead of round. The rays are coming out of the sun, signifying positive energy. And the clouds are floating across the sun like hope and happiness. Straight, symmetrical lines are drawn in Black and White color through the full sun, making a diamond shape.
Japanese Clouds and Waves Arm Sleeve Tattoo
If you are searching for a tattoo design for your full Forearm, then this 'Japanese Clouds and Waves Arm Sleeve Tattoo' is the right choice. It covers your full hand with a bold black tattoo. It is drawn with heavy strokes and fine detailing on the skin to keep it saturated. It focuses on the conjecture components of the design and attempts to release positivity, power, and hope.
Grayscale Tornado Cloud with Cow Tattoo
One must have a sense of humor to understand this tattoo. In this tattoo, it is shown that the breeze of the sky is swirling down a fence and cow. Greyscale Tornado illustrates the playful scene to give this tattoo a lively touch. 
Tiny Rainbow and Cloud Tattoo on Shoulder
It is a tattoo to be drawn on your shoulder, mainly for women. In this, a rainbow is inked behind a cloud as if the storm and rain had just stopped resulting in the rainbow. The Colors of the rainbow are so vibrant and bright. Few droplets of rain are also pictured in the tattoo. It signifies a sense of gratification and achievement. 
Read More- 12 Incredible Spine Tattoos For Women
Ornamental Clouds and Raindrops Tattoo in Grayscale
In terms of location, this tattoo is very versatile. The clouds swirl into each other closely, and the raindrops are coming out of the clouds. These drops are hanging in the hair with clouds giving it an ornamental look. The ornamental tattoo is both elegant as well as meaningful.
Black outline with Blue Line work in cloud Tattoo
A simple small cloud is inked on the body. The Cloud is drawn with a bold Black outline, and the hollow inner space of the Cloud is filled with line work in circular designs. The line work is done with blue ink to make it look different from the outline. It can be easily drawn in whichever part you want. 
Purple and Blue Cloud Raining Hearts Tattoo
Unlike other tattoo designs, the Cloud in this tattoo is filled with marvelous bluish and purplish shades instead of plain white or grey color. Moreover, like a metaphor rather than raindrops,, the hearts of love are dripping from the Cloud to portray the connotation of love and attachment. 
Read More-8 Amazing Skyrim Tattoo Ideas That You Will Love
Woman Walking with Head in Clouds Tattoo
It is an interesting tattoo with a unique idea, i.e., a woman walking elegantly with her head up in the clouds and her arms spread out. The tattoo design has fine detailing and patterns. The woman is displayed as fun-loving and of lively nature.
Naked woman laying in Clouds Tattoo
This one tattoo denotes Complete Freedom. The woman is lying with her head thrust into the fuzzy-furry clouds. One needs to be Broad-minded and adventurous to understand this piece of work, as the same feeling is mirrored in this skin art. This delicate lining and shading encourage you to achieve your goals.
Clouds in Sky with Castle Leg Tattoo
This is a hallucination-like tattoo illustrated in Black and white color. The tattoo design resembles Night-time, where shining stars and moon hang with the castle behind. It is a mystical view to watch with a dark ambiance. 
In the front, mountains have paved the way giving a meaningful essence to the tattoo.
Simple Cloud outline Ankle Tattoo
For someone looking for a decent tattoo, it is the right choice. Because this tattoo is not too much; rather has a subtle appearance. The Cloud is drawn with a bold black outline, and the inner space is left hollow, symbolizing simplicity and decency. No color and texture are added to it to ruin its charisma.
Read More- 7 Tips To Fasten Up Tattoo Removal Process
CONCLUSION
Tattoos designs being permanent ink on our body should be chosen wisely. There are a variety of ideas for it, one of them is 'Clouds.' Clouds denote every emotion be it harsh and withdrawn, while soft, i.e., joy, hope, etc. But within clouds come many ideas involving rainbows, rains, lightning, and thunderstorms. In this article, a number of cloud tattoos drawing design ideas are mentioned; you can look into them before choosing one. 
Read More- How long does it take for the tattoo to heal on average?