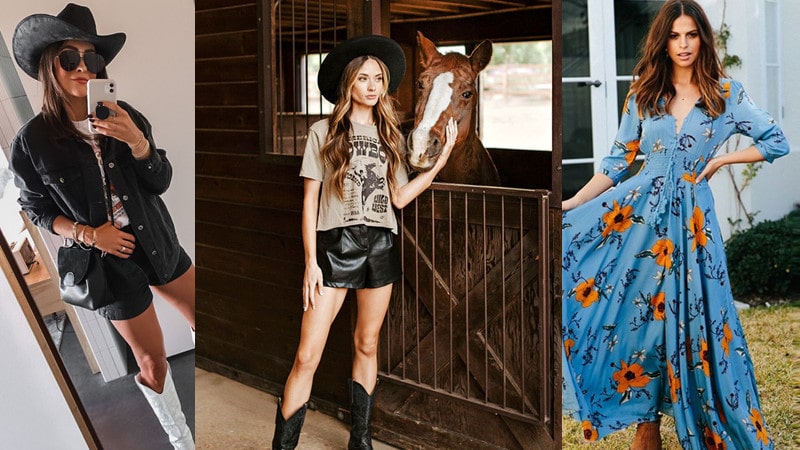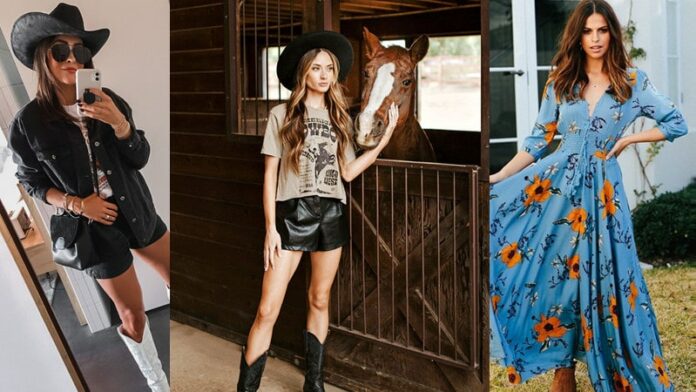 Concerts take place throughout the year, and getting ready for them takes up a large portion of each day. And besides, you'll remember this very day as one of your most treasured recollections. Consequently, dressing to impress is expected on this occasion. After discovering a new passion for popular music, you might be required to adjust your attire if you want to go to a country event! And at some moment or another in our lifetime, we all, at some point in life, have been fans of country music!
Any girl attending a country concert would've been faced with the question of "could it be either too much or too little?" about her attire. What and how to dress for a country concert is intended to help you feel at ease while appearing stylish and enjoying the time of your life.
If you adore dancing as I do, you must pick a dress that enables mobility! Additionally, you would like to look like everyone else while maintaining your individuality. Take the time to read to get inspiration!
Read More- What To Wear To Get In Original Beach Fashion For This Summer?
Ideas on Dressing Right for a Country Concert outfit ideas:
Dress in light, breathable fabrics for a country music concert because the dense throng may cause you to sweat.
Put on cowboy boots and a hat to instantly give something a rustic feel.
For something like a boho-country appearance, layer fringed kimonos over summer clothing.
To help your makeup last all day, choose a waterproof formula.
Don't forget to bring a scrunchie!
For country accessories, use tribal jewelry.
For a country-inspired look, kimonos, cowboy boots, fringe, bootcut jeans, and hats are essential pieces of clothing.
In particular, the wind gets blustery, so wear shorts underneath your dress.
1. Fringed Kimonos to Make your Outfit Country
Choosing a fringed kimono seems the simplest method to lend a rustic feel to any concert outfit you choose. This country's concert outfit idea is an example of how to prepare for a show. It strikes the mark with everything you desire to attain for your ideal country concert style and is fashionable, sophisticated, and classic. Below are some inspirations for kimono outfits.
2. Belt it at the waistline to accentuate your shape
This graphic t-shirt dress is both incredibly cozy and fashionable. To emphasize the figure, I highly suggest wearing a belt around your waist. Adding a fringed denim jacket will make this look exactly the country-like you desired! Ultimately, fashion-forward statement jewelry is the way just to go!
3. Combine the boots alongside accessories or scarves that have hints of turquoise
So, a particular outfit perfectly illustrates how you can add country flair to country outfits for women by utilizing accessories and style skills. Get a plain black jumpsuit from your wardrobe and wear this with turquoise boots for a striking look. Grab items that represent a blend of bohemian and country style, then drape a hair scarf around your neck similarly. Lastly, a cowboy hat will be the cherry on top of a fantastic ensemble!
4. Make a statement at the concert by wearing a vibrant birthday suit
You should shimmer and sparkle on your big night if you're the birthday girl. As well as, what better outfit to participate in than just this stunning glittery jumpsuit that is as sunny as the day? The pink shoes and fringe jacket complete the look for country performance attire.
The future? Your favorite singer could perhaps recognize you if you're close quiet so! Here seem to be a few cute concert outfits for 2022.
5. For a country music concert, use slogan t-shirts
For quite a laid-back and casual appearance, find a slogan t-shirt that fits the country concert vibe and top it off with a cape for the said ideal ensemble.
Here are some other stunning straw hat dresses because this outfit would therefore look fantastic with one. Furthermore, wear bootcut pants plus jeans when you are unsure. You can be certain that they will give you the desired country vibe!
Read More- How To Be Fashionable on a Budget?
6. Enjoy this flirty and fun summertime country concert look
The ideal outfit for a country performance is a stunning lace cami top paired with faded shorts with leather combat boots. Make absolutely sure to use genuine matte makeup because dancing, as well as the crowds, will cause you to sweat, making matte makeup appear dewy. And then let your hairstyle hang down in flawless beach waves. Visit 20 Cute concert Outfits ideas with Top Bun Hairstyle to Complement Style for more inspiration.
7. Choose the Right Accessory for a Boho Look
Your look can be made or broken by your accessories. In this instance, the attire, jewelry, and hairstyle all add to the bohemian mood of a part country concert. Your ears would become tired carrying the burden of the earrings halfway through the night; therefore, you may want to bring a tiny bag!
8. Dress to Impress for a Country Concert with Your Date
Prepare for a special evening out together with your partner. And going to dress up is the greatest part! This ivory suit stands out magnificently because of the sparkly top! These concert outfit ideas are ideal for taking your partner to marriage or summertime country music. Below are the top 20 looks for a date.
9. Combine Pink Accessories with Those Beautiful Boots
Why don't you put on a concert outfit? A tiny dress and cowboy boots create a striking silhouette. Here are a few lovely looks that would look lovely on any curvaceous woman to wear to something like a country concert: 12 Trendy Plus-Size Street Style Outfits for the Current Season.
10. Wear a wrap dress and flaunt off your leg chain jewelry
Each girl likes a maxi dress, and pairing it with an eye-catching belt and cowboy boots for the legs creates a striking ensemble. Leg jewelry will help you get country outfits for women in a bohemian vibe if your long dress includes a wraparound or slit that reveals your leg. For a bejeweled appearance, add face gems! On this are a few more styling suggestions for a wrap dress.
11. Choose your most comfortable shoes while going to a country music concert
It's usually a fantastic and enjoyable idea to take a road trip whether you've chosen to go to country performance. Although most attendees of a country music event choose to don cowboy boots, you may experiment with something different and pair your attire with sneakers instead. Other suitable options include loafers or espadrilles.
12. How Should I Dress for a Country Concert?
You can't go wrong wearing a flannel shirt with jean shorts and combat boots. Do you dislike donning flannels? Rather than just tie it all around the waist instead? You'll look like this for sure. How about wearing these shirts backward if you want to attempt something novel and daring? How To Wear A Backward Shirt will show you how to accomplish that.
13. Choose a romantic two-piece set for a softer appearance
I instantly think of the words "romantic," "feminine," "dainty," and "beautiful" when I see this outfit! Talk about turning people's attention your way! Please have a look at these 30 Adorable Dresses For A Nightclub.
CONCLUSION
The article attempted to give you many 'Country Concert Outfit Ideas. People confused about their attire for the concerts might fetch some suggestions from the article. Country outfits for women can be a huge help for females to choose from. Lately, many concert outfits in 2022 have come into the picture.  
Read More- Everything You Need To Know About GBO Fashion 
FREQUENTLY ASKED QUESTIONS
Q1) What do you wear to a rock concert if you're 50?
Ans: For one rock event, wearing jeans and a stylish moto jacket is an obvious choice. It doesn't matter if you wore narrow jeans or boot cuts, clean or tattered, dark or light wash. The greatest combo for you is anything that complements your body shape.
Q2) What would you wear to a country concert when it's freezing outside?
Ans: If it's particularly cold, grab a lightweight jacket. It would be sufficient to wear anything like a bomber jacket, denim jacket, or lightweight windproof.
Q3) Where can I find country attire for a concert?
Ans: A variety of stores sell country attire. For stylish country options, go to companies like Punchy Blonde, Boot Barn, Whiskey Darling, and Triangle T Boutique. If you keep your eyes out just for country ensembles, you can find excellent items at SheIn, Nordstrom, Dillard's, and Zara!
Q4) Can I wear my cowboy boots and jeans to a country concert?
Ans: The type of denim you wear and the kind of combat boots determine the response to this query. No matter how long your skinny jeans are, slipping them into your western boots is essential. On the other hand, bootcut denim and flaring pants must not be tucked into boots. The subject of tucking can also be entirely ignored with ankle cowboy boots.
Q5) What else do you wear to a country club?
Ans: Clubhouse/Country Club dress is typically business clothes or casual wear.   Men should wear pants for the office and collared shirts. Shorts suitable for golf might also be donned. Except on the golf course or practice area, tailored button-down dress shirts aren't required to be tucked in.
Read More- Latest and Trending Edgar-Haircut-Fashion-Styles!