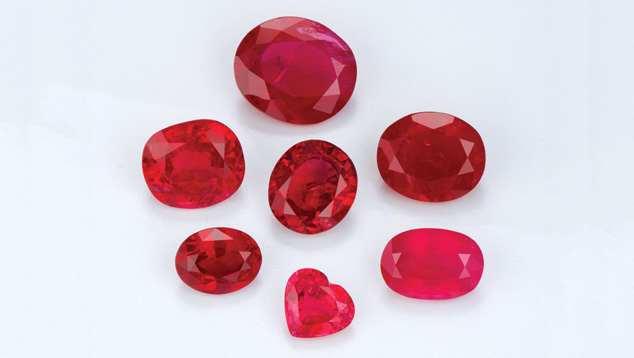 Considered the "king of precious stones," the ruby ​​is a beautiful and powerful gem that has been admired by many cultures over the years.
Precious rubies with deep blood red color represent passion, vitality, and liveliness. In consequence, those beautiful pieces of jewelry with this stone are increasingly in demand, especially for engagement rings and luxurious necklaces that convey love.
However, the value and meaning of rubies extend beyond jewelry and money. It is the right gemstone for summer, and here you can learn why.
Ruby Is July's Birthstone
The ruby, a stone that captivates people with its beautiful and vibrant red color, has long been considered the most valuable gem in the world!
Besides that, it is the birthstone for July. As thoughts turn red and intense during summer, this gem intensifies romance, passion, and strength.
Rubies also represent trust, courage, and integrity – values ​​that all people need to believe in themselves and leverage all the benefits the sunny season brings.
It Enhances the Power of the Sun
As the king of gems, this stone ​​also bolsters the power of the sun. Therefore, whoever wears ruby jewelry will see their nobility amplified and their mental health strengthened.
In summer, when the sun's rays fall on people with more intensity, rubies awaken self-confidence and passion for life.
Moreover, Vedic astrology says that these gems represent the Manipura or Navel Chakra in the body, meaning ruby ​​wearers can clear their minds and remove sadness to receive the good vibes of the sunny months.
The Love Stone
Many cultures believe that the ruby, also considered the love stone, boosts passion in couples and encourages lovers to give their full potential in relationships.
Rubies for Mental and Physical Health
As a gemstone found in the earth's core, rubies bring healing energies to wearers. These gemstones restore vitality and rejuvenate people's health conditions.
Over the years, the natural ruby ​​stone's power has benefited wearers to combat low self-esteem and improve emotional intelligence.
The Intense Red Color of Rubies
Besides their spiritual and natural properties, rubies are a safe choice for those looking to leverage the vibrant colors of summer.
Today, you can find rubies in a wide variety of shades, from orange-red to purplish-red. The best and most expensive type of ruby ​​is the deep red gem with a hint of purple, also known as "pigeon's blood."
A ruby ​​has small amounts of chromium that give it that lovely, fierce red color. Gems with more intense reds have more chromium, meaning their value increases.
Generally, a stronger red color means a more expensive ruby.
How to Know If Rubies Are for You
If you want to choose the best gemstone for you or another loved one who was born in July, the ruby ​​is for you.
With a rich history and soaring spiritual value, the king of precious stones has been associated with seemingly mystical powers, youthful energy, and beauty. In the past, some believed that rubies could cure illness, predict misfortune, and even calm anger.
In addition, ruby-encrusted jewelry is ideal for the sunny season, as its red color fits perfectly with the typical heat of summer. Warm gemstones like rubies go well with any cool beachy outfit.
These gems are also best friends with people who want to create outfits with warm and cool colors mixed for versatile and bold looks.
Final Thoughts: Why Should I Choose a Ruby?
The ruby ​​is the most valuable gemstone in the world because of its value and power.
People who wear jewelry with rubies can fully enjoy their spirituality, experiencing a rush of passion, love, and confidence.
Rubies have also been associated with good finances, health, and improved mental conditions. Also, it's a gem that grants beauty and well-being.