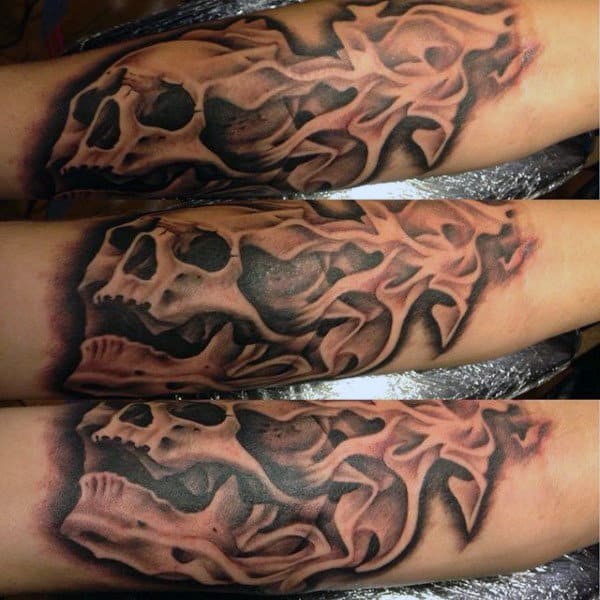 Flame tattoos can mean serious stuff or be just for fun. Here are some cool flame tattoos and what they can mean.
Blue Flame Tattoos:
In science, blue flames happen when carbon burns, like in a gas fire. In beliefs about the spirit, a blue flame stands for something that cleanses, destroys, and brings new life. It's about light, destruction, and starting fresh. In dreams, a blue fire could mean you might have a problem with a tough woman.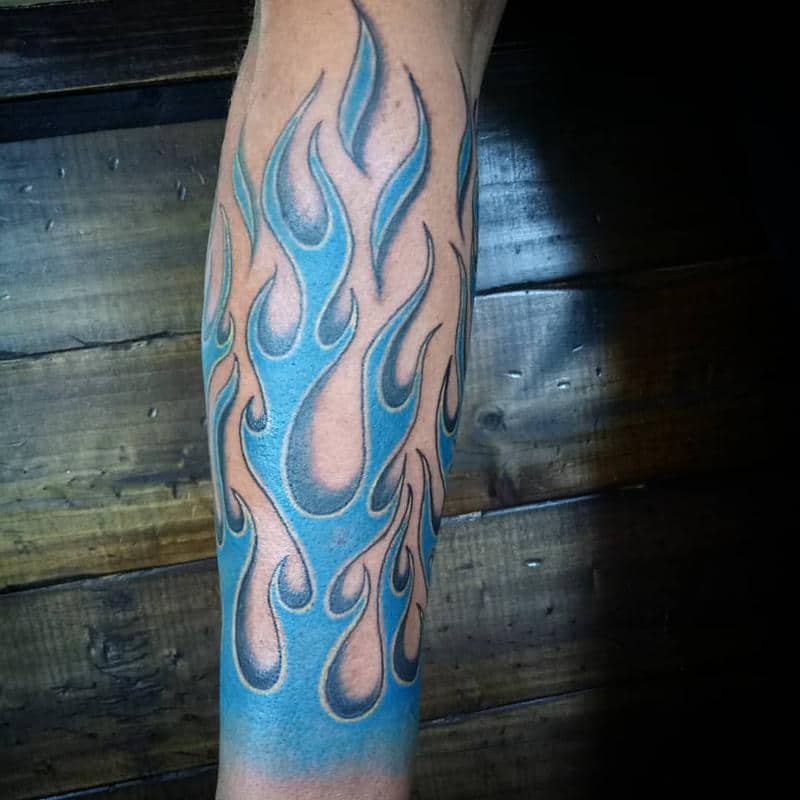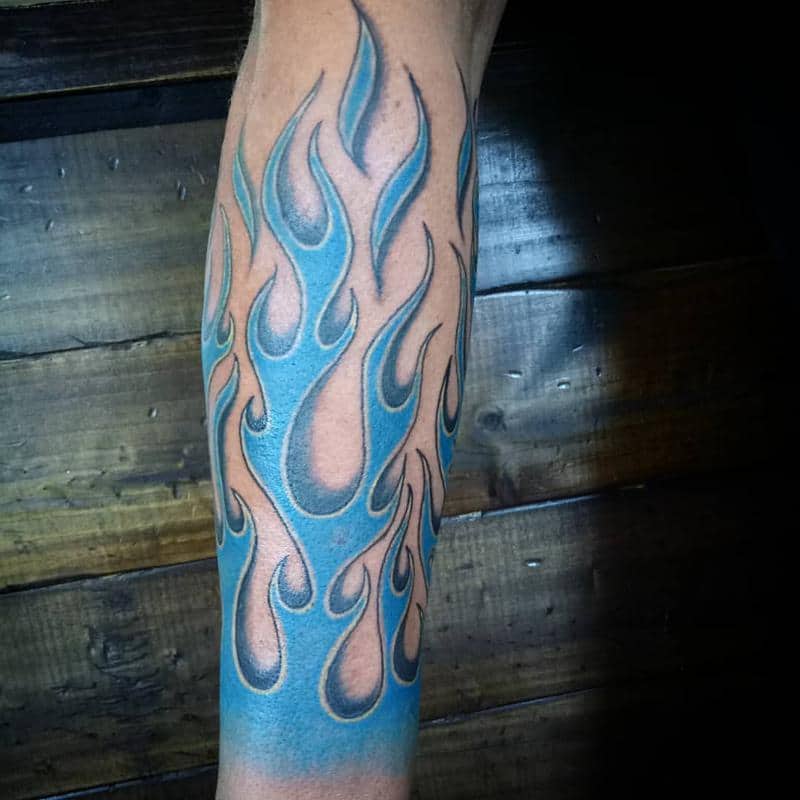 Moth and Flame Tattoos
When someone is really drawn to someone or something, we say it's like a moth being attracted to a bright flame. Moths like bright lights even if it's risky. Some people choose to show this with tattoos of flames or candles or flashlights.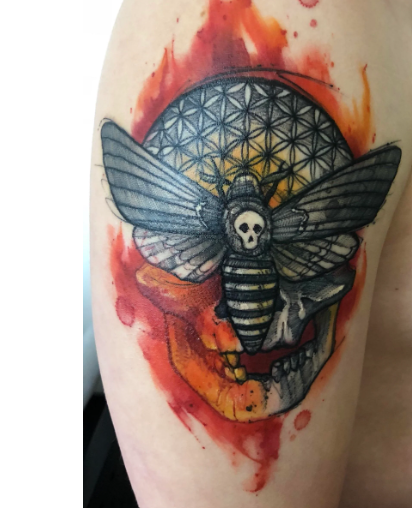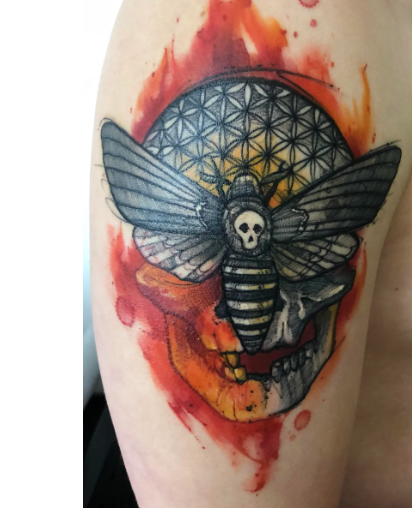 Twin Flame Tattoos
A twin flame is a deep soul connection that can be tough but also healing. It's like a mirror that shows your biggest fears but helps you conquer them. People who are in love or just got married often get this tattoo. There's no official symbol, but many use a design with a flame inside a triangle on top of an infinity symbol to represent it.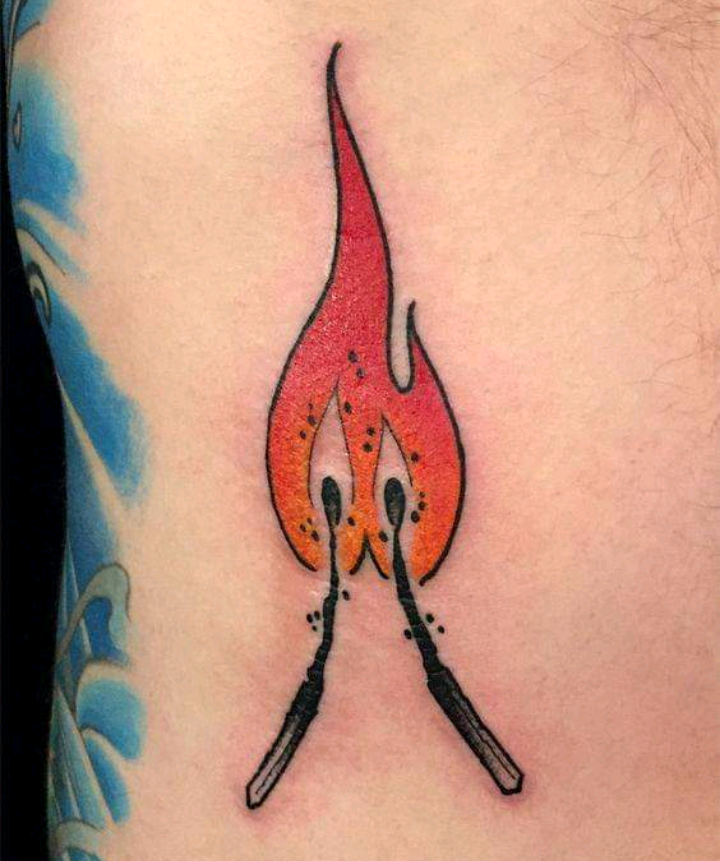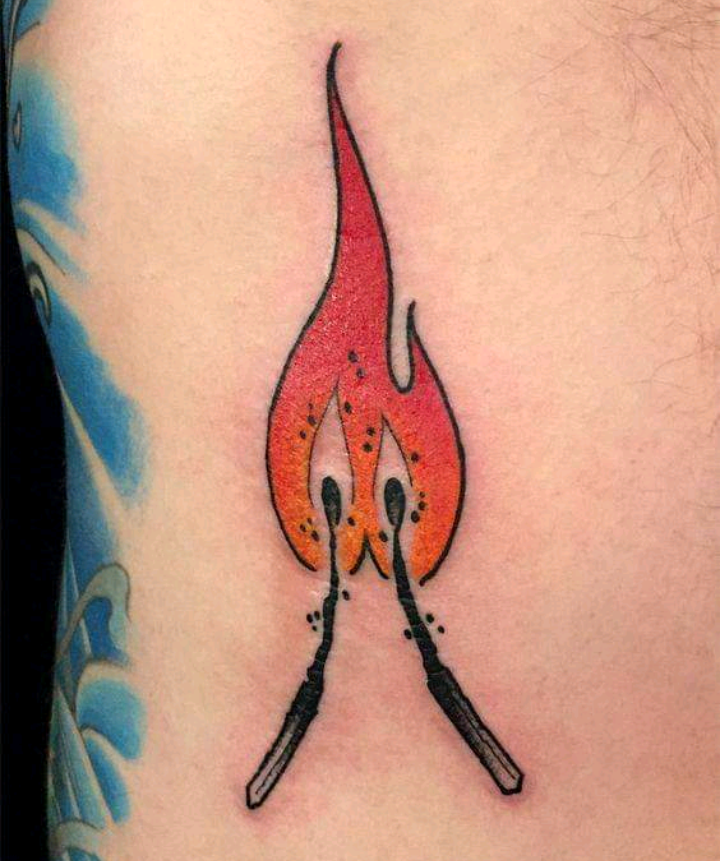 Black Flame Tattoo
A black flame tattoo is linked to the idea of rebellion and going back to nothingness. In a spiritual sense, it represents the inner strength and power each person has.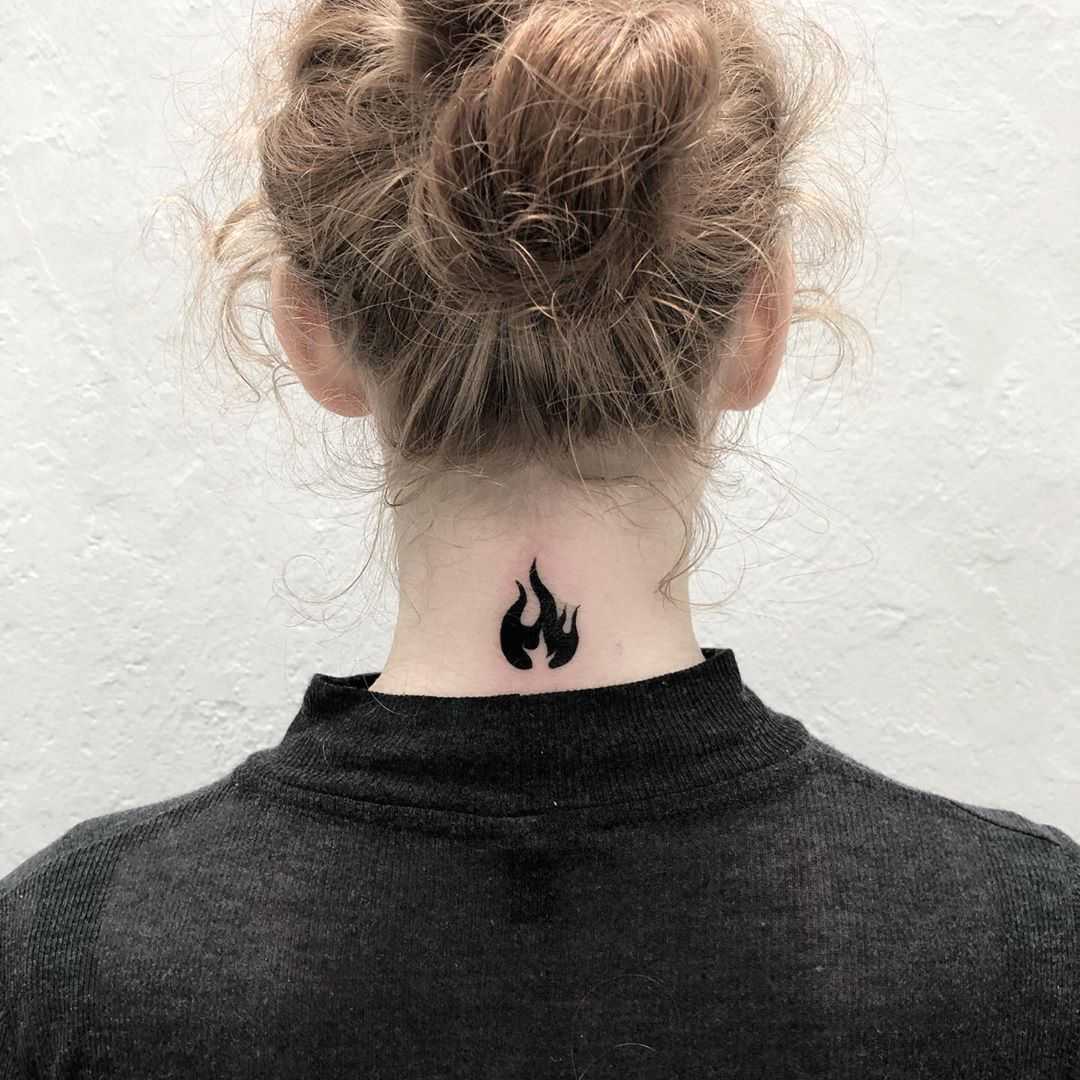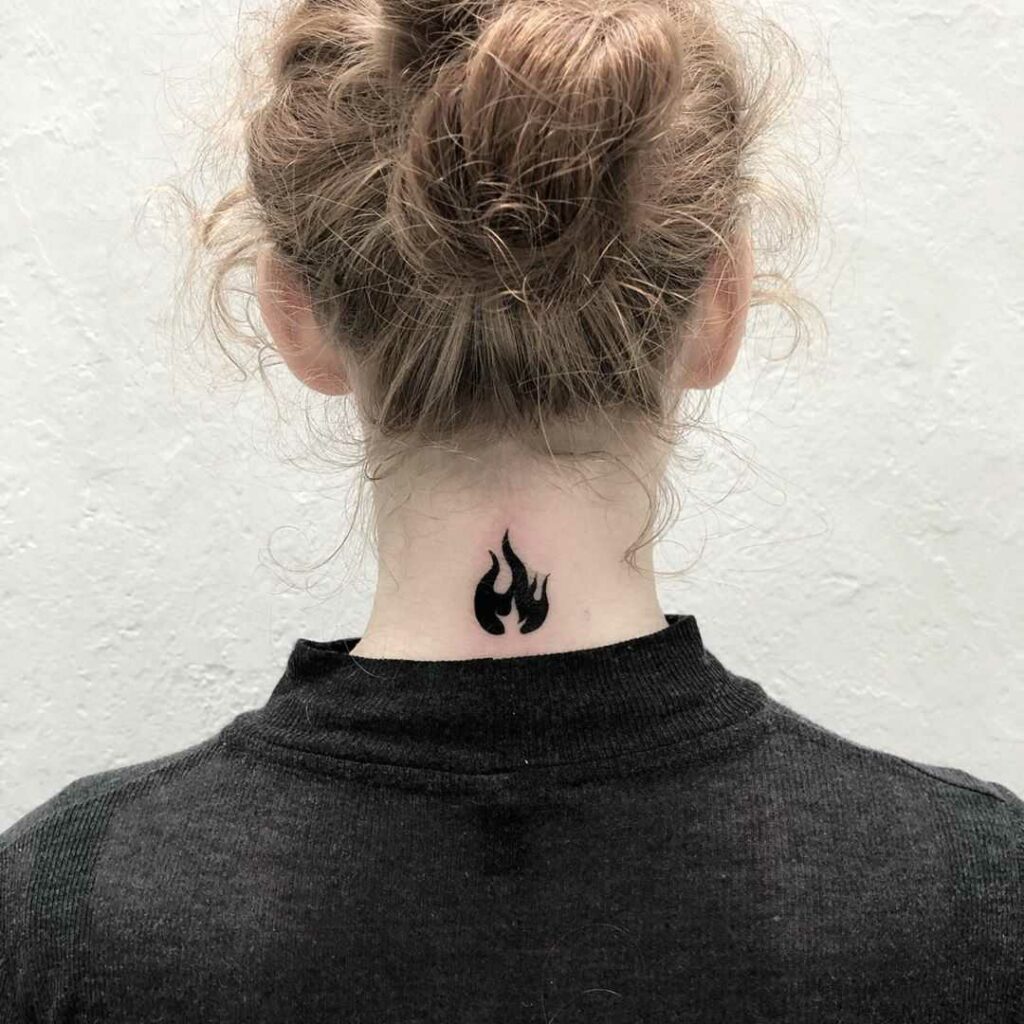 Sleeve Flame Tattoos Design
Imagine getting a big, bold tattoo that covers your whole arm with flames. You can choose just flames or have them wrap around your arm or even combine them with other designs. Japanese tattoos are often used for sleeve tattoos because they usually have larger designs.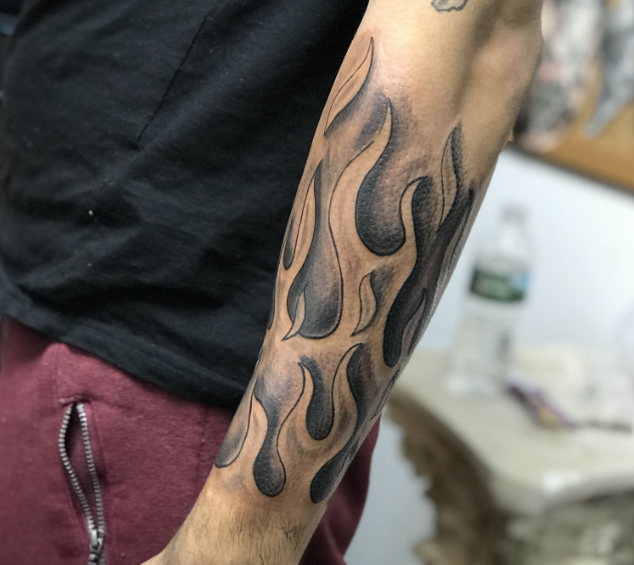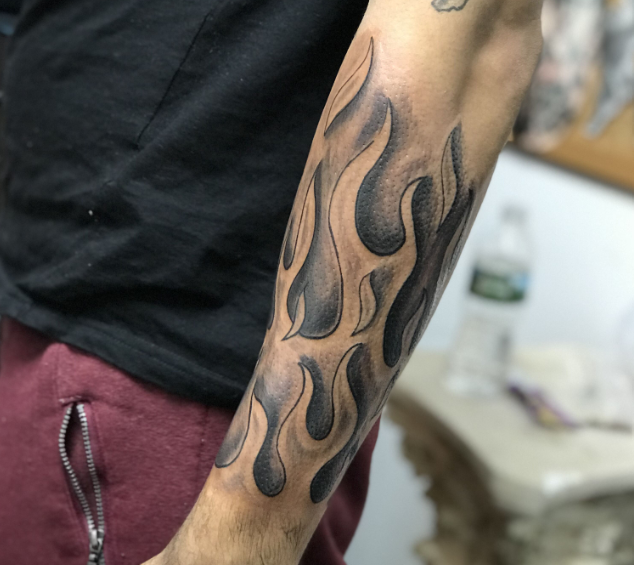 Lighter Tattoo
Do you smoke a lot or are you the go-to person for a lighter? You can get a tattoo that looks like a lighter. This funny tattoo can go with any style, but it's often done in the traditional American tattoo style. Lighters are usually rectangular, but you can make them look like funny characters or even coffins if you like.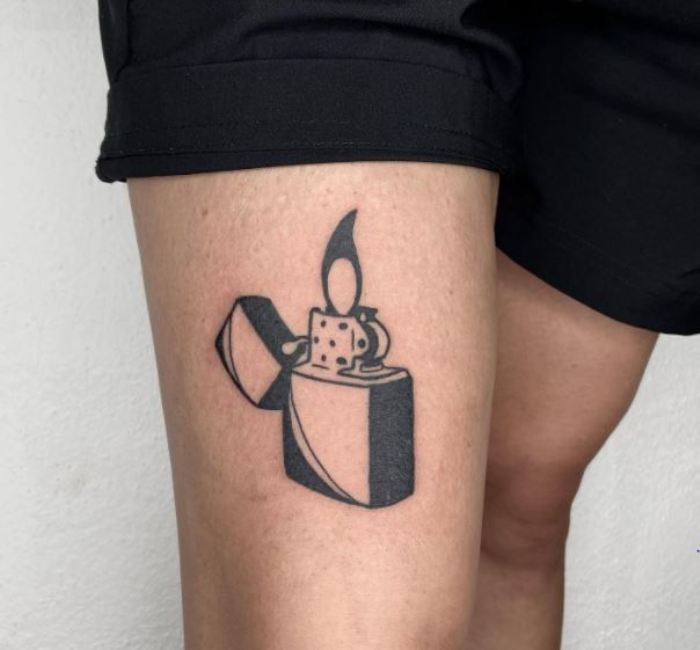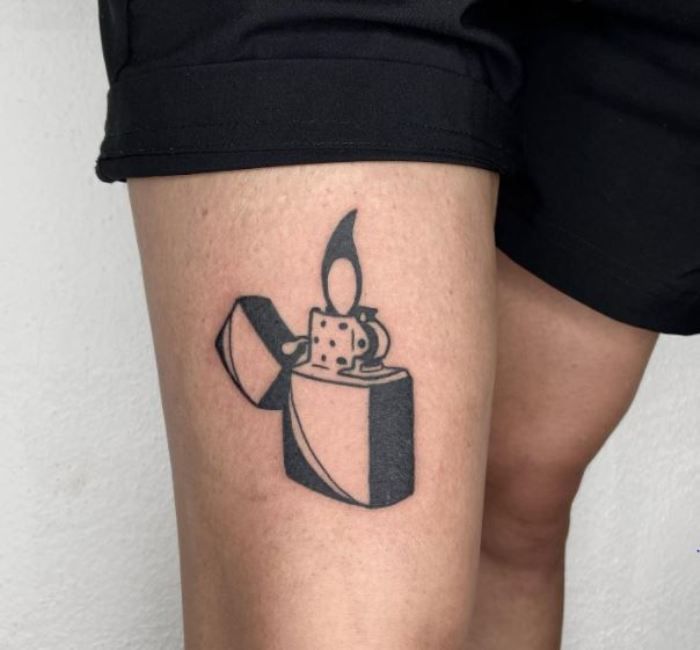 Skull Flame Tattoos
When you combine a flame and a skull in a tattoo, it's usually just a cool design that people with a more edgy style like. Skulls represent the idea of life ending, and flames represent the idea of starting over, so it's an interesting mix. This tattoo can be a lot of fun because it's a bold and striking design.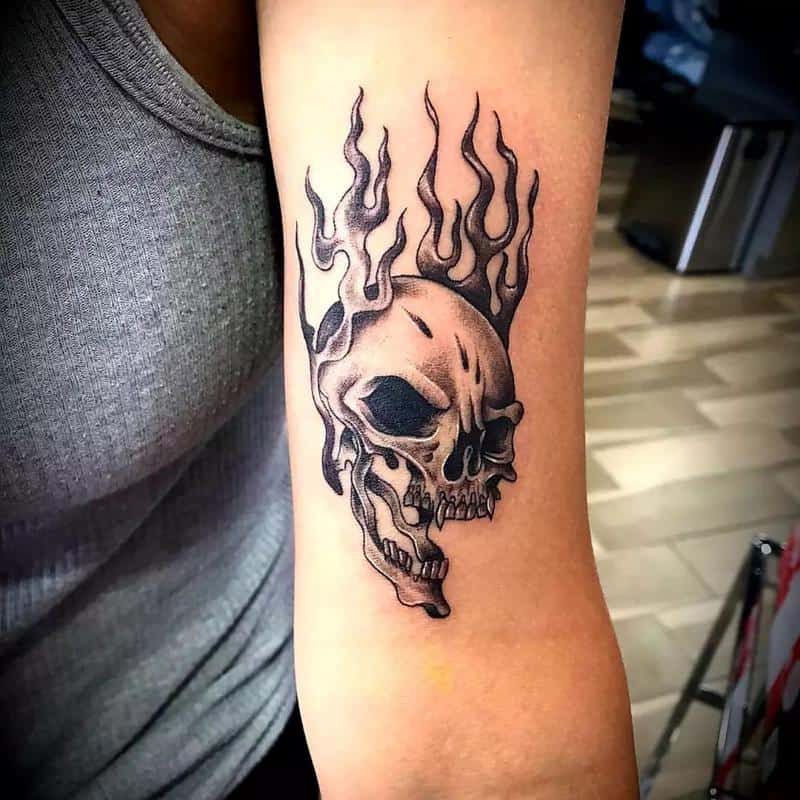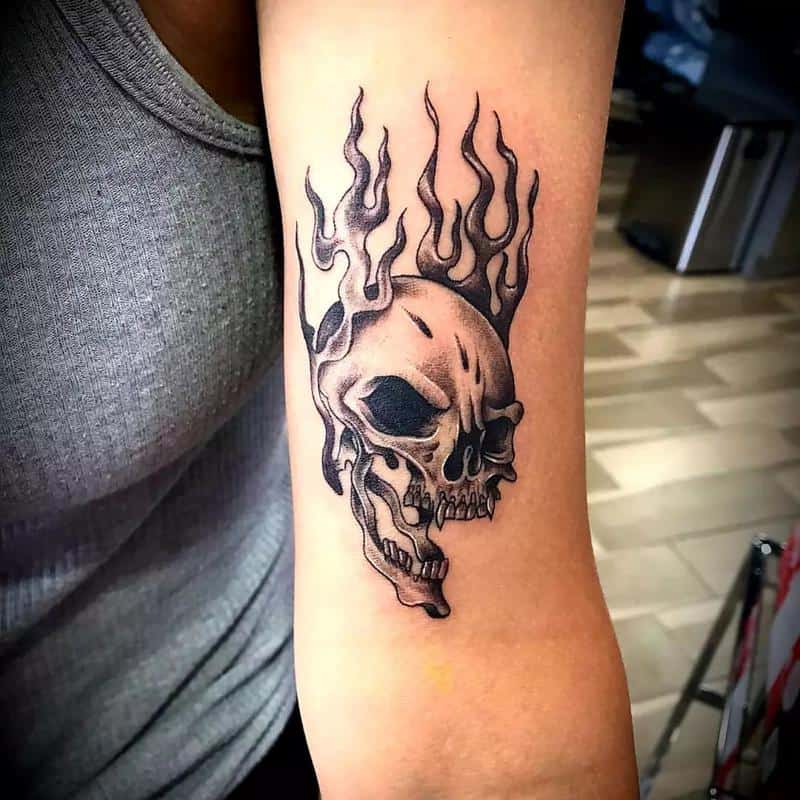 Torch Tattoo
A lit torch is a symbol of light and hope. If the torch points up, it means life, and if it points down, it means death. Torches are also linked to the Olympics, which is a big event where people come together to celebrate human abilities.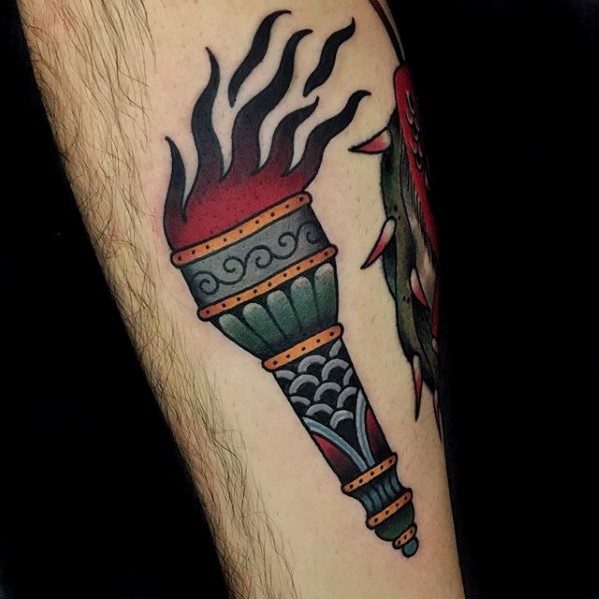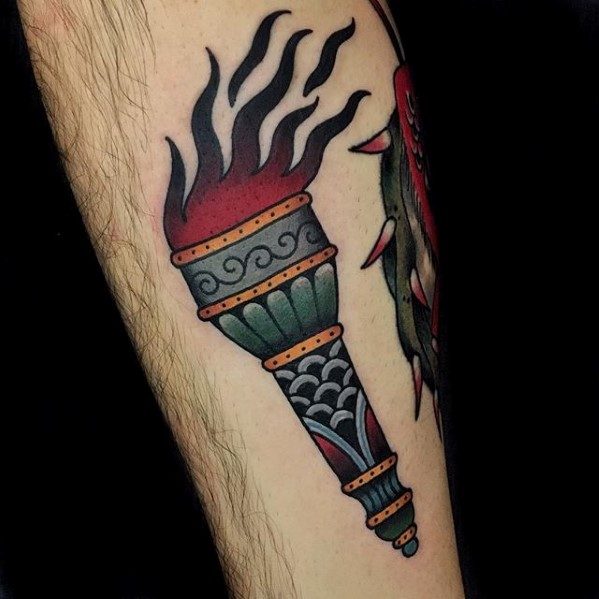 Campfire Tattoo
Remember those fun times when you sat around a campfire? You can celebrate those memories with a tattoo. You can choose to have just a campfire and a tent in the tattoo or even get a whole scene of a campsite on your skin. A talented tattoo artist can even recreate your favorite camping spot from your childhood.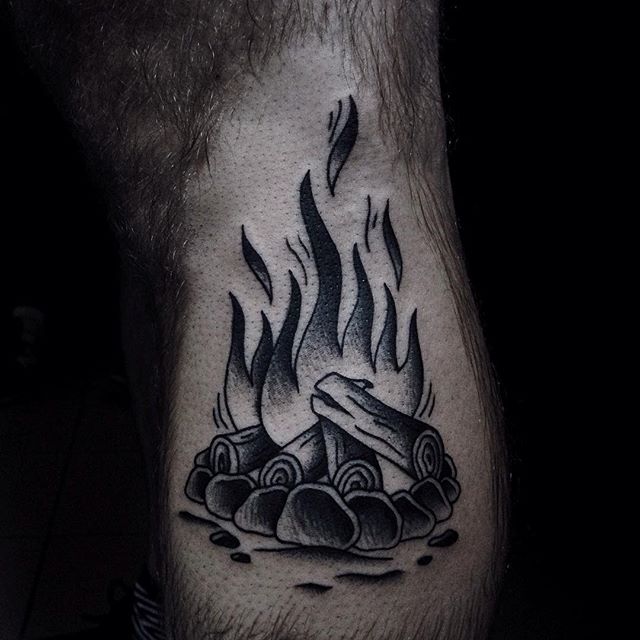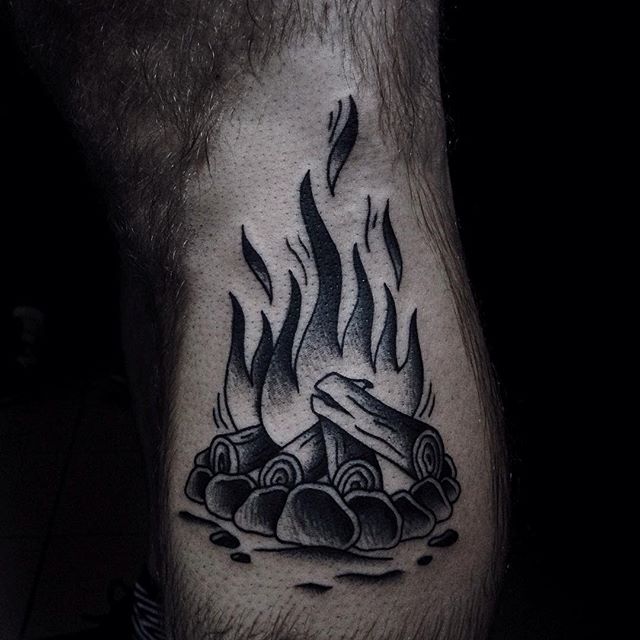 Simple Flame Tattoos
Right now, tattoos that are small and simple are really popular. Flames are so easy to recognize that you can get a tiny, light tattoo. These small tattoos can be placed in places you can hide easily, like your hips, ankles, or neck.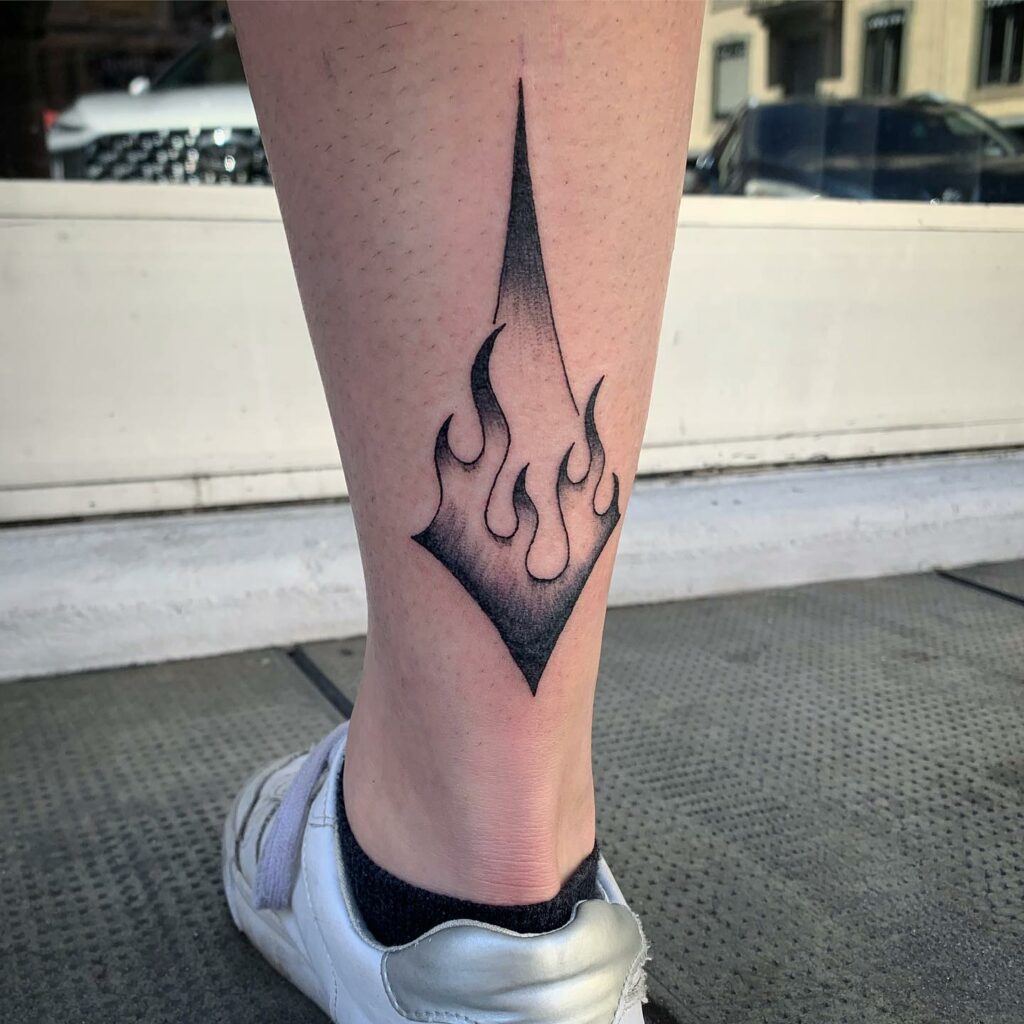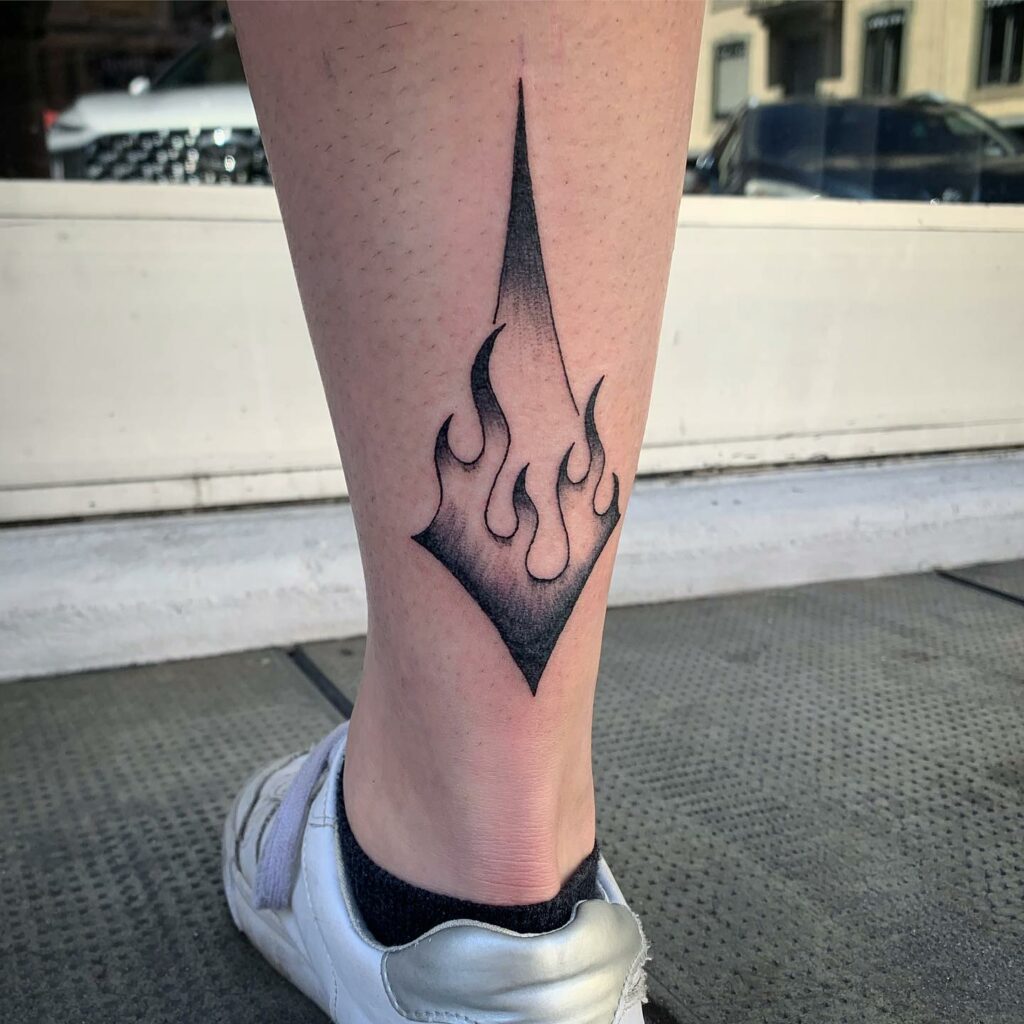 Lit Match Tattoo
A lit match is a common style of tattoo that looks like the quick designs you see on flashcards. This lit match represents a light in the dark, a way to find yourself, and hope during tough times in your life. This tattoo looks good in gray and black or with realistic colors.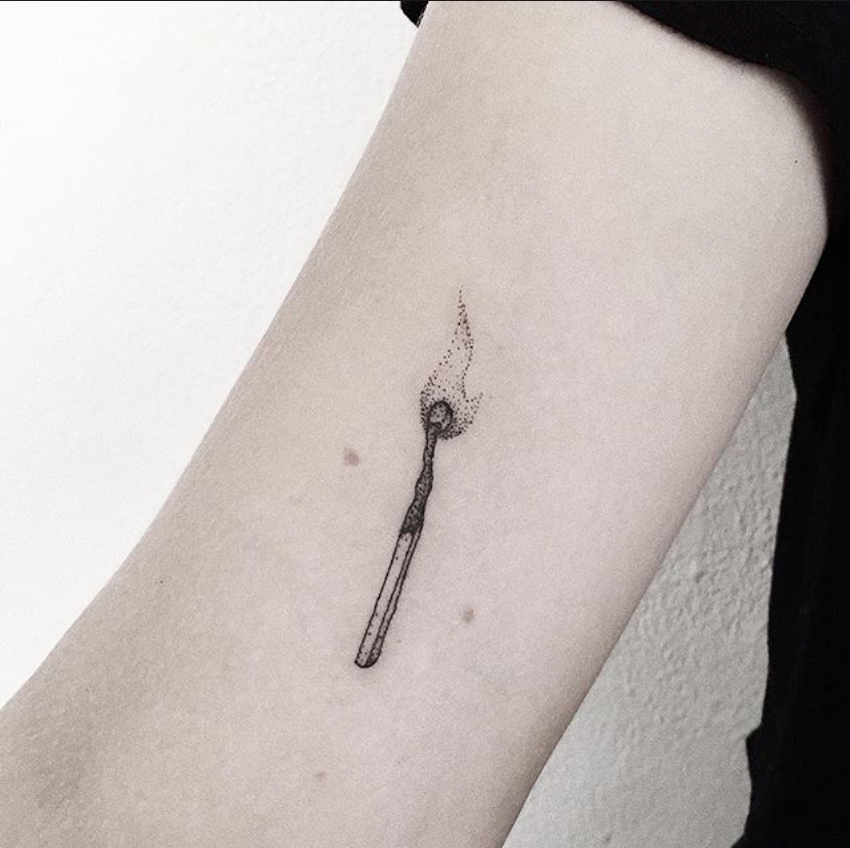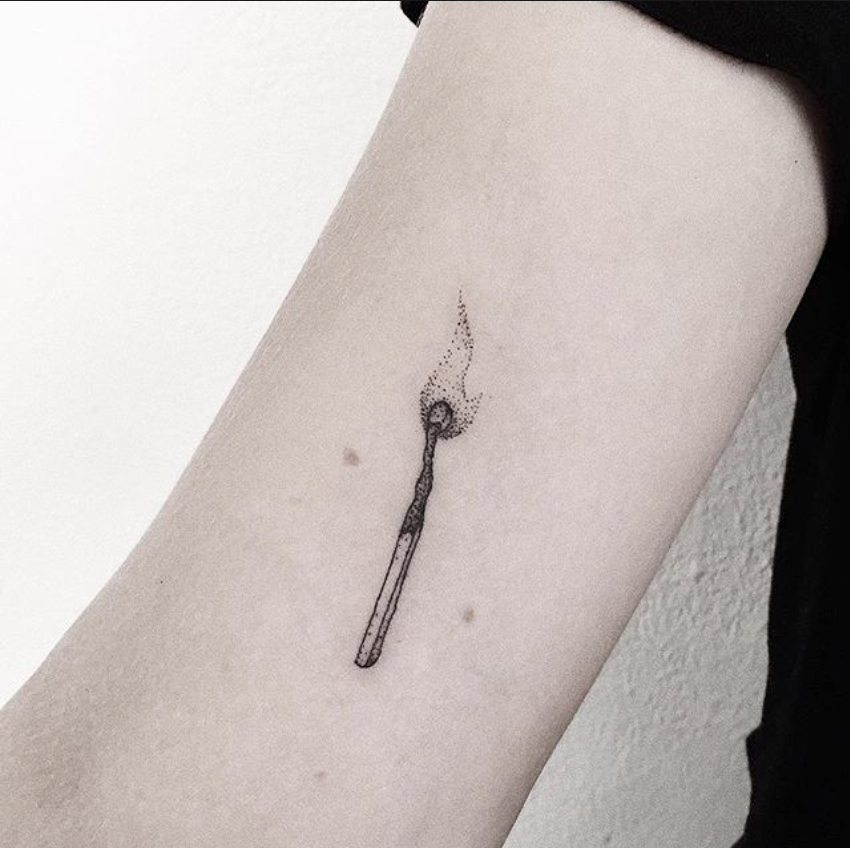 Heart Flame Tattoo
Tattoos of a burning heart have been a favorite for traditional American tattoo artists for a long time. It can show intense passion or heartbreak. While it used to be mostly black, the new trend is to use pastel or bold colors. Some people even add the names whom you love the most.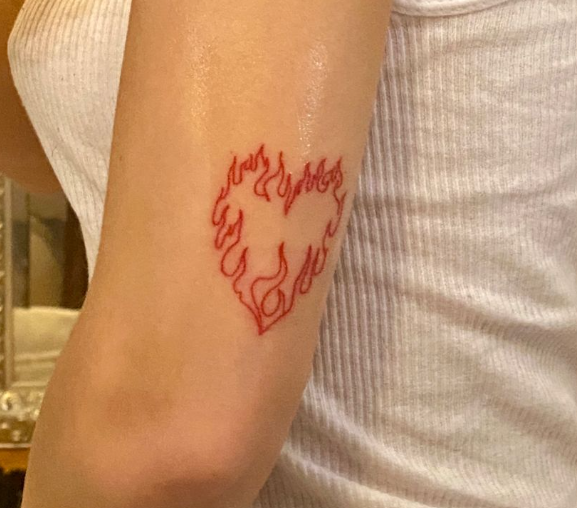 Lettering Flame Tattoo
Flame-style lettering was popular in the late 90s and early 2000s, and now it's really cool again. This thick, bold font looks best with one word or a single number, not a whole sentence. Usually, it's done in black ink, and the letters look like they're on fire with jagged edges.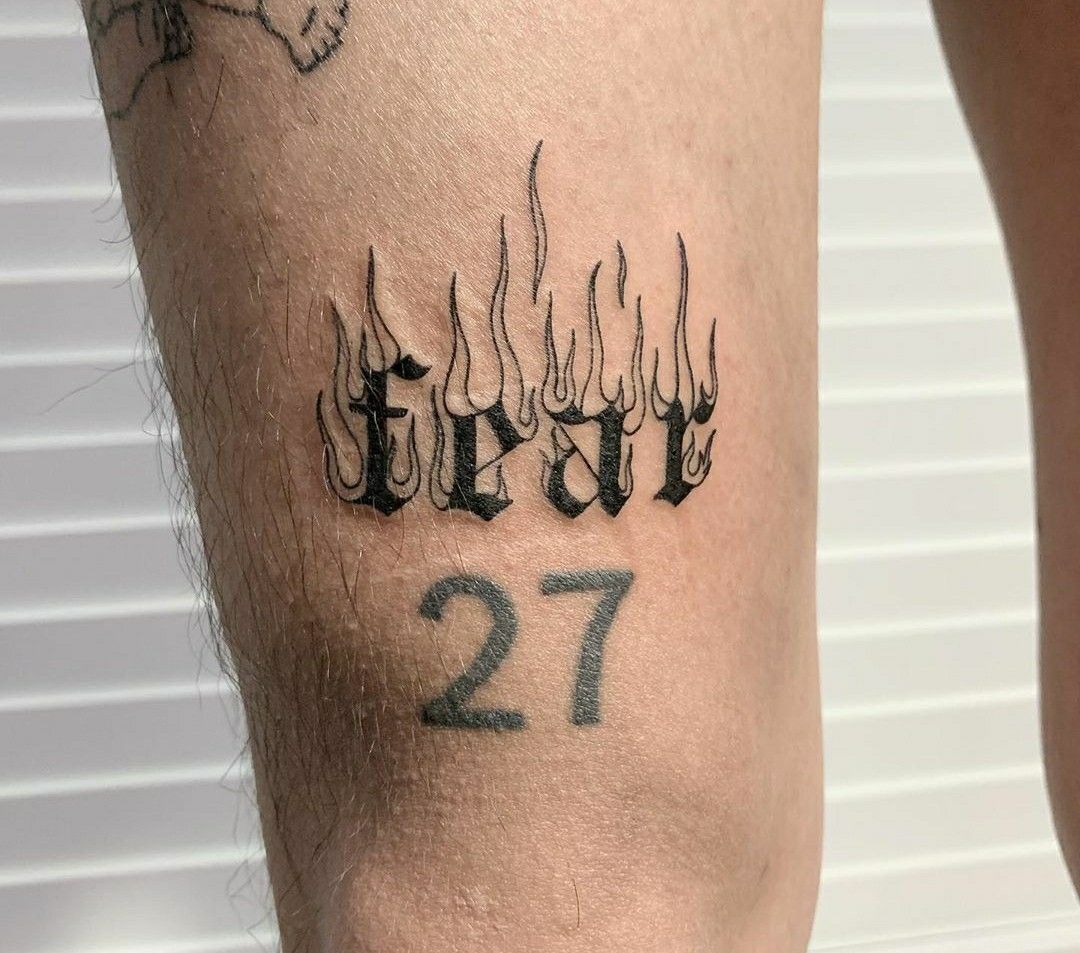 Flame Phoenix Tattoo
Phoenix tattoos are really popular because they look amazing. The phoenix is a bird that comes out of the fire, and it has a deep meaning. Many cultures and stories talk about the phoenix which is rising and coming out from the ashes, which is powerful because it means coming back after tough times and starting a new, hopeful life.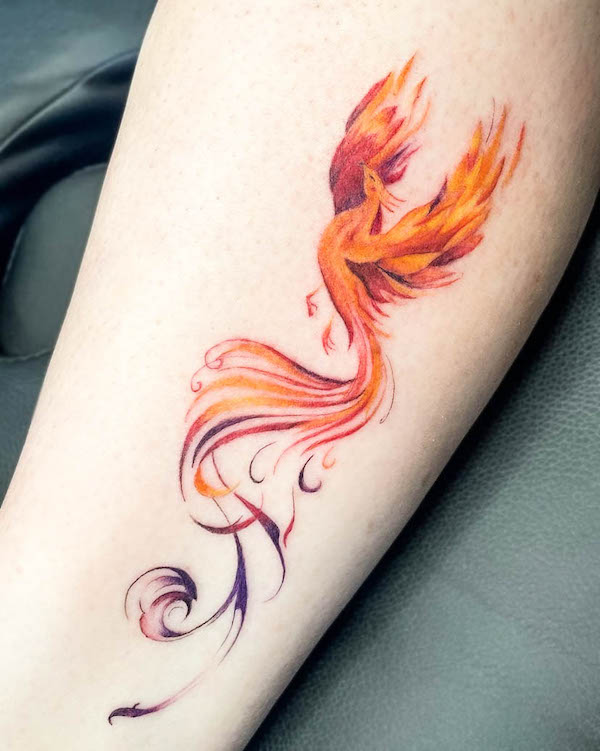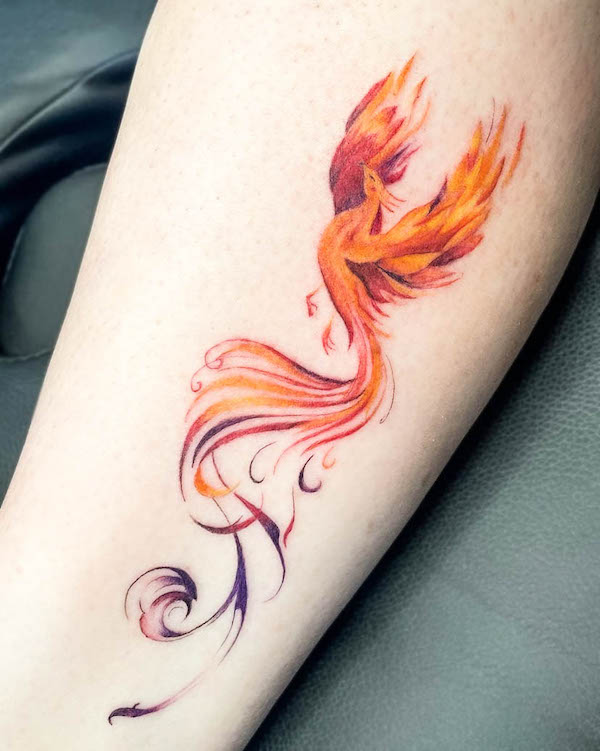 Sacred Heart Flame Tattoo
The sacred heart is a very important symbol in Christianity, and you often see it in religious art. It's a heart that's on fire and bleeding, with thorns around it. For Catholics and Christians, it's a strong symbol of how much Jesus loves people, even though he went through a lot of suffering. You can get this tattoo in black and gray or in vibrant colors.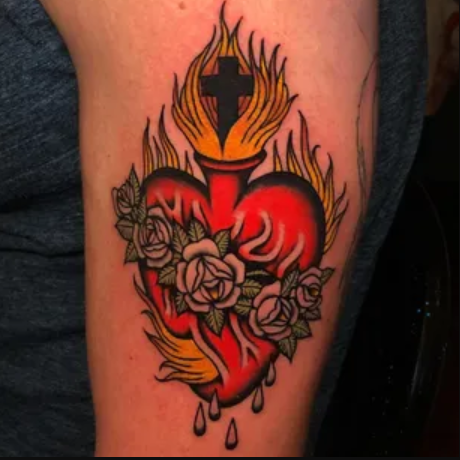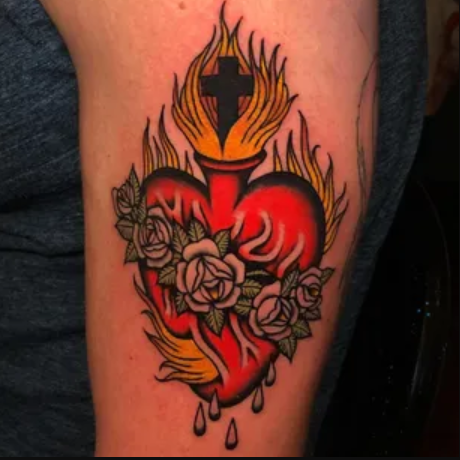 Cartoon Flame Tattoo
Cartoon flame tattoos are playful designs that look like the flames you might have seen in your favorite cartoons when you were a kid (or even as an adult). You can make the flame look like it has a face or put flames around your favorite cartoon character. With this style of tattoo, you can use bright colors, exaggerated shapes, and create unreal scenes.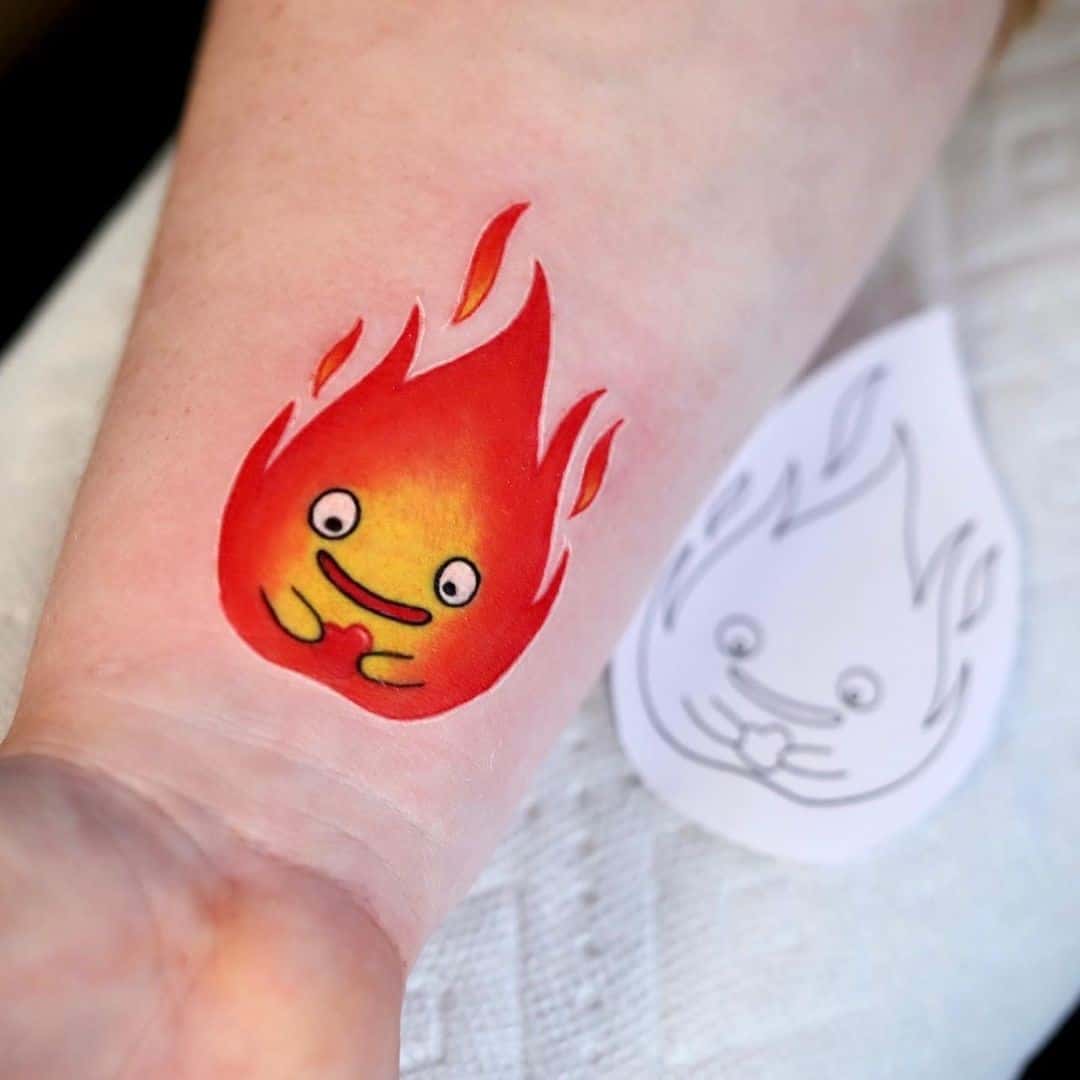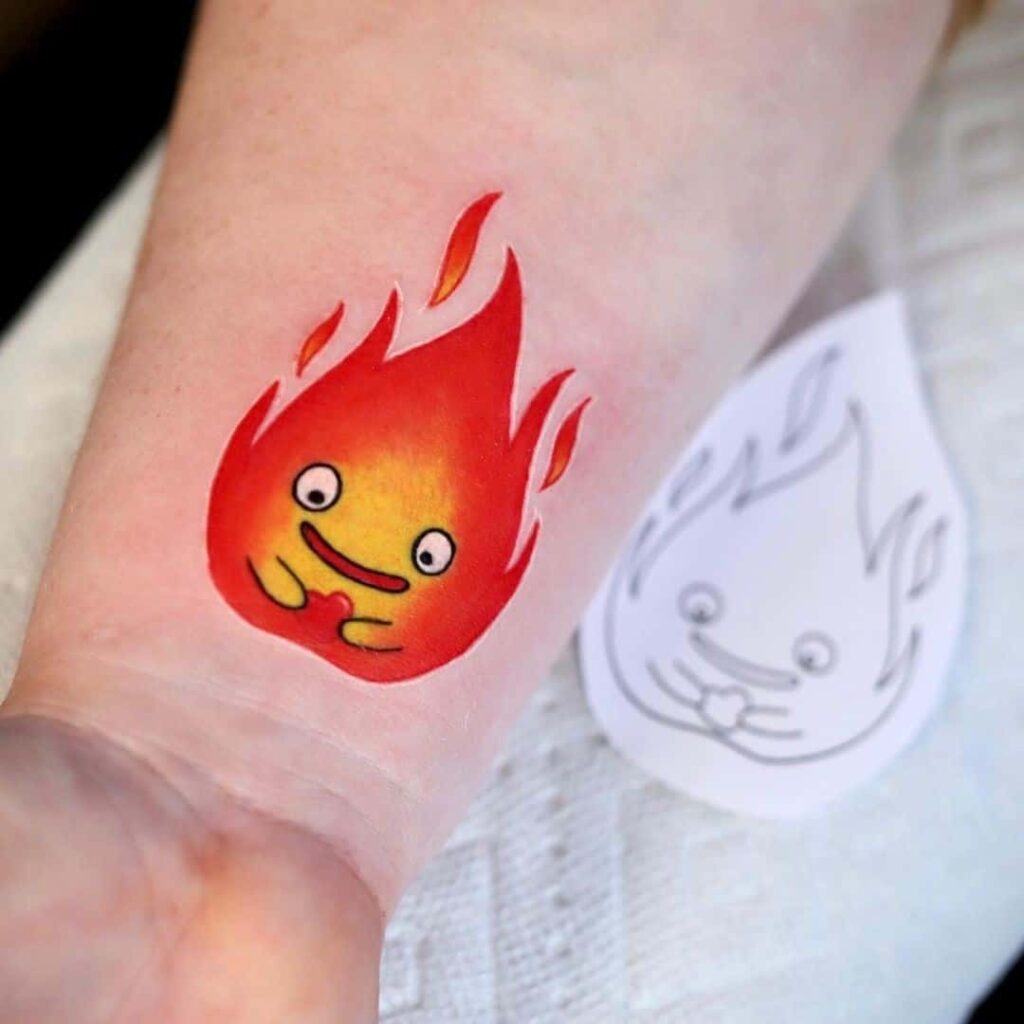 Man on Fire Tattoo
Tattoos of a man on fire typically show a silhouette of a person who seems to be burning. These tattoos can symbolize going through tough challenges or difficult times and still coming out of them alive.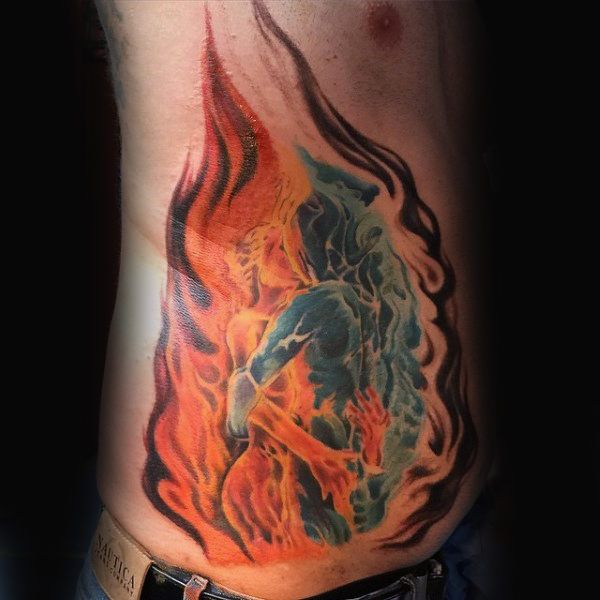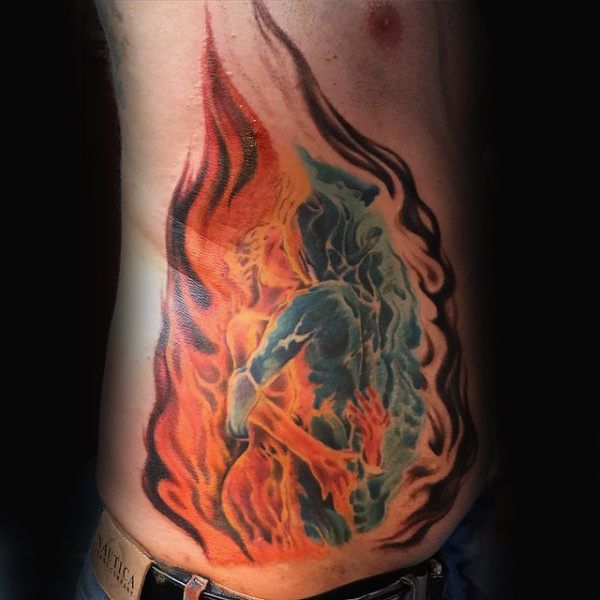 Chilli Pepper Tattoo
Tattoos of chili peppers are great if you really like spicy food. These are a fun way to show your love for spicy things, or you can get one as a joke with your friends. This hot pepper tattoo could also be a symbol of your passionate personality.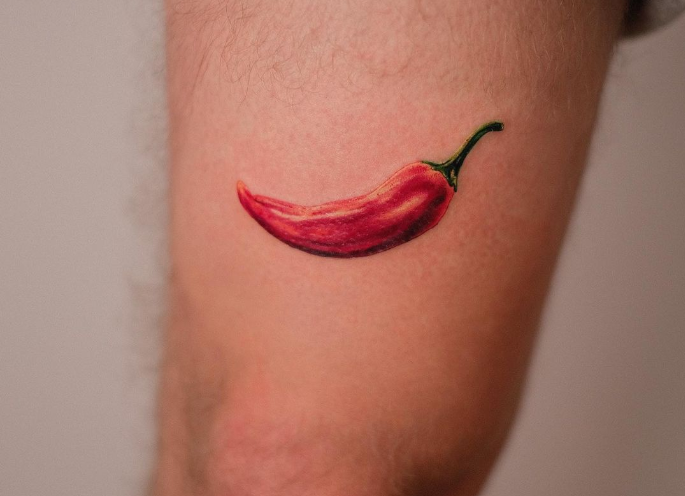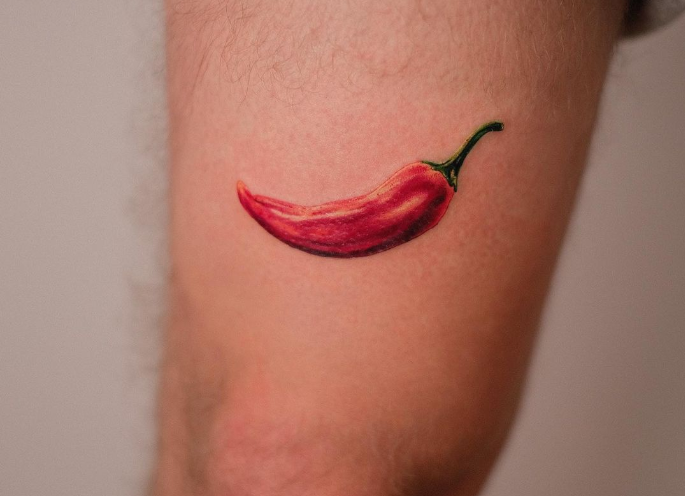 Firefighter Tattoos
Many firefighters get tattoos of flames to honour the work someone is doing which is of their chocie. A common firefighter tattoo is of a helmet, which is a unique and personal symbol for each firefighter. A tattoo of a firefighter's helmet surrounded by flames is a great way to represent the job. Another popular design is two axes crossed like an X, placed on the firefighter's badge.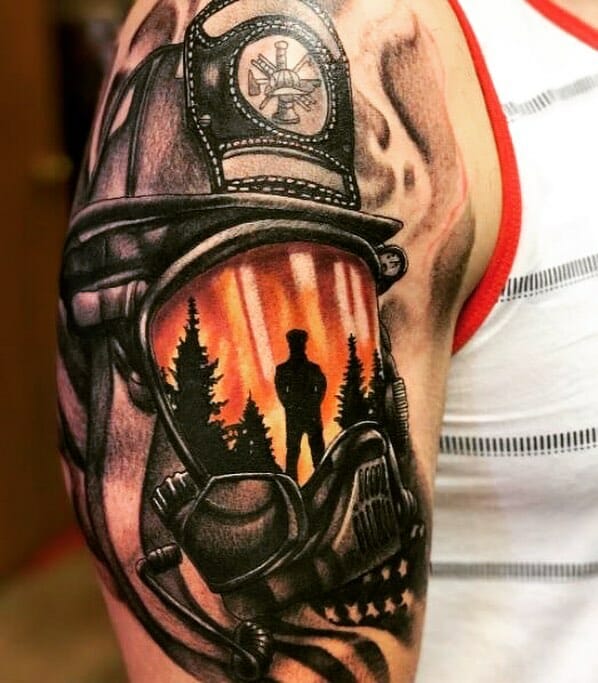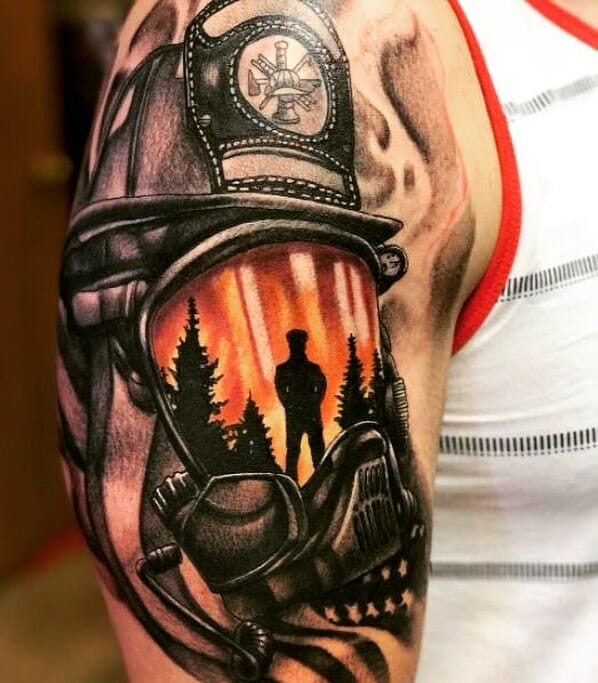 Flaming Cards Tattoo
Many people like to get tattoos of cards and flames together. It's a cool design, especially if you enjoy playing cards often. One popular version is having aces on fire, which shows you're a skilled player.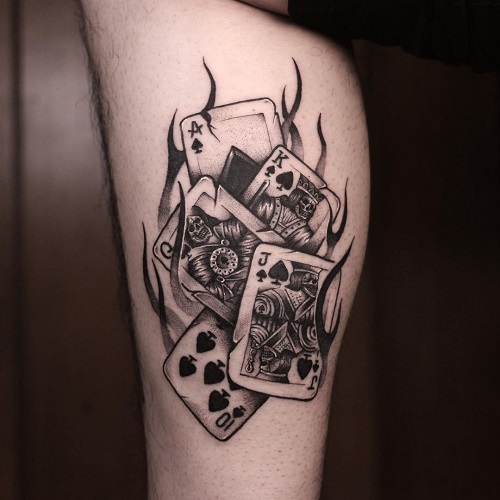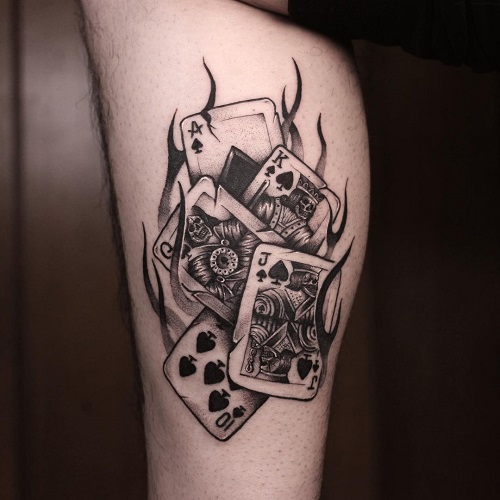 Burning Flag Tattoo
A tattoo of a burning flag represents anarchy and shows that you're not happy with your country. It's like destroying a symbol of national unity, and because of this, it's not allowed in some places. This tattoo makes a strong political statement and can be controversial.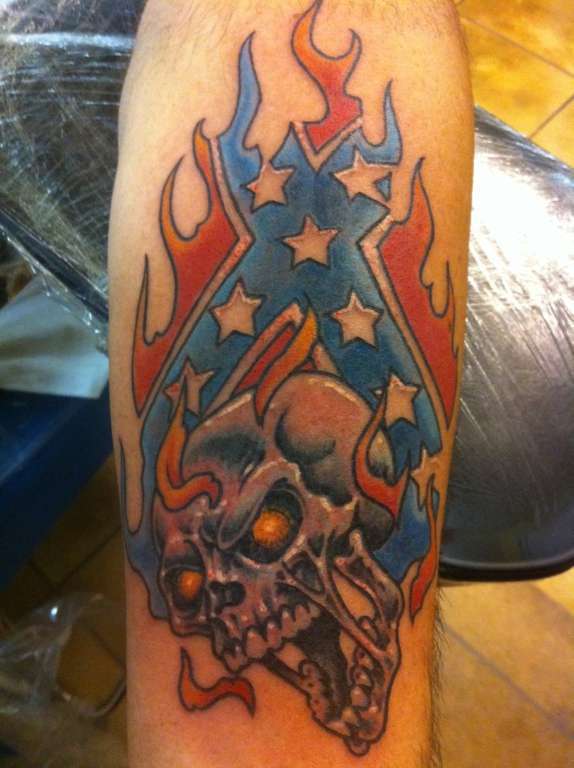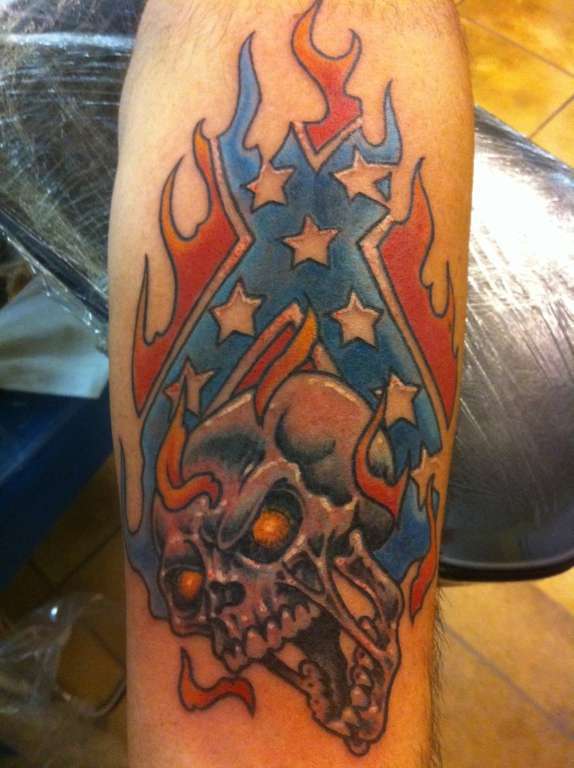 Tattoo on Arm with Flames
People often get tattoos on their arms because it usually hurts less than other places, and you can hide it at work. Flame tattoos can be done on the arm in many ways. You can choose designs that go along the length of your arm.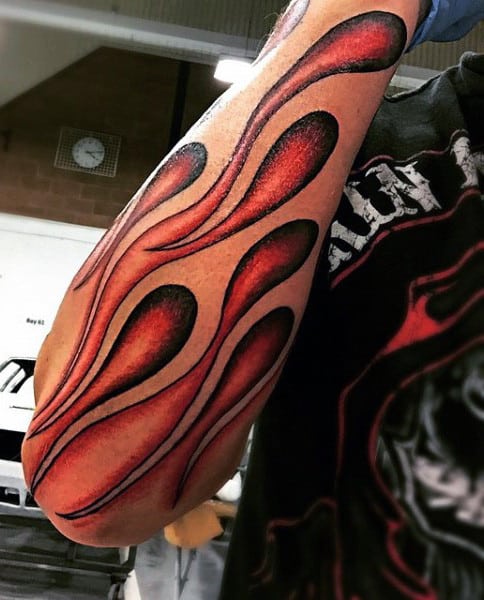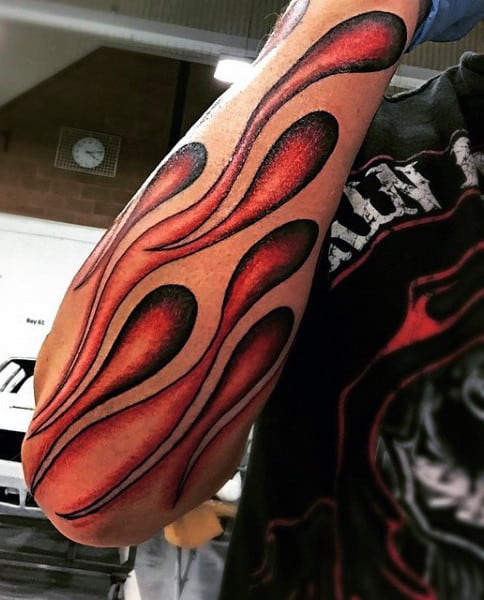 Tattoo on Leg with Flames
Your legs are a great place for bigger tattoos because they usually hurt less. Many people get big designs on their thighs, but smaller ones work well on the knee or calf. Since flames are long in shape, they look good on the long area of your leg.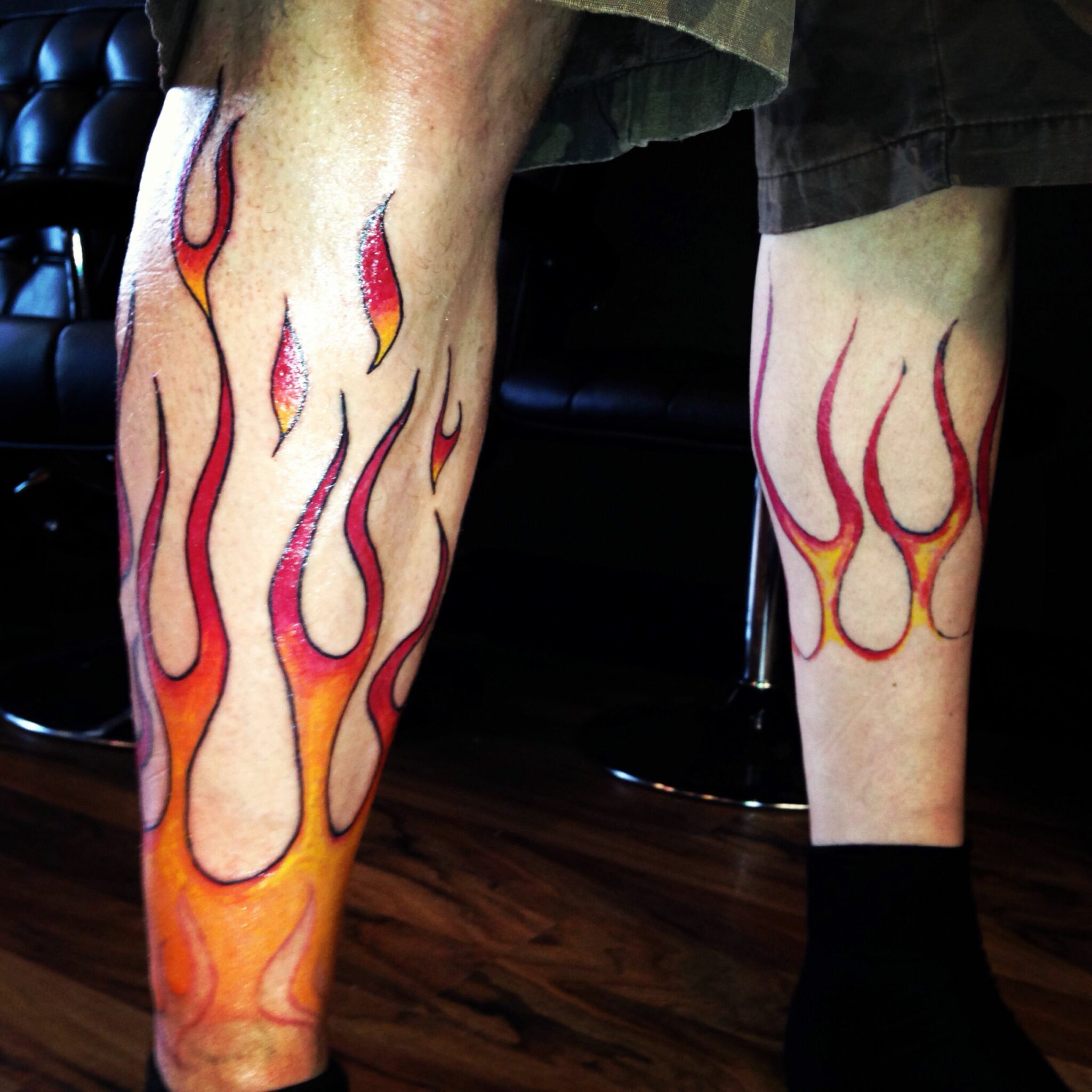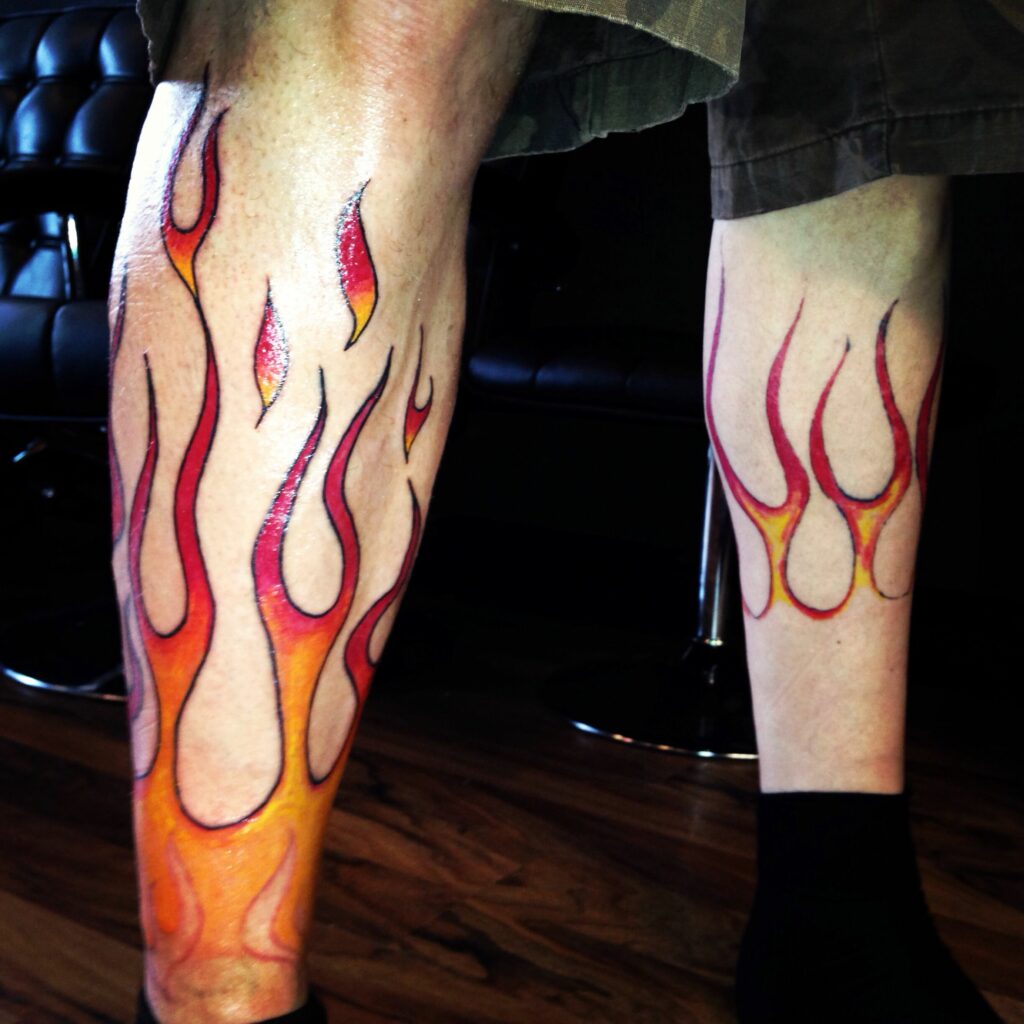 Wrist Flame Tattoo
Tattoos on the wrist are quite common nowadays, especially because many bosses are okay with them. Having a ring of flames of the orange around the wrist looks really cool, but these days, more people prefer getting tattoos on the inside of the wrist.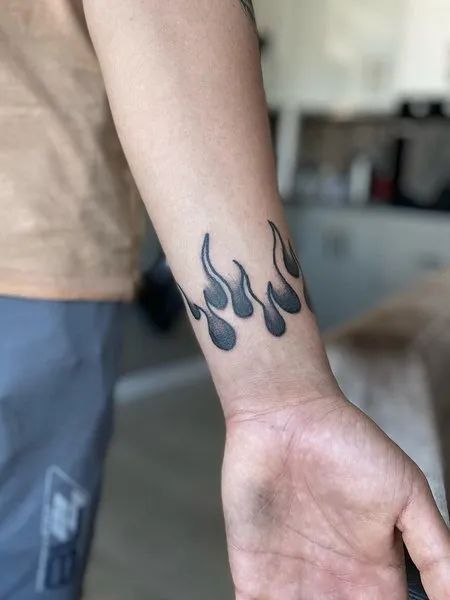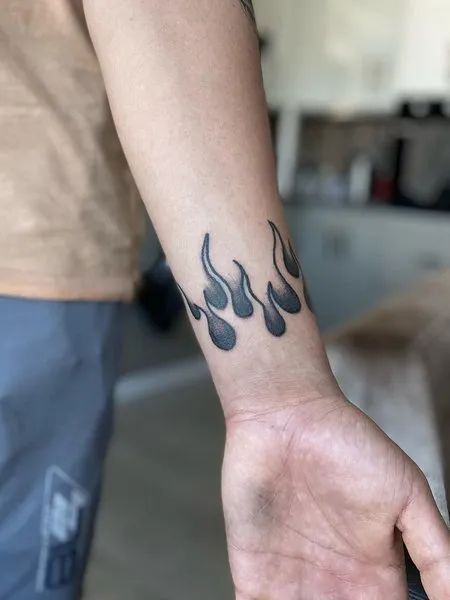 Flame Hand Tattoo
Celebrities are getting tattoos on their hands, and it's a trendy thing for both guys and girls. You often see small black flames on fingers or on the back of the hand. Just remember, hand tattoos can fade faster because you wash your hands a lot and they're exposed to sunlight.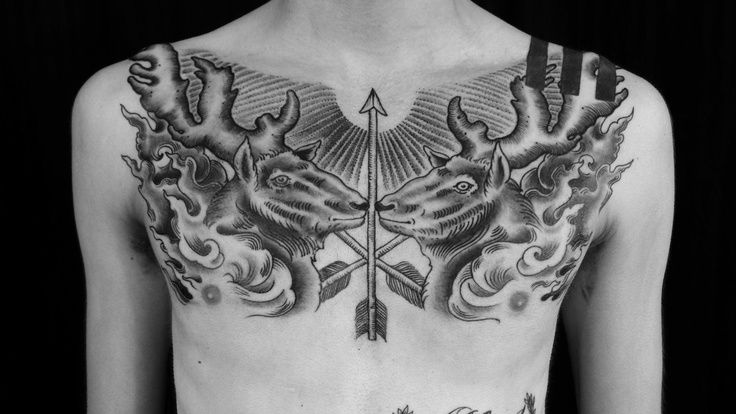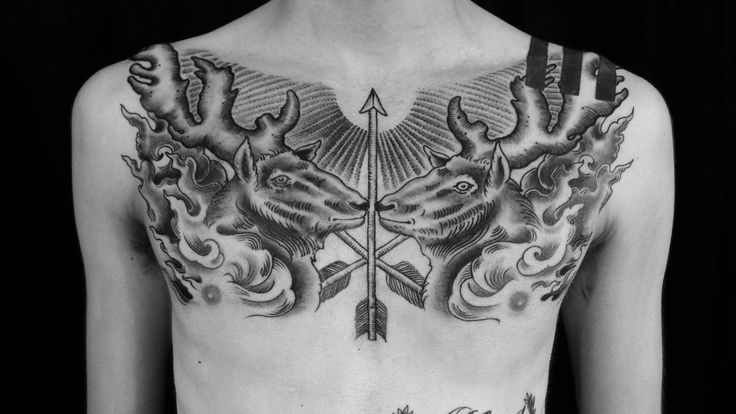 Chest Flame Tattoo
Men have liked getting tattoos on their chests for a long time. These chest tattoos can show off the muscles you've built at the gym. But it's not just for men; women can get chest tattoos on their sternum (the middle of the chest), cleavage, or just below the neck.
Some Related Questions
How much do flame tattoos cost?
The cost of a flame tattoo will also vary depending on the size, location, and complexity of the design. However, flame tattoos are typically more affordable than other types of tattoos, such as portrait tattoos or full-sleeve tattoos.
Can I get a flame tattoo if I have sensitive skin?
Yes, you can get a flame tattoo even if you have sensitive skin. However, it is important to talk to your tattoo artist about your concerns beforehand and choose a design that is appropriate for your skin type.