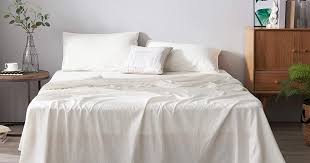 Some people buy sheets considering only two factors how they look and how they feel. But there are several other factors that you need to take into consideration to find high-quality sheets that will last longer and are comfortable to sleep on.  You should not neglect your comfort level while you sleep.
Sheets come in a set as well as in single pieces. A set of the sheet contains a fitted sheet for the mattress, comforter, a flat sheet to act as a buffer between the body and comforter and pillowcases. Retailers started to sell single pieces because people generally don't have as many pillow sets and avoid using flat sheets.
Every person has a different choice when it comes to the preference of sheets. Some like it soft and cozy others may like breathable and cool fabrics.  There is a variety of fabrics available in the market to choose from. Some of the popular fabrics are linen, cotton, sateen, percale, and microfiber, etc.  There are other features to choose from like deep pocket, thread count, wrinkle resistance and many more.
How to Choose the Best Sheets?
Bed Sheets are not a new product, but still finding a good, the sheet is not that easy. A good sheet should be strong, retain the shape, fit well and not cost hundreds of dollars for each set. Wondering how to buy sheets and do not regret later? Follow these expert tips on sheet buying guide to help you choose the right sheet.
       

Softness-

it is very important to check whether the sheets will be able to maintain their texture after being washed. Feel the sheets to understand the texture. Testers have found that on average a good sheet maintains the texture and softness after a year worth of washes.
       

Fiber-

It is important to choose the right fiber for the sheets as per the occasion. The most preferred fiber of the sheets is linen, cotton, and microfiber. You should consider the benefits and downside of every fiber and pick that suits your requirements. If you do not have any budget constraints then linen sheets are the best option
       

Size of Matters-

it is essential to measure the size of your mattress. Consider the height of the mattress pads while measuring. You should buy sheets with extra deep pockets rather than the thickness of the bedsheet because sheets sometimes shrink after multiple washes. In a test done sheets were as per manufacturers' direction for 25 times to match a year's worth of wash. The cotton sheets shrink up to 6 percent after every 5 wash and dry cycles.  Some sheets shrink so much that they do not fit the mattress. There are only a few deep pocket sheets (18 inches tall) that lived to the expectation.

       

Fit-

choosing the right fit for the sheets is very important. Mattresses come in different sizes like a twin, full size, queen size, and king size, etc. Finding the sheets to fit your mattress can be a challenge if it has a unique size like Twin XL, Split king or California king. And finding the

best twin XL sheet

will become difficult as not many retailers carry these unique sized sheets in their stores. The only option you get is to buy it online. Choose at least 2 inches bigger than the mattress. It is always a good idea to size up. If your mattress is 12 inches deep queen/king-sized mattress buy a 14 inches

deep pocket queen sheets

or

deep pocket king sheets

. Usually, mattresses are 12 inches deep. A deep pocket sheet can easily fit the 15-inch mattress and

extra deep

sheets can fit up to 22 inches mattress. Ensuring a good fit is very important to make sure the sheet pockets don't pop open in the middle of the night.
       

Thread Count- It is a common assumption among people that more thread count means more luxurious. This depends on the sheet preference and the quality of fiber you choose. Thread count is the number of vertical and horizontal strands of yarn in every one square inch of fiber. You can easily find sheets with 200 thread counts to 1000. Higher thread count in sheets means softer sheets. Don't stick to thread count as a priority while shopping. A 300 thread count high-quality cotton sheet is better than buying 800 thread count sheets made using poor quality.
       

Weave-

weave refers to the type of knit used in making of the sheet. Sateen, percale, satin, jersey, and flannel are different types of weave. Different types of weave mean different look and feel of sheets.
       

Finish-

finish of the sheet is everything. Many manufacturers make sheets finished with a chemical process to prevent them from shrinking or wrinkles. Manufacturers who make organic sheets made of cotton fiber "pure finish" means it is free from the chemically processed finish. Organic sheets are easy to get wrinkles.
       

Price- The

quality and price of the sheet matter a lot. What quality sheet you get for the price you pay. It is challenging to find good quality sheets at Target and Walmart. Invest your money in buying sheets from good places.
Type Of sheets:-
Based on the type of Fabric
       

Cotton sheets

are the most demanded because of its affordability, breathability, soft texture and durability. There are different variations of cotton-like organic cotton and Egyptian cotton, both of these are high end, there are short and long-staple cotton (refers to the length of cotton fiber).  Mostly sheets are made with American Upland cotton fiber (basic and commonly used fiber).

       

Linen Sheets

are considered as luxury fiber sheets. These are incredibly durable and last for decades, with proper care and get softer after every wash. Linen sheets are breathable and absorb the moisture out of the skin. Linen sheets are great for people with sensitive skin. The only downfall is that it gets wrinkles very easily and is expensive. They can easily cost around $200-$400.

       

Microfiber

or polyester sheets are made of synthetic fiber and are very soft. They are not a good choice for summers. These are the least expensive type of sheets. These sheets are not considered eco-friendly.  These attract lint and pet hair. These are not wrinkly what a benefit is.
 Microfiber vs. Cotton Sheets
       

Microfiber sheets are not breathable and will make you sweat. Cotton sheets are breathable and are a good choice in all weather conditions.

       

Cotton sheets are eco-friendly while microfiber is not.

       

Cotton sheets get wrinkled easily. Microfiber sheets do not get wrinkles.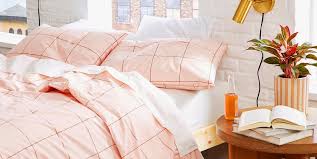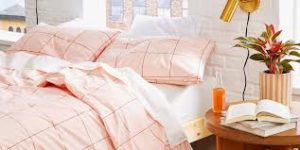 Based on the type of Weave
       

Percale sheets

are constructed with plain weave. Yarns are arranged in a one-over-one-under pattern, which makes a crisp fabric. Percale sheets are durable and strong. The only downside is that these are not very soft and are prone to getting wrinkles. People who live in places with a warm climate prefer percale sheets.

       

Sateen sheets

are weaved with horizontal yarns over many vertical strands, which creates smooth and silky texture. This weave gives a lustrous feel to the sheets but is not as durable as parcel sheets and has a risk of pilling. They have a slippery texture to them and have a little sheen.  If you like the feel of silky bedding these will be your new friend. These are a little pricier than the percale sheets and range from around $30 to $200.

       

Jersey sheets

are also called flannel sheets. Jersey sheets are knitted instead of woven fabric. Jersey sheets are kind of the same as cotton T-shirts are super soft and cozy. Buy from the different options available in the market like Jersey sheets queen size and jersey sheets king-sized and also twin beds.

       

Satin sheets

are the most lustrous sheets. In this weave, one horizontal yarn is woven over many vertical yarns. The fabric feels slippery and is considered as luxurious. The downside of satin is it is easily pilled and has very little durability.
Based on the type of finish:
       

Organic Sheets-

Organic sheets means the Fabric used is grown without the use of any pesticides and are eco-friendly. These sheets are not treated chemically and are well suited for sensitive and hyper-allergic skin. These sheets show the same benefits as cotton sheets and cost around $40 to a few hundred dollars.

       

Bamboo sheets-

bamboo sheets gained popularity because of increasing concern about the environment among people. Bamboo is an eco-friendly fiber and it grows fast without the requirement of pesticides. The sheets made from bamboo are super soft, natural odor resistant, durable, anti-bacterial and breathable. The only downside is that the sheets are more prone to getting shrink easily. These cotton-blend bamboo sheets usually cost around $60 above per set.

       

Wrinkle Free Sheets-

Some people free wrinkle-free or wrinkle-resistant sheets. These are made of cotton and are treated with resin after construction which makes them wrinkle-resistant and they stay smooth. The controversy is the use of formaldehyde in the making of these wrinkle-free sheets.