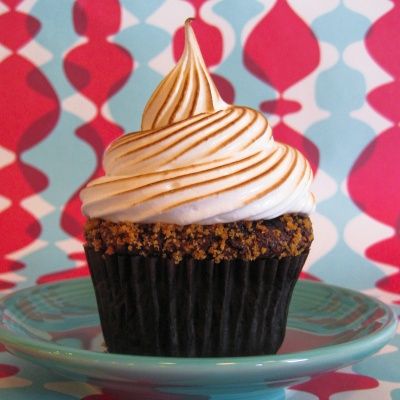 We all love the gooey goodness of Marshmallows in hot chocolate. Why not experiments with tasty dessert recipes filled with Marshmallows? Enjoy the holidays with delicious Marshmallow recipes. 
Marshmallow Frosting Recipe
Give the usual cream frosting a twist with this marshmallow frosting. Try it on chocolate cupcakes. This marshmallow frosting recipe is very easy and quick to make.
Ingredients:
egg whites (8 large)

sugar (2 cups)

tartar cream (1/2 tsp)

pure vanilla extract (2 tsp)
How To Make:
In a heatproof electric mixer bowl, Place egg whites, tartar cream, and sugar. Set it over simmering water saucepan. Whisk the mixture for about 4 minutes to dissolve the sugar.

Transfer the mixer bowl to an electric mixer with an automatic whisker. Start beating for about 7 minutes until the mixture becomes stiff. Start with low speed and gradually start increasing the speed to high. Add Vanilla extract and mix properly to combine.

The frosting is ready to use. Don't keep it for too long; use it immediately.
No-Bake Birthday Cake Recipe       
This crispy no-bake birthday cake is very easy to make. Filled with the goodness of chocolate marshmallow icing and rice treats will become the kid's favorite no-bake birthday cake. Follow this delicious Marshmallow dessert Crispy cake recipe to make the cake.
Ingredients:
For Cake
crisp rice cereal(16 cups)

mini marshmallows (12 cups)

unsalted butter(10 tbsp)

colorful cereal (for decorating)

candies (for decorating)

vegetable oil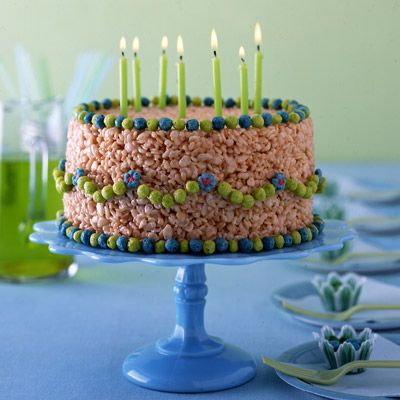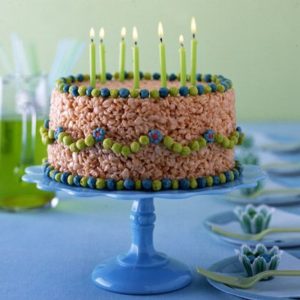 For frosting:
unsalted butter (1 1/2 tbsp)

mini marshmallows (7 1/2 ounces) (4 1/2 cups)

semisweet chocolate chips (3/4 cups)
How to Make:
Chocolate marshmallow frosting Recipe
In a medium saucepan, melt butter over low-medium heat. Add marshmallows to the butter; keep stirring until it melts. Add chocolate chips the mixture and keep stirring until it's smooth.
Read More: Enjoy making spongy fruit cake at home
No-Bake Birthday Cake recipe
1. In a large saucepan, add mini marshmallows; keep stirring to melt over low heat for about 10 minutes. Mix rice crispy cereal and stir.
2. Take two round cake pans 8-by-2-inch size and coat with vegetable oil. Pour the rice and marshmallow mixture into the pan. Keep 2 tbsp. Rice mixture aside for patching. Press the mixture into pans to level. Keep aside for 30 minutes and let it cool.
3. Unmold the cake on parchment paper using the knife to loosen the edges of the cake.
4. Pour the chocolate marshmallow frosting on to the center of one cake and spread evenly. Let it sit for 10 minutes to cool. Place the second cake on top and gently press down. Patch the edges using the remaining rice mixture kept aside.
5. Decorate the cake using cereal and candies. The cake should be kept aside for at least 1 hour to 2 hours until its firm enough to slice pieces easily. Wrap the cake in a plastic wrap after 2 hours, preventing it from getting the cake too hard.
S' mores Sundaes Recipe
Who doesn't love a glass of hot S' mores drink? Enjoy this S' mores Sundae Recipe throughout the holidays. 
Ingredients: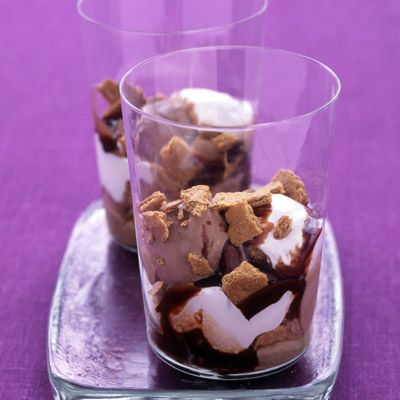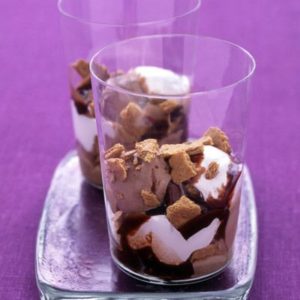 chocolate ice cream (1 cup)

marshmallow cream (1 cup)

warmed hot-fudge sauce (1/4 cup)

graham cracker (1)
How to Make:
Put the ice cream, hot fudge sauce, and marshmallow cream between two glasses.

Serve the Sundae with Crumbled graham crackers on top. 
Source:-dish.com