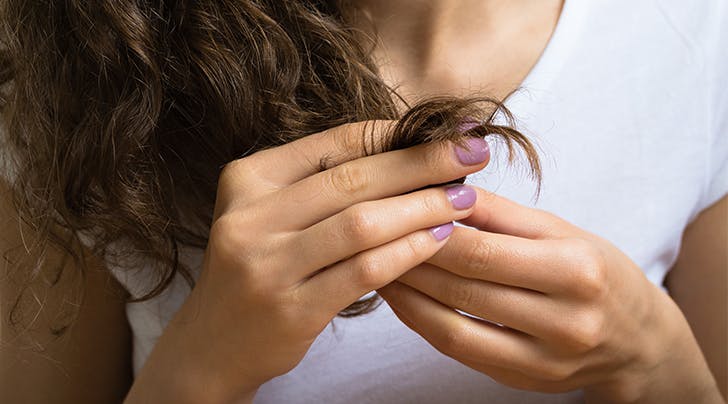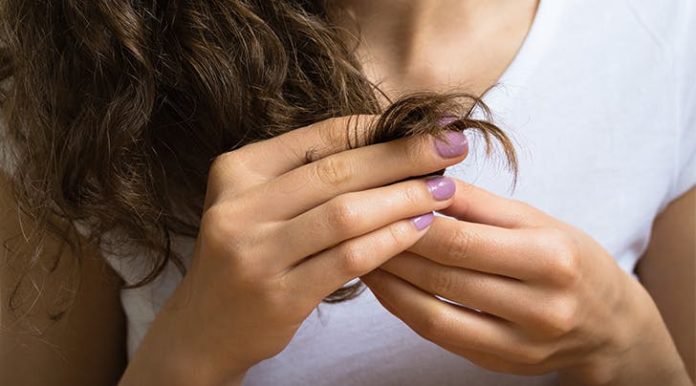 Tired of split ends? Seeking how to fix split ends or how to get rid of split ends? If yes, then we are here with the solution. Trust me, all most every woman faces the issue of split ends, and it is a recurring issue. If you believe that chopping off your hair is the only way and the best split ends treatment, then you're mistaken. Here are some amazing home remedies for split ends to naturally repair and prevent split ends for managing luscious, healthy, and beautiful hair. 
Split ends make hair look dry, frizzy, dull, and damaged. In addition to this, the worst side effect of split ends is that it restricts hair growth. Yes, it is true; if you have a lot of split ends, your hair will stop growing. It is essential to provide proper care to your hair by using effective natural remedies. You can also avoid split ends by natural spa treatment at home.
What are Split Ends?

 
Split ends refer to the fraying or splitting of the hair shafts. It happens when the hair ends become frayed, dry, and brittle. Exposure of the hair to extreme weather conditions, excess use of chemicals, straighteners, and dryers, and improper hair care cause split ends. 
Split ends are a sign of damaged hair. They also occur due to lack of getting proper minerals, protein, and vitamins from foods, which in turn leads to dry and frizzy hair, causing split ends. 
How to Get Rid of Split Ends?
If you are seeking how to fix split ends? Then here is the end of your search. Below mentioned are some of the amazing home remedies for split ends. 
Castor Oil 
Castor oil is one of the best solutions to how to fix split ends. It has a low molecular weight, which allows it to penetrate the hair shaft. It repairs the hair while rehydrating them. In addition to this, it reduces itchy scalp and promotes effective hair growth by repairing split ends. 
Add two to four teaspoons of castor oil to two teaspoons of coconut oil in order to dilute it. Then apply the oil properly to hair starting from the roots till the ends using your fingers. Cover your hair using a shower cap and leave it for one hour. Wash your hair using herbal shampoo and use a towel to dry your hair. You can use this home remedy for split ends 1-2 times a week for better results. 
Coconut Milk
This is an effective natural home remedy for split ends treatment. Coconut milk is a rich source of vitamin E, which is beneficial to prevent the reappearance of split ends. It reduced frizz while rehydrating your hair. The medium-chain fatty acids present in coconut milk help in smoothening and conditioning the hair. Moreover, it is also loaded with vitamin B, C, iron, calcium, and magnesium, which contribute to hair growth. 
You can directly apply coconut milk in your hair. Keep it in your hair for 1-2 hours, and then wash your hair using herbal shampoo. Repeat this once every 2-3 days for better results.
Argan Oil
Argan oil is one of the best split end treatments. It is rich in antioxidants, fatty acids, and vitamin E, which make it an amazing rehydrating agent. It helps in preventing the split ends by reversing hair damage. 
Use argan oil after shampooing your hair. Apply one to two drops of argan oil to your hair when they are still damp after the wash. Use this remedy every time you wash your hair. 
Almond Oil
Almon oil is a rich source of vitamin E. It is highly effective in treating split ends as it conditions and moisturizes the hair. It treats split ends by smoothening the hair. 
All you need to do is heat almond oil. Apply it properly to your hair, including the roots. Massage your scalp with the oil. You can rinse your hair after 1-2 hours. Use almond oil once a week. 
Egg Hair Mask
The egg hair mask is an amazing solution to how to get rid of split ends. It not only repairs and prevents split ends but also provides shine to the hair. The egg mask repairs split ends by providing nourishment and nutrition to your hair.
In order to make an egg hair mask, make a paste by mixing one egg white with one teaspoon organic honey and one tablespoon coconut oil. Apply the paste appropriately in your hair from roots to the ends. Wash your hair after 25-30 minutes. Use this remedy twice a week for better results.