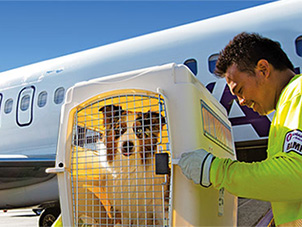 Whether you are taking a job project overseas, starting a new journey, or returning home, moving is a daunting task with many checklists and timelines. And if you are a pet parent, then you must have an idea of how complex and time-consuming it could be to prepare and execute your cat or dog's move.
When you have a pet or multiple pets to move, you have to take steps to ensure that your pet arrives safely to the target destination. Based on your target destination's essential requirements, taking help from a professional pet transport is a better idea.
Professional pet transport can help in saving your time and avoiding unforeseen setbacks. Moreover, it will also provide peace of mind and satisfaction that your pet's journey is safe and handled by professionals.
Why Should You Hire a Professional Pet Transport Company?
Hiring a pet transport company might not be an ideal solution for every situation, but there are certain benefits of hiring professionals.
Here are some reasons to hire a professional pet transport company.
Knowledge About Import Requirements and Logistics
When it comes to moving pets, people surf the world wide web to find appropriate information. However, unfortunately, the internet is not always the most up to date.
Pet transportation companies like Shiply take pride in building their reputation on having up to date information affecting animal travel and imports.
They stay informed by working with a network of pet shippers who update information continuously. They update information regarding airline rules, country regulations, and any other changes related to pet transport.
A good pet relocator always has a contingency plan. It helps in dealing with every scenario you could encounter during pet transport. It is another amazing perk of having a professional for your pet's move.
Time-Saving
There are higher chances that your pet is not the only one whose relocation you are planning. When you take help from a professional pet relocator, they handle this time-consuming task of pet transport. It provides you more time to focus on your moving plans.
Many airlines have strict bans on pet's travel during summer.
Many airlines do not allow any pet's breed to travel on the flight. In this way, you need to go through a lot of information before planning pet transport. It might take hours, days, or even months to figure out the logistics.
Moreover, your pets are required to have a health certificate by a veterinarian before they can travel. Veterinarians available at different locations have different requirements. In this way, it could be time-consuming to plan pet transport.
Pet transportation companies have all this information available, which makes it easy to move your pet to the target location.
Satisfaction
When you plan a pet's move, sometimes things can go out of control. For instance, you need to carry the pet certificate with you all the time. In case the certificate goes missing, it can be a trouble.
You have a lot of paperwork of your own that you need to take care of. In this situation, it is better to take help from professionals like Shiply. They take care of all the paperwork related to your pet. They assure the safe relocation of your pet.
Final Words
It is always better to take help from professional pet transport companies to relocate your pet. Before hiring a professional, make sure to conduct proper research about the company in order to avoid fraud.