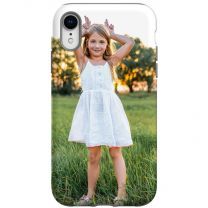 So, you are searching for the best-looking phone case for your mobile to suit your style. There are tons of options available on the market to choose from, which can get overwhelming sometimes. Where should I begin? Which style should I pick? If these questions are troubling you, then we are here to help.
At MyPersonalisedCase.co.uk, we offer you the best-looking personalised phone case in a sleek design, best possible grip, and sharpest prints. Mypersonalisedcase.co.uk started in 2009 and is one of the first providers of customised phone cases in the Netherlands. Our production and shipping headquarters are based in Amsterdam. We have perfected our technology over the years to provide good quality products for reasonable prices. We know that our customers simply want to design a custom product and receive it as soon as possible. This is why we give you the opportunity to use your best pictures to create a great item for a low price!
With MyPersonalisedCase, you not only get a custom-designed phone cover, but it will also meet your protection preferences for every mobile brand out there. Our mobile covers are compatible with wireless charging and also feature optimal usage of buttons and ports. We believe in keeping our customers protected and offer secure payment mode site-wide.
The best part of designing a mobile case with us is that we offer you full control over your custom phone case creation process. Creating a customised phone is super easy on our site. You can get a photo print, apply filters, add stickers, add your name or initials on the cover, and even get important dates printed.
Can't think of any design idea? Don't worry. At MyPersonaliseCase, we also have a pre-made illustration template to give you much-needed inspiration. Designing a customised phone is super easy and quick with us; you just need 5 minutes of your day to curate a design that is 100% yours.
While you are busy thinking about one-of-a-kind design, we put our focus on producing and delivering on time. We print our cases individually for every customer so that your cover print comes out as the best possible quality.
If you are wondering whether you will find a custom phone cover for your phone model, we assure you that we have all types of phone covers for all the mobile brands.
We provide custom phone cases for the following brands:
iPhone
Samsung
Huawei
Sony
LG
HTC
Google
One Plus
Nokia
Xiaomi
We know there are many different types of mobile cases on the market. MyPersonalised Case believes in customer satisfaction and provides you the best options to choose from. With us, you get to choose from many different styles of the phone cover.
Silicone cases
Hard cases
Hard cases Full Wrap
Tough cases
Wallet cases:
iPad Smart Cover
Did you know we also provide custom case gift options to our customers? Yes, you read that right. We are sure you must have plenty of pictures with your loved ones. Then why keep them on the phone when you get a college printed on a phone cover and give it to your friends or family.
What are you waiting for? Have a picture? Go start designing your custom phone cover today!