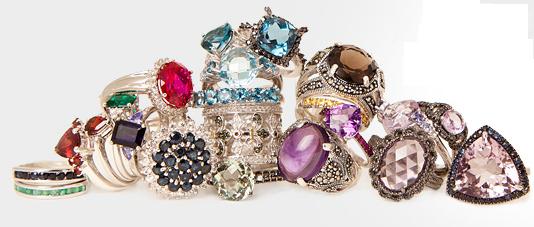 Looking for ways to make the most out of your jewelry collection? Let's look at a few ways for selecting, wearing, and refashioning your collection of jeweled treasures.

Remember Less Is More

Layering on a bunch of jewelry is going out of style. The most current trends involve signature pieces. Instead of doing a layered set of gold chains, choose an over-sized medallion instead.

If you don't have a dramatic piece, consider adding signature eternity anniversary bands or dangling earrings to your collection.

Be Versatile

Look for jewelry pieces you can use in different ways. A lapel pin can double as a charm on a bracelet or necklace. Long gold chains can double as a triple strand choker or as a bracelet on special occasions.

Also, when selecting new jewelry pieces, go with neutrals. Blacks, whites, grays, and camels go with just about anything.

Enhance Your Style

Do you have jewelry pieces that get you constant compliments from friends and co-workers? Those are the pieces that make you look good. Make those pieces the start of a collection that reflects your style.

Go Retro

Older retro and vintage jewelry have come back into style. Go to estate sales or antique stores and check out their selection of jewelry. You may be surprised at the treasures you find.

Another option is to ask an older family member if you can raid their jewelry box. Enamel bracelets, crystal necklaces, and oversized diamonds are on-trend with today's look.

Try on Both Old and New Pieces

Take the time to try on all the pieces in your jewelry collection. If it's been a while since you wore a rink or a set of earrings, trying them on can spark new interest in them. Plus, if you find you no longer love a piece, you can sell it or pass it along to someone who will. That makes room for adding new items to your collection.

When you're out looking at new jewelry, take a moment to try on each piece before you buy. It should be comfortable and fit well. If it doesn't, you won't wear it, making the purchase a waste.

Make Repairs When Needed

It's not uncommon for well-worn jewelry items to break. Don't let a favorite piece sit at the bottom of your jewelry box. Have it repaired.

Jewelers can make repairs to almost any piece. If you bought the item from a local jewelry designer, ask if that person can make the repair. If it's a piece of costume jewelry, visit a local craft store and buy the items to restring it or to replace the clasp.

Keep Your Collection Safe

Storing your collection is vital if you want to wear it for many years to come.

Keep your items in a jewelry box when you're not wearing them—store necklaces in small zipper bags to prevent them from getting tangled or tarnished. Use a ring slot tray for your loose rings.

Which tip are you going to use first?