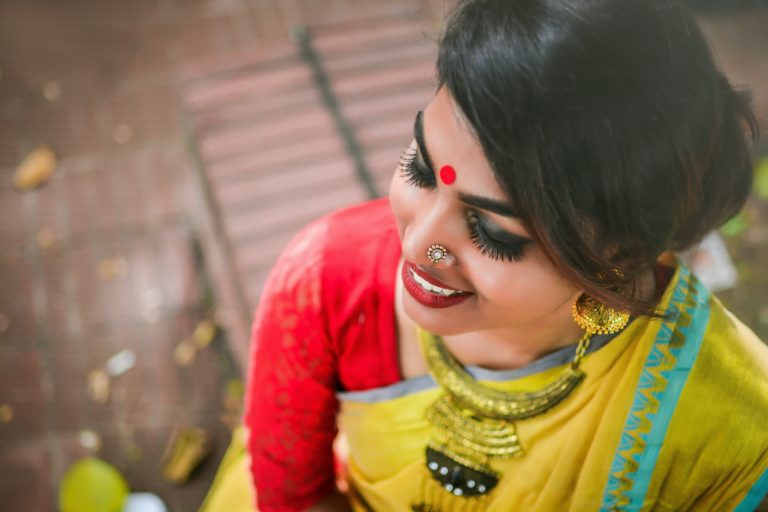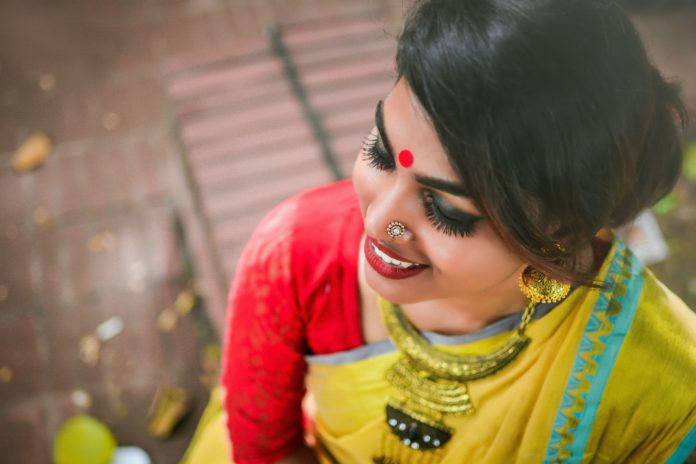 A bridal trousseau is incomplete without elegant and rich Pattu sarees. Pattu refers to luxurious silk fabrics that hold a significant place in Indian occasions, especially in Southern states.
Wearing pattu sarees can add a festive feeling on every occasion, be it wedding functions or a festival. You might have access to at least one silk saree in your closet, but these new collections of wedding pattu sarees will leave you to spell bounded.
The glossy fabric of a patty saree with a silky feel is what attracts the people the most. However, the texture of the saree varies with the type of silk fabric used and weaving techniques. Here we have discussed some latest designs of pattu sarees that are worth trying.
Latest Designs of Pattu Saree for Brides with Images:
Here are our favorite traditional pattu sarees
Designer Pattu Sarees
Bring out your inner fashionista by wearing extravagant designer silk sarees. The shiny fabric paired with regal purple color will make you an instant hit at any party. Look for exquisite and delicate hand-embroidered fabric that blends with the saree body. You can also find designer pattu sarees online with a heavy embroidery blouse to complete the look.
Read More- Best Labels To Buy Wedding Sarees For Bride
Banarasi Pattu Saree
Another popular trend in wedding pattu sarees is wearing Banarasi brocade pattern. This piece is rare to find in a beautiful combination of gold, black with hints of green and pink, making it worth the purchase.
The best part about a Banarasi pattu saree is that you do not require to wear additional accessories. The magnificence of the saree in itself will make you shine at any event. Also, you can get a rich black brocade blouse as a bonus when buying the saree.
Jute Pattu Saree
Dupion jute silk saree has made a huge comeback in the market. These have versatile drapes, are low maintenance, and easy to style. The mix of silk threads and jute creates a wispy and airy fabric that can be draped even in the summer season.
Kalamkari Silk Saree
Kalamkari saree is a traditional luxury with a brown body adorned in hand-painted floral patterns. The fabric of these pattu sarees is Tussar silk which makes sit suitable for special occasions.
These sarees are often on the higher price end but are worth making the investment for the amount of love and effort put in to make every single piece.
Parampara Pattu Sarees
Do you know what does Parampara pattu means? It is a handloom pattu saree made with a combination of traditional designs in weaves and colors. A bright pink and yellow saree will instantly catch your attention. Also the border features classic designs to complement will with contemporary motifs, making this a versatile piece that deserves to be in your closet.
Cotton Pattu Sarees
Uppada pattu sarees in cotton sarees in silk are a matchless combination of style and comfort. This is a great choice for women who do not prefer wearing blingy and heavy traditional silk sarees. Plain parrot green color with golden zari border is a timeless combination. Also, a peacock blue pallu completes the look by adding a unique charm. You can wear it with a contrast-colored blouse and adorn your hair with gajras.
Linen Silk Saree
Linen is a coarse material and adding silk threads is the best way to soften the cloth. It not only lends unparalleled comfort but also gives a shiny feel to the clothing material.
You can wear orange linen pattu sarees that are handcrafted to perfection. Bold colors, when mellowed with muted zari border, make an excellent outfit and can be worn with plain silk blouses.
Read more- Wedding Planning App For Every Couple
Paithani Pattu Sarees
Paithani pattu sarees are known to be the most expensive sarees. These are made of pure silk and feature laborious weaving techniques. A royal blue paithani pattu saree with elaborated lotus motifs on the pallu and border looks classic.
What makes this style different from others is the way golden zari is used, contributing to the heavy price tag.
Pochampally Ikkat Pattu Saree
Pochampally is a town famous for making Ikkat sarees with unparalleled designs and quality. An Ikkat pattu saree in a combination of Magenta pink and cream is a classic piece. The pallu borders feature intricate parrot and elephant motifs along with thin golden zari stripes all over the saree. This is a simple yet sophisticated masterpiece and deserves a space in your wardrobe.
Light-Weight Kuppadam Pattu Saree
Kuppadam pattu sarees are preferred mostly among other silk saree varieties for two main reasons- they are affordable and lightweight. The main feature of these pattu sarees online is their plain long zari border adorned with simple motifs. If you are looking for a comfortable and stylish saree, then you can never go wrong with these.
Pure Kanjeevaram Pattu Saree
If you wish to get pattu sarees that look lavish and opulent, then try timeless Kanjeevarams. These sarees are available in bright colors and heavy designs, and when worn in refreshing muted pastels, they look ravishing.
The latest fashion of pattu sarees in pink and grey with a contemporary border mixed with a hint of orange looks stunning and can be paired well with a pink brocade blouse and temple accessories.
Wedding Pattu Sarees
Those days are gone when wedding pattu sarees were limited to only wearing green or red colors. Now brides love to rock minimalist sarees on the big days. You can wear a silver and aqua color saree to look sophisticated and chic.
Choose a unique color combination if you want to stand out in the crowd and get all the limelight. You can pair this color choice with a maroon heavy work blouse to take your outfit up a notch.
Read More- Best Indian Label To buy Chikankari Kurti
Tips To Style Pattu Sarees For Different Occasions:
Have you been wearing a saree in the same old style for ages? Now its time to try some modern and classy ways of wearing a saree:
Invest in good quality petticoat to give proper support to your saree and get a neat drape. 
Try different draping techniques of draping saree to complement your body style. Use tight drapes and thin pleats to look tall and slim.
You can also pre-drape the saree a day before your actual function. You can use saree clips to hold all the pleats in place.
Instead of getting a heavy work blouse that costs a lot of money, you can wear stylish crop tops and a hosiery blouse to stay comfortable.
Ditch the old gold waistband and pick something stylish and affordable, like embroidered fabric belts, to make a statement. 
Wear jewelry based on your blouse and saree design. If you are planning to wear a high neck blouse, opt for heavy earrings while going with chokers or a heavy neckpiece with a low cut blouse.  
Use a small leather bag or clutch to carry your stuff and look stylish.
Different styles of traditional events, reception, wedding purposes, or any other occasion can be picked for wearing these 25 pattu sarees. Designer wedding pattu sarees are great to give your bridal trousseau a makeover. This silky textured outfit is perfect for women of all ages.