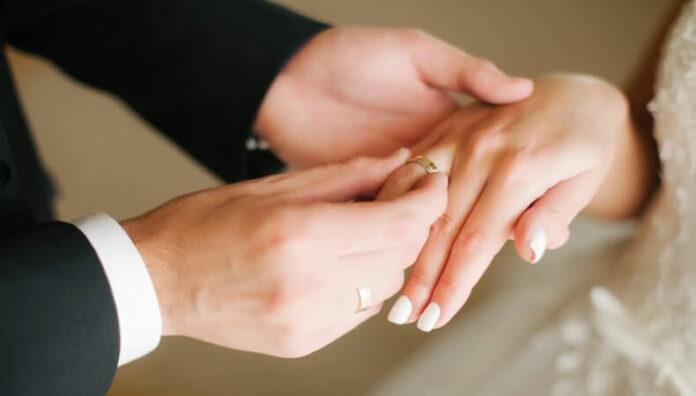 In a traditional wedding, the exchange of rings is the climax of the official ceremony. The ring gives the newlyweds the new husband and wife status and serves as a demonstration of their love for others. If you are still thinking about where to find the right words, check out our ring exchange wording examples.
What Does the Ring Exchange Ceremony Symbolize?
A ring circle, the main of all vow symbols, with no end and beginning, symbolizes eternal and long-lasting love and affection. Today, rings can already be made of different metals, and the ceremony is supplemented by vows and confessions accompanied by touching music. The most popular option is a neat diamond in a gold frame. Yellow gold is a timeless classic, but in 2024, white and red precious metals will dictate the rules.
The Most Successful Ring Exchange Wording Examples
By pronouncing the vow words during the ring ceremony, the bride and groom promise themselves and everyone gathered that they will love and cherish each other for the rest of their lives. Ideally, pronouncing vows should not cause any difficulties. But in practice, the ring exchange wording needs to be prepared in advance.
By giving you this ring, I call you my husband. I promise to love you faithfully and my eternal love will burn forever.
I give you this ring as a sign of our love and devotion. I promise to respect your opinion and take care of you and our future children, and I swear that no matter what happens, I will always be by your side!
I offer you this ring to wear as a symbol of fidelity and promise to share all the good and protect you from the bad.
Traditional Ring Exchange Wording Examples
The safe option is not to come up with long texts and high phrases that sound beautiful, but to make a short and simple statement. Sometimes, one sentence is enough to show your feelings and express love and loyalty.
This ring is symbolic of my never-ending commitment, enduring love, and devotion to you.
Take this ring as a sign of my love.
By giving you this ring, I am giving you my heart, my soul, and my life until my last breath.
Are Wedding Vows the Same as Ring Exchange Wording?
Don't confuse these concepts. The traditional ring exchange wording is suitable for the ring ceremony and consists of one phrase. A wedding vow is much longer and usually expresses the feelings of the bride and groom, the history of their acquaintance, and promises to each other.
When Should You Say Ring Exchange Vows, Before or After Exchanging Rings?
Traditionally, the vows are said first, then the rings as the main vow symbols are put on. Remember that the groom, the leader of the family, is the first to say the vow and give the bride a ring.