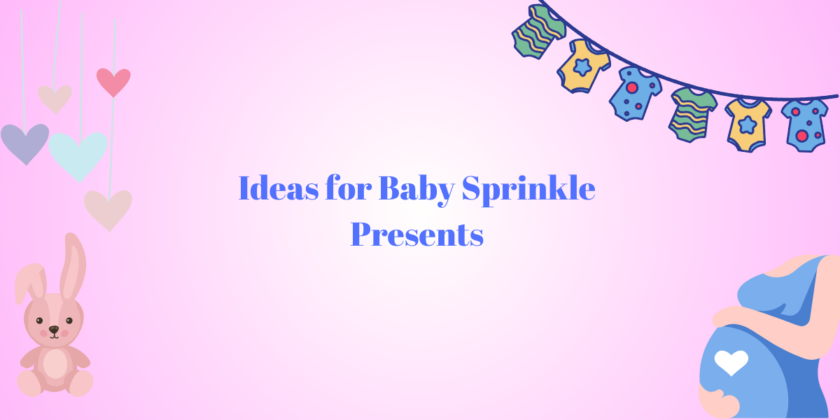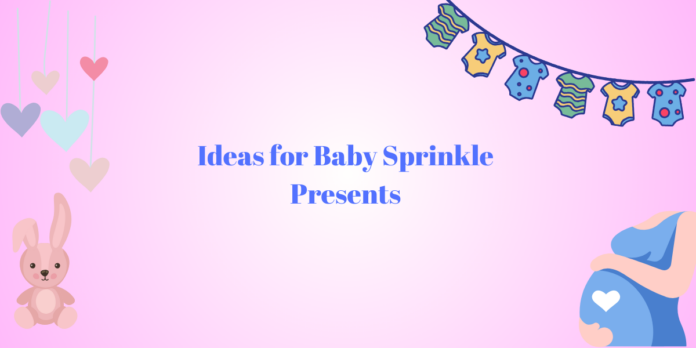 Baby sprinkle – The birth of a second or subsequent child is an event in a parent's life that is just as momentous as the birth of the first. One such touching custom is the " baby sprinkle," which is held to celebrate and encourage new parents.
A baby sprinkle is a more low-key celebration than a traditional baby shower, with guests just dropping in to shower the expecting parents with love and well wishes. It's a special time when loved ones get together to express their joy and anticipation.
Finding the ideal present for a baby shower may be exciting and nerve-wracking all at same. It's a chance to convey your warm wishes to the expecting mother, her family, and the newborn.
Whether you've been to a baby shower before or not, this guide will help you choose something perfect for the new little bundle of joy. We've compiled a list that covers all the bases, from cute newborn necessities to touching gifts for the new parents and older siblings.
Do People Bring Gifts To A Sprinkle?
Baby sprinkles are like regular baby showers in that guests bring presents, but the presents tend to be more useful and meaningful. Essentials like diapers, clothes and care goods are highlighted at baby showers since they are often celebrated by parents expecting their second or subsequent kid.
Some visitors also send presents for elder siblings or choose for personalised and meaningful things. Larger baby products are sometimes purchased as a group or with gift cards, but there is less expectation for extravagant gifts.
A baby sprinkle is a low-key and personal way to celebrate the new addition to the family, with an emphasis on ease and mutual support.
Baby Shower Presents: A Categorical Look
A baby sprinkle is an informal and low-key way for loved ones to express their appreciation for the new addition to the family by gathering together to celebrate.
Top 10 Baby Shower Gifts
Diaper and Wipes Value Pack
Diapers and wipes are always welcome because of how quickly a newborn may go through them. Gifts of diapers should span many sizes to accommodate the baby's rapid development in the first few months. It is one of the best things to gift on a baby sprinkle.
Baby's Basic Wardrobe Necessities
Since infants outgrow their clothes so rapidly, a starter set is always welcome. Onesies, sleepers, socks, bibs, and caps are all examples. Choose breathable, relaxed materials in solid colours or playful prints.
Improvements to Baby Gear
Improve the parents' quality of life by upgrading their infant gear. You may get them a diaper bag with plenty of compartments, a stroller organiser, a baby carrier, a high-quality car seat cover or a baby carrier.
Baby Gifts with a Personal Touch
Gifts that may be personalised provide a meaningful addition to a newborn's collection. A bespoke baby name sign would be a thoughtful addition to the nursery, but you could also go with a personalised blanket, onesie, or burp cloth. Over time, these artefacts gain sentimental value as mementoes.
Books and Memorabilia for Infants
Babies' books are a great way to get them started reading and to help you make memories that will last a lifetime. Gifts for a newborn might include traditional children's books or a personalised book with the child's name in the tale. Baby keepsake boxes or photo albums are excellent thoughtful presents for keeping the newborn's first hair or hospital wristband safe and secure. If you want to gift something on baby sprinkle then this is the best gift for you.
Kids' Stuff
Babies love stuffed animals, rattles, teething rings, and mobiles. Choose toys that are not only safe for newborns but also help stimulate their senses. Many children's toys have endearing animal or character designs perfect for sprucing up a baby's room. There are several best baby sprinkle gifts, and this is one of them.
Accessories for the Newborn Bat
Gifts of baby shampoo, body wash, and a plush hooded towel can help create a memorable bonding experience at bath time. Think about investing in a special baby tub or bathing aid for your convenience.
Products for Infant Nutrition
If the parents intend to bottle-feed, a set of high-quality baby bottles, bottle sterilisers, and bottle warmers might be helpful. For breastfeeding parents, try a nursing cushion or a beautiful nursing cover.
Items for the Baby's Room
Bedding sets, cot linens and other baby accessories may do wonders for the space. You may get sets with designs inspired by anything from animals to space to suit the aesthetic of your nursery better.
Baby First Aid Kits
Infant-safe nail clippers, a digital thermometer, grooming kits, and nasal aspirators should all find a home in your infant care kit. These useful products aid parents in meeting their infant's requirements.
If you are seeking for the finest alternative to give for a kid, then there is an option to consider non-toy gifts for a 1-year-old.
Top Ten Pregnancy Presents
Deal for Relaxation at a Spa
Give her a spa-like experience without leaving the house by giving her a basket of high-end bath items, scented candles, and a soft robe.
Pregnancy Clothes and Accessories
You could want to think about getting some maternity leggings, a new shirt, or a belly band. Stylish nappy bags and supportive footwear for the expecting mother are also welcome additions to the registry.
Paid Memberships
Give her the gift of convenience with a membership to a food delivery service to ease her stress at dinnertime, a cleaning service to relieve her of the burden of housework, or a baby or pregnancy-themed subscription box.
Writings from the heart
Send her a touching note or help her start a diary in which she may document her emotions and experiences as a new mother. This is a thoughtful and intimate present that she will always remember.
If you know someone who is having trouble sleeping because of stress, you may get them some essential oils, a massage gift voucher, a membership to a meditation app, or a weighted blanket.
To make her feel renewed and revitalised, put together a set of luxurious beauty aids such as skin care products, organic lotions, and a top-notch face mask.
Books About Pregnancy and Childrearing
Pick up several books about pregnancy, delivery, and parenthood from a local library or bookstore. Try to find books that speak to the way she likes to parent or the things she's interested in.
Healthy Snack
Indulge her sweet tooth and give her an energy boost with a gift basket filled with her favourite candies, nibbles, and other indulgences.
Sleepwear and nursing bras designed for comfort
If she wants to nurse, you may want to get her some nursing pyjamas and a supportive bra.
Calming Agents
She may rest more and feel more at ease with a yoga or birthing ball, a pregnant massage gift ticket, or a soft pregnancy cushion.
Baby blankets made from organic cotton
Choose organic cotton blankets that are both comfortable and durable for your infant. These blankets are eco-friendly and soft on the baby's skin. Think about purchasing a set of contemporary, gender-neutral cloth diapers for your baby. The trash produced by these is far lower than that of disposable diapers.
Toys Carved From Real Wood
Pick chemical-free, beautifully constructed wooden toys instead. Unlike their plastic counterparts, wooden toys stay longer, never go out of style, and are easier on the planet.
Choose organic cotton or other eco-friendly fabrics in gender-neutral apparel for your baby. Products made without toxic substances and artificial colours are becoming available from major brands.
Baby Products Made From Bamboo
Bamboo is a sustainable material that may be utilised for baby items like washcloths, towels, and even baby feeding sets. These goods protect both the environment and the infant.
Conclusion
In the happy world of baby sprinkling, the presents we give reflect the love and support of our loved ones. These presents, whether they're a bundle of diapers, a souvenir, or a chance to spoil the expecting mother, represent the love and excitement of the family as it prepares to welcome a new member.
Let these presents serve as a gentle reminder that it's the little touches of love and care along the way to motherhood that make the biggest difference. The above-listed portion has explained everything you should know about baby sprinkle.
FAQs
What is the point of a baby sprinkle?
Compared to a traditional baby shower, a baby sprinkle is more laid-back and intimate. It is often hosted for parents expecting their second, third, or subsequent child. The word "sprinkle" is a pun on "baby shower," suggesting a less formal and more casual party in honour of the new arrival.
What happens during a baby's sprinkle?
A baby sprinkle, on the other hand, is simpler and lacks the elaborate decorations and gifts of a traditional baby shower. It's a joyous occasion to commemorate the impending arrival of a new member of the human race. Given the novelty of the idea, no "official" guidelines have yet been established.