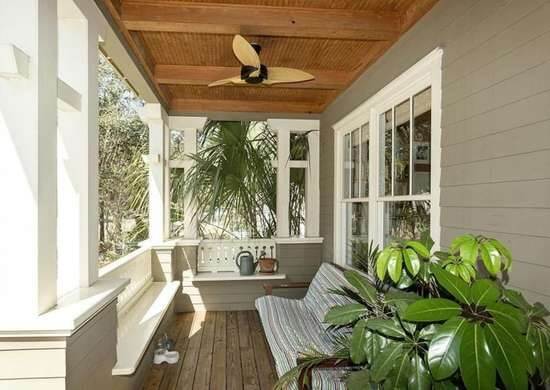 How you decorate your porch ceiling is an important part of your home's overall look and feel. Not only can it set a mood or tell a story, but it can also help make your guests feel more at home with their personal touch. There are many different porch ceiling ideas that you can use to decorate your porch ceiling. You can do so many things to change the look of your porch ceiling that it would be impossible to cover all the possibilities here. 
This article starts with some simple ideas and tricks for designing your porch ceiling in a way most suitable for your needs and taste. We will discuss a few more advanced techniques to help make your porch ceiling look more polished and finished.
One of the easiest ways to alter the look of your porch ceiling is by changing the color of its surface materials. To help you choose the best option for your porch ceiling, we've put together a list of 6 different ideas that are sure to match any style or taste.
Read More- Fall Home Interior Decor Inspiration
White Beadboard:
White beadboard is a relatively low-cost material that you can use to create an attractive look and feel. This style of ceiling is often described as having a "wood paneled" look similar to the look of hardwood floors. You will want to ensure that you use good-quality boards when constructing your porch ceiling. You should be able to see through the surface effectively so that it does not appear as though you are hiding your walls behind it.
The problem with white beadboard is twofold. First, this type of ceiling can stain easily if it becomes dirty or gets painted. Second, its typically uniform surface may lack the details often found in more advanced ceiling styles.
White Texture Paint:
Another popular alternative to traditional white beadboard is to use textured paint or drywall texture to overcome the problem of staining if your porch ceiling gets dirty. The only drawback you will have with this painting style is when it comes time to sell your home. In addition, some buyers may not like the "rough around the edges" look that textured paint can provide.
A third alternative for covering a white beadboard porch ceiling is to add molding strips around its edges. It is especially helpful if you have painted the beadboard a different color than the walls of your home.
Stained Tongue and Groove:
Stained tongue and groove paneling is a great choice when you want your porch ceiling to seem like it has been constructed out of solid wood. To create this look, you will want to use quality boards with four or more cuts per inch.
The advantages of this design are its price, detailing, and ease of installation. Because you will be putting up a board sheet that covers your entire porch ceiling, there is no need for complex carpenters skills or any extra time spent making sure the joints in your finished product are tight enough to work together well. The downside of this paneling style is that it sometimes looks like the boards are piled up on each other.
Once you have covered your porch ceiling with tongue and groove paneling, it will look like a solid wood ceiling. The only drawback to this look is that the joints in your panels cannot be seen with your eyes. To get them out of view, you will want to paint them at least 3/4″ before installing the board so that they are recessed from view.
Read More- 7 Ways to Freshen Up Rooms with Throw Pillows
Painted Board-and-Batten:
The final style of porch ceiling you will want to consider is board-and-batten. This style uses a mix of tongue and groove and painted boards with the edges of the boards covered in batten strips. Like with the other styles, you can also use any wood that suits your taste for this style.
You have plenty of room to create an accent pattern in your board-and-batten porch ceiling, or you can paint the entire thing a smooth color to give it a more monochromatic appearance. The main drawback of this type of design is that it does not offer the same level of durability as other styles do. If you'd like more durability for your porch ceiling, you will want to use more tongue and groove boards instead of painted boards.
White Board-and-Batten:
White board-and-batten is often done with a different type of construction than the traditional style. This version uses a white painted tongue and groove boards, but it also adds batten strips along the edges to give it the look of a barn or boat deck. The benefit of this style is that it provides an elegant and clean look without any painting needed.
It can be used as an upgrade that is less expensive than other styles like stained tongue and groove or even painted tongue and groove board-and-batten ceilings. This style of porch ceiling is similar to the white-painted board-and-batten style. The only difference is that you apply paint to the wall that the board and batten are attached to while still installed. It looks amazing, but it makes the wood look cheaper than having your boards painted in the first place.
Patio ceiling ideas:
If you have a porch ceiling in your home, you might want to try adding some extra features to make the space more attractive. For example, there are various materials that people can use to increase the beauty of your porch ceiling without making it much more expensive.
Adding extra light fixtures is one of the most popular porch ceiling ideas many people add to their homes. A major benefit of this type of lighting is that it makes your space easier to use during nighttime or evening hours. In addition, you do not have to worry about tripping over things like deck chairs or other furniture items that are not in full view when using this type of lighting.
What about porch ceiling materials?
There are a variety of different materials that you can use to cover your porch ceiling. The most popular option is beadboard. Beadboard is generally made from wood, which makes it very attractive and easy to install. However, it is not the best option for people with pets or small children because it can easily get scratched or damaged if your children lean against it and fall down.
Beadboard may also stain easily if you allow others to smoke cigarettes or cigars on your porch. That may be the reason why so many homeowners choose not to use beadboard as an option for covering their porch ceilings.
One alternative to beadboard is painted plywood, which is often used in kitchen ceilings because it can be easily wiped clean and painted if it gets too dirty. It is also relatively inexpensive, so you do not have to spend much money to cover your porch ceiling with it. However, you should be aware that the surface of the boards does not match the rest of your home's décor very well.
Read More- How to choose remodeling home contractors?
Patio ceiling wood:
An attractive alternative to beadboard is tongue and groove wood. This type of ceiling is easy to cover because it can be quickly nailed by people together for an instant renovation. It is also available in many attractive colors that you can use to match the rest of your home's interior décor. However, people may not like this material because it tends to accumulate mold or mildew if you do not give it enough ventilation.
The final option for a porch ceiling is tongue and groove boards with batten strips painted white. This board-and-batten style looks very similar to what you would find on a barn or boat deck. This type of material has more character than most other options, but it has the same limitations as other styles. It is not as durable and can easily be scratched or damaged if it comes into contact with sharp objects like nails, screws, and staples.
Some people also question whether or not they want to cover their porch ceilings with wooden boards because they are worried that they will not look nice after years and years of exposure to the weather elements. However, open-lattice roofs can help protect your home from wind damage that could make the paint peel away after a few years.
Deck ceiling ideas:
As you know, decks are a great place to enjoy being outside. People can use them for entertaining during barbecues, or people can use them for relaxing with a good book or just enjoying the view from your home. You may be feeling ready to get started on the project of covering your deck ceiling, but there are several ideas that you should keep in mind before you start.
One of the most important things to consider with roofing your deck is that it should match the rest of your home and its décor. For example, if you have a modern and sleek design throughout your home inside and out, adding a traditional-looking lattice will not give off a very appealing look.
Inexpensive porch ceiling ideas:
If you plan on using lattice, you should consider using the aluminum alternative. Yes, there is a weight factor to consider, but one good thing about it is that it is relatively easy to work with and install. In addition, people can easily bend it into different shapes and sizes depending on the size of the porch ceiling you are building.
Read More- What Are Spanish Colonial Houses?