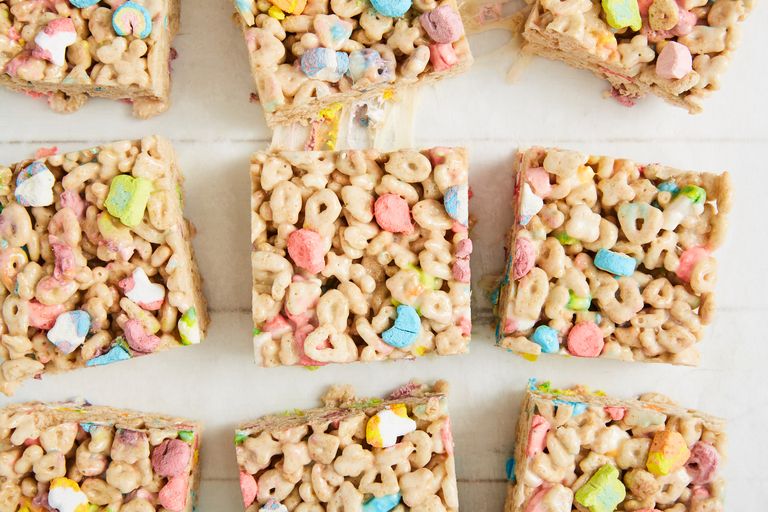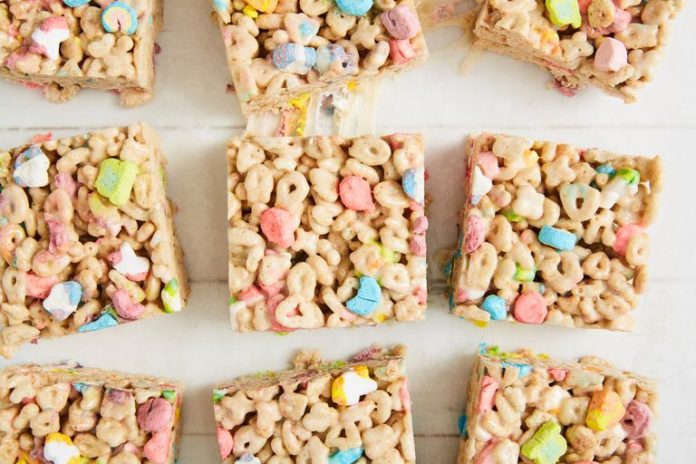 We have the best rainbow food recipes here. Try out the best rainbow dessert and snack recipes to fall in love with the food all over again. Rainbow lucky charm treats, ice cream cake, rainbow pizza, and rainbow Bundt cake, this article has got the best rainbow foods, that you will love. 
Lucky charm treats 
Give the old Rice Krispies treat a twist. Try these rainbow lucky charm treats and satisfy your marshmallow cravings.
Ingredients:-
butter, (1 stick) plus some more for pan

mini marshmallows (1bag(12-oz.) 

kosher salt (1/2 tsp.) 

Lucky Charms (6 c.) 
How to Make:-
Take a baking sheet 9"-x-9" size and grease it with butter. Melt butter in a large pot over the medium pot. Add salt and marshmallows in the pot and stir nicely. 

Remove the pan from heat. Add lucky charms and stir properly. 

Pour the mixture into a baking sheet and smooth the top. Do not pack the serial too tightly. 

Let the dish cool completely before serving. Slice into small square pieces and serve.
Rainbow Bundt cake 
Planning to make a surprise birthday cake? This rainbow Bundt cake will not fail to impress. This rainbow Bundt cake is so beautiful to look at, and it is super easy to make. The gold sprinkle and icing makes it even more exciting. 
Ingredients:-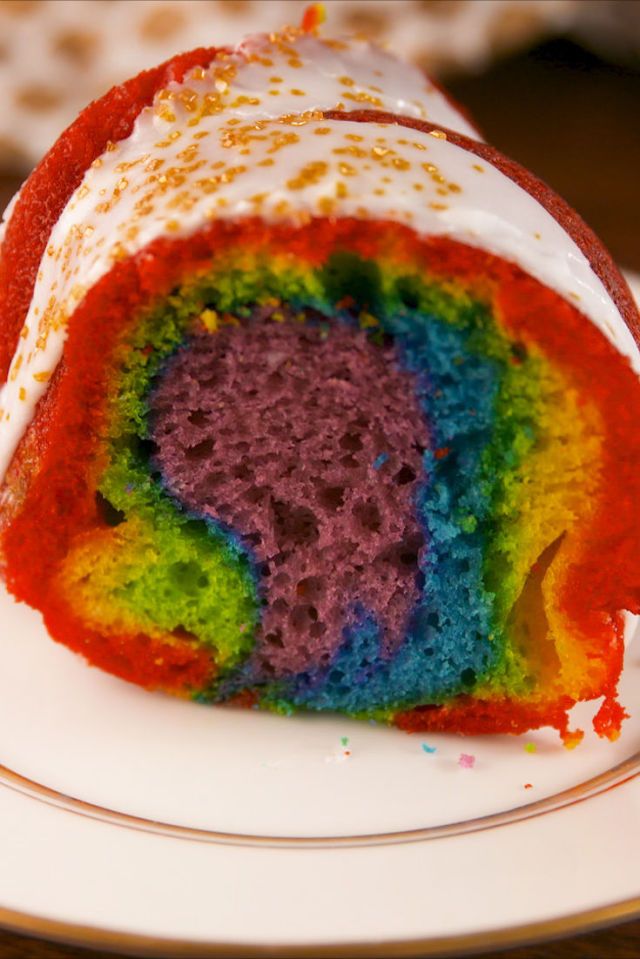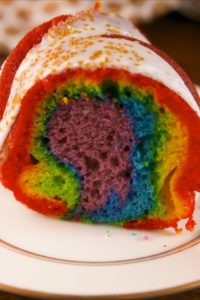 Cooking spray

vanilla cake mix (1 box) plus on box ingredients  

Red food coloring

Green food coloring

Yellow food coloring

Blue food coloring

Purple food coloring

heavy cream (2 tbsp)

powdered sugar (1 1/2 c.)

Gold sanding sugar, for decorating
How to Make:-
Take a Bundt pan, grease with cooking spray, and at the same time, preheat oven to 350 degrees.

Prepare cake batter in a large bowl, as per instructions mentioned on the package. Divide this batter into five different bowls.

Dye each bowl with food coloring with a different color. Stir well. 

Pour the red batter first on the greased pan. Then pour the yellow on top of the red, to create layers. Then green, blue, and purple batter as the topmost layer.

Bake the cake for 30-35 minutes and take a toothpick test to check if fully done.

Take out the pan and cool for 10-15 minutes. Transfer the cake onto a cooling rack.

Take a small mixing bowl and whisk heavy cream and powdered sugar to make a smooth paste.  

Drizzle the cream mixture over the cake and sprinkle gold sanding sugar over it.
Rainbow Icecream Cake
This summer, cool down your body with a rainbow ice cream cake.
Ingredients:-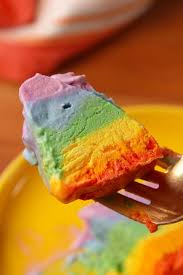 Pure vanilla extract (1tsp.

Heavy cream (3 cups)

Sweetened condensed milk (1 can- 14 ounce )

Food coloring(red, yellow, orange, green, purple, blue)

Non-stick cooking spray
How to Make:-
Beat the heavy cream using a hand mixer in a large bowl until it forms medium peaks.

Mix condensed milk and vanilla in the heavy cream bowl, whisk to combine properly. Divide this batter among six separate bowls.

Add different food color in each bowl and stir well. 

Take a loaf pan and spray with nonstick cooking spray. Line the pan with a large plastic wrap.

Pour the batter in order from red to blue. Make sure the batter doesn't mix and form a layer.

Freeze the pan for 5-6 hours until its firm.

Take it out of the freezer, slice, and serve.
Rainbow Veggie Flatbread Pizza 
This delicious and appetizing rainbow pizza recipe will be your ultimate snack. This is a healthy and colorful rainbow pizza recipe and is made using very little cheese and meat. Try it once to fall in love.
Ingredients:-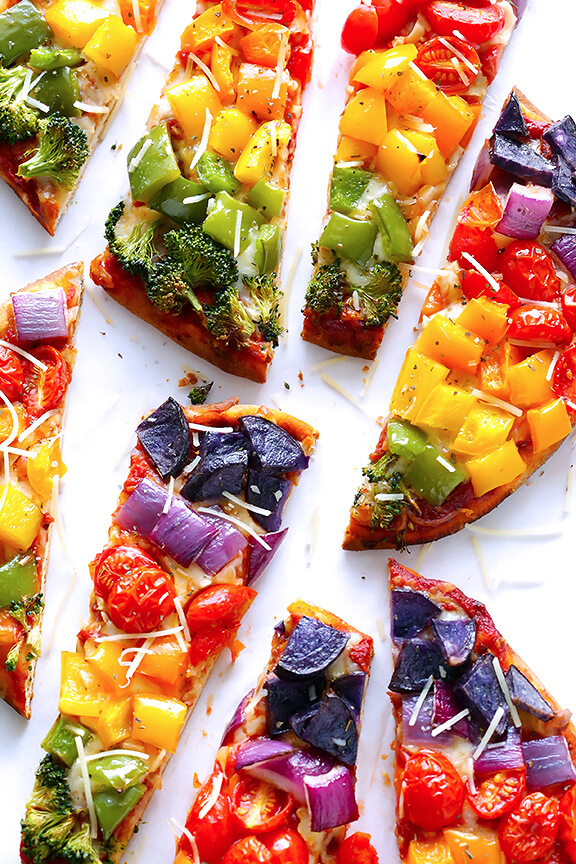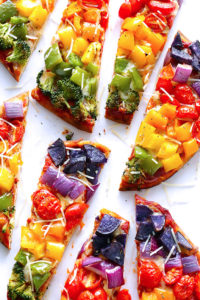 Store fire naan (2 pieces)

Pizza sauce (1/2 cup)

Shredded mozzarella cheese (1/2 cup)

Olive oil (2 tsp.)

Italian seasoning (1 tsp.)
For toppings: (4 cups)
Broccoli florets

Yellow, orange and green capsicum (I each)

grape tomatoes (1 cup)

red onion (1 big)

purple potato (2 thinly sliced)

grated parmesan cheese/ red pepper flakes (optional)
How to Make:-
Preheat oven at 425 degrees F.

Lay both the naan pieces on a large baking sheet. Spread pizza sauce over the naan and sprinkle mozzarella cheese over the pizza sauce.

Layer all the veggies on top of the cheese in a rainbow pattern.

Drizzle a bit of olive oil.

Bake the pizza for 20 minutes until all the veggies are cooked, and the crust turns golden.

Take the pizza out of the oven. You can sprinkle cheese flakes or parmesan cheese if you like.

Slice and serve it warm.