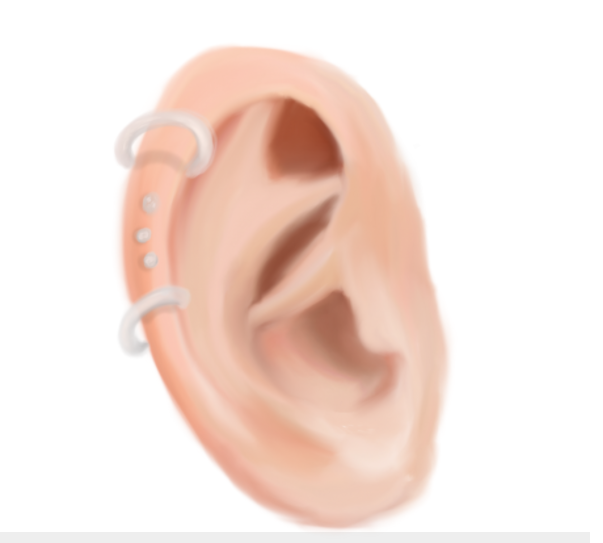 Piercing is a different and unique way of expressing your individuality and personal style. You have numerous options to choose your piercing. It is in your hands to decide where you want to get pierced and what type of piercing you like. If you wish to pierce your ear or your nose or belly, you should visit a professional to get pierced, but if you are self-determined and you think that you can do self piercing at home then why not try it out once. It is not easy, but it is not even impossible. So if you are looking for steps for self piercing at home, scroll down.
1. Preparing and cleaning
– sanitize the area to be pierced and your hands
Please wash your hands thoroughly with antibacterial hand soap and dry them with a washed and clean towel. Once your hands are clean, you should clean the area of the piercing. Put some rubbing alcohol with sterile gauze and cleanse the skin properly. You can also use alcohol wipes. Please do not touch the area once you have cleaned it. Wear gloves while you are trying self piercing at home.
-Disinfect the needle before piercing
You should use a needle that has never been used before. Take it out of the package when you are ready to use it. If you have a needle that has been used before, you need to sanitize it as well. You need to soak the needle in the rubbing alcohol before using it for self piercing at home. As much you disinfect the area and the stylus, there would be fewer chances for you to get infected. Also, you should use a proper piercing needle ad, not any other kinds of needles.
-Time to choose your jewellery
It is essential to use high quality of the jewellery you have to wear to decrease the risk of infection, allergic reaction, or irritation. Also, clean your jewellery with rubbing alcohol to reduce infections.
-Mark at the place you want piercing
Use a pen to create a mark at the place you want your piercing to be done. You can pierce your ear, nose, tongue, and many other places. Look at the dot from all the angles and make sure that you have marked the dot at the correct place because this mark will act as a guide to pierce that part of your body.
2. Piercing
– Get a steady grip of the needle
you need to have a constant hold of the needle on the dot. You should have the needle at the same angle you want to make your jewellery to go. Your needle should go through the dot in the way you want your earring to go. Passing the needle at an odd angle will make it difficult for you to wear the earring. You can also apply the numbing liquid on the dot mark to reduce your pain, but you need to give it time to start working.
-Push the needle
now it's time. Taking a deep breath, push the needle in the dot. It should be done in a continuous motion, quickly. If you do not push it in one go, you have chances to rip your skin. One smooth hole will get you less pain and will heal quickly. Push the needle till it is halfway of the ear. Leave it for around twenty minutes so that you can make sure that the hole stays until you wear an earring.
-Replace your needle with the jewellery
when the needle has been in the hole for 20 minutes, now it's to put something beautiful in your ear. The whole will heal up quickly, so you need to keep the jewellery ready before you take out the needle from the hole. Finally wear your jewelley in the hole. It's ok to put a little fore to make the earring go through the hole but do not put pressure on it.
3. Cleaning
– Clean your piercing with saline solution
it is appropriate to clean your piercing needle and ear with rubbing alcohol prior to piercing, but now it can dry out your hole. Saline solution is a little lighter than rubbing alcohol and won't let your piercing dry out. You should try and soak your piercing in the solution using a bowl, but if you aren't able to do it, then you can do it with the help of the tissue.
-Avoid touching your piercing
never touch your piercing while it is recovering unless you are doing your daily cleaning or your hands are properly washed. This can cause infection to your piercing
so self piercing at home is not an impossible task. You can pierce your ear at home and enjoy your beautiful new jewellery look.