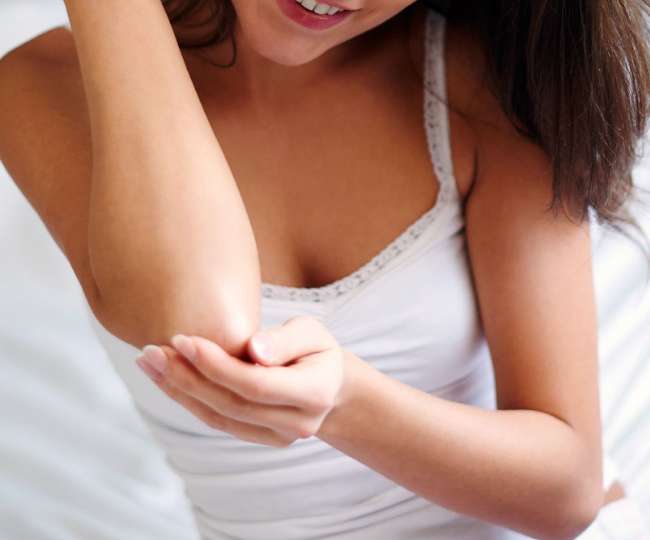 Do you have the same old problem? Do your dark elbows not match your skin? Are you looking for some natural remedies to clean elbow? Oh!  You have found the right place. This article will give you some remedies to lighten your dark elbows.
Aloe Vera
Aloe Vera is said to be the best to lighten your skin because of its gel-like substance. Rub aloe vera on your elbow twice a day to remove the darkness from it and match it to your skin.
Baking Soda
Baking soda has skin lightening and exfoliating properties that can help in lightening the elbows. Add baking soda to water until the paste is made in a sufficient amount. Then apply it to your elbow and leave it for 10-15 minutes. Rinse it with water. Do this two times a week to get rid of dark elbows
Citrus Fruits
Squeeze citrus fruits like lemon in a bowl. Using a cotton ball and dip it into the juice. Apply it on your elbow. Do this daily to get rid of dark elbows. This is one of the best remedies to clean elbow.
Oatmeal and Yogurt
These ingredients can moisturize dry skin because of its soothing qualities. It can be used as a mask to remove blackness. Mix an equal quantity of both the ingredients until it becomes a paste. Apply it to your elbow and leave it for 20 minutes. Wash it with water afterwards. Do this process daily to lighten the dark elbows.
Turmeric
As we all have heard about its benefits, it also helps in lightening the skin. To make a turmeric paste, mix it with water. Apply it directly to your elbow and leave it for 10 minutes. Rinse with water later.
You can use these home remedies to clean elbow within no time. I hope these ingredients are available at everybody's home, and the methods can be processed efficiently.