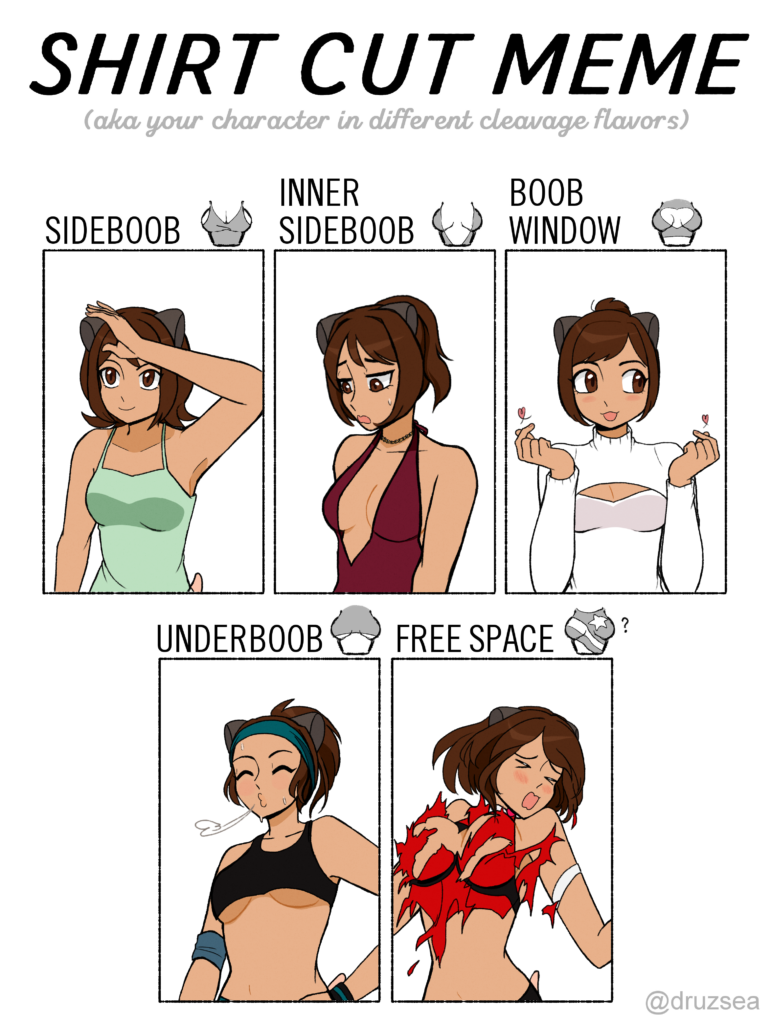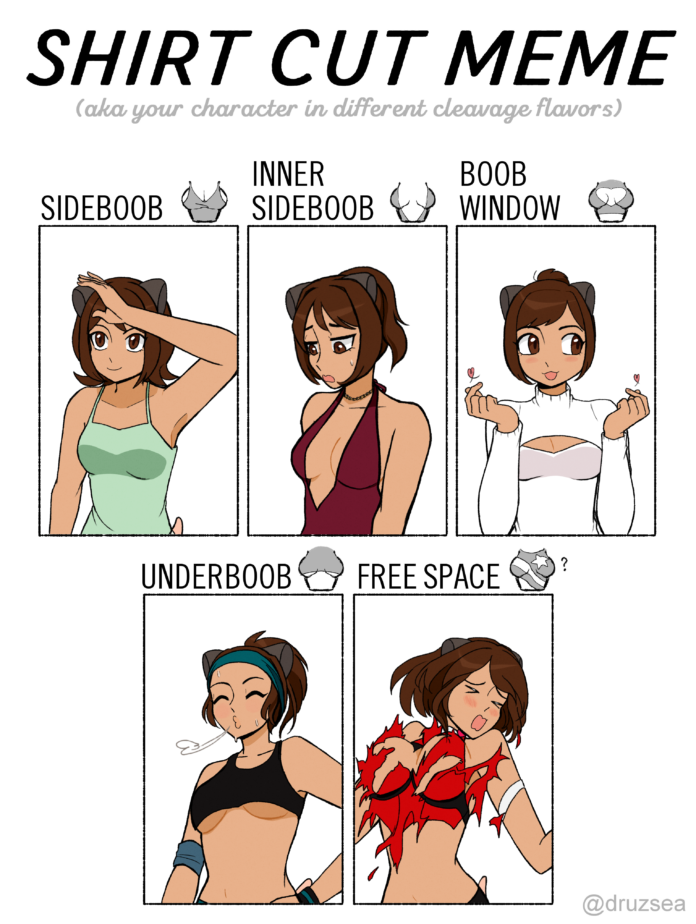 Shirt Cut Meme – Memes are the things that we get to see on the internet every day. They pop up every time we open a social media app. But not every meme becomes popular; there are only a few old ones that gain popularity. Several memes that are still a topic in popularity are Distracted Boyfriend, a woman yelling at her cat, and Disaster Girl. Again, the shirt cut meme has become a trendy meme on Twitter.
What is the meaning of 'Shirt Cut Meme'?
The shirt cut meme is a trendy meme that was circulated on Twitter for weeks and has recently come into the picture again. In this meme, characters are displayed wearing five different clothing; somehow, all the garments reveal their upper body parts. The images of this meme have a description with names like Inner sideboob, sideboob, underboob, free space, and boob window. It is considered an unethical meme as it exploits its fanbase.
People in this meme are guided to make a vulgar avatar of their own which manifests all the existing five characters with their different poses. Adding labels to these avatars is mandatory.
However, people have full freedom to draw anything and everything in a blank place, but they are still inclined towards offensive themes.
Origin Of The Successful Meme
There are tons of memes online and people are creating new memes every day using tools like Meme Generator [ BETA VERSION ]. As for this particular meme, as far as we know from the sources, i.e., according to Know Your Meme, the five-character format of the meme started to come into the picture after @druzsea shared about it on Twitter, i.e., in June 2021. Starting with the Template, @NumsNam, one of the Twitter users, created a submission using a template, the post that did get more than 3500 likes and 450 retweets dated back on 8th June 2021.
Later, It got hit when artists like NSFW, Joke submissions, and SWF posted about this Shirt cut meme on Twitter on 9th June 2021.
As soon as the meme achieved about 15K likes after the template post on Twitter, people began to start adding their own designed characters. The Template was explicitly blank for the purpose that people could make their own drawings. Some people created drawings that were so risque and indecent, while others drew characters showing no sexual factor.
For Example- On 11th June 2021, A joke was posted on Twitter by one of its users @Shamenado that consisted of a total of five drawings of a bird showing boobs. This drawing achieved likes of about 37,000 and gained above 10,000 retweets.
Therefore, after all this, the meme got trendy and came into the comic books in 2021, but now again, it has gained popularity on Tik-Tok in the year 2022. Moreover, all the videos that contained the hashtag #ShirtCutMeme have had views crossing 42 million to date.
Related Memes
The shirt-cut meme has several memes relating to it in many ways. One of them is named 'Six Fanarts.' Six fanarts is knows by few names such as #6 Fanarts, #SixFanartsChallenge and #SixFanarts.
#SixfanartsChallenge is a kind of competition on Twitter in which followers are asked about which characters to draw. Then the artist is supposed to draw the six characters out of the nominated ones.
CONCLUSION
Hence, Shirt Cut Meme is an exploitative, disgraceful, and vulgar meme for its fanbase. In which people are supposed to draw six characters, and each of these should be partially boobs visible. People have no restriction for being indecent. So, blank space is used wisely by people. In this article, we have attempted to explain the meaning of this meme along with its origin.
FREQUENTLY ASKED QUESTIONS
Q1) Where can I make memes for free?
Ans – Available online or through the App Store or Google Play. Free, fast, and hilarious.
Q2) Where can I share my meme?
Ans – Where CAN'T you share your meme? Save the meme to your device or send to your group chats, and post it to your social media handles like Instagram, Twitter, Reddit, Snapchat, or Facebook. You can also share it with your friends via DM or chat threads to start a new conversation.
Q3)According to you, is Shirt Cut Meme worthy of its fan following?
And – I don't think so; this meme is entirely dependent on sexual content, which is exploitative for the young generation who are also using Instagram, Snapchat, Facebook, etc. Therefore, such a meme should not be given much attention.