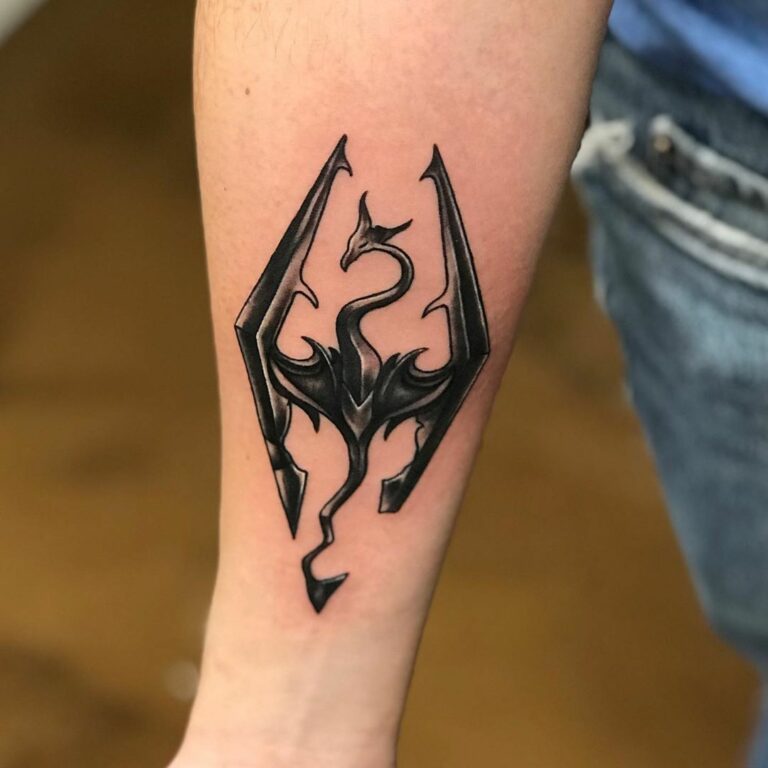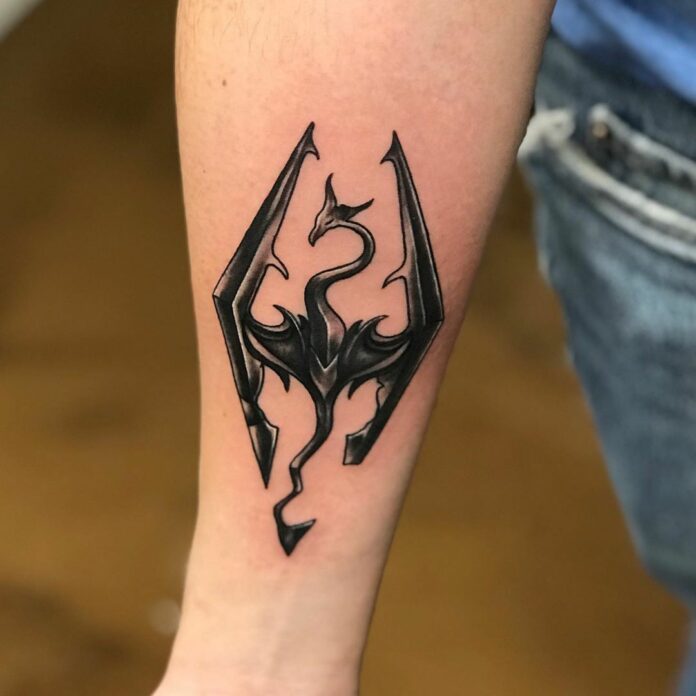 The most challenging thing done by a player in Skyrim is taking an arrow to the knee, making Skyrim tattoos a sensation among its players. You can not take an arrow to the knee to prove your love for the game, but you can surely ink your knee with a Skyrim tattoo. Skyrim is an incredible video game with several images, symbols, and designs that can be inked on the body as tattoos.
You can either use the cryptic dragon language heavily used in the game to ink a secret message on your body or utilize the space on your knee by getting a tribal tattoo inked on it. Skyrim tattoos can go in various directions, and each Skyrim tattoo idea has its level of creativity.
People have previously transformed many iconic symbols and images into tattoos that have set them apart as the true fans of the video game.
It would be difficult for people who have not played or heard about Skyrim, but these Skyrim tattoos will still appear as fantastic pieces of art designed carefully and precisely.
If you are a Skyrim fan looking for amazing Skyrim tattoo ideas, this article is a must-read for you.
This article is for all the Skyrim fans who have been planning to get Skyrim tattoo inked but could not find inspiration or idea. We have made a list of Top 8 Skyrim tattoo ideas that you will love in this article. Keep reading.
Read More- 10 Best Meaningful Moon Phases Tattoo Ideas
Meaning of the Skyrim tattoo
The amazing Dragon logo of The Elder Scrolls V: Skyrim is a popular symbol known as "The seal of Akatosh ." It belongs to the chief deity of Divines Akatosh. The seal of Akatosh is the emblem of the key armed force of the Empire of Tamriel, the Imperial Legion. The Empire of Tamriel is fighting against the native people of Skyrim (the Nords), as the storyline of the game suggests. The Nords (natives of Skyrim) are led by a charismatic and powerful revolutionary named Ulfirc Stormcloak. Akatosh has been regarded as the god of time in the game and is a part of the religious community of the imaginary world of Skyrim.
Read More- All You Need to Know About Stick and Poke Tattoos
Top 8 Skyrim tattoo ideas
Quirky Skyrim tattoos
This is one of the best Skyrim tattoo ideas for people who love the "arrow to the knee" reference. Getting a quirky Skyrim tattoo like this is surely a boss move and would immediately set you apart as a true franchise fan. The creativity of the quirky Skyrim tattoos is insane. It can vary from an American tattoo style representation of armor or the use of fine black needle lines for creating a cracked stone effect or simple, bold ink.
Skyrim runes
A representation of the dragon language heavily used in the game is a good Skyrim tattoo idea. These runes depict lines and words from the dragon language and are a good option to create a balance between smart placement and black ink. The creativity invested in these tattoos is incredible and the best part is that only Skyrim fans will be able to decode the message hidden in your tattoo, which makes runes a unique Skyrim tattoo idea.
Traditional black and gray Skyrim ink
These traditional black and gray tattoos have something very special about them. Their fine details and classical style background shading make them one of the best Skyrim tattoo ideas. The fine detailing can be used to ink the weaponry and armors of the warriors. And what makes the incredible tattoo complete is the use of negative space to give mist and smoke effects.
Read More- 7 Tips To Fasten Up Tattoo Removal Process
Skyrim blades
The crafting, displaying, and creating of weapons are major aspects of Skyrim, making this idea perfect for its fans. You can take inspiration from various weapons used in the game like glass, dragon scale, ebony, eleven fashioning, and simple steel. The artist will have to use various shading techniques to draw different kinds of blades. You can even get a manor house inked to show off your loot cache further.
Innovative warrior ink
If you are looking for something bold and big, these Skyrim warrior tattoo ideas would be ideal for you. These badass warriors are the key elements of the game, and when inked as tattoos, they will make you appear bold. This type of warrior tattoo is generally created with black ink and usually on bigger body parts like shoulders or thighs etc. we love how they turn out when correctly designed and placed.
Skyrim logo Tattoo
The Skyrim logo is an excellent tattoo idea and can be inked on various body parts using different inks and shading techniques. The use of negative space and black and white ink highlights a variety of colors, and shading is given to the dragon sigil to give the logo unique characteristics and more pop. You can also experiment with other symbols like the Witcher or Borderlands if you think the Skyrim logo to be cliche.
Read More- Semi-Permanent Tattoo: All About The New Body Art Trend
Dark Brotherhood tattoos
These Skyrim tattoo ideas represent the game's shadier, sneakier, and more bloodthirsty characters. If you are somebody who loves dark cults, then these tattoos would surely set you apart as a fan of the video game. Dark brotherhood tattoos can be inked in various images like bloody red hands or the American-style traditional skull and dagger pieces. These tattoos represent death and darkness associated with the assassin's group.
Read More- Is It Safe To Get Stretch Mark Tattoos?
Skyrim dragon tattoos
These Dragon Skyrim tattoo ideas are incredible and show the reflection of the creatures seen in the game. These dragon tattoos turn out great with the proper shading to display the dragon's scale and negative and space and white highlights to give it a 3D effect.
These tattoos are generally made on larger areas in the form of fighting scenes to give a more elaborate effect to the tattoo Skyrim.
Skyrim is a single-player role-playing video game developed by Bethesda Game Studios and published by Bethesda Softworks. The game is set in 4E 201 in an ancient Empire named Tamriel. The video game has had five installments till now and is a popular game among video game lovers. The game fans are going crazy about it and are increasingly getting images and symbols from the game inked on their body.
We hope you liked the Skyrim tattoo ideas mentioned above and will soon get a tattoo inked on your body. To create a unique tattoo, Skyrim for yourself, experiment with different colors and styles. Let us know which level are you on in Skyrim and have a chance to get a unique Skyrim tattoo idea curated for you.
Read More- Attractive And Meaningful Chinese Tattoos To Get Inked