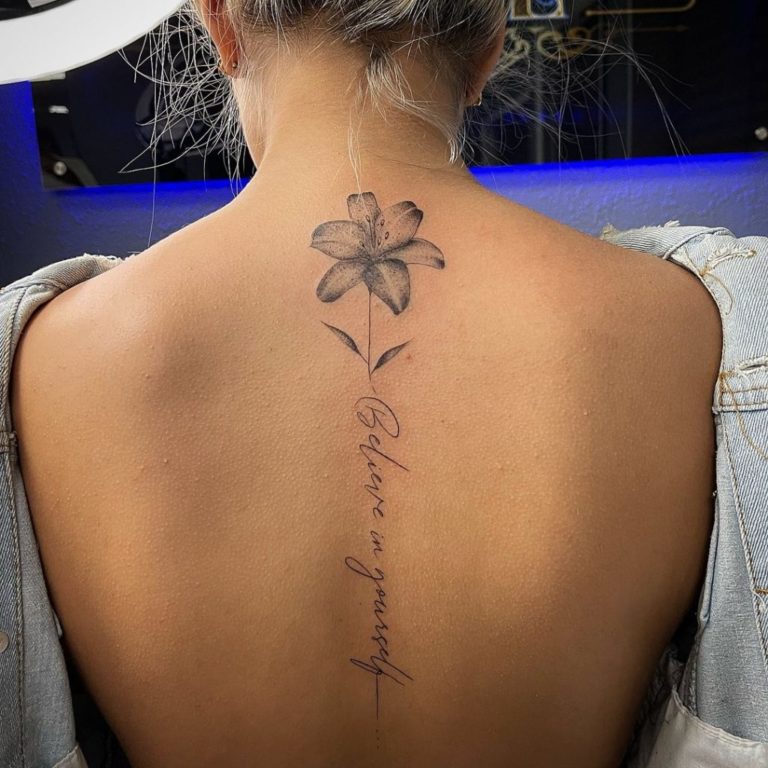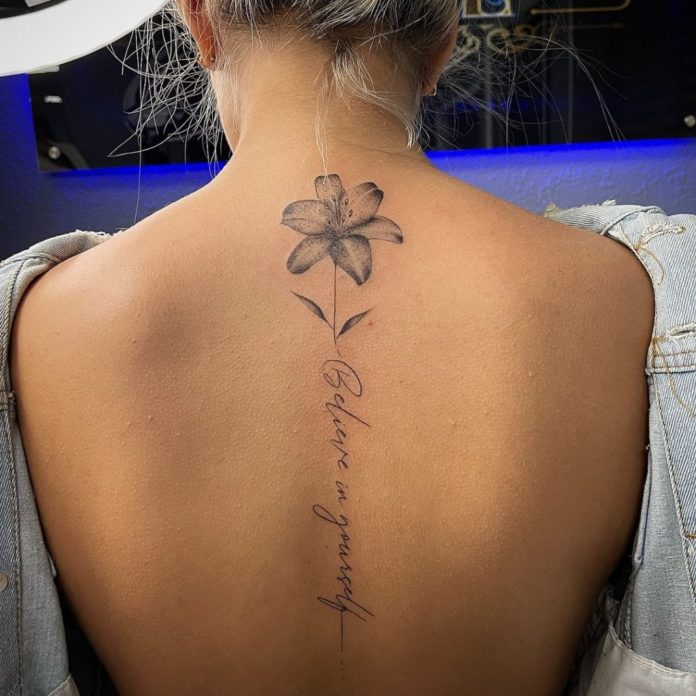 Spine tattoos hurt the most among all the painful body parts to get inked as this body part has nerves, thin skin, and proximity to bone. Spine tattoos are for people who don't fear pain or ink. Pine tattoos look very amazing with backless tops and tees. It is also effortless to cover up, which makes showing it off even more special and sexy. However, there are some bad impacts of spine tattoos like they can cause back pain issues, and require an epidural during childbirth. These are some things that should be in mind while getting a spine tattoo. 
Even though it's quite dangerous, spine tattoos look very sexy with big and narrow designs as it makes the back look sexy and attractive. If you're looking for some spine tattoo inspirations, we've listed some of the most incredible spine tattoos for you.
Read More- Best Tattoos For Behind The Ear For Men & Women
Amazing spine tattoos for women:
Quote, spine tattoos:
A quote spine tattoo looks fantastic and also they are very meaningful. The quote can be any phrase that you use or an inspiring word, or the lyrics of your favorite song.
There are many options that you can choose for a quote tattoo but the spine is the most amazing place for this.
However, it's quite important to choose the proper text styling, as it plays a crucial role.
Lotus spine tattoo:
Spine tattoos are an excellent choice for both men and women, however, it is important to remember that they hurt the must. As per this, it is recommended to choose the tattoo which will look amazing, and have many meanings in it.
The Lotus flower is one of the most symbolic choices for a spine tattoo as it indicates purity, divine, rebirth, and enlightenment, and mainly it represents growth.
Moreover, the spine is the best body part to have a lotus tattoo due to its size and space.
Dragon spine tattoo
The spine is one of the best body parts to get a dragon tattoo. This mythological creature is one of the easiest ways to make a statement as it is deemed fierce, powerful, and mysterious. Dragon tattoos represent two different things in the east and west. In the east, it is a symbol of fortune and strength, and in the west, it represents the thoughts of being an evil, fire-breathing menace to humankind.
Thus, the meaning behind the dragon tattoo depends upon the mythology you believe in.
Arabic spine tattoo:
Many people love quotes and get them tattooed on the body, however, there are many other ways to do this thing. For writing the quote you can use other languages like Chinese, Arabic, Japanese, Spanish, or many other languages. The Arabic letters look very beautiful and attractive. It is one of the best eye-catching languages and not everyone understands it.
It can also be an odd choice to make as many people don't understand Arabic but it definitely looks cool.
Read More- Best Vine Tattoo Ideas For Males & Females
Chinese spine tattoo:
As earlier mentioned that other languages look amazing on tattoos so getting a Chinese written tattoo is a great option. A Chinese spine tattoo looks great and is the best way to celebrate the culture of china.
To keep your tattoo personal it is good to use any other language.
Snake spine tattoo:
As already mentioned, snake spine tattoos are the best choice for a spine tattoo. Snakes are symbols of rebirth, change, and transformation, and also represent different meanings in different cultures. The serpent's form can also be adapted to fit any body part however it is recommended to get them on the spine.
Each body part of a snake represents different meanings like the skull is the symbol of death and fearlessness, while the inclusion of a dagger is associated with bravery and triumph.
Moon phases tattoo:
Undoubtedly moon phase tattoo is the most popular tattoo design. There are many reasons behind getting a moon phase tattoo, the moon phase symbolizes the power of a female, transition, mystery, and growth, and it is an appealing choice for both men and women.
The different phases of the moon represent different symbols like the crescent shape represents hope and change, the full moon represents mysticism and transition, and a half-moon represents growth, attainment, and fertility. So, while getting a moon phase tattoo to keep in mind what meaning you want to represent and choose the moon design accordingly.
If you love small tattoos then you can go for a minimalistic moon phases tattoo, or if you're a more creative person and love to experiment then you can go for a geometric and more detailed design.
Cute spine tattoo:
Spine tattoos hurt the most but at the same time, they are incredibly popular body tattoos. They also make a great statement. These spine tattoos are versatile, lending themselves well from large to small designs.
Getting an acute design like flowers, butterflies, or any other shapes looks very elegant and fantastic as a spine tattoo.
Read More- How long does it take for the tattoo to heal on average?
Sexy spine tattoo:
The name defines them all, as already mentioned that spine tattoos are very sexy and amazing. The spine is considered one of the most alluring body parts. Spine tattoos draw attention to an attractive area for both men and women.
In general, the back is the most intimate part of the body, so getting a tattoo here is the most amazing decision.
Butterfly spine tattoo:
Butterflies are the most beautiful insect and a butterfly tattoo is therefore always a trending choice. As we all know that butterfly tattoos are the most common tattoo design so why not try them on the spine.
Butterflies are stunning insects and symbolize beauty, change, transformation, and freedom. Getting a butterfly tattoo on the spine is the best choice for each individual going through a transitional period or someone who wishes to overcome the struggle stage.
Elegant spine tattoo:
An elegant spine tattoo is very delicate and understandable. It can be in any design, however, popular choices would be flower designs or quotes with meaningful words or phrases.
These spine tattoos are perfect for those who prefer a more laid-back approach to body art and want a meaningful tattoo without trying too hard.
Small word tattoo:
Small tattoos look very elegant. If you're a bit concerned about getting inked and don't want to get your whole back inked then instead of going with a long tattoo, try to get a small tattoo that could be the name of your loved one or something that inspires you like joy, freedom, honor, love, etc.
While you are going to get inked make sure that you do the research for finding the best tattoo design or words for you as it is very hard to remove permanent tattoos. 
Read More- 8 Amazing Skyrim Tattoo Ideas That You Will Love
Final words:
Out of all other body parts, spine tattoos hurt the most, however, despite the pain it looks very sexy and amazing. So, if you are interested in getting one spine tattoo, it is recommended to go with the above-mentioned tattoo ideas as these are some of the best and most meaningful tattoo designs and would make your spine look beautiful.
If you liked the post then hit the like button and mention which tattoo idea inspired you the most.