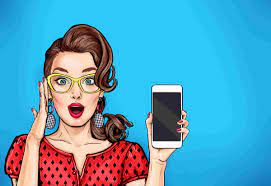 Nudes used to serve as a tease and a way to get your fling/significant other titillated on the other side of the screen. Nowadays though, nudes can be a source of income and anyone's bread and butter. So if you have any nudes sitting in your camera roll (don't be shy, we all do), know that you're missing out on a lot of lucrative business opportunities.
Selling naked pictures online has become so mainstream that influencers, celebrities, sex workers, and people that are none of the previous, have jumped on the bandwagon. It has a great demand, it's profitable, and it's relatively easy to do, as it doesn't require too much startup money. For starters, all you need to make money selling nudes is a working camera and the confidence to flaunt your bare skin on the internet.
What you need to sell nudes online
The initial investment to sell nude pictures is minimal, and you might even have all the required equipment already in your power, in which case you would spend 0 money in getting started.
The first thing you'll need is a camera. Since nudes are entirely visual, the quality of the image is crucial, so you should focus on getting yourself a high-quality camera. Anything above 5MP would be ideal in terms of image quality.
That being said, as long as the camera meets that threshold and has the right specs, it doesn't matter if you use a DSLR or your phone's camera. In fact, you'd be astonished at how many influencers who sell nudes for a living, merely use their phone cameras to snap their juicy pics. This is because most phones today already come with decent parameters, so chances are, yours does too.
If you choose to use your phone to take your nudes, you can always add the cherry on top with any photo editing app that you can install in your phone. Thus, you can easily edit and correct your photos in case your smartphone's capabilities don't get there.
The other option for camera is using a DSLR, commonly known as reflex camera. These are way more expensive than other types of digital cameras that you could still use, but it pays off with super high quality that could make of any nude a piece of art. But keep in mind that using a DSLR requires some degree of photography knowledge. DSLR are top-notch because of all the features and parameters they have to make your photos great, so it's only worth using them if you know how and can milk what they have to offer. Additionally, you will need to use a separate photo editing software afterwards if you wish to edit your shots.
A good camera is nothing without good lighting. The best-kept secret of photography is that it doesn't matter whether you're photogenic or not; you don't need to have the looks, all you need is to have the right lighting and angles. This way anyone can look like a Victoria Secret model.
The optimal lighting setup consists of three-point adjustable stand lights, one in the front and two on the sides. The most important thing is that the light never shines directly into the camera's field of view.
A tripod would be an optional element that you don't need, but that would add value to your photoshoot. With a tripod you can produce a wider array of images that will sell like hotcakes. Since good tripods can be found for as little as 20-30 dollars, it's a good idea to get one just in case.
Another great way to sell nude pics is in the form of polaroids. If you want your viewers to get the top-tier experience, you can take physical polaroid nude photos and sell them on your platform (if it allows you to). It wouldn't be your primary product, but instead, a complement to your main income coming from your online nudes. On top of that, polaroids enable you to make your sale more personal by adding a dedicatory or signature in the back. Fans will definitely appreciate it.
How to sell nudes online
Before diving into the how, let's talk about the "what". Believe it or not, there are different types of nudes, and you will have to be familiar with them to know what to offer.
Nudes go beyond flashing your titties or spreading your WAP in front of the camera. Nudes can also be subtle, and not show anything explicit at all. The reason why people like nudes is because they are suggestive, so while you can go all out and show every corner of your body, you should also consider combining that with other type of nudes where you just leave room for your fans' imagination to work. Picture a shot where you're partially covering yourself with a sheet, leaving only your back exposed. This would be a perfect example of a not-so-nude nude.
Selfies are the easiest type of nude to make, as all you need is yourself in your birthing suit in front of the camera. They are, however, very limited when it comes to angles and creativity, so don't abuse selfies. Sell them every now and then but don't make them your main theme.
Full-scale photoshoots on the other hand are great for producing a lot of content that you can then rationalize and sell in different weeks (it's all about working less earning more). You can use different backgrounds, angles, and poses, and even get creative and make it a themed photoshoot. Keep in mind though, that you will need either a tripod of a photographer to produce this type of shots.
In terms of selling your nudes, there are two ways.
Image sets
The majority of naked models don't sell individual nudes. They give their customers access to a whole collection of images instead, which can consist of 20 photos or more. Image sets are very popular and desired among clients because it gives them great value for money, and it's always more fun to scroll through several spicy photos than having just one.
Individual photos
Selling photos individually can be an awesome option if you're just starting out in the nudes biz or if you just want a side hustle to get some good earnings on the side. The upside about selling individual nudes is that you can charge more per piece, since you're only providing a certain number of shots (we're talking exclusivity here, baby). You can even order your photos in increasing tier releases.
Where to sell nudes
Before choosing your platform, you must think of what business model you want to run. As discussed before, you can decide whether to sell individual photos or sets, but in the bigger picture, you also have to choose if you want to charge for each photo/set, of if you want to offer subscriptions to access all your content. This is important because depending on what you choose, you will have to see if the platform will allow you to run your selected business model. However, there are some sites that offer both options.
In any case, remember that you must be older than 18 to sell adult images, and you will have to provide a supporting document to your website to prove this.
Here are some of the best websites to sell nudes.
OnlyFans
OnlyFans is where everything started (or where everything got popular at least). Users pay a monthly price to access all of your content, including nudes. OnlyFans is geared for adult content, so you can upload as many nudes as you want. Proof are the many sex workers and adult entertainers who sell their sensual footage in OnlyFans.
The site's ability to keep all of your information secure and secret is a major advantage, especially given the adult market. Members can only access content that you make available on the platform; in contrast, physical things like polaroid photos are entirely up to the model's decision.
You have control over the cost that subscribers will pay. The typical range for this is $5 to $50. The fact that OnlyFans is so generous with the cut they provide to its content creators is perhaps what makes it perfect for selling nude photographs. Only 20% of the creator's monthly gross earnings go to the website.
High traffic, quick and flexible withdrawals, a cheap minimum payout, and DMCA protection are all features of OnlyFans.
My.Club
People are loving My.Club as it presents itself as the new and improved OnlyFans. It goes a step further and provides creators with a lot more tools to help them sell their material. Teaser posts which are visible to everyone on the internet, the ability for users to send tips, and their successful referral program are just a few examples. And you can of course sell nudes online on My.Club, since they are and will always be adult friendly.
The way My.Club works is similar of that of OnlyFans as in you select the cost of your club, and subscribers pay it every month to access your content. What's great is that apart from posting your nudes that anyone paying the subscription can see, you can also use private messages to sell them directly to your followers. My.Club has a brilliant messaging system that allows you to save time by sending mass messages, and those mass messages can include photos and videos (unlockable for a reasonable price of your choice). In short, you can mass send nudes to all your fans.
Another great feature of My.Club is the possibility to work together with other creators. The platform promotes communication between creators as well as with fans, and as such, it allows content creators to connect in order to feature each other in their content. The result is double the traffic, and potential new fans.
FanCentro
Fancentro is a simple-to-use website where content creators can publish sensual images and videos. The structure of the website is similar to OnlyFans', with a scrolling feed of posts that visitors can access and watch after subscribing.
On Fancentro, you can choose your own membership fee. While some of the creators demand one-time, lifetime fees, others have recurring costs as little as 9 dollars per month. You can also advertize your signup prices as incentives, telling potential customers that if they "join up now" for $9 per month for a year, they would save 90% off your "regular rate".
Similarly to OnlyFans, the amount of work you put into your Fancentro account will probably affect how much money you make. It's not only about producing great and regular content, but also about being attentive (like for example, personally thanking your followers when they tip you or subscribe).
Fancentro levies a billing fee of 10%. You will receive an additional 75% of the website's gross income after that.
ManyVids
ManyVids is a business that offers a secure environment for anyone to advertise their naked and adult content. Individual films, tangible goods, and subscriptions can all be sold by creators. The website is an excellent place to sell content because it receives 6.5 million daily visitors and has over 3 million active users. Additionally, it focuses on fetish categories, so if you create content for a particular specialty, you may market it in ManyVids.
High prices, a lot of traffic, exceptional customer service, the ability for customers to tip producers, straightforward features, and a wide selection of products are just a few of its advantages.
Snapchat
Snapchat might have started as a social media tool for teenagers, but nowadays is a place for college students and sex workers alike. A lot of people effectively sell nudes for money on Snapchat. Some webcam girls, for example, sell access to their Snapchat account on their cam platform, so Snapchat can be a great money-making tool for anyone.
The app introduced for the first time disappearing snaps, which then served as inspiration for Instagram and Facebook stories. But now they changed the game again by introducing premium Snapchat, a secret account that requires payment to access. There you can sell your spicy photos. The only issue is that you would need use another website (any of the ones on this list) to advertize them, rather than getting paid by the app itself. In essence, if a user subscribes to your Snapchat account, they will need to pay through a different payment processor if they want to see your premium nudes.