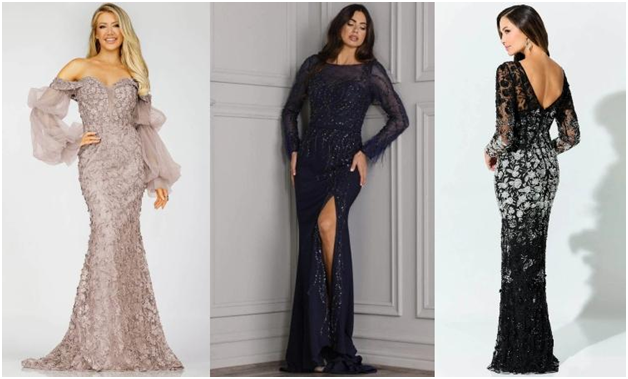 The role of a mother of the bride is not only crucial but also deserves special attention when it comes to her appearance on the big day. From selecting the perfect Mother of the Bride Dresses to complementing it with a stunning hair and makeup look, there are various elements that contribute to creating a fashion-forward and elegant ensemble.
In this ultimate guide, we will explore the world of designer mother of the bride dresses and delve into the realm of hairstyling and makeup, providing you with valuable tips and ideas to ensure you look and feel your best on this memorable occasion.
Designer Mother Of The Bride Dresses: A Fashion Statement
When it comes to selecting the ideal dress, designer options are often the epitome of sophistication and style. Designer mother of the bride dresses offer a wide range of choices that cater to various body types, preferences, and wedding themes. These dresses are crafted with meticulous attention to detail, using luxurious fabrics, exquisite embellishments, and impeccable tailoring. By investing in a designer dress, you not only elevate your overall look but also ensure a flattering fit and timeless elegance.
Finding The Perfect Mother Of The Bride Dress:
a) Consider Your Personal Style: While it's essential to choose a dress that complements the overall wedding aesthetic, it's equally important to select a style that reflects your personal taste and individuality. Whether you prefer classic silhouettes, modern cuts, or intricate detailing, there's a designer dress that will capture your essence.
b) Body Shape and Proportions: Understanding your body shape is crucial for finding a dress that flatters your figure. Designer dresses often offer a variety of styles suitable for different body types, whether you're looking for A-line, mermaid, or empire waist designs. By accentuating your best features and choosing the right silhouette, you can enhance your natural beauty and exude confidence.
c) Matching the Wedding Theme: Consider the wedding theme, venue, and color palette when selecting your dress. Designer collections often incorporate a wide range of colors, from classic neutrals to vibrant hues, ensuring there's a perfect match for every wedding style. Coordinate with the bride and take inspiration from the overall wedding scheme to create a cohesive and harmonious look.
Hair Styling for the Mother of the Bride: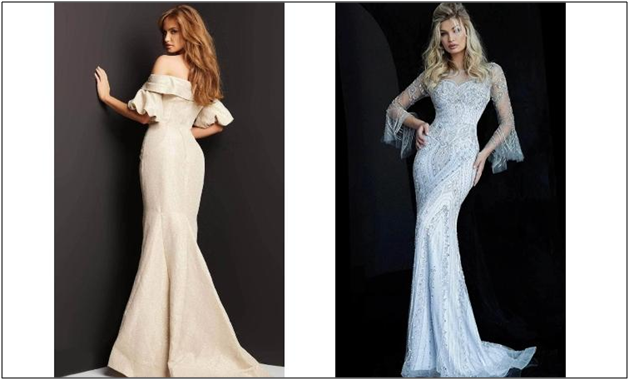 a) Consultation with a Hairstylist: Prior to the wedding day, schedule a consultation with a professional hairstylist to discuss ideas and explore various options that complement your dress and personal style. Share your vision and bring along inspiration photos to help your hairstylist understand your preferences.
b) Complementing the Dress: When choosing a hairstyle, it's essential to consider the neckline and detailing of your elegant mother of the bride dresses. If your dress features intricate embellishments or a statement neckline, an updo or a sleek hairstyle can allow these features to shine. For dresses with simpler designs, loose curls or soft waves can add a touch of romantic elegance.
c) Considering the Weather and Venue: Take into account the weather conditions and the wedding venue when deciding on a hairstyle. If you're attending a beach wedding or outdoor celebration, opt for hairstyles that can withstand potential wind or humidity. Similarly, for a formal indoor event, classic updos or sophisticated chignons can be an excellent choice.
Makeup Tips for the Mother of the Bride:
a) Enhancing Natural Beauty: The key to achieving flawless makeup for the mother of the bride lies in enhancing your natural features. Start with a good skincare routine to ensure a radiant complexion, and opt for makeup that enhances your best attributes without overpowering them.
b) Longevity and Waterproof Formulas: Wedding days are full of emotions, and tears of joy may flow freely. Choose long-lasting and waterproof makeup products to ensure your look stays intact throughout the day. Look for smudge-proof mascara, waterproof eyeliner, and transfer-resistant foundation and lipstick to maintain a fresh and polished appearance.
c) Emphasizing the Eyes: The eyes are often considered the focal point of makeup. Opt for neutral and complementary eyeshadow shades that enhance your eye color and suit your dress. Consider using false lashes or individual lash extensions for added drama and dimension. Remember to define your eyebrows to frame your face and complete your eye makeup look.
d) Radiant Complexion: Achieving a radiant complexion is essential for a youthful and fresh appearance. Prioritize skincare leading up to the wedding day, ensuring your skin is well-moisturized and primed for makeup application. Use a lightweight, buildable foundation or a tinted moisturizer for a natural and dewy finish. Conceal any imperfections with a creamy concealer and set your makeup with a finely milled setting powder for longevity.
e) Blushing Cheeks: A touch of blush adds a healthy glow and dimension to your face. Choose a blush shade that complements your skin tone and apply it to the apples of your cheeks. Opt for a satin or matte finish blush to avoid any unwanted shine. Blend the blush seamlessly for a natural flush of color.
f) Lips that Last: Selecting the right lipstick shade is crucial for completing your makeup look. Choose a long-wearing formula in a color that enhances your overall appearance. If you prefer a bold lip, go for classic red or berry tones. For a more subtle and elegant look, opt for neutral pinks or mauves. Line your lips with a lip liner to prevent feathering and apply lipstick with a brush for precise application.
g) Final Touches: Once your hair and makeup are complete, consider adding a few final touches to elevate your overall look. Adorn your hair with accessories such as jeweled pins, delicate headbands, or floral accents that complement your dress. Choose statement earrings or a dainty necklace to enhance your neckline and add a touch of sparkle.
Conclusion:
As the mother of the bride, your presence and style play an essential role in the wedding celebration. By selecting a Mother of the Bride Dresses that flatters your figure and reflects your personal style, you can make a lasting fashion statement. Pair your dress with a carefully crafted hair and makeup look that enhances your natural beauty and complements the overall wedding aesthetic.
With the tips and ideas provided in this ultimate guide, you are well-equipped to create an elegant and memorable ensemble for your daughter's special day. Remember, confidence and radiance are the key ingredients to truly shining as the mother of the bride.