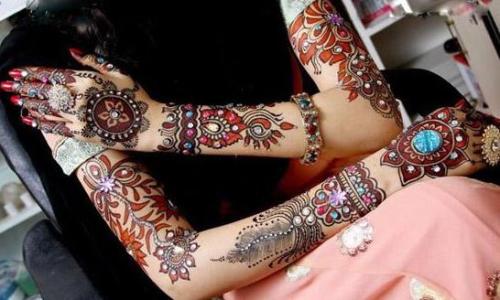 Every religion imbibes of different tradition and culture, and each one has its importance. Among all of them, Hindu religion stands in the first position, and when the occasion is a wedding, one will be short of Bridal Mehandi Designs. Not only bride but the groom as well is not left untouched with the pure aroma of mehndi.
Applying the bridal Mehandi designs, especially to the bride is believed to be an integral and major part of the wedding because as per the belief Mehandi bestows the life of the bride with lots of prosperity, encircles with the hue of happiness and best wishes for her newly married life. The Bridal Mehandi is truly special in every term and one of its kind in comparison to that of anyone else. To become a bride with beauty is the dream of every girl.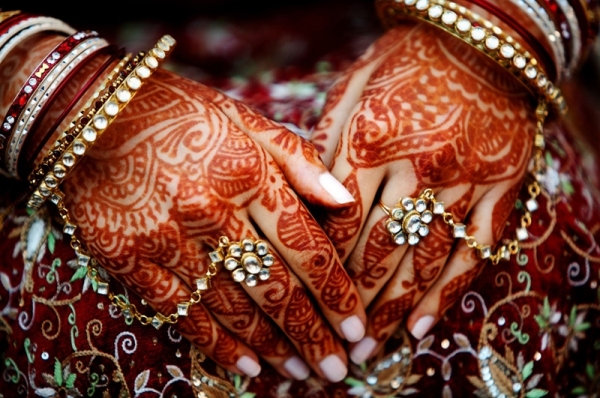 Bridal Mehandi is such a mirror that truly reflects your regal legacy, culture, tradition, society in it. From floral theme to leafy strokes, from subtle designs to the intricate ones
all fall under one roof depending on the choice of the bride. Not only hands and legs but applying Mehandi in the form of a tattoo has also been added to the bridal Mehandi designing list because it gives her an ultra-modern look. It is a true work of art.
When we talk about bridal Mehandi for a wedding, we can even go for the varieties of Mehandi that are easily available in the market. The variety includes Artificial Mehandi tattoo with glitters and colorful stones, red and black colored Mehandi, etc. Moreover, while selecting the Dulhan Mehandi design or designs for guests, we can go through many options like Simple Style Mehandi, Arabic Style Mehandi, Marwari Style Mehandi, Rajasthani Mehandi pattern or any regional Mehandi that you have wished to apply for long.
Though every sort of Mehandi pattern is distinct in their ways depending on their designing bridal Mehandi is unique. Here you will be able to browse 30 different types of Mehandi designs that you can apply on special events like a wedding or anniversary or even casually.
Arabi Designs for Wedding Occasions: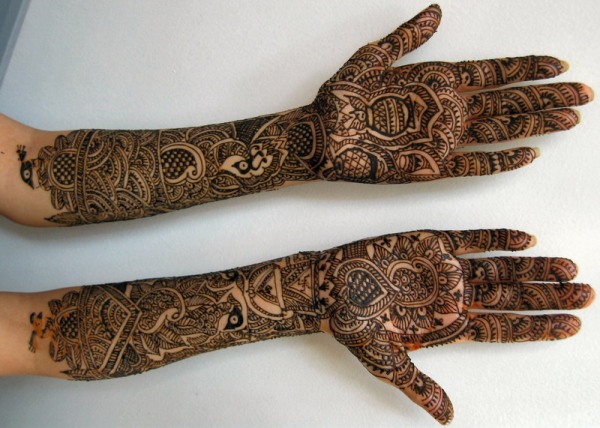 One of the patterns of Mehandi design that can be opted for the wedding occasion is Arabic Mehandi designs. This pattern imbibes of motifs formed in a unique style thereby covering the complete hand and imparting a trendy look. Such Arabic Mehandi designs go perfectly with the guests and even for the bride too because it is based on a connected pattern.
Moreover, it does not take much time. As per the preference, a bride can easily choose for an intense-looking Arabic Mehandi design which takes extra time or the simple one which consumes much less of time. So, if you are planning to look decent yet voguish, just go for it without giving a second thought.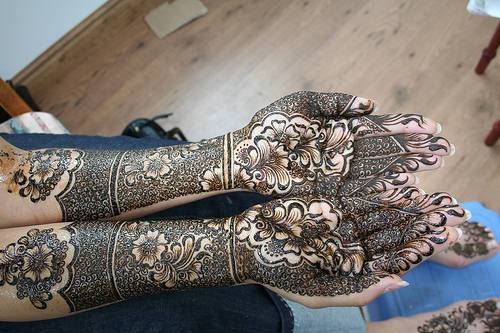 Brides just look complete when their Mehandi speaks of traditional looking cute flowers and leaves. To make it look unique, fingers can also be covered with henna designing to give it a little heavy look. Moreover, adding details like dots and darkening of the borders with little shade inside the flowers will give it a stupefying look. Be an eye-catcher with such type of Mehandi design.
Full Hand Bridal Mehandi Designs :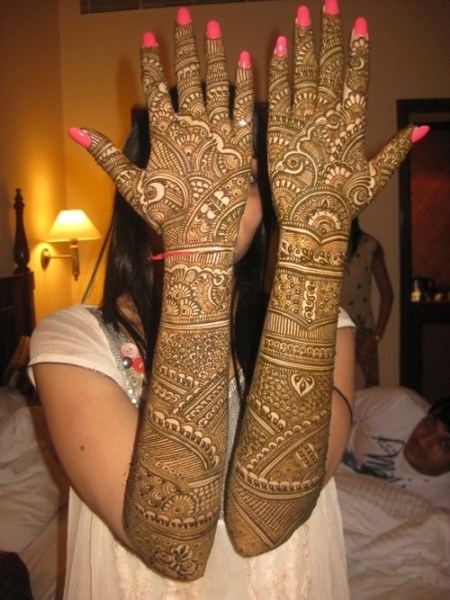 What to say about this particular Mehandi design which covers your full hand in such a subtle way that whoever looks at it does not resist him/her from complimenting you. The full hand bridal Mehandi designs comprise of very peculiar detailing on both the sides of the hands and adding the matching nail print to that of your attire will add seven stars to it.
Depending upon the look, strokes and shades can be added to the floral part. The best part about this full hand bridal Mehandi design is that it does not leave any area to vacate rather is based on the linking pattern where one design is linked with the other.
Such a design not only accompanies wedding but other grand occasions too wherever you wish to stand out in the crowd. Look privileged in every style of yours!
Circular Flower Design for Brides :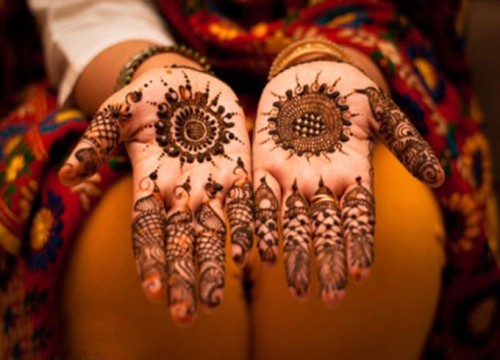 Undoubtedly, history repeats itself, and when it is about fashion or Mehandi, history has always shown its antiqueness. This circular flower mehndi design is also one of the designs that a bride can easily opt for without giving any second thought. Even in the former times, whenever there used to be any special occasion or festival, ladies used to adorn themselves with this Mehandi design where a little large-sized flower was drawn in the center of the palm.
Similarly, we can do the same now as well and to add some more grace to it we can draw some small-sized circular motifs in such a way that they are connected to the fingers.The circular theme is sure to make you look spellbound because it showcases the design very clearly avoiding any mess.
Simple Designs for Brides

This is a simple Mehandi design for a simplicity loving bride! Any princess who is a bride to have her own choice and selection of attire, food, decoration, sangeet, and even Mehandi. And why not, after all, it is her special day that she has always dreamt about. A bride who loves more of simplicity and subtleness, this simple Mehandi design will be her desire to have on her hands.
The one-sided pattern of this above-given picture imparts it with a sober look and to capture the eyes of one and all the border is made little darker highlighting tiny dots and beautiful flowers.
Bridal Mehndi Designs for Foot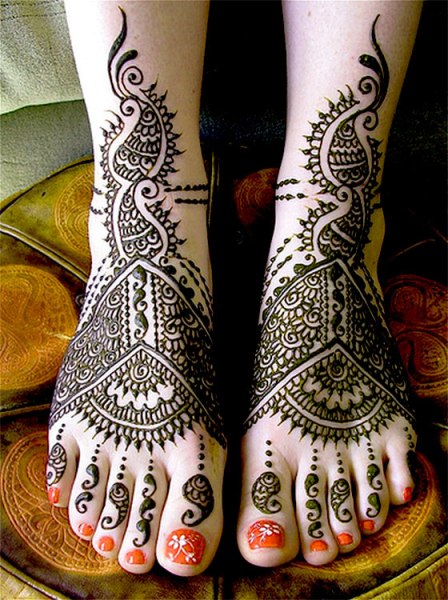 As we had a good discussion about bridal Mehandi designs for hands, let us also go through the bridal Mehandi pattern for the foot of the bride. Here again, depending on one's taste, a choice can be made to apply Mehandi on foot. Brides love applying heavy-looking Mehandi on foot as well along with the hands because there are hardly any occasions when one think to put Mehandi on foot. There are even such brides who are subtlety lovers and always prefer everything in a decent way. Just as a tip, if you wish your Mehandi to look outstanding, better go for a pedicure and prefer waxed legs.
Bridal Mehandi Designs for Occasions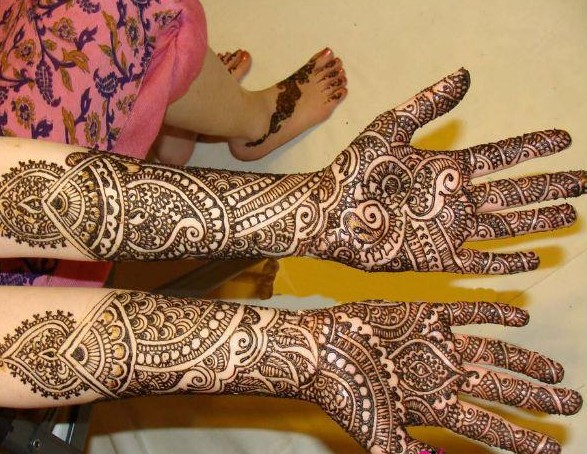 If you are a bride looking for such a bridal Mehandi design which gives a heavy look but it is quick and easy when it comes to applying then this one is just made for you. This pattern can be termed as a Semi-heavy bridal Mehandi design. Adding to the description, this pattern features different shapes and sizes of leaves accompanied by some circular exquisite detailing figures. When bubbles like dots and shades are drawn on the finger just like a thick weaved design, it marks this design as one of its kind.
Black and Red Bridal Mehandi Designs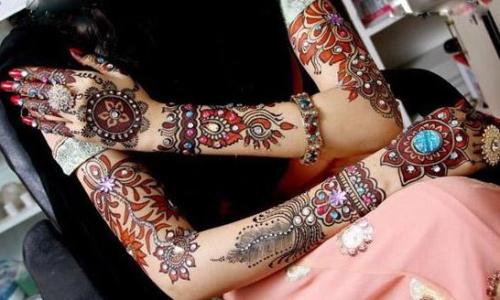 If you wish to turn the heads of the crowd towards you then just go for this black and red combination Mehandi designs. You can decorate your complete hands with such a pattern in which you can enhance the border with the black color Mehandi and the red one you can use to shade the floral motifs and leaves. After all the contrast always look mind-blowing.
This pattern is unique than that of others, so it is always right to go for a look that is distinct and appealing!
Latest Bridal Design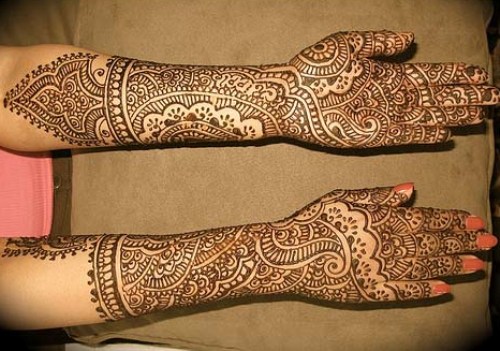 This bridal Mehandi design is the latest talk in the town because of its unique designing. This design as you can see in the above-given picture is quite complex, not as easy and quick in the making of the previous ones. To give a refined and rich look to your hand, this bridal Mehandi design imbibes of huge gaps amidst the patterns thereby extending it till the elbow by adding large, intricate patterns.
To get a clean look at this Mehandi design, it is very essential to synchronize it smartly whether it is the front part of the hand or the back one. Mark a point that the designs on both sides should perfectly complement each other rather than being identical. In case it is similar, it won't give you the desired look, and you might not be satisfied. With all the means, this design will impart you with the most appealing look.
Wonderful Designs for Full Hands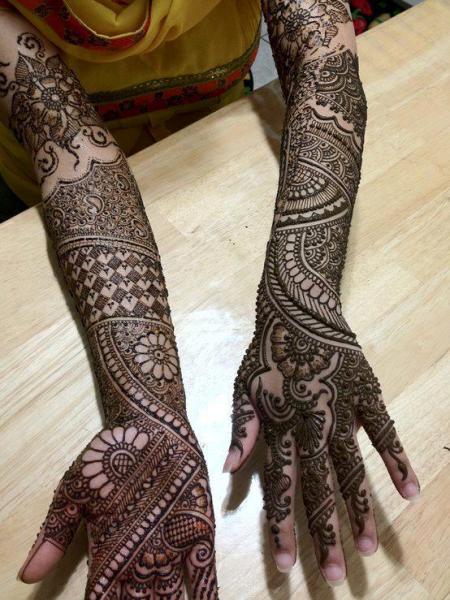 When your hand is embellished with a Mehandi design that has circular and floral motifs of every size within it, that is sure to be called as the most wonderful Mehandi designed for your hands especially. Amidst of this intricate design, flowers are drawn with the help of Mehandi cone, and these flowers are darkened with re-applying henna on their borders to give it an intense appearance. This design goes the best with your special guests who are there just to attend your wedding day and make it special in every way.
Simple Mehndi Design for Wedding Functions
Even simple Mehandi designs when made with little creativity and extreme concentration bestows you with the most desired look when you are all set to be the bride on your special day. All that needs to be taken care of is that the simplest Mehandi design for wedding functions should also be smartly organized and presented with proper coordination between flowers, dots, and accessories.
With a view, that you can enjoy the tinge of wearing jewelry, the tips of the fingers are kept clean meaning thereby no Mehandi is applied to it. After all, the main focus of this design lies in accessories like bracelets, rings, and bangles, etc. Cherish being a bride in every way you can!
Big Flowers Designs for Brides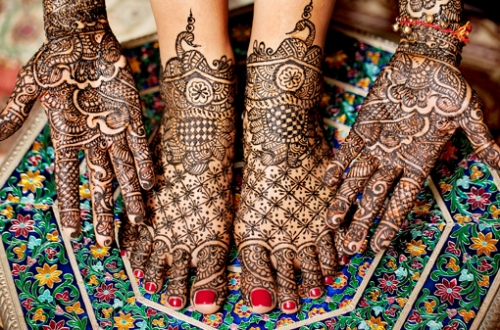 When we talk of applying Mehandi to a bride, designs for both, hands and legs are kept in mind. To give bridal Mehandi an intense look, one can apply it on hands, right from elbow to fingers and on legs right from the foot to one-fourth part or even more of the ankle. In both cases, this above given Mehandi design featuring big flowers is an everlasting one for the bride to be. To give a contrasting look and make your appearance look more stylish, you can add criss-cross lines along with the floral theme.
Peacock Designs for Brides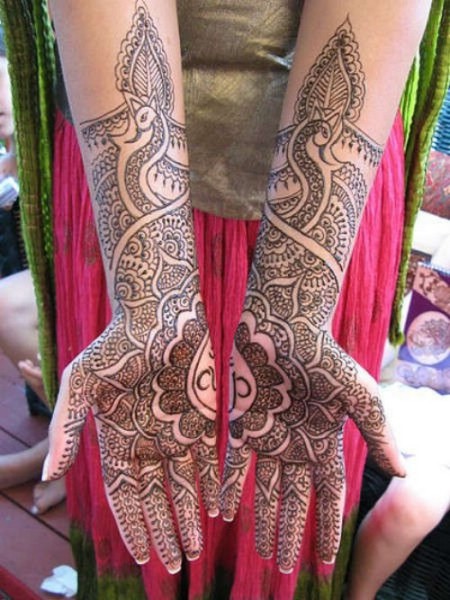 Finally, when the wedding day arrives, and the bride is right there holding everyone's eye on her being the center of attraction, it is sure that the bride will greet one and all who walk to her with a big smile on her lips and joined hands to receive precious blessings.
Now, here comes the point that when this peacock Mehandi design is applied on the hands of the bride will add five-star reviews to her beauty because the perfect bridal look will only be delivered when one will see her hands joined. An example can be witnessed right here from the given image. Every small detailing has been kept into consideration, and all the sizes of petals are drawn too.
As a part of fun and frolic, or even as a tradition, in various religions, it is seen that on the bride's hand the first alphabet of the bridegroom's name is written in such a way with the henna that it seems tough to be found by the groom himself.
Cool Leg Bridal Mehndi Design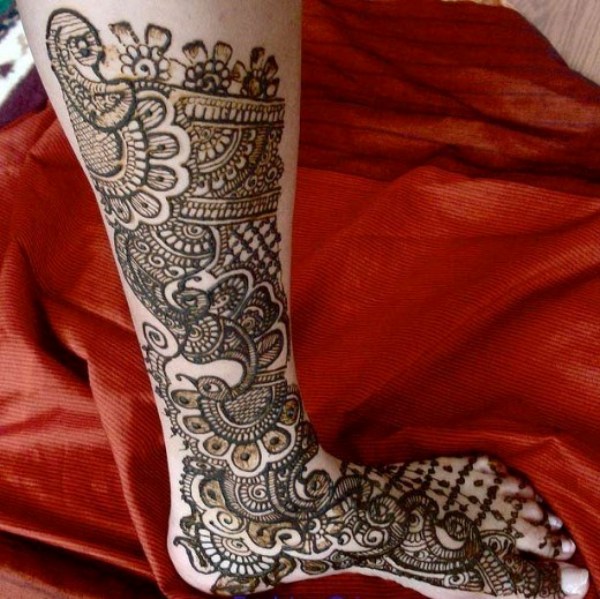 Now, here comes the cool leg bridal Mehandi design for the bride. When are you all set to step into a new married life, why not to step with the most beautiful Mehandi legs? A point that needs to be on board is that the Mehandi design prepared with the proper coordination of various style motifs with different sizes looks wonderful thereby leaving one and all spell bounded. But on the other side if one tries to use all kinds of motifs and patterns in a single hand lacking the right arrangement will make it look nothing less than dirty.
In spite of making the bridal Mehandi design on the inner side of the leg, try doing it on the outer front so that the hard work done is easily visible and worth appreciable.
Front Hand Look Wedding Mehndi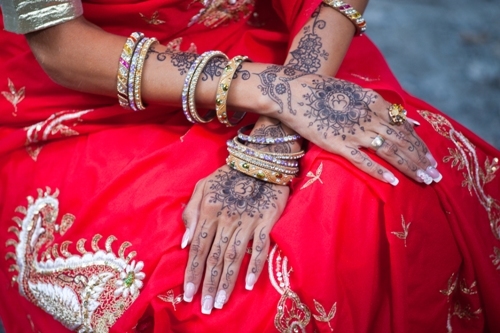 Undoubtedly, beauty is the best gift of God, and when you have accessories to add more grace to yourself, there are no words at all to express what a princess you will look like. If you desire for an esthetical look, then no other Mehandi design can bestow you with it than this front hand look wedding Mehandi given in the image. All you need to add is the perfect match of accessories with your attire as this time rings, bracelets and bangles can do wonder in making you the dream woman of your beloved.
To add on, cover the tips of your fingers completely with henna thereby highlighting with little dark boundaries for a distinct look.
Elaborate Designs For The Weddings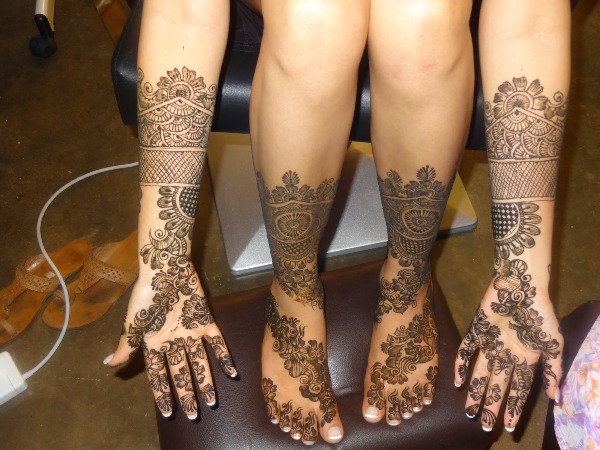 Elaborated Mehandi designs for weddings are the latest ones in the trend. The best part is that this type of Mehandi design is the choice of both, simplicity loving bride and even the bride who loves complexity. As the name defines itself, elaborated Mehandi designs can be elaborated that is extended long. When applied on hands it extends till arms, and when applied on legs it extends till knee. The design based on a floral theme with lots of curves and dots will heighten the grace of the bride's beauty and her Mehandi too. This elaborated Mehandi design is the most appropriate for the bride.
Indian Bridal Mehndi Designs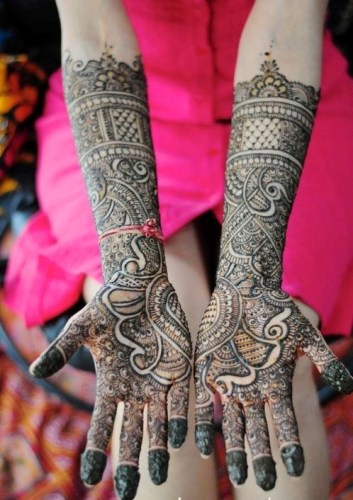 Mehandi is truly an art of a perfect artist. When you are planning to apply for a design which is quite heavy in looking, you can guide your artist on darkening the borders of the large motifs so well that it enhances its grace to its height. One can easily differentiate between the patterns drawn on the hand when you opt for the trick of darkening.
The designs which give an intricate look are made on the palm portion of the hands to give a profound look whereas the rest portion of the hand can be filled with something subtle and simple like the criss-cross pattern, checkboxes, etc. In such a design, always remember to apply thick henna to your fingertips neatly to derive the best out of it. Just imagine a bit of it and cherish how your hands will look with such an Indian bridal Mehandi design which is exclusively made by the artists for your special day.
Black Mehandi for Brides Hands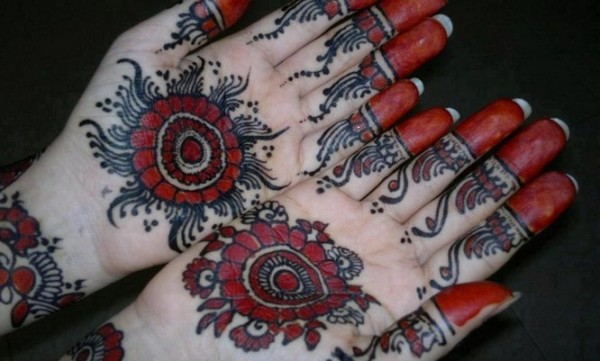 Black Mehandi which is so new in trend is surely a superb idea brought into the market keeping the bride in mind. Red-brown Mehandi is the obvious ones which have been put since ages but applying black Mehandi in the hands of the bride is a distinct way to make her look extraordinary. The best idea to apply black Mehandi is to use it in making the borders and highlighting the shapes of the flower motifs and leaves. The contrast combination of red or brown Mehandi with that of black one will turn up to be a masterpiece.
With the brilliant idea of Mehandi artist, black Mehandi has been a hundred percent successful in imparting a fabulous look to even the simplest Mehandi design.
Bridal Mehandi Design for Your Hands and Feet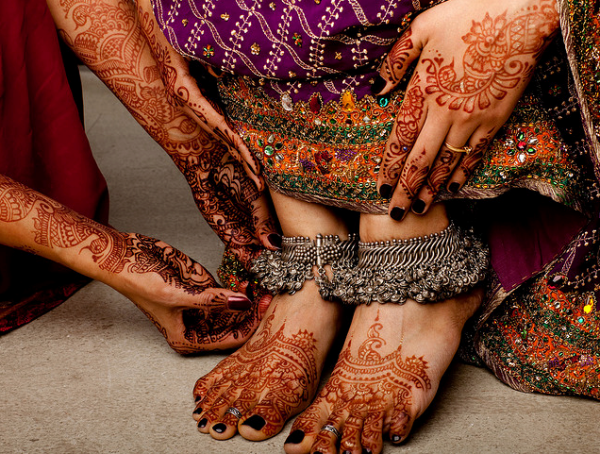 Are you looking for the bridal Mehandi design for your hands and feet? Then, you have knocked on the right door as here is the Mehandi design that you wish. If you are truly a jewelry lover, then you can add amazing grace to your legs by wearing traditional anklets that go well with your bridal dress.
Moreover, if you are not happy with the intense Mehandi design for your hands and feet, you can easily choose the designs that are elegant in look thereby covering the toe part and little portion above it. For a better understanding, you can through the image is given here.
Dark Brown Colour for Wedding Occasions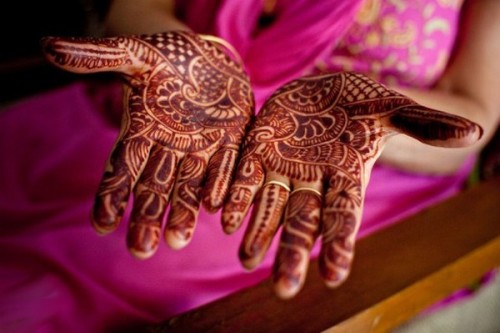 Every bride wishes to have the best color of Mehandi. It is also believed the darker the color is, the deeper is the love of her husband for her. Not only intricate bridal Mehandi design but even the simplest of designs look outstanding when they attain dark brown color Mehandi. When the occasion is a grand wedding or anniversary, then you are sure to earn endless words of compliments for your Mehandi color which is richly complemented by your gold jewelry. This is something which instantly gives an ordinary girl, a feeling of a bride.
Peacock Designs Perfect for Brides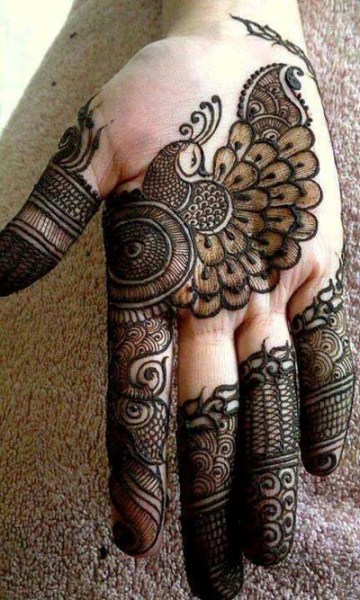 This peacock Mehandi design is an ideal one to make the girls look a perfect bride. Though the illustration of a peacock as a Mehandi design is a bit tough it ends up giving your fashion statement an edge which every bride desire for. Flaunt your hidden love for the tradition by wearing such an awesome Mehandi design. Shading and colored stones can also be used in this peacock Mehandi design which is the perfect one for the bride to be to make the hand look more graceful.
Wrist Length Wedding Mehandi Designs
Wrist length wedding Mehandi designs have become a style statement these days featuring the space that complement one another and simple looking fingers highlighted with large motifs. Such a Mehandi design is also used among the young girls as the substitute of jewelry as it serves the purpose of a bangle or a bracelet. The overall look is simple but artistic. The detailing imbibes of circular waves, delicate flowers, simple leaves, etc. which does not make it intense but sober. Even if you are willing to wear an Indo western outfit this wrist length Mehandi design will accompany you very well. All in all, these wrist-length wedding designs are perfect for those who are a bit impatient and cannot sit for long hours. It takes less time in comparison to that of the other designs.
Popular Peacock Design for Bridal Hands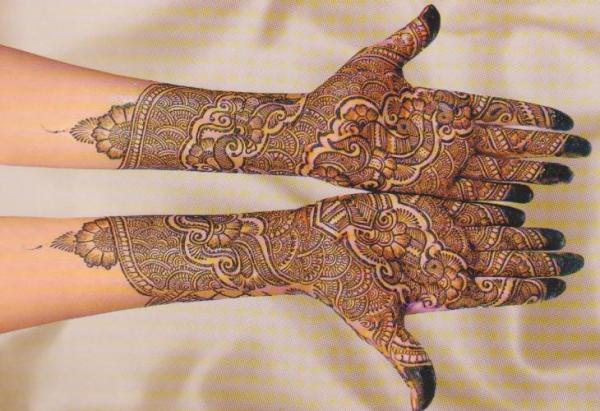 Mehandi has always been an ancient art for embellishing hands and feet especially with the floral and leafy designs that are being used for years. Now, what about melding the popular peacock Mehandi design on bridal hands? It is so unique and divine. Peacock, the national bird of India has always been a paradigm of its beauty with grace, and therefore, when added to the Mehandi design it adds five-star reviews, and it becomes popular peacock Mehandi design for bridal hands which are one of the best on your wedding day.
While applying peacock Mehandi pattern, the artists do not draw a whole peacock on the hand in fact only a part of it or half, including its fascinating feathers, bewitching beak, exotic eyes, neck and the upper portion is drawn.
Big Round Bridal Mehandi Patterns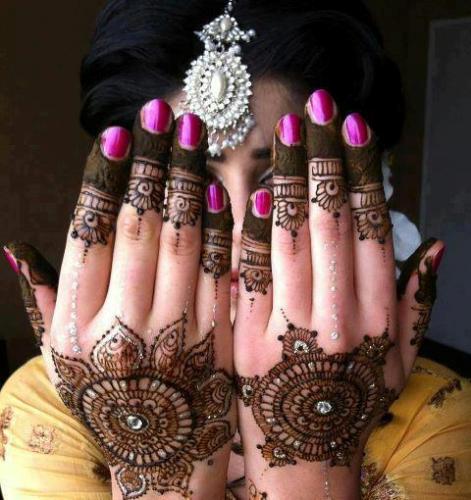 Nothing lengthy, but if you are looking for short, simple and sweet Mehandi pattern then select the big round bridal Mehandi pattern only. You can add your taste and choice by requesting your artists to draw intense circular patterns and fancify them with bubbles, petals, drops, leaves, curved lines or even with dots. As such a design is sure to give a significant look; you can leave the fingers clear without any designing so that it can impart you a delicate look.
This design will go superbly when the day is an engagement day or even a wedding day. The choice is yours!
Maroon Mehandi for Wedding Outfits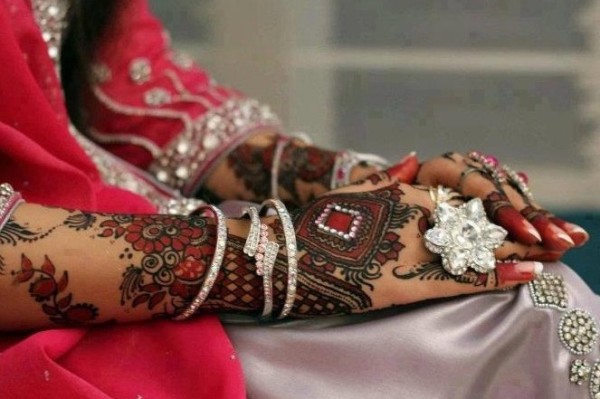 Since years, red color for the outfit of the bride is considered to bring loads of prosperity and is also the symbol of love. One of the most preferred colors is Red or Maroon when it comes to the selection of the bride's attire on her special day. So, with a motive to match with the wedding outfit, the trend of maroon Mehandi is on heights. To add more grace to the looks of the bride and make the Mehandi look more appealing black outlining is also done. The combination of red or maroon with a tinge of black appears to be awesome.
If you wish to try something distinct, then apart from flowers in red you can even go for a square-shaped theme, where you can make checks and fill one block leaving the other empty. So, if you are a bride to be in a red or maroon outfit then don't give a second thought to this Mehandi design combo.
Pakistani Bridal Designs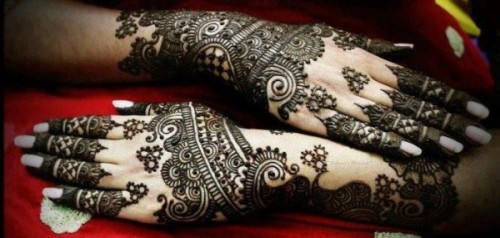 When the Mehandi is designed as per the style of different regions, such design is sure to be one of its kind. While applying Pakistani bridal Mehandi design on your hands, designing the fingers is also given equal importance. All you need to do is go with the simplest design without many curves and curls but apply it on palms and fingers both and then just cherish the look. A combination of modern and traditional look is thereby imparting it a chic look altogether.
The design is made keeping least patterns and floral themes of different sizes co-coordinating each other in such a superb well that it turns out to be an appealing Mehandi design.
Complete Floral Mehandi Design for Brides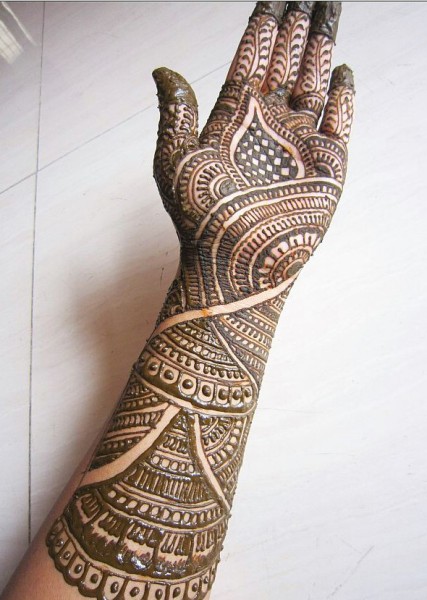 Nothing much to think of, just one pick and it is done! In this complete floral Mehandi design for brides; the main theme is flower pattern of different shapes and sizes depending upon the design. The borders of the flowers are darkened by using a Mehandi cone with a thick hole so that the strokes and motifs drawn inside the flowers are easily distinguishable.
Proper gaps between the flowers and shading pattern will surely make the complete floral Mehandi look very happening and stylish. Weaves are attractively used to deliver grace to the mehndi design.
Such designs are apt for both the modern and traditional brides.
Rajasthani / Marwari Bridal Design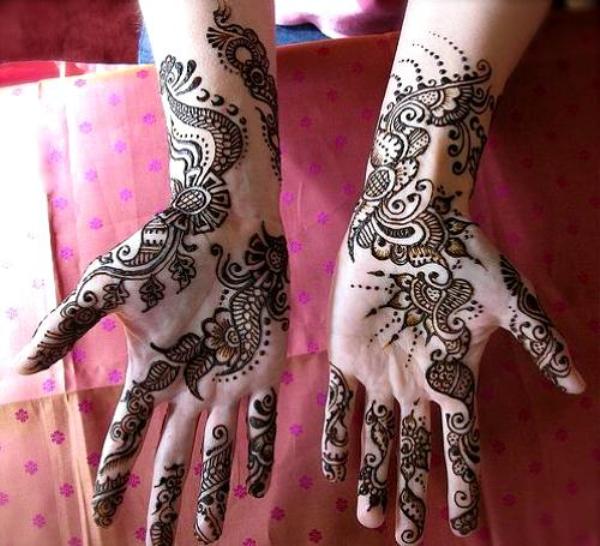 If you are die hearted tradition lover than none other than Rajasthani or even termed as Marwari bridal Mehandi will win your heart. Not only this, the Rajasthani/Marwari bridal Mehandi on your hands itself speaks of your love and sincerity towards beautiful tradition and culture. A Rajasthani or Marwari design imbibes of the brides and grooms depiction in the mehndi design even along with musical instruments and objects that are used for well beginning of the wedding ceremonies like shehnai, Kalash, etc.
The bridal Mehandi based on the culture of Rajasthan is so unique that it features a huge variety of motifs, leaves, flowers and much more with crystal clear clarity. You are sure to fall in love with this design!
 Designs for Engagement Parties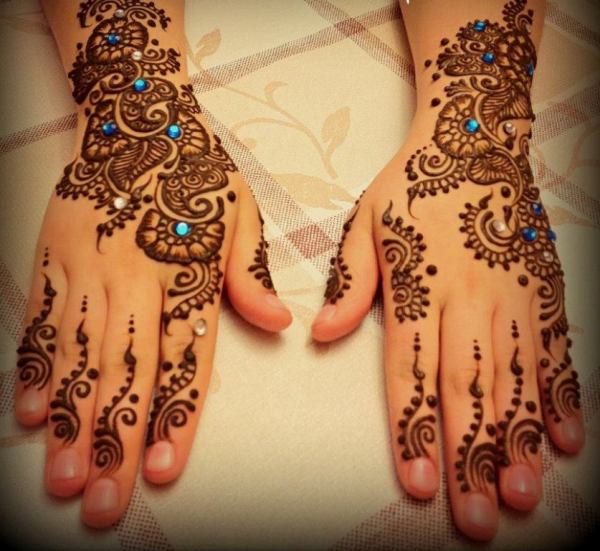 Before deciding the Mehandi design for the wedding day, it is equally important to do the same for your engagement day. Even if you are a guest at the engagement ceremony of your cousin or friend, applying what type of Mehandi designs and selecting one of many is important. As the occasion is not so grand, you can go for subtle wrist length Mehandi design which goes perfectly with any engagement party. Only the tips of the fingers are simply designed with a light pattern so that the main focus remains of wearing rings.
Even simple Mehandi designs can do wonders regarding adding grace to your beauty if customized brilliantly by your beautiful attire.
Bridal Mehndi Designs for Hands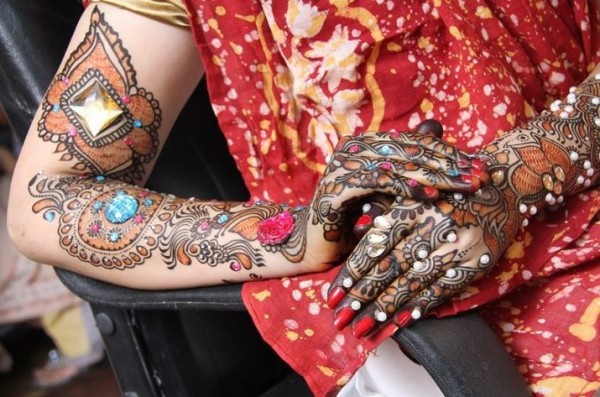 Though there are numerous ideas as to which bridal Mehandi design to apply on the hands of the bride but thinking of adding something different and unique to it will do wonders. This is possible by implementing the idea of using different colors gems, stones, glitters, and sparkles. This will add seven stars to the grace and glory of the pretty bride. Moreover, if these colorful stones and sparkles are matched with the attire of the bride, you can imagine what a beautiful bride it would be!
Also, if you want to go for something subtle rather than glossy, then you can easily add some colorful beads to your bridal Mehandi design corresponding to your outfit so that a combo of beauty with simplicity can be unveiled. The only part you need to take care of is do not outsize them else the complete design will look littered.
Last but not the least, it is considered that the bridal Mehandi is surely pure and very safe with no kind of side effects or allergy to the skin, but you need to be extra cautious of following things: Make sure that the Mehandi is derived from the plant only and no chemicals are used. Such Mehandi derived from the plant is the best and original as it is being used for hundreds and thousands of years without any issues and is well known for lending its appealing color like orange, red, brown or even dark chocolate. The aroma of pure and original Mehandi is truly magical.
Also, do remember that Mehandi acquired through the plant is always green in color and not black. So, avoid using black Mehandi as it can cause harm to your skin.
Few tips for making the mehndi last longer.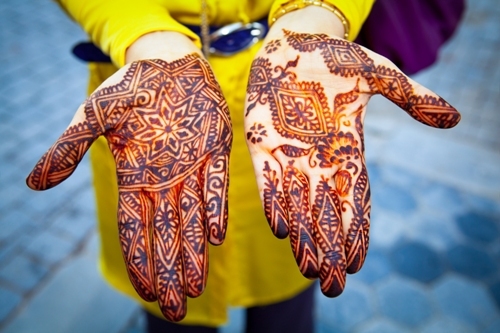 Once the Mehandi is applied by the artist, let it stay for a good enough time so that the actual color can be pulled out. The quicker you remove the Mehandi or by mistake you wash your hands, the Mehandi is not going to gift you its original dark color.
As soon as you feel Mehandi drying up on your hands or legs, apply the mixture of lemon juice and sugar so that it does not spoil the design and Mehandi can be kept for a longer duration. But do not overuse this mixture as it will pull back the color.
The best time to apply Mehandi is at night once you are free from dinner and before you go to sleep. This helps Mehandi to stay on your hands for much time. Prefer keeping it for the whole night.
Do not wash your hands immediately after the removal of henna, in fact, avoid using soap for a few hours if possible. All these can be a true help to you.
I hope you follow these tips strictly so that the color of your Mehandi comes out deep, dark and rich that you have always wished and then no one can stop you to look stunning on your special day.