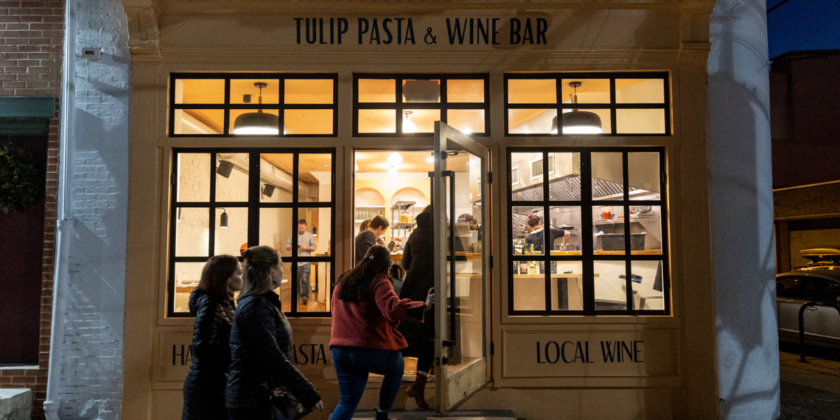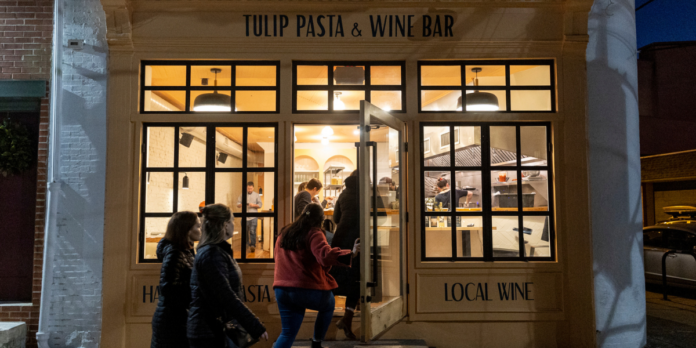 Tulip Pasta and Wine Bar in Fishtown is a cool place that makes yummy Italian food. It is not like the usual Italian spots with red sauce. They make fresh, trendy Italian food and have local PA wines. People think it is one of the coolest restaurants in the city.
Overview
Something special is happening at the corner of Fishtown Tulip and Norris. From the outside, it looks like just another plain neighborhood restaurant, but it is not. Inside, they serve big bowls of delicious pasta to happy couples who are dressed casually. It feels like a fancy place for a date, but it is not too expensive. People say it is one of the best places to eat in Fishtown right now.
Here is a secret about Tulip: its owner is Wayvine Winery & Vineyard in Chester County. They use this place to serve their own Pennsylvania wine, along with local beers and ciders. This is a clever way to work around the old-fashioned liquor laws in Pennsylvania.
Menu
In the kitchen, there is Chef Alexander Beninato, who used to work at Laurel. He made a great menu with Italian-style snacks and pasta.
The most popular thing on the menu, which you will see on every table, is the homemade stracciatella. It is a bowl of yummy cheese with peach jam and herbs, served with freshly baked focaccia bread.
Couples like to share the local tuna crudo, thin slices of tuna with green strawberries and citrus juices. Right now, raw fish dishes are trendy in restaurants, but this is considered as the best we have tried in the city out of many.
Vibe
When you walk into Tulip, the first thing you see is the kitchen. There are seats for 10 people in the front room and four at the chef's table. However, the main attraction is the kitchen, where the chefs make amazing dishes every night.
Walking down a small hallway, it feels like you are in someone's house. In the back room, which used to be a bedroom, there are seats for 20 people at a few tables, and there is a long, turquoise-coloured bench. The walls of bricks are painted white, and the tin ceiling is still there, but it is now painted pink. The style of the place is like a mix of casual and stylish.
In recent years, it has been rare for us to be impressed by the service at a restaurant. Our server at Tulip was super knowledgeable, friendly, and professional. She made our meal enjoyable with great suggestions and friendly conversation.
Price
Here is the price information:
Appetizers cost between $12 (grilled garlic scapes) and $18 (local tuna crudo).
Pasta dishes range from $28 (braised beef agnolotti) to $19 (spaghetti alla nerano).
All desserts are priced at $11.
If a couple goes to eat, they might order two appetizers, two pasta dishes, and a dessert. For all of that, plus two glasses of wine, the bill came to $146.
Reservations
Getting a reservation at Tulip is hard. You have to book 30 days in advance at 9 a.m., and they are all taken very quickly. We had to wait for more than 2 months to confirm a table; however, it was worth it.
Location
Tulip Pasta and Wine Bar is at 2302 E. Norris Street in Fishtown. Finding parking on the street around here is super tough, but you can try the streets to the north; sometimes, we have found parking there before.
You can also reach the restaurant by taking bus #25, which stops a block at Norris and Memphis or at Norris and Frankford (if you are going north). Buses #5 and #89 are at Frankford and Norris too. The closest SEPTA station is Berks on the Market-Frankford Line, and it is a quick 5-10 minute walk away.
Important Links
Some FAQs
What kind of food and drinks does Tulip Pasta and Wine Bar serve?
Tulip Pasta and Wine Bar is a modern Italian restaurant that serves house-made pasta, small plates, and a curated wine list featuring Pennsylvania wines from Wayvine Vineyards.
Is Tulip Pasta and Wine Bar a casual or upscale restaurant?
Tulip Pasta and Wine Bar is a casual-upscale restaurant with a vibrant and inviting atmosphere. It is perfect for a special occasion or a weeknight dinner with friends.
Does Tulip Pasta and Wine Bar have a happy hour?
Yes, Tulip Pasta and Wine Bar has a happy hour from 5pm to 7pm on weekdays, with discounts on drinks and select food items.
Does Tulip Pasta and Wine Bar take reservations?
Yes, Tulip Pasta and Wine Bar take reservations through Resy.