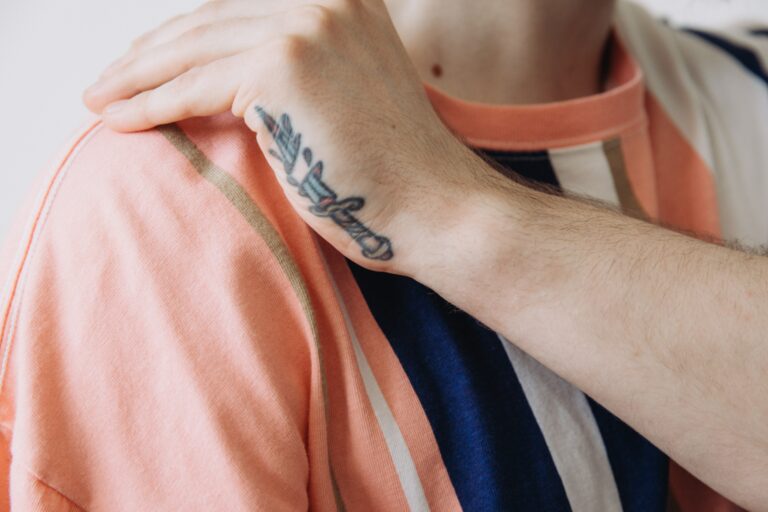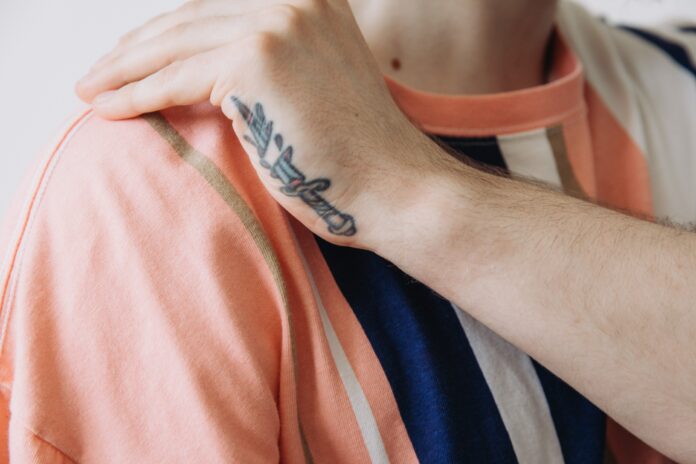 Dagger Tattoo Designs: A Dagger tattoo symbolizes danger, ferocity, fear, and fighting and shows bravery, loyalty, and sacrifice. When the dagger tattoo is paired with rose, skull, or heart designs, it symbolizes several meanings like the duality of evil and good, lost love, the certainty of death, or romantic betrayal. A dagger is the oldest personal weapon in the world. It protects or creates and provides a level of intimacy that you can not get with other weapons like guns and a bow.
It is an important old-school tattoo that connects with the mainstream tattoo with deep meaning.
In this article, we have combined a list of dagger tattoos that may help your tattoo artist and you to choose the correct tattoo for you.
Classical Dagger Tattoo Art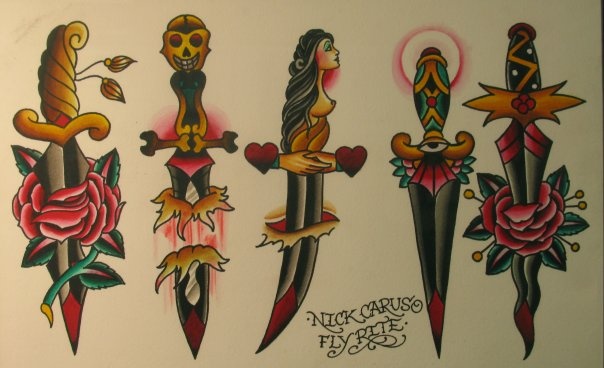 A Dagger tattoo symbolizes danger, ferocity, fear, and fighting and shows bravery because the main thing of the tattoo is used in hand-to-hand combat.
Some designs may help you get the best tattoo of your choice, and you need not wonder about getting a tattoo. Have a look:
Simple Dagger Tattoo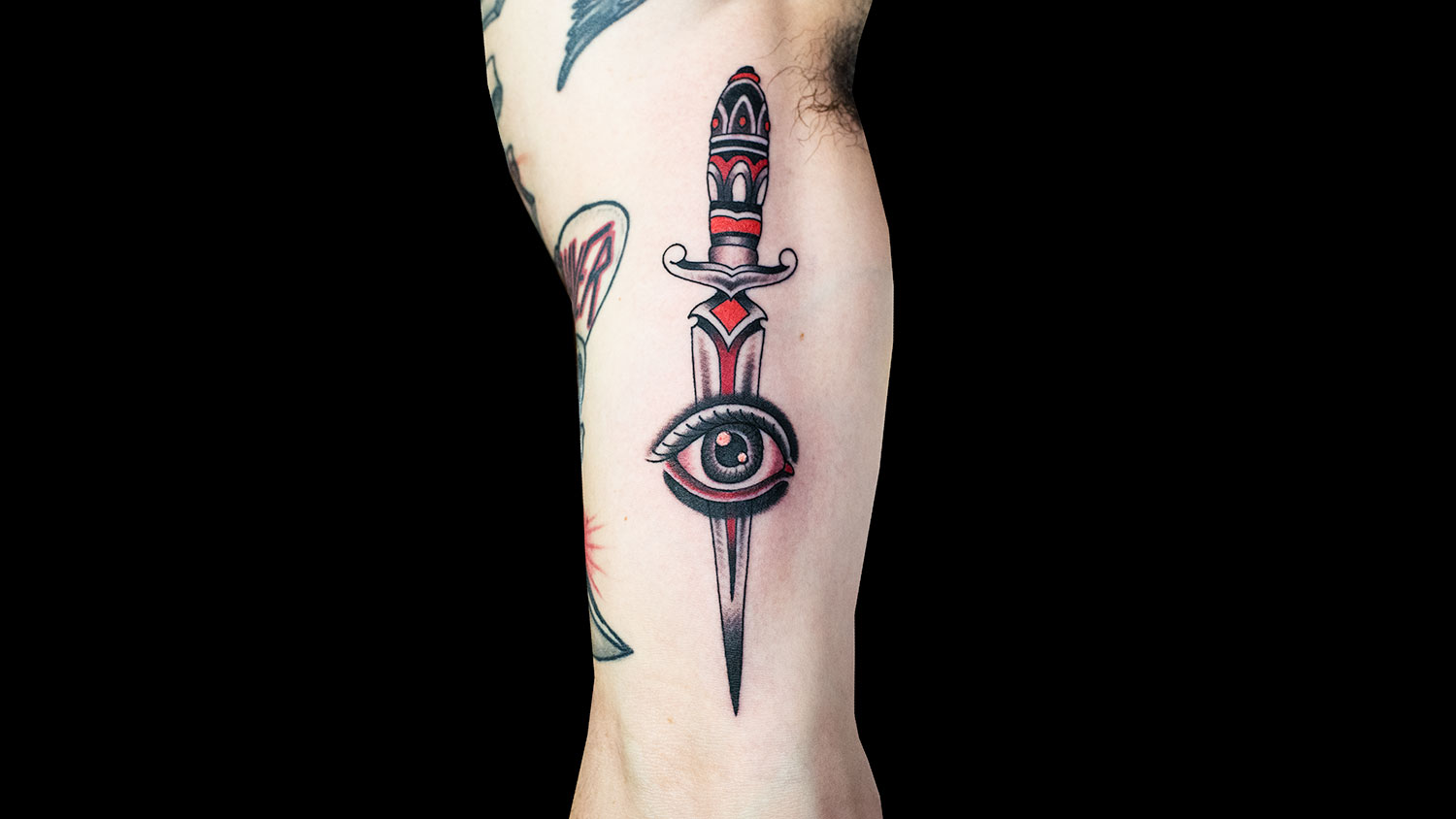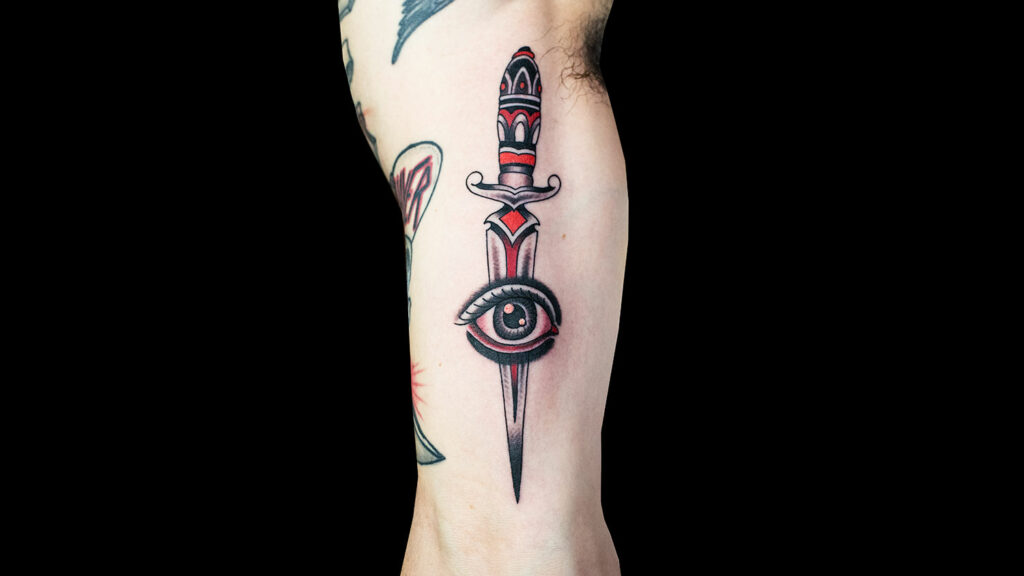 A simple dagger tattoo is inked without any other symbol symbolizing bravery, sacrifice, and loyalty. This tattoo often sacrifices survivalism or bravery. However, other meanings suggest betrayal, treachery, and deception.
Along with the simple dagger tattoo, it is also popular when this tattoo is combined with some other symbols like roses, skull, and snake, which can change their meanings, particularly in body art of old-school.
Stabbing Dagger Tattoo
Nothing is more badass than a tattoo of an animal on the chest. A dagger tattoo with a fierce animal on its head.
A dagger stabbed through the head of an animal is generally associated with an overcoming challenge.
From the panther's designs to wolves, gorillas, and snakes, you can create a dramatic effect with the given gruesome designs. Whether in color, gray, or black, these unique and fierce tattoo designs are certain to turn heads.
Snake and Dagger Tattoo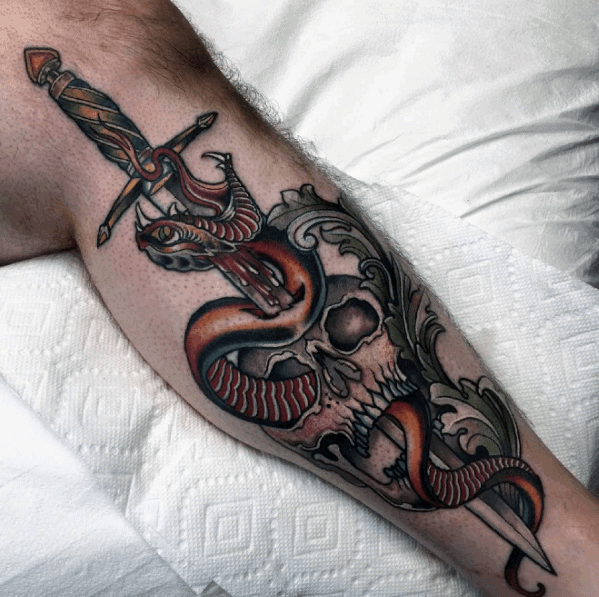 The dagger tattoo with a snake carries a lot of meanings, and the likeness of the tattoo is undoubtedly elicited equally in all parts. The dagger and snake tattoo are combined to express the balance between evil and good, right and wrong.
Snakes are considered a curse. Snake is the earthly embodiment of mystical and eternal masculine and the dagger represents the courage that is needed to overcome adversity.
Skull and Dagger Tattoo Designs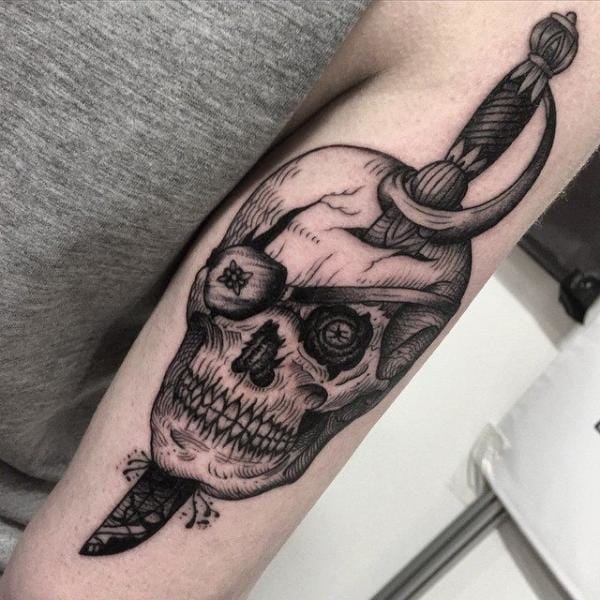 Some people choose to have some badass elements in the dagger tattoo design. Skull element is one of them.
Skull is a powerful symbol of morality and the limited time of life on earth, and this symbol is a perfect addition to the dagger tattoo design.
It is interesting to know the significance of piercing a skull with the dagger tattoo design. Some suggest that the skull with a dagger shows the way how the wearer shows morality and he lives his life every day as it were his last day.
Dagger and Rose Tattoo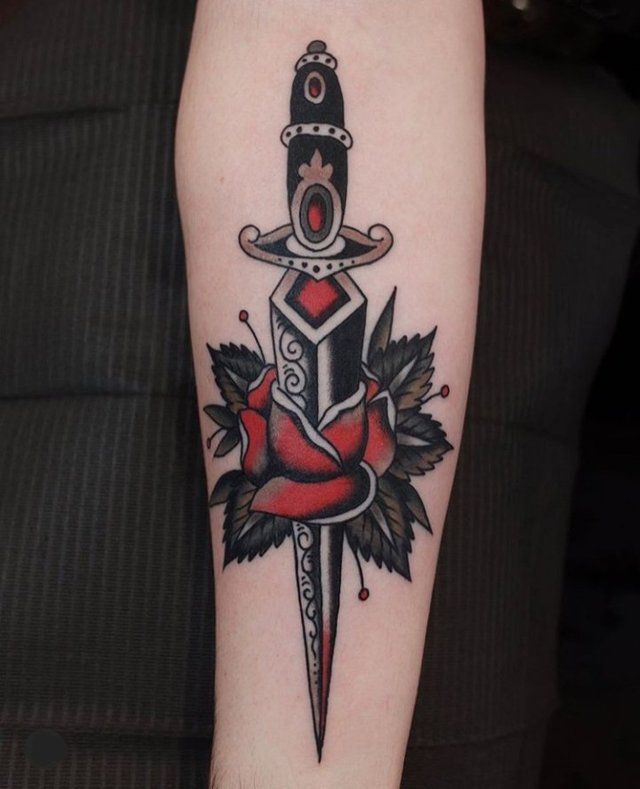 In the American tattoo designs, Dagger and rose tattoos are the most common designs to get inked. Where the placement of the blade affects the meaning, and the color represents the rose.
The rose in the dagger and rose tattoo represents positivity, love, and passion with trust. In contrast, the dagger shows deception, cunning, or betrayal.
Swallow and Dagger Tattoo Art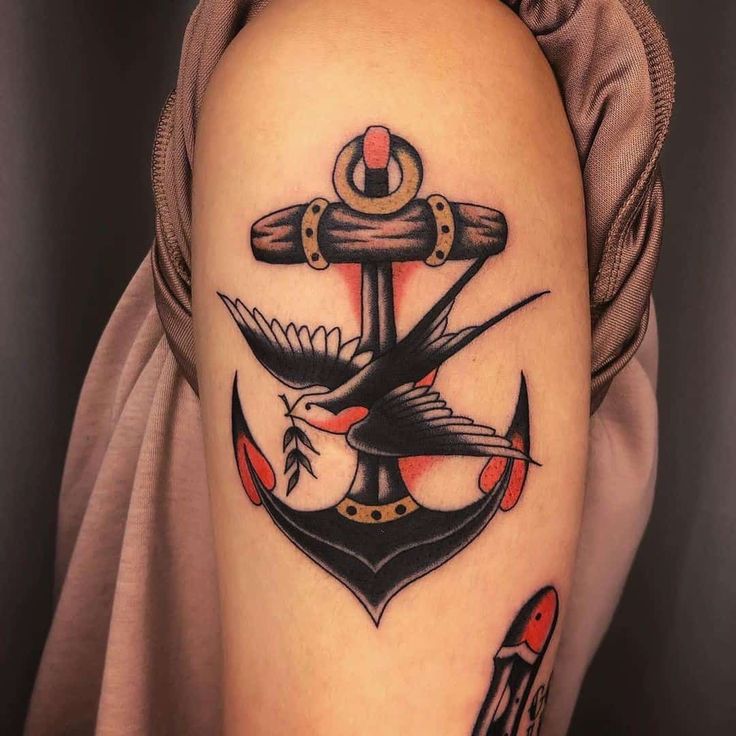 The swallow and dagger tattoo design represents wealth and good luck. The combination of weaponry with nautical-themed tattoo represents the duality of prosperity and danger.
In the traditional tattoo design, it is a symbol of danger, stealth, and protection. For us, the dagger tattoo holds an important place of fascination.
Although the dagger is a fighting weapon, it contains several meanings. Easily carried and concealed, however difficult to use without fortitude. It would help if you had to be very bold and brave to get up personal and close to your enemy and deal the damage with your hand.
Heart Dagger Tattoo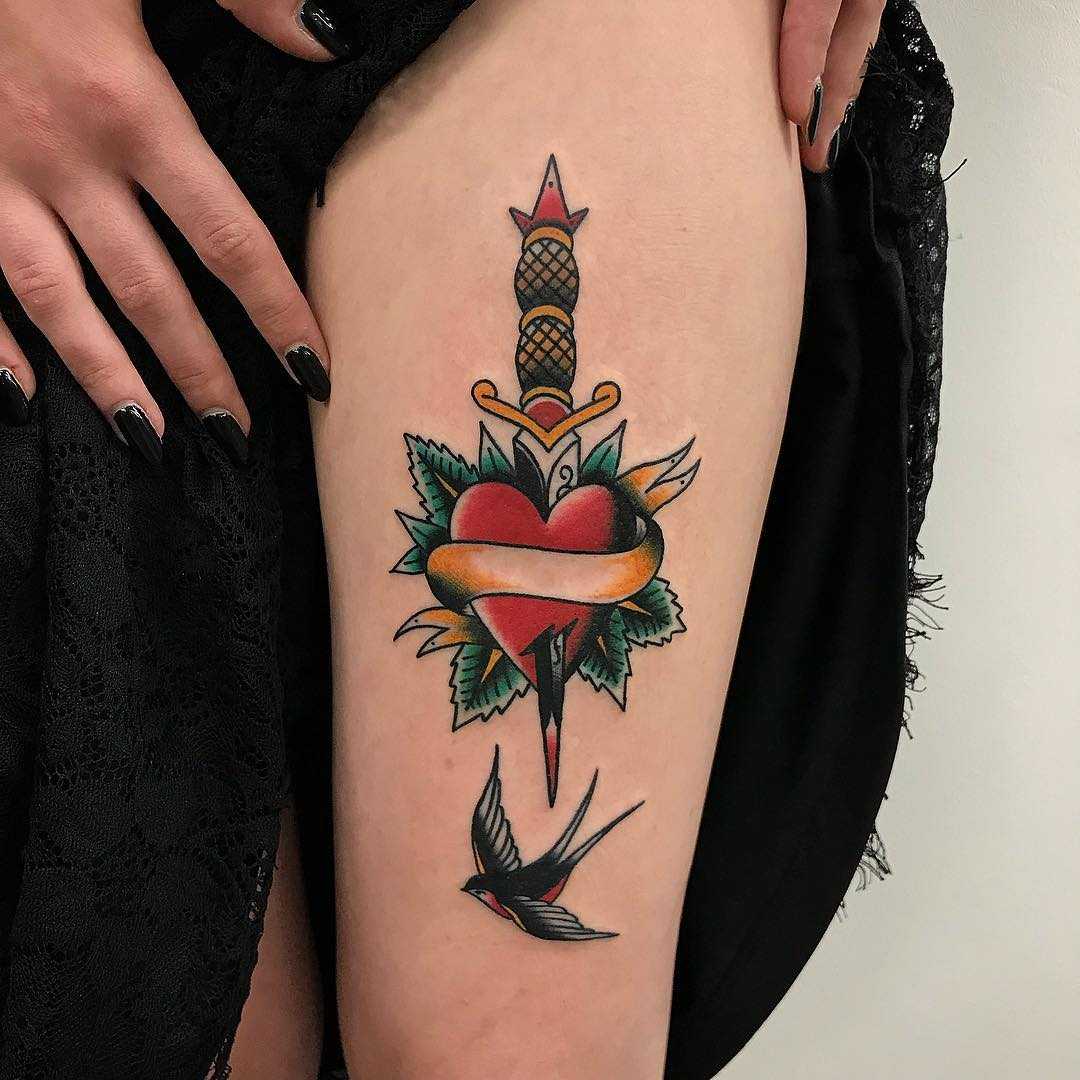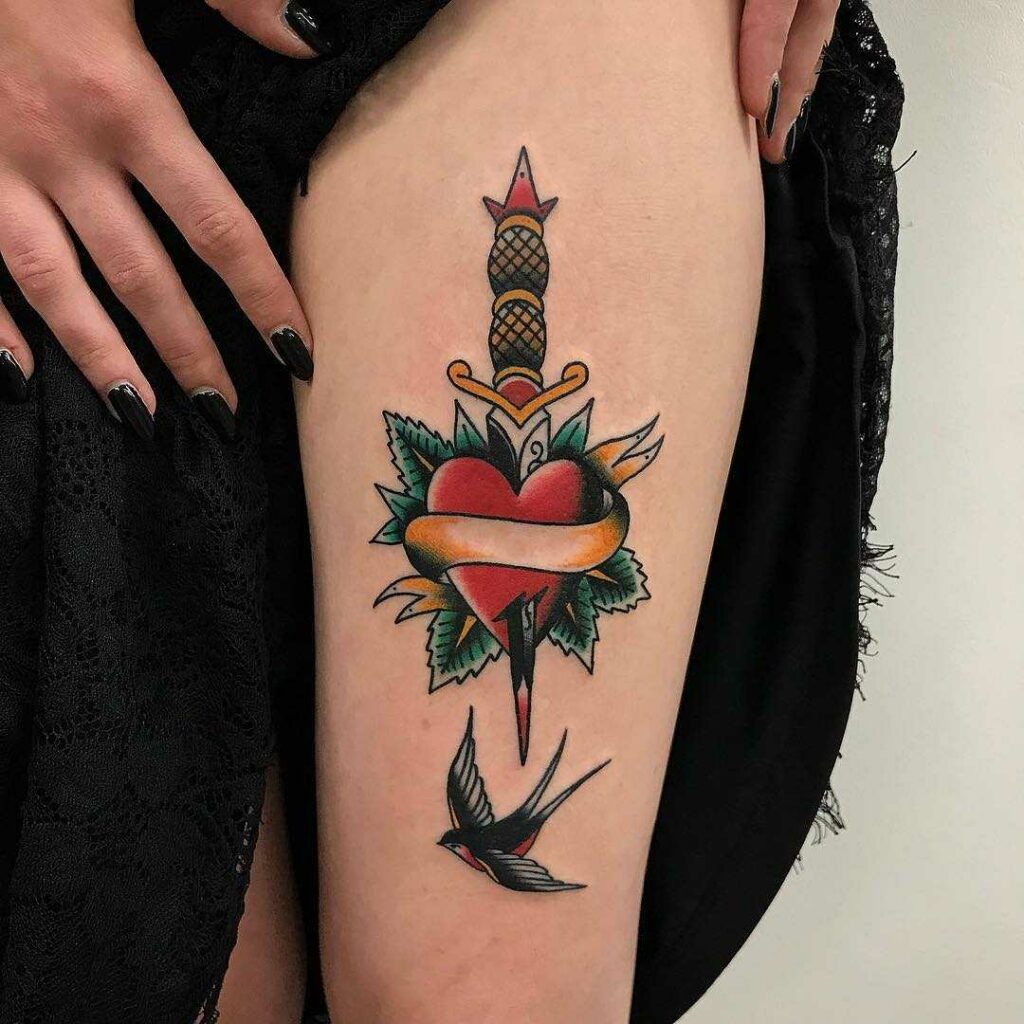 Some people choose to have a dagger tattoo pierced with a heart design tattoo to symbolize the lost love and broken heart. The heart dagger tattoo aligned with the grief or loss of something. Generally, the heart dagger tattoo signifies the loss of romantic relationships, loved ones, pets, or friends.
The dagger, knife, or sword combined with the bled heart tattoo represents the black heart, sacred heart, and broken heart. It is interesting to combine and create a contrast between the two disparate elements.
American Dagger Tattoo Design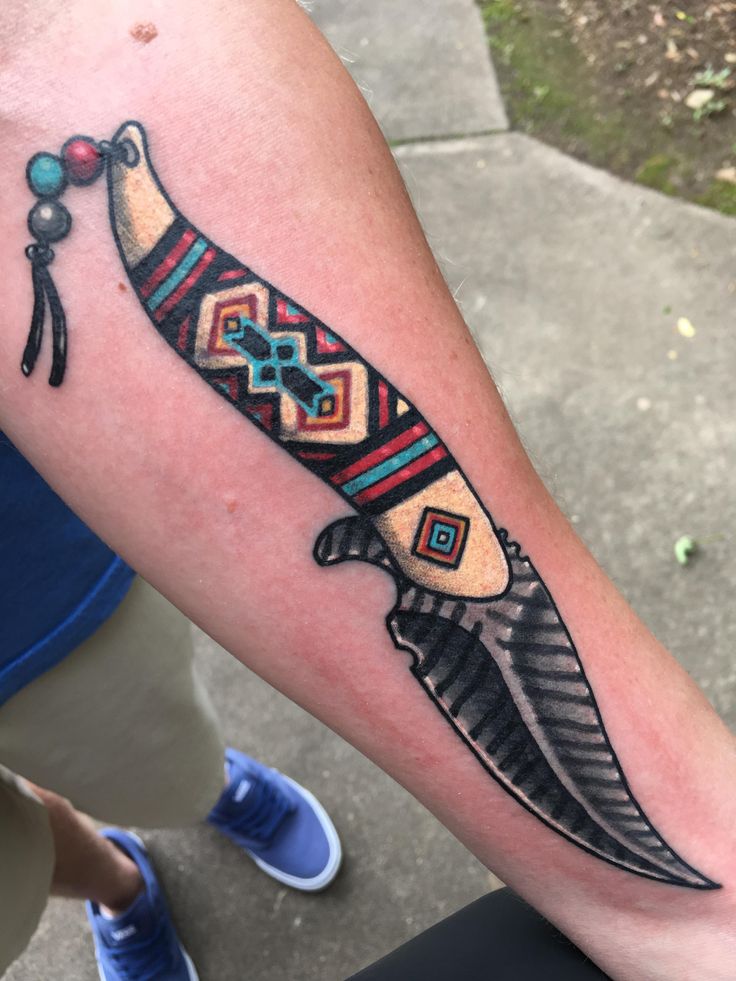 Those who are from military backgrounds since the 19th century. This type of artwork represents a dagger that has an ornate handle and a blade. Several combinations can make the versatile dagger tattoo a classic old-school, like a dagger stabbed from the head of a flower, heart, creature, or even the skin of a subject.
Contemporary Dagger Tattoo Design
Traditionally dagger and thin and long. It works best if placed into the lower limb, such as the outer calf or shin, outer or inner forearm. The contemporary tattoo allows for expansion in the area, such as the center of the back, small designs on feet and fingers, and the neck.
There are several other traditional dagger tattoo designs. have a look at some of them:
Different Types of Dagger Tattoo

Handled dagger tattoos are used in traditional colors such as blue, black, red, yellow, and green and have been made in different sizes, styles, and types of hilt or blade.
Personalized dagger ideas include:
Poniard
Curved scimitar
Curved blade
Traditional dagger
Utility knife
Black Ink Dagger Tattoo
Chef's Knife tattoo
Filigreed dagger
The best thing about a tattoo is that it creates an opportunity for individuation and self-expression. There are several ways to express themselves; some use vibrant colors while others prefer black ink tattoos.
You can pierce the dagger tattoo with secondary imagery like a broken heart, black rose tattoo, butterfly, or an old-school concept.
Knife and Dagger Tattoo Applications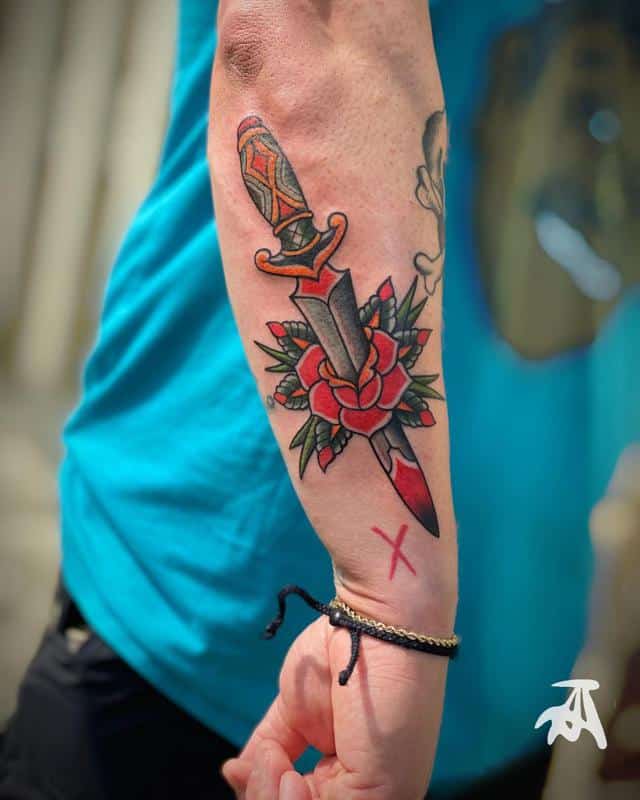 The knife or dagger tattoo leaves an impression on those who view it and calls the immediate attention of everybody. It is considered a striking choice for the viewers.
This realistic tattoo design enhances our curiosity with the attention, either supporting a secondary image or the imagery in complex tattoo ideas. It creates a loop between the viewer and wearer, offers the concept of ferocity in relation or danger to the wearer and the piece of the tattoo itself.
The Takeaway
In this article, we have understood the concept of dagger tattoos and their designs. The dagger is the oldest and most useful weapon with a deep meaning and concept. Whether you are a new ink enthusiast or the old-school type, you can apply or find a lot of dagger tattoos into your idea of getting inked. We hope you found this article an important source of information.