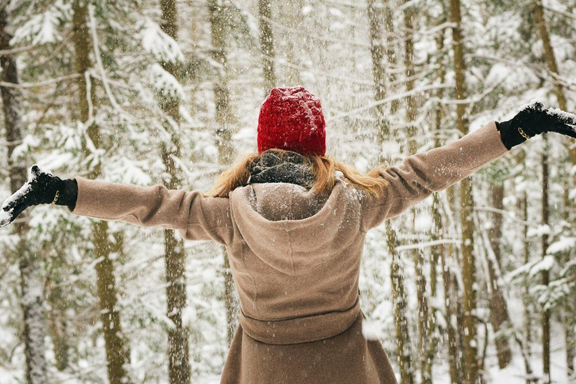 The winter season is the perfect month for outdoor activities such as skiing, tobogganing, and sitting around the fireplace at night with a delicious cup of hot chocolate. It's also a season that brings cold weather, which means wearing layers upon layers of warm clothing. Do you struggle to feel stylish when about four different sweaters underneath your jacket are weighing you down? There are fashionable ways to stay warm without feeling bulky and awkward. Read on to discover our winter fashion tips.
Thermal Long Underwear
Are you planning a weekend getaway up north? Don't forget to bring your long thermal underwear. With the right pair, you could spend an entire day outside and not feel the frigid temperature against your legs. The trick is to find the best quality in design and thermal material. Older fashions of long underwear were bulky, and fabric would bunch and gather underneath the outer layer of pants or jeans.
You want something that stays nicely against the skin to maintain a high level of warmth without overheating your body. Thermal is great because it lets the skin breathe, allowing sweat to evaporate. You won't have to sacrifice your new cropped-style jeans for your partner's old pair of baggy sweat pants. They wouldn't match your Sorel boots, and that would be a fashion travesty.
Warm Thermal Socks
Are you thinking, again, with the thermal? Well, the truth is, thermal is an excellent winter layering tool. It's particularly beneficial for your feet. One of the most uncomfortable things about spending time outside in freezing temperatures is getting cold feet. Having ice-cold feet prevents you from enjoying activities and can also cause severe conditions such as frostbite.
You need to check out Heat Holders — they provide socks that are seven times warmer than the average cotton sock. They literally hold heat against your feet, creating warmth and comfort. Furthermore, the socks come in attractive styles to suit all of your wintertime outfits. You can find everything from solid colours to pinstripes.
An Ultra-Light Down Jacket
For many fashionistas, the most discouraging part about winter is putting that incredible vintage peacoat or leather jacket away for the season because it's not warm enough to wear. But what if we told you that there's a solution to this dilemma? Look for ultra-light down jackets that can fit underneath your outer layer. Find one that will snugly conform to your body so it won't feel too bulky with the second coat on top.
If you can find it, look for down material or something similar. Down can mould itself to the body and is a natural insulator. If you don't like the look of a puffy down jacket but still want to experience its warmth, an ultra-light version to wear under your coat might be the answer you're looking for.
The winter is long. It's also cold, dreary, and dark. But it's a unique time of year when you can bundle up and enjoy the beauty that nature has to offer with outdoor activities and scenic views. Just remember to layer smartly and stylishly.