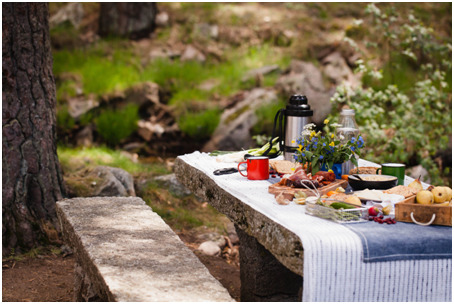 There's still time left this summer season to host a few backyard events! Just because we're nearing September doesn't mean we have to put our entertaining ideas on hold. Bring your backyard to life this summer by following these ways to turn it into the perfect backyard entertaining space.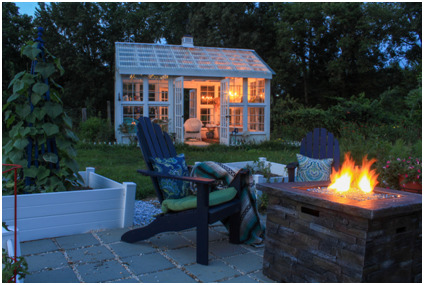 ButtermilkgirlVirginia/Shutterstock.com
Light the Night: Lighting really determines the mood of a space. Different lights create different vibes. For example, string lights with bulbs that glow yellow help to create a warm outdoor space. They're perfect for outdoor events because of how they bathe the space in warm light as people lounge or dance under them! Fairy lights wound up trees or woven into bushes are also great options for using lighting to make your backyard space more conducive to entertaining.
Decorate the Table: Bring the inside out by setting the table! Using unique, personalized drinkware, fun and colorful plates and even a whimsy table runner can make the space feel more like a party. Your guests will love spending time at your outdoor table, sitting there long after the meal has finished to chat and laugh together!
Play Music: Just like with lighting, music also sets the mood for a space. It's important to have a good playlist going during your outdoor event. If you're hosting families with children, you can even host a musical talent show for the kids and parents to partake in! Set up a makeshift stage and provide the kids with household items they can use as instruments. It'll be a fun experience for parents and kids alike!
Prep Your Food: As the host, you should enjoy your parties! In order for you to actually do that, you have to attend the party. If you're spending all your time in the kitchen cooking, you can't attend the party so you can't have fun! Prepping your food as much as possible the day before or the morning of will help you manage your time wisely and ensure everything is prepared on time–and you still get to enjoy the festivities.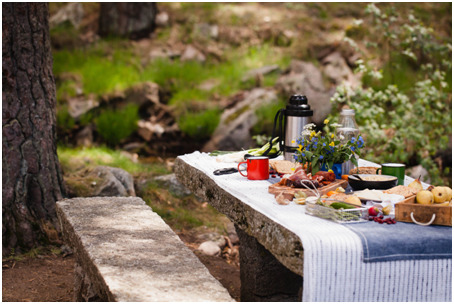 casanisa/Shutterstock.com
Welcome with a Sign: You don't have to worry about balloons going flat anymore! Instead, decorate your yard and welcome your guests with a fun personalized garden flag or two! They're a great way to decorate minimally, plus you can change them out with each season or event.
Set Up Some Games: Your guests will want something to do at your event, so host an outdoor game night! You can set up a black and white dance floor and turn it into a human chessboard, or go for the classic cornhole. You can also set up volleyball, horseshoes or any other game you think will be fun and entertaining for your guests to play outside in your yard.
Make Seating Arrangements Comfortable: Use lots of pillows when setting up seating areas for your guests outdoors. Not everyone wants to sit in the typical outdoor folding chairs, nor do they want to sit on the grass all night. Make sure you have lots of comfortable seating options available for your guests!
Light a Fire: Even though some summer nights can be quite warm, still light a small fire. It creates a centerpiece for your backyard space, serving as the central point for your party. It can also provide a source of light for when the sun sets–especially if you don't have any string lights!
Long Tables Are Best: If you really want to drive home the family-style environment at your outdoor event, use long tables! You can typically seat more people than you would using round tables, and they make the dining experience feel very homey. Your guests will truly feel like part of the family if you use long tables at your event.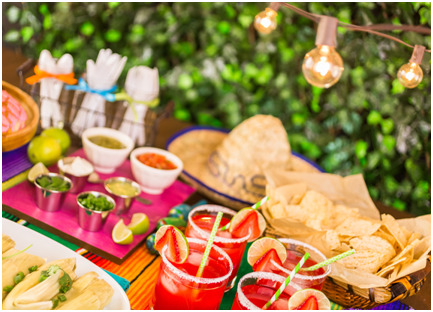 Arina P Habich/Shutterstock.com
Make Blankets and Sweatshirts Available: In some areas, the days are very warm and the nights are very chilly. It's important you have blankets, sweatshirts and other means of warming up available for your guests to use. Whether it's flannel, wool or fleece, your warm items should be readily available for your guests. You can keep them in an outdoor storage container or have them in a basket right by your back door, ready for guests to quickly grab one or two to bring back to the entertaining area.
Set Up Stations: Your event will go much easier if you don't have to spend the whole night directing guests where things are. Set up stations around your backyard for different things: drinks, food, blankets and games. When your guests can easily see the layout and find items, they won't get discouraged, making the night that much more fun! When creating your drink stations, make sure to separate the alcoholic drinks from the non-alcoholic drinks so none of the kids accidentally grab wine thinking it's juice! You can even create fun and unique setups for drinks using bathtubs or wheelbarrows–perfect for putting large amounts of ice and cans or bottles! For your food stations, make sure to have an area with non-allergenic or vegetarian-only options for any of your guests who might prefer those items. You certainly don't want to cross-contaminate any of your food!
Show a Movie or Two: If you have space, use a white sheet and a projector to show an outdoor movie! Hang the sheet up on the back of a shed or wall of your home and then project the movie onto it. It's a fun, simple and unique way to host an outdoor movie night. Don't forget the popcorn, sodas and packs of candy! You can ask everyone for their candy preferences prior to the event so you can be sure to have a little bit of something for everyone.
Summer is the perfect season for backyard entertaining, and there's no timeline to getting started! With just a little imagination, you can turn your backyard into the perfect outdoor entertainment space. Your yard will be the place to hang for the rest of the year! Who knows? Maybe you'll be known as the neighborhood hang out with the best yard.