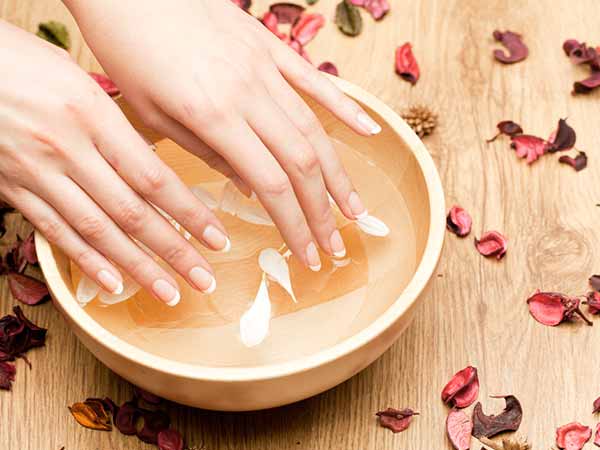 Are you tired of hiding your nails behind nail paints because they look pale and dirty or thinking to go for expensive nail treatments? Here are some tips to get clean and shiny nails using products that are easily available at home and in the market too.
Olive oil on nails
Add 2-3 drops of olive oil into warm water. Soak your fingernails into it for some time. Then give a massage to your nails with warm olive oil. Do the same every day to regain the shine of nails.
Rosewater on nails
Apply rose water daily on your nails to restore the pink tint on your nails. Also if you have white spots on nails, just apply the mixture of lemon and rosewater. Do this thrice a week to get clean and shiny nails.
Petroleum jelly on nails
It is very easy to apply good petroleum jelly on nails after bath and before sleeping. It prevents nails from losing their moisture naturally and keeps them naturally bright.
Baby oil on nails
Nails get dry when they are continuously in contact with water. Applying baby oil on nails daily locks the moisture of nails and keeps them shiny.
Lemon juice on nails
Soak your fingernails into lemon juice for some time. Then add vinegar and warm water to lemon juice. Rub your nails with that mix and wash with warm water. Lemon's citric acid will clean your nails properly and vinegar and water will bring shine to your nails.
Cucumber on nails
Just rub cucumber or apply cucumber juice on your nails to get clean and shiny nails.
Butter on nails
Butter contains all the elements and vitamins that are required to keep nails clean and get a shiny touch. Just rub butter on your fingernails and wash with warm water. Do it daily to get faster results.
Coconut oil on nails
Just give your nails a gentle massage with coconut oil daily and wash it with warm water. It not only cleans and gives shine but also prevents nails to get a fungal infection.
These are some tips which can help you to keep your nails clean and bring back its shine without any side effects.