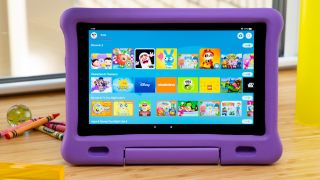 Being aware of the functionalities, specs, warranty, and durability of a tablet or any device is important before purchasing. If you plan to buy your kid's tablets that they can use for playing, school, and more, looking for the right and suitable tablet for them is an aspect you should consider because an appropriate tablet for your child helps with their development.
Kids nowadays use tablets or mobile devices. They play games with it, watch movies, stream series, draw, and make school work. Tablets are beneficial to us adults, and these devices can be beneficial to them as well. If you plan on buying one, you need to check these five tablets listed below to make sure your purchase is worth it and would not harm your children.
The Amazon Fire HD 10 Kids Edition
This Amazon Fire HD 10 Kids Edition is one of the best kids tablet that you should consider buying, mainly because this is the fastest tab that Amazon has. This tablet has amazing hardware functionalities, and features wherein parental controls are also available. Your kids will enjoy this tablet, and you will not worry about what they can access if you are not looking.
This tablet has a 10.1″ screen display and renders a resolution of 1920 x 1200. Its colors and graphics are decent and worth the price. They made their displays to suit and develop your children's experience in viewing educational videos or playing educational games. The Amazon Fire HD 10 Kids tablet will be the parents' and their kid's favorite tablet devices.
This tablet is said to be the largest tablet for kids on Amazon. Its battery life can go up to thirteen hours of normal usage. The tablet is durable and has a warranty valid for two years. When you purchase this Fire HD 10 Kids Edition tablet on Amazon, it comes with a proof case that you can add for extra protection and a built-in easy-to-use stand for hands-free usage.
The Contixo Kids Tablet
The Contixo kid's tablet is said to be one of the best purchases in tablets given to children. If you buy this, it has a durable protective cover to protect it from dents and scratches. This tablet is equipped and packed with parental controls for managing the contents, applications, and time of usage the child operates using a Contixo tablet.
This is a powerful and strong tablet when it comes to the system's processors, therefore minimizing lags and bugs while the child is streaming videos or browsing. Educational applications and games are available for your kids to enjoy and share with their friends. Contixo kids tablet is an excellent investment for your child's learning and development.
The Samsung Galaxy Tab S5e
If your child is a middle-schooler, this tablet is perfect and considered to be an ideal device for them. This tablet has graphics and outstanding built-in features. This tablet can run perfectly for reading, streaming, gaming, and also suitable for school purposes. This tablet runs on an Android platform, offering great and fast tablet features and applications.
The Lenovo Tab MH10
If you want a family-friendly tablet that runs smoothly yet still powerful, the Lenovo MH10 is a device that your children should have. It has a panel of 10.1″, face id unlock, a battery having 4850 mAh, and dual front-facing speakers. This tablet is fast in terms of performance, avoiding the people using it to face difficulties whenever they do multitasking or split-screen.
The iPad Air 2019 Of Apple
If you are looking for the best and premium tablet for your teenagers, then giving them an Apple iPad is the best option. This allows them to do searches online for school, take amazing and clear selfies, chat with friends, play games, and more. This Apple iPad is popular for its battery life and features that will suit your children's needs while still having fun.
Takeaway
Children use their tablets differently when compared to adults. Tablets or any devices that are given to them should have safety and parental features for monitoring. Before giving your son or daughter a tablet, you should know what the device could bring or show to your kids. These are important to keep them away from malicious content and websites.