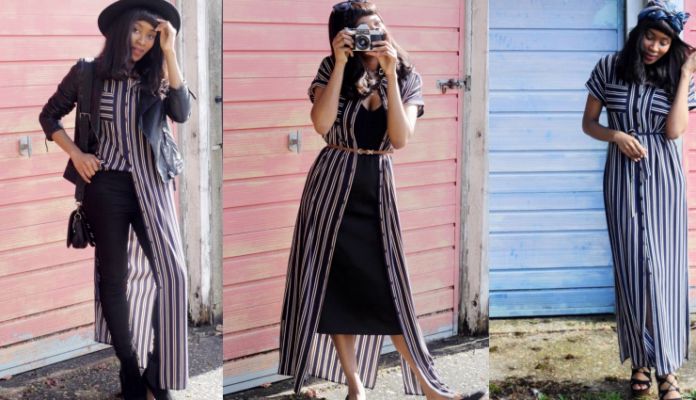 One maxi dress can actually add a lot of options to your wardrobe. No matter how you choose to wear your maxi dress, your shopping options at Dress Barn are wide open, but keep in mind that they're only open online. Now let's get into how you can wear these dresses.
Layer Up For Cold Weather
Wearing maxi dresses with sleeves gives you a lot of flexibility. The gorgeous shades of blue in the poppy dress lend themselves to warm garments worn underneath, such as black tights or a white tank or tee.
You'll want to hand wash this maxi, then just hang it to dry. A few crinkles actually add to the visual texture of this remarkable fabric and will improve the flow of this lovely dress.
Add A Jacket At Work
A simply cut maxi dress can move easily from work to a night out. The Color Block Maxi Dress in chambray and black features a white band around the bottom. Add a white cardigan or a bold red jacket to this elegant dress to take away the chill and work in a professional setting.
Wash this dress in cold water on the gentle cycle. A quick tumble dry on low to remove the majority of the water will suffice, then hang it up so it doesn't wrinkle.
Don't Forget Your Feet!
A summer weight maxi dress doesn't have to mean that you spend the day freezing. For example, the Never Forget Your Mask maxi dress may leave your arms bare but would look great with tall black boots. This elegant dress is available in black, mustard and burgundy.
This dress can be machine washed, but you will need to be sure to dry it flat. The front cowl can function as a face covering, so hanging it to dry can lead to overstretching on the bias.
Color Counts
If you need your maxi dress to move through the seasons, consider a color such as the rusty red featured in the Embroidered Textured Peasant Dress. Deep colors are more suitable when the weather cools, so this dress will move easily into the fall. Add a pair of brown boots and a nylon camisole to keep heat against your skin.
This lovely embroidered features lots of detail that you will want to protect. Hand wash and allow it to hang dry to maintain the slight crinkle to the fabric.
Add A Scarf
Even a maxi with spaghetti straps can move from summer to fall with the right accessories. For example, you could add a light linen jacket to the Esperanza Dress, then loop a soft scarf around your neck.
Covering your pulse points can quickly increase your ability to avoid getting chilly. This may mean covering your
Slouch boots will keep you warm. Slouch boots and tights = more warmth. This lovely dress is an ideal color for a cool spring morning and the warmth of the afternoon; just take off the scarf and you're ready to go!