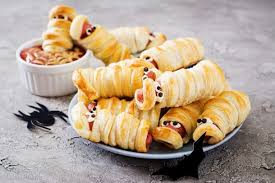 Happy trick or treating! Halloween is around the corner, and you must be planning to host a Halloween party. Wearing the most impressive costume in the room, and you want your guests to praise the spread of Halloween snacks. Well, get ready for the applause, because we have a list of scrumptious Halloween Party recipes that will have your guests screaming with joy.
Mummified Hot Dogs
Halloween party is incomplete without moreish appetizers. These mummy hot dogs will be a yummy addition to your bash. These wickedly delicious snacks are very easy to make and are perfect for getting the party started.
Ingredients
16 Regular length hot dogs
8, Crescent rolls
Mustard
Preheat the oven to 375 degrees, and line the baking pan with parchment paper.
Use a pizza/ pastry cutter to cut the crescent into thin strips. Pull each strip to make it thin before wrapping them around hot dogs.
Leave a small opening in the wrapping for eyes. Bake until golden brown at least 15 minutes. After they are cooled down. Use a toothpick to add eyes by dipping into mustard(or ketchup for red eyes!)
Glow In The Dark Oreo Pops 
These Oreo pops are sure to get people psyched this Halloween. These Oreo pops are very easy to prepare and will take not more than 20 minutes to get ready and is the Perfect Halloween party snacks recipe
Ingredients
2 c. white chocolate chips
2 tbsp. tonic water
paper straws or Popsicle sticks
One package Oreo's
Microwave white chocolate, stirring between each round in 20-second intervals until it is fully melted. Stir the chocolate in tonic water. The white chocolate mixture should be as thick as chocolate syrup.
After Separating each Oreo, use the flattened end of the paper straw, as a popsicle stick by dipping it into the melted chocolate and press it into the Oreo.
Dip each Oreo pop into the white chocolate mixture, and place it on a parchment-lined baking sheet. Top with a plastic spider, if so desired.
Keep the pops in the refrigerator to chill for about 20 minutes or until hardened.
Black Widow Smash
Halloween is incomplete without a boozy Halloween cocktail. This easy to make Halloween cocktail is what you need to celebrate. This cocktail is very refreshing and tastes delightful. The guests are going to ask for a refill.
Ingredients
eight fresh blackberries, plus more for topping
1-2 teaspoons fresh rosemary, plus a sprig for serving
Juice from half of a lemon
1-2 tablespoons honey
1 1/2 – 2 ounces tequila
a couple of dashes of orange bitters
sparkling water, for topping
In a cocktail shaker or glass jar, add blackberries, rosemary, lemon juice, and honey. Squish the ingredients to release the juices. Add the orange bitters and tequila.
Strain the drink over the ice in the glass. Top the glass ice, and pour sparkling water over, stir to combine. Garnish the drink with fresh rosemary. DRINK!
are you planning to go on a trip to the USA? Here are some of the famous Instragammable desserts that you must try in the USA?