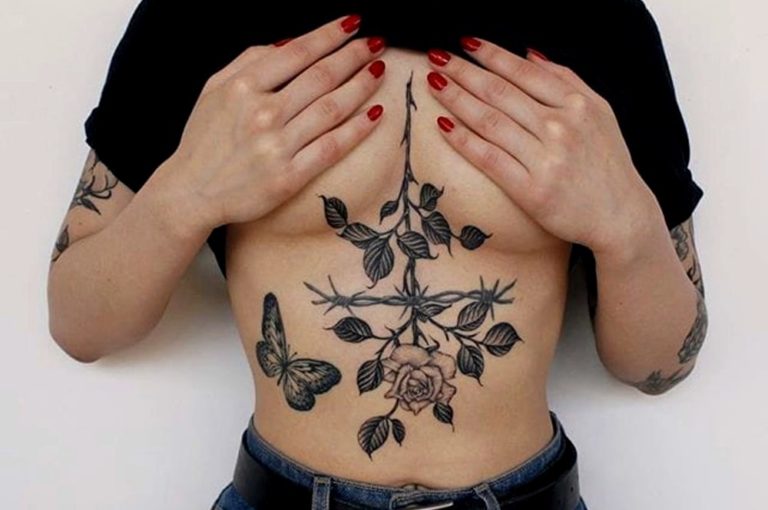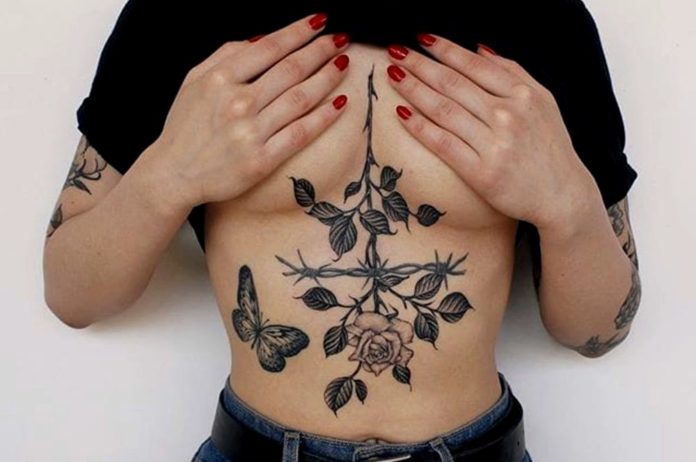 Every person has a different tolerance for pain, however, almost everyone agrees that the ribs are the placement that causes a lot of discomfort, as the skin of this area is very thin and close to the bone. Because of this, most people believe that the designs of the rib tattoos must be very amazing and unique with the meaning behind them.
Rib tattoo designs are one of the most popular tattoo ideas in the world. Getting a rib tattoo takes a bit more courage than getting inked at any other part of the body and thus it's not a choice for fainthearted people.
However, ribs are the best place to get tattoos based on some popular quotes and roman numerals. The tattoo quotes on ribs give a very intense and classy effective look, they make a good choice.
A rib tattoo is also a great way of showing your passion and courage toward body modification. Even models and celebrities are opting for this trend of rib tattoos.
To help you select the best rib tattoo designs we have listed some amazing rib tattoo design ideas for everyone, so keep reading.
Read More- 8 Amazing Skyrim Tattoo Ideas That You Will Love
Best rib tattoos for women/men
There is a variety of tattoo designs when it comes to getting inked, however, to help you select the perfect tattoo for yourself, the following are some of the best side tattoos for women and men:
Feather rib tattoo
The feather represents freedom, as one of the best things about birds is that they can fly wherever they want to, but it's only possible because they have feathers.
Thus feather tattoos can be a good idea.
The feather represents courage, strength, and wisdom and holds great meanings in certain cultures, including Native Americans. The meaning of your rib tattoo can depend upon the choice of the bird. You can also make these rib tattoos into an angel wing if you are religious.
This tattoo not only looks beautiful but can contain a meaning behind them.
Side rib tattoo
Almost everyone loves to show their tattoos, especially when it comes to the side rib tattoo. Who would want to miss the chance of showing them off to the world? Rib tattoos look very cool and tattoos have a very powerful and masculine appearance. The side rib is the best body part for a meaningful design and can be attractive when skillfully completed.
There are many choices of tattoos available to get on the side rib. So, you can choose anything you like the most, however, make sure that your tattoo is meaningful and beautiful.
Dream catcher rib tattoo
The dream catchers are the most beautiful handwoven object that is designed for helping every individual to sleep peacefully. It is designed to keep the negative vibes away from the mind and mainly dream catchers are used as a hanging showpiece for the house. Getting the dream catcher as a rib tattoo is the best choice.
Not only will this tattoo look beautiful it will also attract positive thoughts.
Simple rib tattoo
A simple tattoo on the rib is the most effortless cool work. This could be anything, any zodiac sign, animal, waves, name initials, etc. These tattoos take less time and look amazing and mainly are less painful.
So if you want to go for a minimalistic tattoo then choosing a simple design is best for you.
Read More- Amazing Tattoos on Butt  with Meanings
Wolf rib tattoo
The wolf symbolizes the family. In the animals, wolves live and hunt in packs and represent a strong familial bond. A wolf also represents strength as a team or family and the canines of wolves represent loyalty and spirituality.
To some Native American tribes, the wolves have some cultural significance like great respect. Thus if you're looking for a meaningful rib tattoo then you can go for the designs based on wolves.
Snake rib tattoo
Snakes are one of the most common tattoo symbols. Snake Tattoos contain many meanings like healing, death, rebirth, or transformation because of the fact that snakes shed their skin shells to get a new one. 
The snake tattoo can carry different meanings according to the person's culture and beliefs.
However, even if you're not looking for a tattoo with a snake tattoo on your rib looks very cool and amazing which makes it one of the great designs for getting inked with.
Cross tattoo on ribs
If you're a spiritual person and do respect the religion then a cross tattoo is the best choice for you to get on your ribs. A Cross tattoo represents love for Jesus Christ and the sacrifices he made for humankind.
It also represents love and the desire to remain good and stay on a righteous path. Not only this but these cross tattoos look very stylish. For customization, you can combine this cross with some other object and get it inked.
Bible verse tattoo
If you are willing to honor your faith or know about your way then a bible verse tattoo is the best choice for you. These are the most meaningful tattoos a person can get.
These tattoos look very elegant, given that you choose the right font style.
As different typography aspects play a significant role in the look and feel of these tattoos.
Dragon rib tattoo
The dragon represents fearlessness and passion, so getting a dragon tattoo on the rib is the one of most popular choices. The dragon tattoo also makes it a fantastic choice for this part of the body as it can warp around the back and onto the rib cage or feature down the side.
Dragon tattoo carries different meanings as per the color of the dragon-like red dragon represents wisdom, while or black dragon represents bravery and strength.
The meaning behind the dragon tattoo can also be different among various mythologies and religions.
Dragon tattoos are most common in countries like Japan, China, etc.
Lion rib tattoo
The name of the tattoo defines it all. The lion is the symbol of rule, wisdom, and bravery. as the lion is the king of the jungle or the kingdom. The lion tattoo represents nobility, power, and courage. It also represents the individual who has overcome hardship.
Hyper-realistic lion tattoos are definitely the most striking choices for a rib tattoo.
Tree rib tattoo
Tree tattoos have been one of the popular choices among people because of the deep meaning behind them.
A tree tattoo symbolizes strength, immortality, and eternity.
There are many different options of trees that you can choose while getting a tree tattoo like the tree of life, a family tree with family member names mentioned, a pine tree, a cherry blossom tree, etc.
Each tree tattoo carries its own meaning.
These tattoos look extremely pretty on the side rib.
Read More- 12 Eye-Catching Dandelion Tattoo Ideas 
Small rib tattoo
Small tattoos are very popular nowadays because they look very elegant and pretty. As many women love to stay simple and do not want to spend more money on a tattoo. These small rib tattoos are best for them. Due to the size, these small tattoos are less expensive as compared to the big tattoos.
For small tattoo designs, you can choose from a wide variety of designs like stars, hearts, feathers, moon, or many more.
Birds rib tattoo
Due to a larger space, ribs can be the best body part to get a bid tattoo. Due to their versatility, these bird tattoos are extremely popular.
There are many designs available for bird tattoos ranging from small minimalistic designs to very large colorful designs.
The birds symbolize freedom, happiness, optimism, and peace.
So if you're a bird lover then this is the right choice for you.
Moon phases tattoo
For all nature lovers, a moon tattoo is the best choice. The different phases of the moon carry different meanings, and this makes a very good choice for getting inked with.
If you're a creative person, you can go for a geometric and more detailed moon phase tattoo. 
Read More-Best Vine Tattoo Ideas For Males & Females
Bottom Line:
When it comes to getting a new tattoo, why not get a little bit more creative and experimental? The rib tattoos are a great choice if you're looking for something different from just a regular tattoo. While there are many designs available for a rib tattoo, for your ease we have listed some of the most amazing rib tattoo design ideas for everyone.
These are some of the most popular designs however there are many more designs also like a hummingbird, the sun, the solar system, doves, and many more. It completely depends upon the choice of the person as a tattoo is the representation of the same.
If you liked the post then hit the like button and let us know in the comment section below which article you're expecting next from us. 
Read More- Amazing Tattoos on Butt  with Meanings