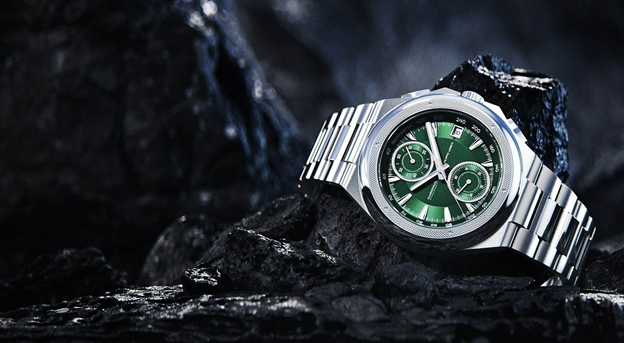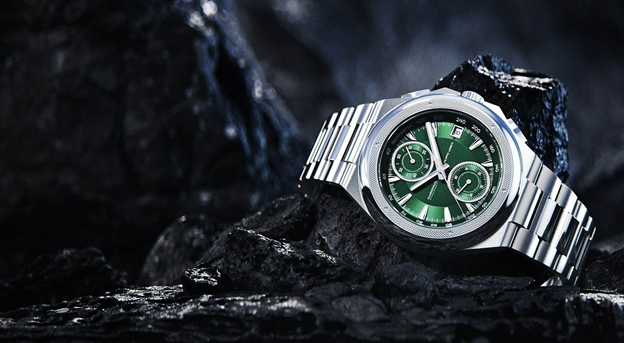 Green is no longer a color trend. It's a movement, so it doesn't matter whether it's olive, mint, or chartreuse. Green, in all shades, is a safe-yet-piquant color that pairs well with almost anything. And it's likely one of the reasons why green watches are all the rage today. So if you're looking for the best green dial watch, you're in luck because the market has no shortage of green watches for men and women.
Why Are Green Dial Watches Worth Considering Buying?
Green symbolizes liberation and wealth since it's the color of nature and money. These meanings may have fueled the popularity of green watches. Another possible explanation for the green watch trend is the color's association with the green movement. Regardless of its meaning, there's no doubt that the market is packed with the best green watches of 2021.
And here's the best part. You can get the best green dial luxury watchesfor a fair price from such manufacturers as Filippo Loreti. By selling directly to customers and eliminating traditional channels, they made it easier for watch enthusiasts to get the best watches with green dial at reasonable prices. Filippo Loreti doesn't mass produce watches, allowing them to craft each piece with careful attention to detail.
Best Green Dial Watches of 2021
Green dial watches are timeliness, versatile, distinctive, and aesthetically pleasing. This color invokes a bold and conspicuous essence while representing nature, virtue, and beauty. So if you need a unique timekeeping tool, here are the best green dial watches of 2021 that you can choose from.
1. Eterno Green Diver Watch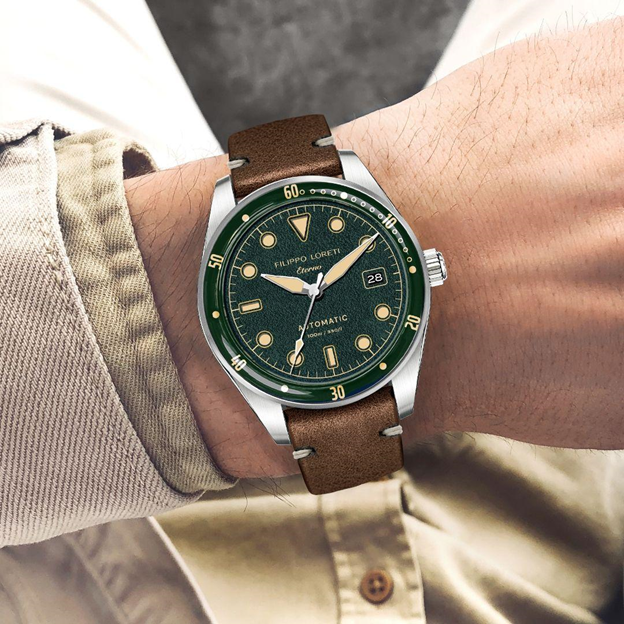 Inspired by the classic masterpiece of the Swiss designer who created the legendary Polerouter, the Eterno Green Diver is a classic timepiece powered by NH35 mechanical movement. It features a sleek green dial offset by a brown leather strap. The best part is that it will run for 41 hours without requiring winding. The Eterno Green Diver also features a trapezoidal date window that enlarges aperture and provides light with more surface to interact with. The watch is water-resistant up to 10ATM. Moreover, you can customize the watch by engraving a message on the caseback.
2. Eterno Emerald Green Watch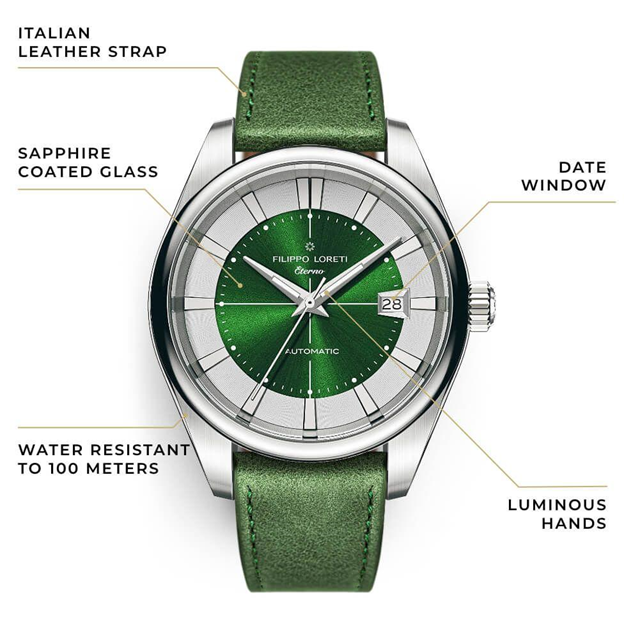 The Eterno Emerald pays homage to the classic aesthetic of Gerald Genta's famous Polerouter. The timepiece features a sleek dial and NH35 movement. Thanks to its enormous power reserve, it will run for 41 hours straight without requiring winding. Like the Eterno Green Diver, the Emerald comes with a trapezoidal date window. You can also engrave a message on the caseback to customize your watch. The Eterno is water-resistant up to 10ATM.
3. Odyssey Two Tone Green Link Watch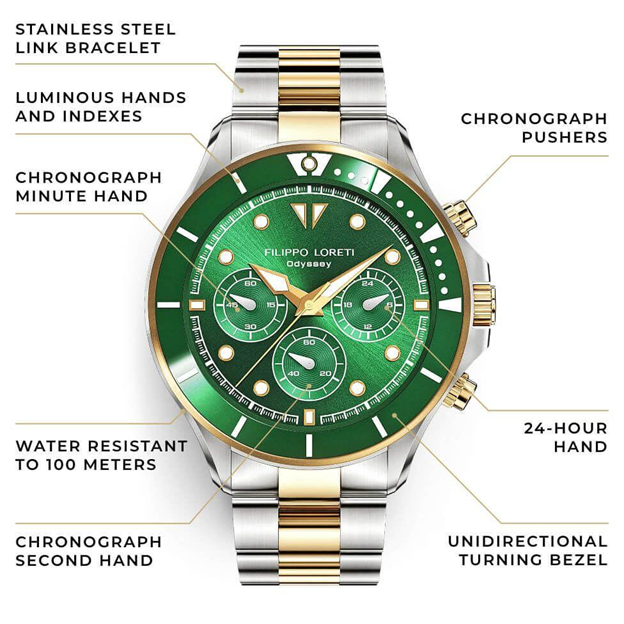 The Odyssey Two Tone Green Link is an elegant timekeeping masterpiece that features the distinct Italian aesthetic and the advanced functionality of a chronograph. Inspired by the ancient Greek epic poem Odyssey, this timepiece comes with a solid caseback that features an artful engraving of two majestic seahorses. Apart from its chronograph function that lets you start or stop time, the watch has luminous hands that allow you to check the time even in low light conditions.
4. Okeanos Green Steel Link Watch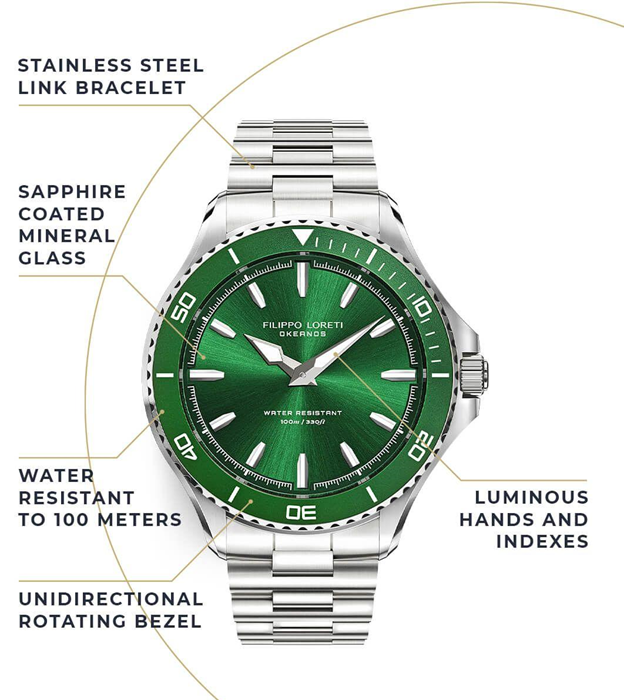 Inspired by the Titan god Oceanus, the Okeanos Green Steel Link is a modern timepiece with luminous details and intricate engraving featuring the god's iconic trident. The watch is waterproof up to 330ft or 100m, so you can use it while taking a shower or swimming. It is powered by the Miyota 2025 movement.
5. Ascari Moss Rose Gold Rubber Green Watch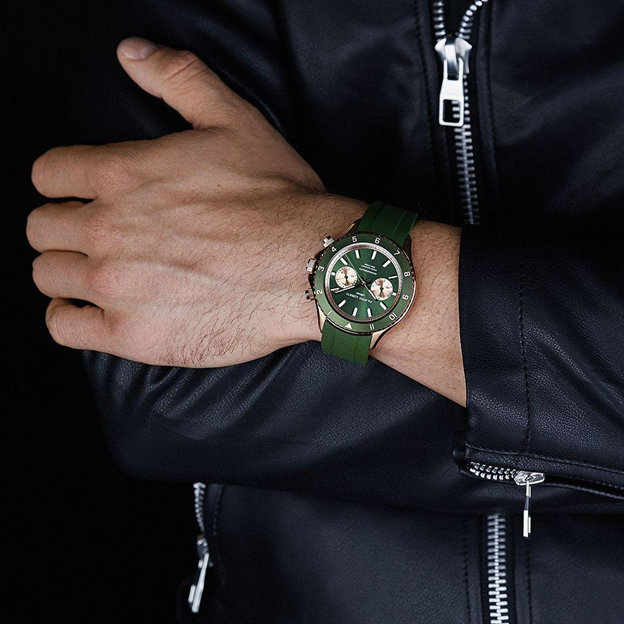 The Ascari Moss Rose Gold Rubber combines the accuracy and precision of quartz movement with the distinctive aesthetic of a chronograph. This timepiece pays tribute to the legendary Italian racing champion Alberto Ascari and is water-resistant up to 10ATM. Since it has dual time zones, you can set the watch to Milan time. The Ascari also has luminous hands and white dials, allowing you to check the time even in low light conditions.
Conclusion
Green dial watches are here to stay. Whether you need something that will showcase your personality or a new addition to your collection, these watches won't let you down. With green portraying the color of energy, life, and new beginnings, these watches make an excellent addition to any watch collection.