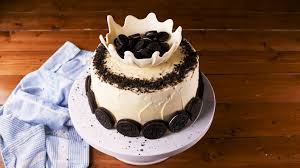 This Oreo chocolate cake recipe is perfect for Oreo lovers. Take your chocolate cake game to a new height. Layered with marshmallow buttercream frosting and Oreo crumbs and topped with splashing milk bowl, this will be the best cake you would have ever made. We have the used best marshmallow frosting recipe for this cake. This Oreo cake will be the tastiest cake you will ever try. It is perfect for a kid's birthday party. You can fill the milk bowl with candies and chocolates instead of Oreos if making it for a birthday party. This Oreo cake recipe is a must-try if you love baking and Oreos.
Ingredients for Oreo Chocolate cake recipe:-
For The Cake:-
Cooking spray

all-purpose flour (4 cups)

Dutch-process cocoa powder (1 cup)

baking soda (2 1/2 tsp.)

kosher salt (1 1/2 tsp.)

packed brown sugar (2 cups)

granulated sugar (1 cup)

buttermilk (1 1/2 cups) 

strongly brewed coffee (1 cup)

vegetable oil(1 cup)

large eggs (3)
For Frosting:-
butter softened (3 cups-6 sticks)

marshmallow fluff (1 3/4 cups)

powdered sugar ( 8 cups)

heavy cream (1/2 cup)

pure vanilla extract (2 tsp)

Kosher salt (1 pinch)

Crushed Oreo (1 cup)

Mini Oreos and full-sized ( for decoration)
The milk bowl:-
Cooking spray

Balloon

White chocolate chip (2 cups)
To Make Oreo Cake:- 
Start by preheating the oven to 350 degrees. Take three 8" cake pans and line with parchment paper. Grease by using little cooking spray. Whisk cocoa powder, flour, salt, and baking soda in a large mixing bowl. Take another bowl and whisk coffee, buttermilk, sugar, and oil. Add eggs and start whisking again until you get a smooth texture. Add dry and wet ingredients and whisk properly to combine everything together.

Divide batter between all the pans and bake for about 30 minutes. Insert a toothpick for the bake test, and if it comes out clean, take the cake out of the oven. Keep it aside to cool for about 30 minutes at room temperature. 

Beat butter and marshmallow in a large bowl to fluff. Add half powdered sugar and beat again. Keep adding sugar and whisk until everything is smooth without lumps. Add vanilla, heavy cream and salt, beat again. Add some more cream slowly 1 tbsp at a time until you reach the desired consistency.

Use a knife to level the cake tops. Place one of the cakes on a cake stand and with 1 cup buttercream layer the cake and top with some crushed Oreos.

Take another cake layer and frost with buttercream and Oreos. Take the final cake layer and top it with buttercream again. Smooth the edges of the cake, creating a thin frosting layer. Keep it in the refrigerator for about an hour until I harden.

Till the time, start preparing the milk bowl. Blow a balloon in a small size. Grease the balloon with cooking spray. Put white chocolate in a bowl and microwave for about 30 seconds in intervals. Put the melted white chocolate on the balloon and smoothen it in circles. Keep adding chocolates until you get the desired size. Place the balloon in a bowl and keep it in the refrigerator for 30 minutes until it hardens.

Frost the top layer of the cake with thick frosting. Smooth the sides using a scraper. Sprinkle the top with Oreo crumbs all around the edges of the cake. Use big Oreos to decorate the sides of the cake.

Cut a hole in the balloon close to the tie to deflate. Peel it away carefully to keep the chocolate intact. Place the chocolate bowl on top of the cake and fill it with mini Oreos.