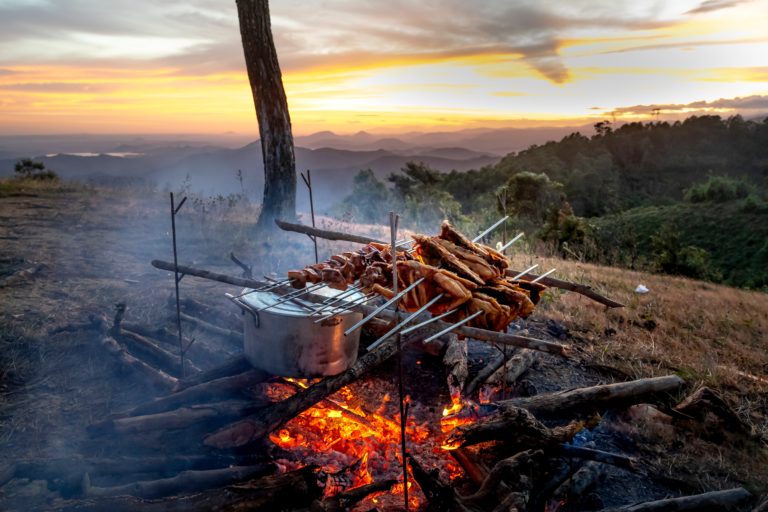 When you're on a tent camping, cowboy camping, or boondocking the most important planning is how you're gonna cook your food. While a lot of people carry a camp stove during their travels, it can never compare to a campfire. This is why a Campfire cooking kit is essential.
Cooking your food in a campfire is a fully satisfying and enjoyable experience during a trip, however choosing the right cooking utensils is an important part of planning for the trip, as commonly used utensils can't be used over an open fire for cooking.
Though selecting the best campfire is not a piece of cake and requires a lot of buy and trials before you get your favorite piece, don't worry! We've enlisted the 7 best Campfire cooking kits for you to choose from.
So if you're looking for the best campfire cooking kit for your next vacation trip, then keep reading.
Read More- Best Camping Pillow To Take On Backpacking Trip
Best Campfire Cooking sets
As you know the commonly used kitchen utensils are not high heat resistant, they aren't suitable for cooking food over a campfire. The market is full of a variety of campfire cooking equipment, which makes it even more difficult to choose the right one to make your travel hassle-free.
Below are listed a few of the most popularly used campfire cooking kits you can go for:
MSR Flex 4 cook set:
MSR Flex 4 cook set is suitable cooking set for a small family or a group of 4 members. This set contains two large anodized aluminum pots, two strainer lids along with four deep-dish plates.
The set also contains four double-wall insulated mugs.
The two aluminum pots are anodized which makes them very easy to clean.
The set doesn't come with a container bag, yet all the items in the set fit perfectly into each other to pack it as one, which makes it handier to carry for traveling.
Full cook set:
The full cook set is a collection of 19 or more items containing bowls, plates, mugs, a drying rack, and a frying pan.
In this full cook set, every item fits perfectly into one larger pot with a vented lid that can be very useful if you plan to cook pasta during your camp stay.
Stanly Base Camp cook (set of 4):
This Stanly base camp cook kit contains almost everything that you may need for your trip.
The set contains a three-ply frying pan, pots along with utensils for eating and serving the food. The set also contains a strainer pot, heat-resistant trivet, a cutting board, and many more.
So if you're planning for a long trip with a large group then stanly base camp cook can turn out to be the best choice. Since all items are made of stainless steel, it makes the utensils perfect for cooking over an open fire.
This camping cooking kit is easily available on various shopping sites like Alibaba or amazon in a very affordable price range.
Read More- The Best Camping Axe options 2022
Bisgear Outdoor cooking set:
If you're looking for a cheaper camping cookware set, then a bigger outdoor cooking set can be the right choice for you.
The product is easily available over online shopping sites in a very affordable price range starting from $28.99.
This campfire cooking equipment set comes with a bag, which makes it easier to carry during traveling.
Just like any other Mpfire cooking set, this set also contains cooking pots, plates, bowls, mugs, and frying pans of good quality.
The anodized base makes the utensils perfect for open fire use and easy to clean. The cooking items fit perfectly into each other and in the bag, which makes carrying this cooking set very hassle-free and convenient.
Boundless Voyage Titanium Set:
If you're a solo traveler then the boundless voyage set is the right campfire cooking set for you.
This set is very lightweight and comes in an easy-to-carry bag. This set contains two kidney-shaped pots of different depths made up of titanium. The use of titanium makes it more durable and perfect for use over an open fire or campfire.
Along with two pots, the kit also contains a vented lid and hanging chains for a more easy and convenient cooking experience.
Bruntmor Cast Iron Kit:
This Campfire set is a collection of 7 items including a skillet pan, frying pan, saucepot, iron griddle, and dutch oven. If you're planning a trip with a large group then this campfire cooking kit can be the right option for you.
Though this kit is a bit expensive, if you're not on a tight budget then you should try it once.
The kit comes in a stylish container bag, which makes it easier to be carried around. The use of cast iron ensures the high durability of the utensils.
Read More- Some of the Camping Spots You Can Refer to While Your Heart Crave for…
Prep and grill tool kit:
This is a small Campfire cooking kit that comes with a storage mat to keep things organized. This kit contains most of the cutleries that you may require during your camp stay including a knife, spatula, and tongs.
Due to its small size, it's also very handy to be carried around.
Guide for choosing the right campfire cooking set
Above we have listed a few of the most popular campfire cooking equipment sets, in case you're planning to buy new cooking set for your trip below are a few points you should consider for choosing the right cookware:
Size matters a lot:
For all of you going for a camp stay for the first time, choosing the right sized campfire is a must. As during the trip big cookwares can cause additional hassle, it is always preferred to go for smaller spacious cooking kits.
Say No to heavy:
It's always a wise decision to choose lighter campfire cooking equipment, especially when you're traveling alone. As the heavy cooking utensils would be difficult to carry as well as they will take a bit more time to heat up.
Choose the right material:
You may find a variety of utensils made up of different materials in the market, however, unlike general kitchen kits, these campfire cooking kits require a bit more consideration. Always choose the utensil made of high heat resistant material as it will be more suitable for cooking over an open fire.
For more durability you can go for cast iron utensils, however, they're a bit heavier to carry around. In case you want durable light-weight utensils, then opt for titanium or stainless steel-made campfire cooking kits.
Other Campfire cooking tools:
Camping requires a bit more planning than any other type of trip, as you need to plan everything from staying location to cooking the food. So in case you're planning to go camping, don't forget to carry the below listed essentials with you:
Campfire Grill rack
Heat resistant gloves
Hot pads
Firestarters
First Aid
Dishcloths
Tableware
Read More- Best Camping Hatchet For A Smooth Camp Trip
Summary:
No matter what type of camping you do, kitchen wares are always required. To plan your campfire cooking set and all the required kitchenware, plan your meals beforehand so that you don't end up missing any items.
It is always better to keep your cooking kits well packed to avoid missing any important utensils during your stay.
To help you plan your camping and stay in a better way, we have enlisted the 7 best campfire cooking kits for you to choose from. Now that you have everything you need for that perfect campfire meal, what are you waiting for?