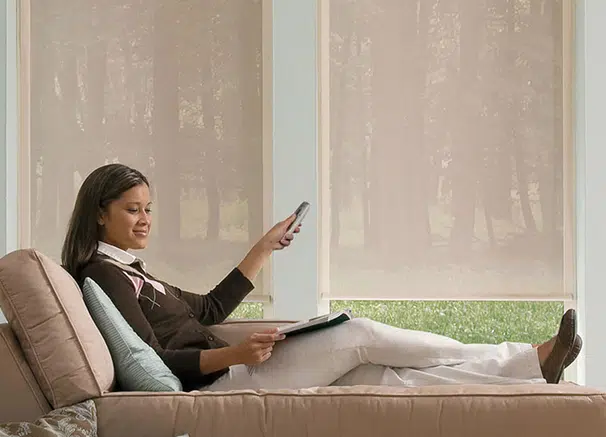 "Alexa, close the living room blinds."
You've undoubtedly heard this before if you have motorized shades hooked up to your home automation system. With voice commands from Alexa, your phone, or other smart home gadgets, operating motorized blinds is one of the simplest smart home devices to use.
Today, we'll examine what an Amazon Alexa is and what motorized blinds are, as well as how smart home integration and voice control technology are revolutionizing window coverings.
What Exactly is an Amazon Alexa?
The name "Alexa" is a reference to a smart home device manufactured by Amazon for use with voice commands in your house. They resemble a speaker in terms of appearance. Alexa may be linked to any area in your house or placed in numerous locations around your property.
Amazon Alexa listens for the wake word "Alexa" constantly and responds immediately. When Alexa hears this command, it activates and executes your request. The Amazon Echo is a smaller version of Alexa.
People have long been using Alexa to create shopping lists and ask questions. With the arrival of smart home integration technology, we may now use Alexa to control a variety of items in our homes, from lights and thermostats to motorized blinds and motorized roller shutters.
Motorized Blinds
They're a type of automated blinds that move up and down with the help of one or two motor units hardwired into your house's electric system. Depending on your preference, the motor unit rotates or slides according to what you want. They can be operated using a remote control, smartphone app, or voice command in your smart home system.
Blinds are an excellent method to improve any home. They allow individuals to save time, increase privacy, and enhance the security of their property by removing dangling strings from the windows. Individuals with physical limitations may also benefit from using smartphone pairing to shut and open their automated blinds and shades when they aren't at home, as well as create routines or set timers for them to do so at particular times of the day.
Alexa for Motorized Blinds
They're also available in a number of styles and colors to match with the rest of your décor. The blinds are totally linked into your Alexa smart home system and respond to her voice commands, allowing you to regulate them using a short phrase on your smartphone or computer. You may use this connection to open and close your smart blinds at particular times of day or night using a short statement on your phone or computer.
Employ a Professional Installation Team
You may, technically, buy your own motorized blinds, install them yourself, connect them to your home's electrical system, and link them with your smart home device without the assistance of a professional crew. That is a major task that most people are not prepared to complete, and probably shouldn't.
Final Thoughts
Despite the fact that motorized blinds are not a new invention, today's smart home technology has revolutionized how we use motorized window coverings in our homes. You may now shut or open them without getting out of bed by simply speaking to your device, as they may be a fantastic addition to your house if you are interested in and ready for such technology and convenience.