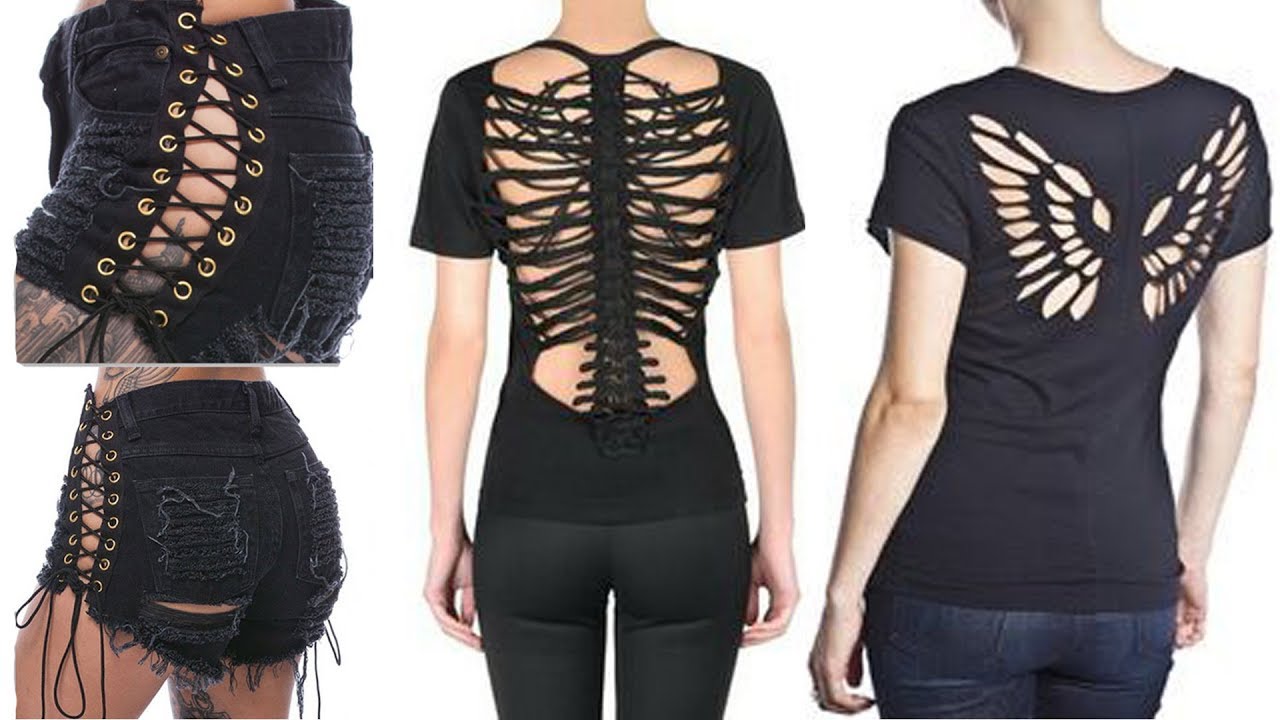 Have you ever come up with such a situation that you feel kicking out some of the old T-shirts just because you are too bored of wearing them? Even, adding different accessories or anything else is not helping you much? But did you ever try to think differently apart from getting rid of them? So, think now. In spite of wasting new money on the same sort of T-shirts, you can design creative T-shirts with artistic cutting ideas. This can be done to alter and give a new look to your old boring tees. Mind you, one does not need to be a fashion designer or skilled in stitching and sewing machine.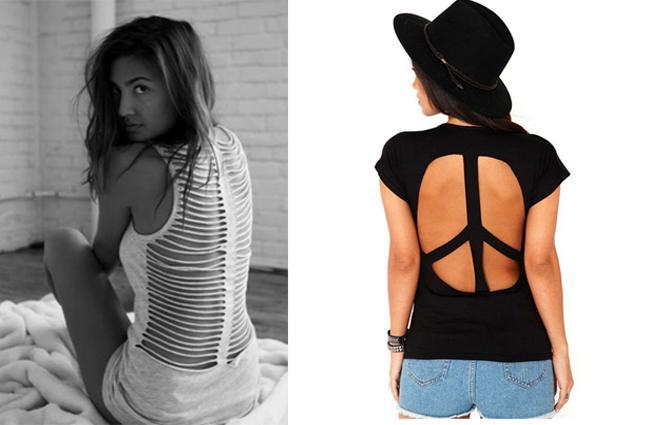 These nineteen different Diy t-shirt cutting ideas that are really creative and simple to be executed will turn you into a designer overnight.
Check them out DIY t-shirt cutting techniques:
1. SIMPLY WITHOUT SLEEVES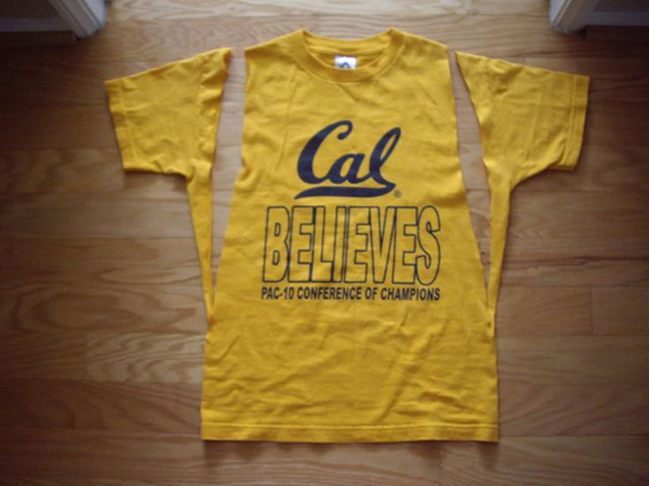 Are you fed up wearing the same style T-shirt every time? we have the best idea for you to design a T-shirt simply without sleeves.
Mark five inches from the bottom. Right from the sleeves cut the t-shirt till the point where you have marked five inches. The breadth of the shoulder strap can be cut according to your preference. Now, elongate the cut properly else the whole look will get spoiled.
Hence, your simple yet stylish sleeveless T-shirt is ready to wear!
2. CROP CUT TOP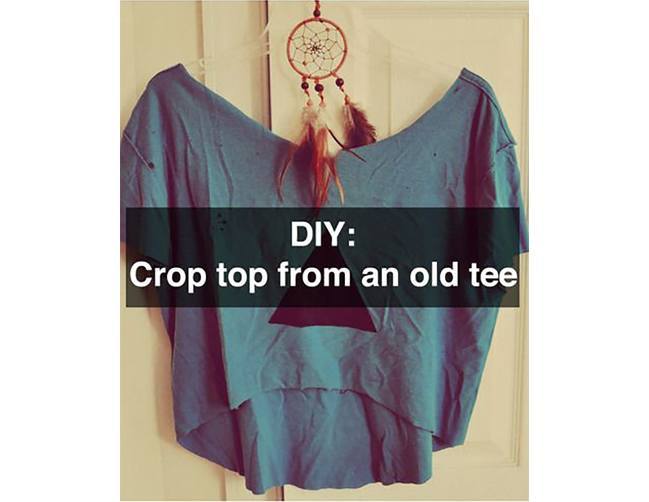 Crop tops are one of the most loved by the youth of today why not you try to design your own Fashion project? It sounds to be a great DIY project!
In order to accomplish this simple DIY fashion project, you just need to pick any of your tops from your wardrobe which you think will look great when turned into a Crop top. To begin with, cut the sleeves of your T-shirt in the same way as it is given in the picture below.
If you want to wear the tee with a broad neckline, you can cut boat neck or scoop neck but keep the front longer and the sides shorter . Make sure to stretch the cuts evenly.
Isn't this an awesome idea to turn oneself into a designer instantly?
3. WINGS CUT BACK TOP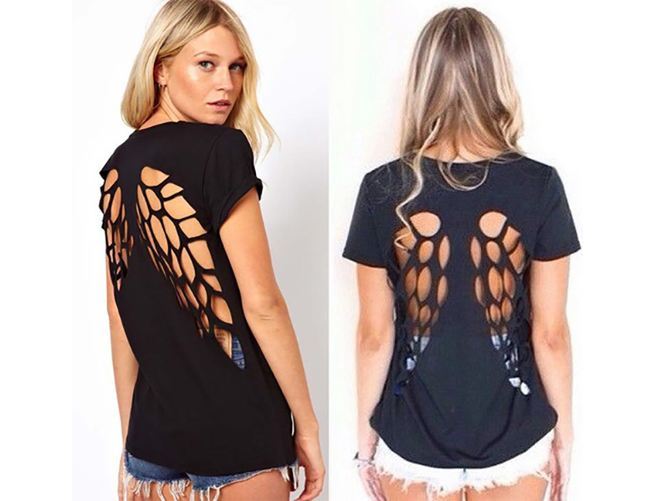 Well, if you are really good at cutting and stitching, this super trendy and easy project is for you. Accumulate any of your old t-shirt which you want to renovate along with a pair of scissors and a marker.
Now pick up your marker and at the backside of your tee, draw stencil like the style. You can search for any image online and then trace it on your t-shirt back.
With sharpen pair of scissors, start cutting the t shirt evenly as per designs to get the best look.
Though it is quite tough, you can take any rough piece of cloth to practice before you do it on your tee.
BOW-TIE CROP CUT TOP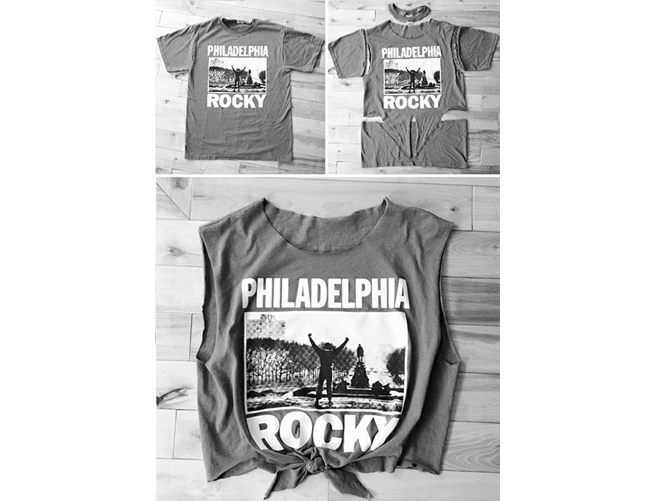 A perfect example of the Bow-Tie crop cut top is given right below which gives you're a clear idea of how the steps need to be followed.
If you are not good about directly using scissors for the formation of tracing lines, then the best and easiest way could be to draw these lines with the help of a light marker on your t-shirts.
The hem, the neck style, and the sleeves of the t-shirt should be exactly copied from the given image which is not so tough to do and you will have your own designer piece ready to wear.
You can instantly elevate your entire look with this crop top.
5. DESIGNER NECK CUT TEE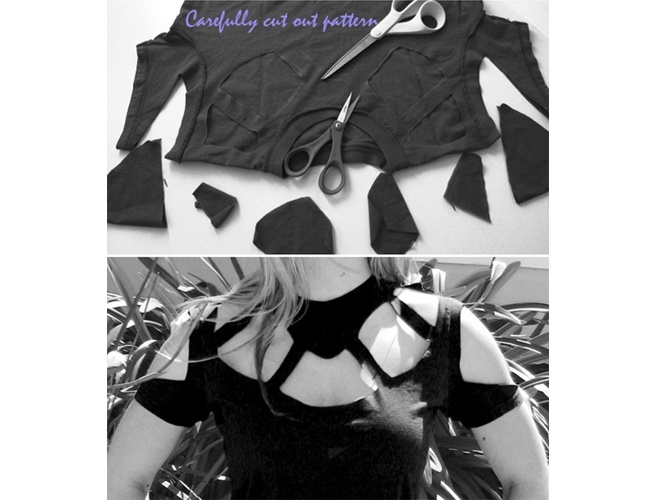 Now this designer neck cut tee can be tried by anyone. Only the neck design is the main highlight of this chic looking t-shirt in the picture given below.
To give a proper shape and cut to the neck and the sleeves, you can draw the rough outline and then apply the scissors on the same.
An appealing neck design gives this T-shirts the desired look. There are many more T-shirt ideas coming to your way.
6. DIY ACCESSORIZED T-SHIRT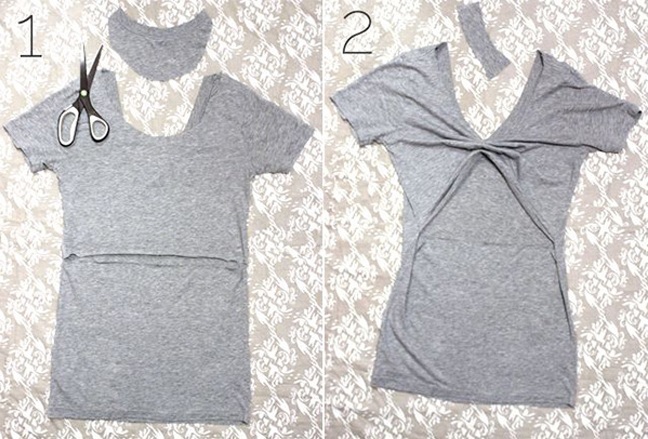 When DIY accessories are used to design a T-shirt they turn up to be a great designer piece. Here, the bow back design makes the tee looks really modernized and appealing.
All you need to do is, form a horizontal slice from one end to the other on the backside of your T-shirt along with some cutting on the neck of your tee too. Then accumulate the back piece from upwards to downwards in such a way that a bow design is formed and do the necessary stitching so that the bow can stay permanently.
7. BACK STRAP DESIGN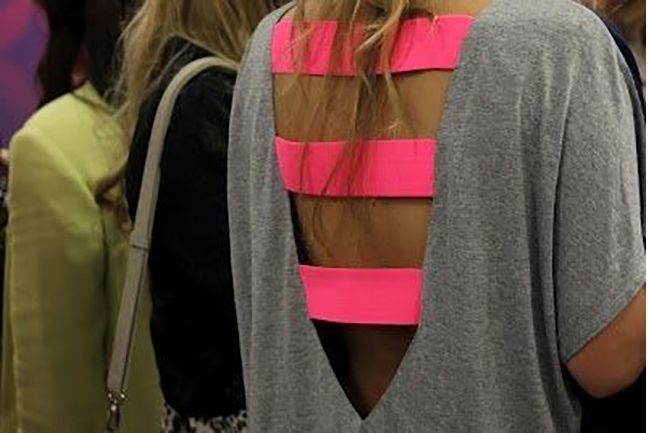 For a strap back design, you will need a baggy t-shirt or an oversized shirt.
Now begin with the designer process, cut out a deep V-shaped neck on the back side. Then connect the broader part of V shape with any stretchable fabric like elastic at three or more regular intervals.
keep the color of the elastic could be the same or contrast to the color of the top.
8. BLADE CUT T-SHIRT CUTTING IDEA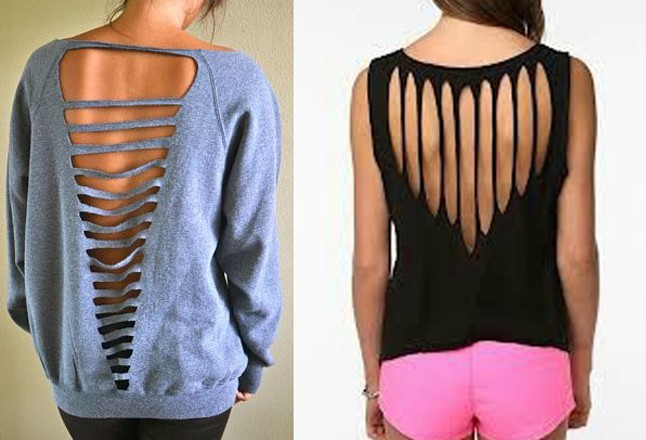 The best part of the T-shirts with a blade cut design is that the shapes and styles can be given according to your wish. You can roughly mark the border and the designer styles and start cutting them with the scissor.
As in the image given below, you can go for a designer piece like this, where on one side it is horizontal and the other it is vertical.
9. SHOULDER CUT DESIGN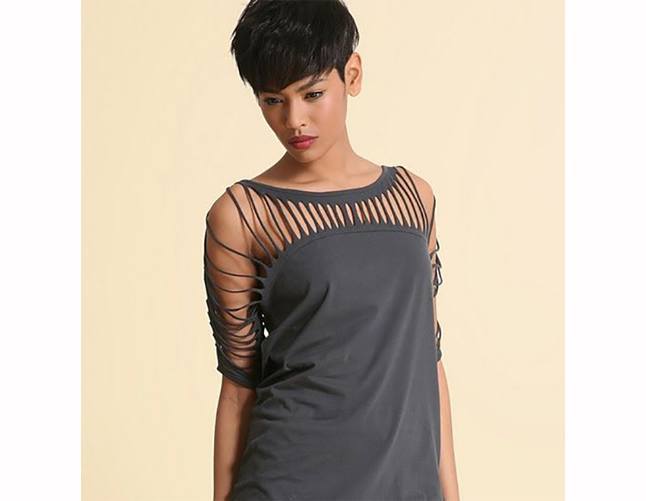 Wearing a designer piece automatically boosts your confidence. The whole look of your T-shirts will be spoiled even with the slightest of mistake made. Follow the below mentioned step instructions.
Using scissors cut the sleeves, and the neck portion and finally the shoulder. make sure to cut in equal proportion or else it will look obsolete.
This DIY tee will be perfect for a friend's day or a birthday party.
10. CREATE A SHRUG YOURSELF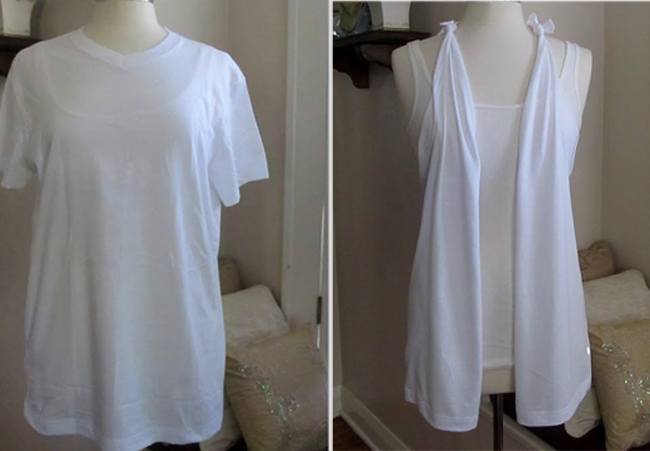 Make a shrug yourself! There is nothing much do in it. Pick up the T-shirt that you want to transform into a shrug and mark the center in front of it. Then enforce the scissor to go on that cut thereby extending those cuts in a shabby cut look and there you are!
Wear it in the way you wish to flaunt either with the shorts or jeans, whatever you like.
11. CRESCENT MOON DESIGNER CUTTING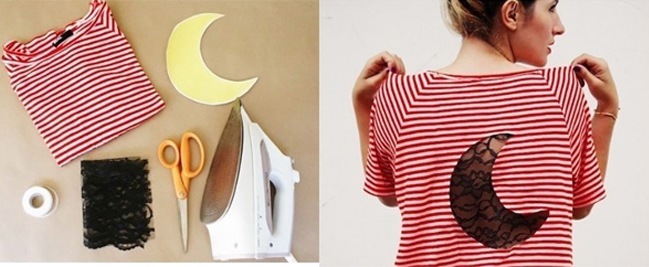 If you are the one, who loves the back designs the most, then this crescent moon designer piece will be loved by you a lot. As you can see in the picture given below, you need to draw a crescent moon on the backside of your T-shirt and then cut accordingly.
Now, to enhance the look of this designer T-shirt, a contrast color lace can be sewed in the space of the crescent moon.
12. VELCRO BACK CUT IDEA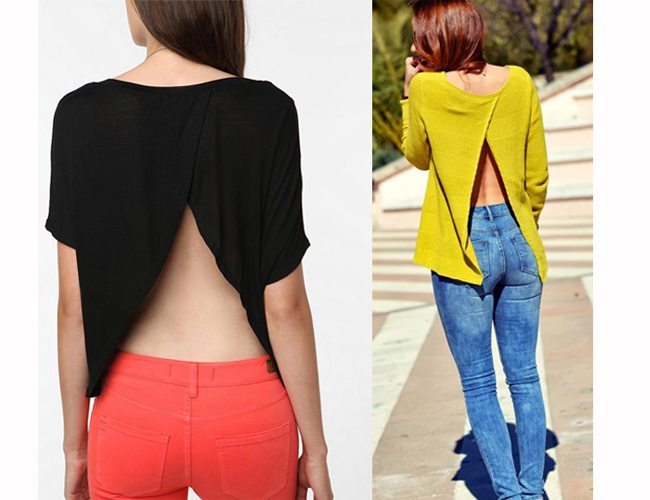 It looks complicated to make this cute design but is simple and quick when executed. Lay down your T-shirt with its backside and cut an unbent (straight) slit in such a way that the top portion of the T-shirt looks like a sober long piece.
It will look like a reversed 'V' on the back bottom portion so cut down the fabric of the tee to acquire such an angle. Then add a Velcro on the opposite side just as given in the image underneath.
What a superb look a simple tee has been bestowed with!
13. CROPPED TOP WITH HEART SHAPE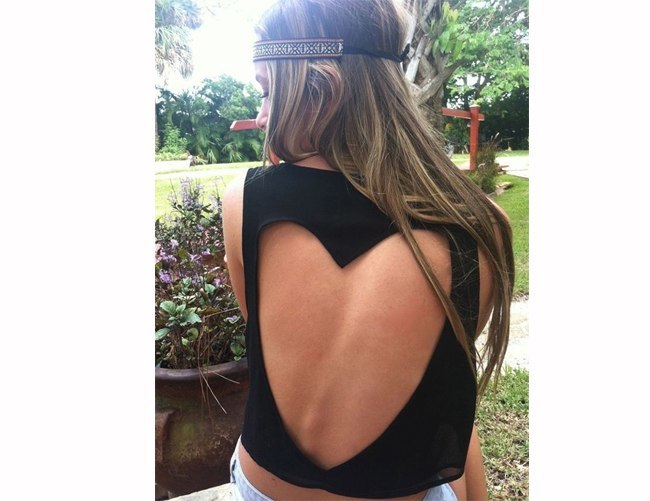 Are you planning your first date with your beloved and want to wear something memorable ? Here is the right choice.
Start by turning your simple T-shirt into a cropped one and then sketch a heart on the backside of the tee. Now cut the heart outline and twist the border by sewing.
You can draw heart in any size you like. You can call this a perfect blend of cropped top dipped in the hue of romance.
14. UPPER & LOWER FRONT CUT OUT T-SHIRT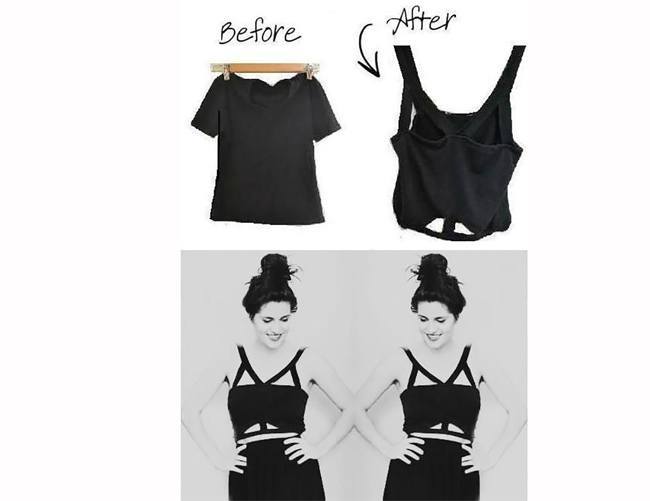 Designing of this upper & lower cut out t-shirt does not seem to be that tough. In fact, it is a superb idea to add such an outfit to your wardrobe.
The best way is to draw the stencil first and then make the use of scissors. You can add more elements to this designer piece if you wish.
Could you have ever imagined your old t-shirt in such a chic way?? I bet you did not.
15. SLIT RIGHT CUT TEE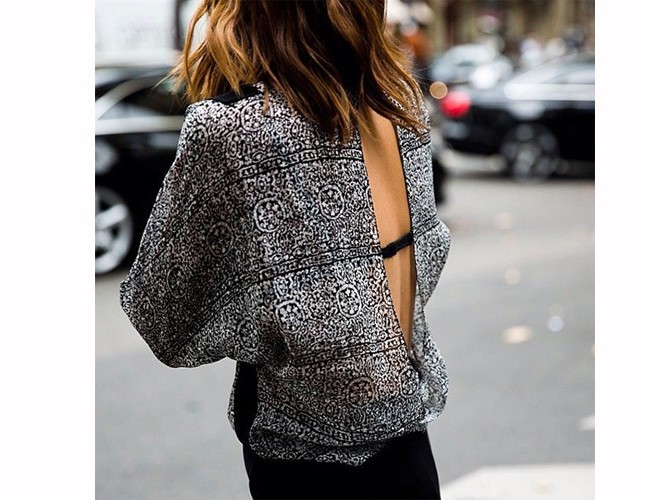 This Slit Right Cut T-shirt will look absolutely stunning. Pick an oversized T-shirt from your wardrobe for the best fit.
So, for the ones who love a voguish look, can instantly go for this designer piece without giving a second thought! A small tight skirt or shorts will accompany this T-shirts in the best way.
16. MID FRONT HEART CUT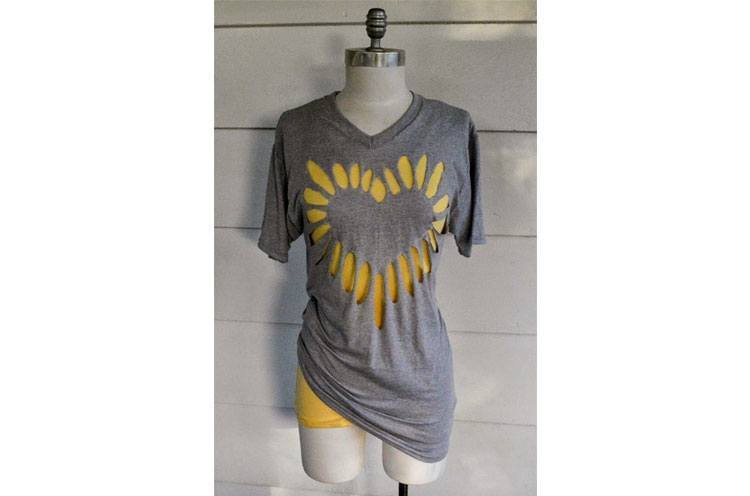 Another romantic heart shaped t-shirt design is here. Choose any contrasting color inner wear with this lovely designer T-shirt.
Lay the tee and draw a heart in the mid-front and encircle the heart with numerous perforations in such a way that the contrast color if the inner wear is visible. Hence, this will become the Heart cut-out designer tee.
17. DIY FRINGE CUT T-SHIRT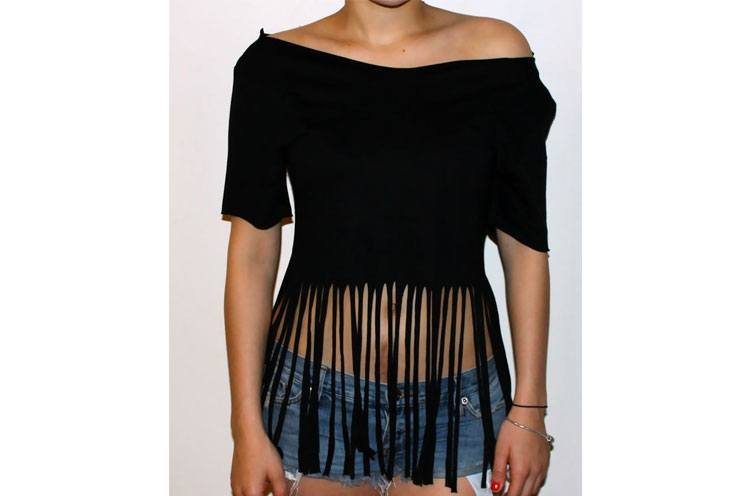 Turn your plain shirt into something fancy and bohemian using scissors and cut the bottom of the tee infringes so that the funky look can be given.
The size, depth, and thickness of the fringes can be as per the wearer but thinner the fringes will look better. So, are you all set to design a Fringe tee yourself and show off in your friends' group?
18. A TIE-UP CUT TREND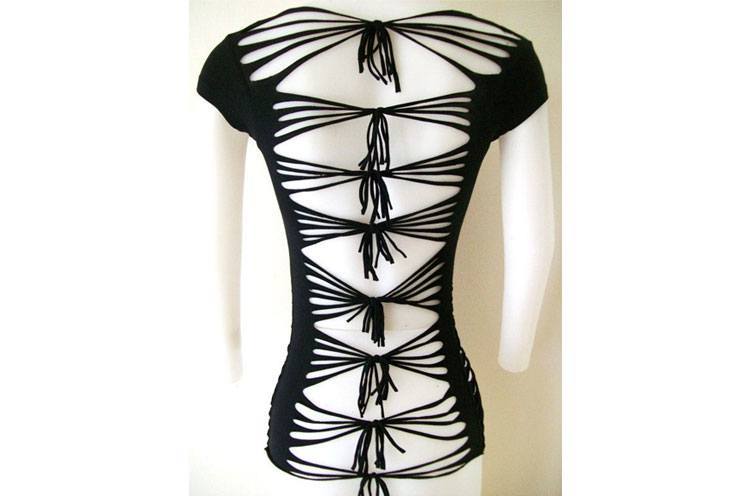 Here comes a Tie-Up Cut trend… A stylish example of fashion and flair! If you are planning for any beach holiday or party, this designer tie-up crop top will give you the desired look.
A ramp walk theme on the beach or any resort will surely make you win the accolades of many. As per the comfortable zone, one can wear it with or without inner.
19. DIY STYLISH SLEEVES CUT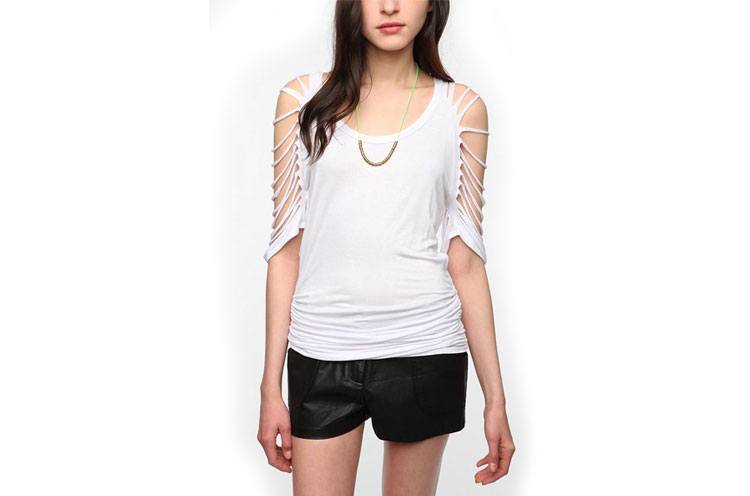 Are you super bored with your regular T-shirt and want to throw it out of the cupboard? Then try out DIY sleeve cut-outs. A simple tee is turned to a designer tee.
All you need to do is to aesthetically cut the shoulder seam or sleeves of the T-shirt which is very simple to do and explore a new designer piece. Shorts will go best with such a unique style of cutting sleeves top.
20. BOW BACK SHIRT CUTTING TECHNIQUE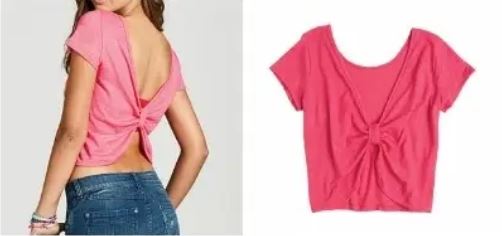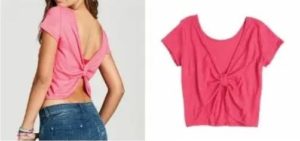 If you are thinking of how to cut a shirt in the best possible way that turns a basic t-shirt into a unique, sassy clothing piece, then you can opt for bow back DIY shirt cutting technique.
As shown in the image, this shirt cutting idea will allow you to flaunt your back, and reveal a totally distinct persona of yourself.
21. RUFFLED-STYLE SHIRT CUTTING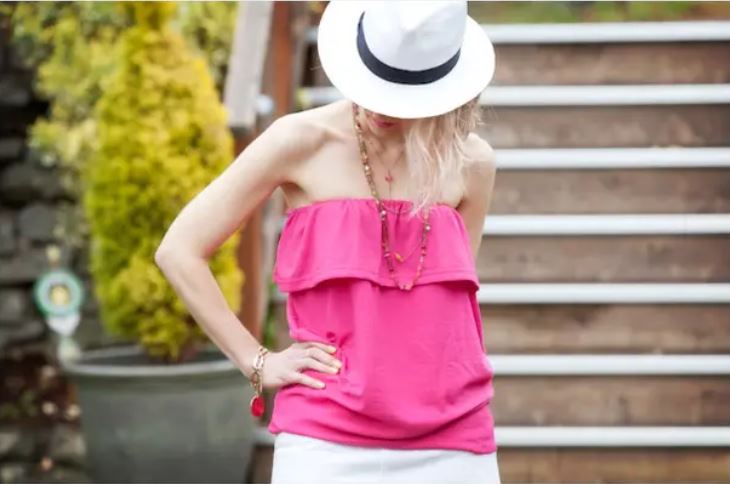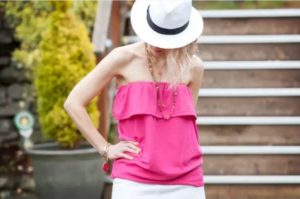 One of the most attractive DIY shirt cutting technique is ruffled-style. If you are willing to showcase your collarbones, then just choose this style.
It doesn't matter whether you have a floral print top or a solid one; this style suits all.
22. SLASHED-STYLE SHIRT CUTTING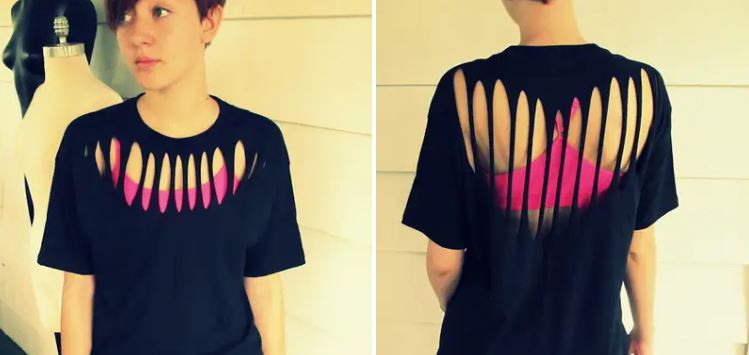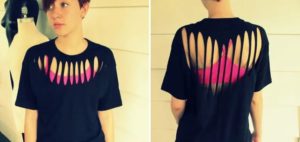 Are you willing to opt for a cute way of t-shirt cutting technique that never goes out of style? If yes, then this DIY t-shirt cutting idea will amaze you`. If you don't want to showcase your skin through the design, then you can even add a cloth of different colors under the tee you have cut, and you will attain a chic quotient.
Some of the Factors That Matter While You Explore Different T-Shirt Cutting Ideas
There are different styles of DIY t-shirt cutting technique that you can use for various different types of designs. Depending on what you're intending to do, you should have several different types of design you can create.
Try Searching for Options Online too
if you do not already own a good old t-shirt, you can go to a local store that sells this type of merchandise, but you can also try to look online and see what is available.
If you need some of the extra work done, you can take the time to do a little bit of the work yourself in order to save money. While you are working on these types of projects, you come up with some new hottest trends for where you can purchase t-shirts in order to get even more products to choose from.
Be Productive and Creative While Picking One for Yourself
There are also different types of diy t-shirt cutting great ideas that you can use in order to have the most variety and creativity. You do not have to pick out the same type of shirts over again, especially if you do not like the t-shirt design that you have chosen.
So, do let us know with your precious comments below as to, which one t-shirt design tried you tried yourself and how did you feel. You can also share additional creativity ideas with us that made these cutting ideas more stylish.