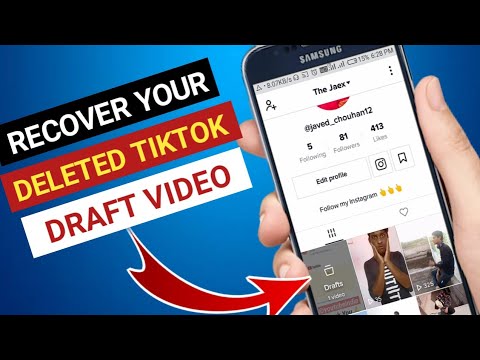 Are you wondering how to get your drafts back on TikTok? Then you have come to the right place. Creating a Tiktik video can be easy and complex, depending on every individual. Many content creators save their videos in drafts to make changes later before posting. 
Finding TikTok videos in drafts are not difficult. Thousands of videos are uploaded on Tik Tok every day. This process of regular posting helps the app in attracting new users and make the content viral. The more creative the video is, the faster it will go viral and attract more people. However, this also means that videos may take a long time to upload, which is why drafts are helpful. 
Video creators can incur a huge loss if a video is lost in drafts or is deleted. So. how to get your drafts back on TikTok? Luckily, you can apply many different methods to get your deleted TikTik video back. Here are some easiest ways to get your drafts back on TikTok.
Does deleting the TikTok App delete all drafts?
TikTok cannot directly upload your drafts to the phone gallery. Once you delete TikTok, the drafts will be deleted along with the app.
Read More- Likee Vs TikTok : Some Crucial Differences
Methods to get your drafts back on TikTok after deleting the app
After you are done creating a video on TikTok, you can either publish the Tiktok Video it right away or save it in drafts to post later. If you deleted your app and want to get the drafts back on TikTok, follow these recovery steps.
Check out the gallery:
Saving the videos in TikTok drafts automatically creates a TikTok folder in your phone gallery. So before you take any major steps, make sure to check your gallery.
Note- thai method will only work if you give your TikTok app teh permission to access device storage or galley.
Restore from 'My Favorite Videos: 
TikTok has a special section where it saves all the videos from accessing; you can follow these simple steps:
Go to the profile and click on the heart button to check your favorite series
Click on any video you want and then click on load.
You can go to options and click on save the video. This will have your video downloaded in the phone gallery.
Read More- Know All About Reversing Videos On TikTok
How to Recover Drafts from SD Card?
If you didn't find your TikTok drafts in the gallery, you could access them from your SD card. Users prefer to save their TikTok draft videos directly to the SD card instead of phone memory. In such a case, you can follow the below-mentioned steps to get your drafts back on TikTok.
Insert your SD card into the mobile phone and run it on Recoverit.
Go to an external device, and you will find all your videos.
If the SD card is inserted into the phone and works properly, you can restore it to the external storage folders. 
How long does a TikTok draft last?
If you have saved your video on TikTok and are wondering how long it will remain there, then you have nothing to worry about. TikTok drafts, once saved, remain there for as long as you do not delete them or publish them. Even after opening the TikTok account after a few months, the drafts will be saved without any changes. 
Summary
You can find TikTok videos for free only once they are published. However, if you saved your video in drafts, then the users cannot save that video to another device to edit. It is important to always use the same login credential to login into your TikTok app across devices and get access to your Drafts. You can easily recover your drafts by accessing your phone gallery or SD card.
We hope now you know how to get your drafts back on TikTok. If you have doubts, leave them in the comments below, and we will try to answer them all.