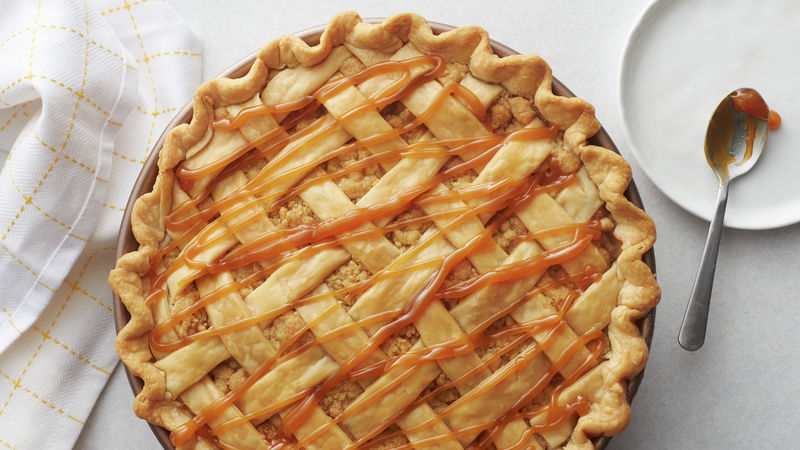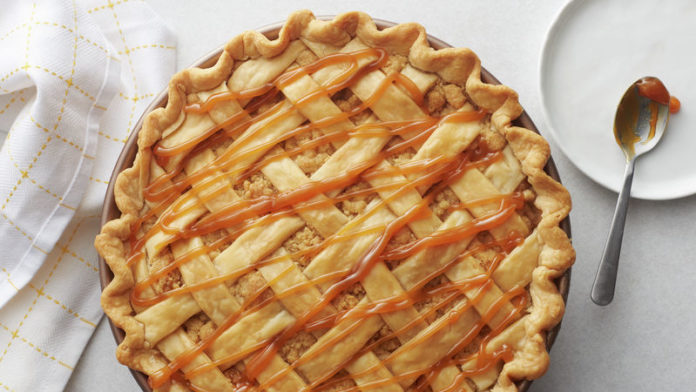 Apple pie, mouthwatering desserts, family gathering festive vibes are the best part about the holiday season. We have shared a yummy Caramel Apple Pie recipe for you. Bake this delicious caramel apple pie recipe and serve it to your friends and family this Christmas.
INGREDIENTS For caramel Apple pie CRUST
4 cups all-purpose flour, 

1 cup butter, (cut into small pieces) 

ice water 

2 tbsp. small granulated sugar

1/2 teaspoon kosher salt

apple cider vinegar
INGREDIENTS For the caramel Apple pie FILLING
7 – assorted apples ( peeled and thin slices)

1/4 cup – dark brown sugar

2 tbsp.- lemon juice

1 cups- caramel

beaten egg 

1/2 teaspoon- vanilla extract

1 teaspoon- cornstarch

1 teaspoon- cinnamon

kosher salt

Coarse sugar for sprinkling

Ice cream( if required for serving)
Directions
1. The first step is to make the crust: you need to put butter and flour into the refrigerator for at least 25- 30 minutes to start the crusting process.
2. Combine flour, salt, and sugar in a bowl. Add butter into the bowl and cut the butter into flour mixture to form small pea-sized pieces. 
3. Add ice water and vinegar 1 tbsp. At a time, to knead the dough until the dough is moist. Make the mixture becomes crumbly.
4. Form 2 equal-sized dough balls and flatten them into disks and ensure there are no cracks.
5. Cover the disks with plastic wrap and put it into the refrigerator until the dough becomes cold. You can also leave it overnight.
6. Place a large baking sheet in the oven and preheat to 400°
7. Add apples, lemon juice, brown sugar, salt, cinnamon, and cornstarch in a large skillet on medium heat. Cook for about 15 minutes until the apples become tender, and liquid has a thick consistency. And then keep it aside to let it cool.
8. Roll out a 12" circle disc using the flour. Transfer the crust to the pie plate and crimp the edges. Layer the apple mixture on top and pour caramel all over the apples and crust.
9. Cut 10 strips of dough into a 12" circle and form a checked pattern on top to cover the apples. Freeze it for the 12-15 minutes to chill the crust.
10. Brush the crust with egg wash and sprinkle sugar all over. 
11. Place the pie into the baking sheet in preheated oven and bake the pie for about 50 minutes until it is crispy and golden, and you can see the inside filling bubbling. 
12. Let the pie cool for at least 2-3 hours before serving. You can serve the pie with ice cream or caramel. 
Read More:- Easy Healthy Side Dishes Recipes to try with takeaway food.