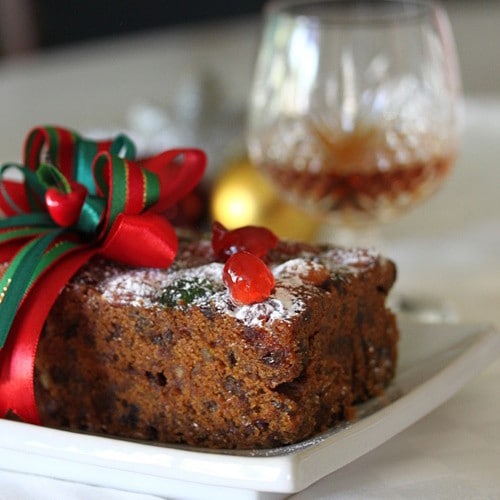 Make this delicious cake in advance for this festive season and build a new flavor daily by moist it with different alcohol like rum, whiskey, or brandy. Enjoy these delectable pieces with your kids, family, and friends. We are sure that this Christmas Fruit Cake Recipe brings your all loved ones together and regenerate all your old memories. Enjoy this Christmas Fruit Cake with the glass of your favorite drink.
Ingredients for Fruit Cake Recipe:
One Kg of mixed dry fruits of cranberries, currants, prunes, raisins, sultanas, figs or prunes
One standard size orange zest and juice
One zest and juice of a small lemon
150ml of brandy, whiskey, rum or sherry and extra for cake moistening
250g of packed salted or unsalted butter
200g of brown sugar
175g of plain wheat flour
100g of grounded almonds
½ tsp of baking powder
2 tsp of mixed spice
1 tsp of ground cinnamon
¼ tsp of grounded cloves
100g of flaked almond
Four eggs
1 tsp of vanilla extract
How to Make Christmas Fruit Cake Recipe:
Mix 1kg of dry fruits, zest and juice of orange & lemon, 150ml of brandy or any other alcohol, 250g of partially melted butter and 200g of brown sugar. Mix all in a large pan over the stove on a medium flame.
Boil the mixture, lower the flame and simmer for 5 mins. Transfer the mixture into a bowl and leave it to cool for 30 mins
Heat the oven to 150-degree Celcius. Use a deep 20cm cake tin and double the layer of baking parchment. Note: wrap outside with the newspaper for further protection.
Mix 175g plain wheat flour, half tbsp of baking powder, 100g of grounded almonds, one tbsp cinnamon powder, 2 tsp of mixed spice, ¼ tsp of grounded cloves, 100g of long flaked almonds, 4 eggs and 1 tsp of vanilla essence with fruit mixture and stir everything very well, make sure there must be lumps of flour
Pour the entire mixture into the prepared tin, equal the top with a spatula and bake for 2 hours, placing the tin in the middle of the oven
Check the cake by poking holes in it with a stick and moist the cake with 2 tbsp of your favorite alcohol. Leave the cake to cool down completely
To store the cake, remove the baking parchment and wrap it well with cling film. Moist the cake with 1-2 tbsp of your chosen alcohol every fortnight till you ice it and enjoy it with your family and friends
Note: Do not moist the cake for the final week, this makes the cake surface dry before icing.