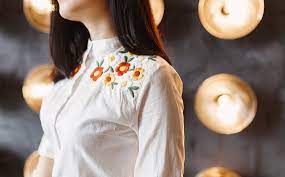 Embroidery is a raging trend in all types of wardrobes. It looks good not only on sweaters, jeans, and cardigans but also on jackets, bags, shoes, and so much more.
Thankfully digitalization gave birth to modern technology, modern embroidery patterns, and designs with complex multicolor stitches.
Today we will share some unique embroidery fashion trends to follow this year. Fashion experts and influencers embrace customized clothing and celebrities; nothing speaks to you more than personalization.
Embroidery is becoming highly popular and will stay for some time now. Keep scrolling down if you wish to add trendy embroidered items to your wardrobe.
Embroidered Head Wear
Girls love headwear for many reasons. They are not only a great accessory to elevate your entire outfit but also protect your head from external elements. Wearing a hat with a unique design will get you noticed from afar.
You can start by styling embroidered bucket hats or caps and making them stylish streetwear pieces like many other celebrities. If you want to find a library of embroidery designs, you can check out Creative Fabrica for great hand and machine embroidery patterns and start embroidering on your hats, headbands, bags, clothes, etc. 
Don't be afraid to explore and get creative. You can go online for inspiration and try those designs in real life.
Embroidered Jewelry
Jewelry always makes you look chic and beautiful. You can give a unique twist to your outfit by getting embroidered jewelry. Embroidered jewelry is a durable art. You can see jewelry pieces with embroidered designs on almost every online shopping site and designer collection.
You don't necessarily have to buy; instead, make your own. Choose the right material and thread color to follow the theme when creating your jewelry. Be fun and experiment with different colors and patterns.
Embroidered Shirts
Embroidered shirts in bright colors can make your outfit and day glorious and lively. A unique design on any piece of fabric can instantly revamp your outfit and give you a sense of freedom. As personalized items are trending, these dates embroidered shirts are selling like hotcakes.
Shirts with embroidered designs can last longer than a regular one. This happens because embroidery threads can withstand damage and pressure, which prevents the fabric from fading. Your casual outfit will be spiced up when paired with embroidered shirts.
Embroidered Shoes
As embroidery is becoming a hot trend, it is even spreading in the footwear industry. You can spot celebrities and influencers in embroidered shoes. Many high-end brands and online retailers are now coming with unique designs of shoes in embroidery.
A quick way to twist your plain sneakers is by adding embroidery designs win graphic patterns. This way, you can bring an extra pop of color to your dull outfit with a unique pair of shoes.
Give your outfit a stylish twist with embroidered ballet flats or heels. It's time to stand out in your unique pair of shoes.
Embroidered Bags
Any outfit is incomplete without a bag. Why leave your bags behind if your linens, shirts, and shoes can have embroidery designs? Embroidery is an art that can revamp the outfit in a gist.
There are different handbags for every occasion and to match every outfit. Now you don't have to throw your old totes or canvas bags; instead, redecorate them to give a contemporary look with unique patterns and embellishments.
Conclusion
Embroidery adds a fun element to almost everything. This fashion trend is for you if you look for effective ways to elevate your outfit and accessories. Embrace the ongoing trend and incorporate the embroidery into your everyday fashion items, including jewelry, shoes, bags, clutches, skirts, and tops. You can check out Creative Fabrica for for your next project. You can get any item of your choice and get them embroidered and if this is not enough, you can always take a look at the others libraries they have (fonts, SVGs, knitting, sewing and more).