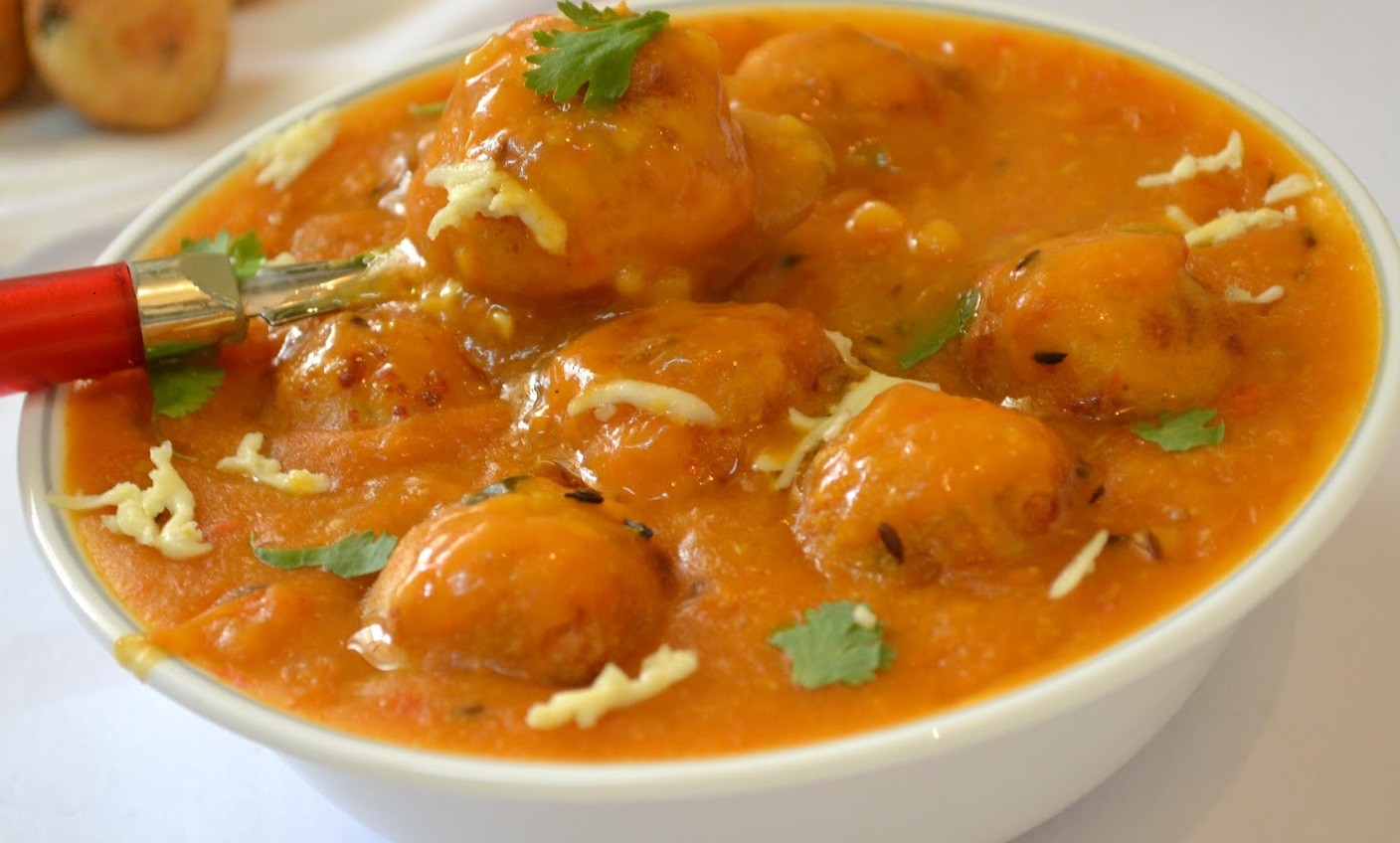 koftAnother unique example of the luscious North Indian Cuisine is… Mouth is watering Malai Kofta! It is such a name which makes you remember the creamy taste of Mughlai gravy and tempting soft cheesy balls. It is one of the famous paneer recipes loved by almost everyone all over the world. The best part is that even kids love to have this dish. While organizing a small function at home or a huge dinner party, this veggie always appears on the top of the menu. It is considered to be a symbol of royal food. Now is the time for a question: Do you have to go to a restaurant every time to have Malai Kofta? If yes, don't worry at all because we have a solution to this problem. You can have this yummy veggie whenever you wish to and that too at your sweet home. Let us tell you how? Why not learn to cook a perfect restaurant style Malai Kofta recipe yourself and surprise your loved ones too? It sounds like a superb idea. Hence, we have come up with a superb restaurant style malai kofta recipe which will add magic to your kitchen. There are various  Malai Kofta Recipe. One of them is with the white gravy, popularly known as Mughlai Gravy and another one is tomato gravy. Malai Kofta is originated from the royal Mughal Cuisine. Let us begin with our Malai Kofta recipe cooking class: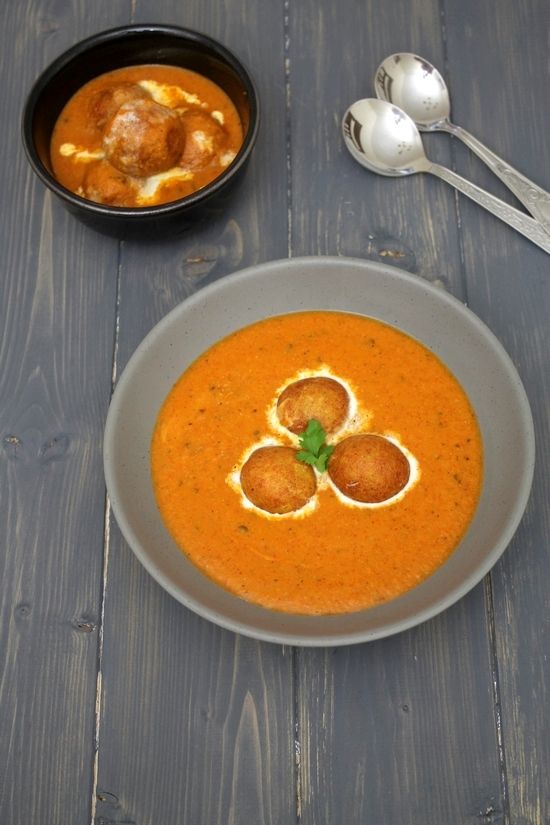 Total Preparation Time: about 30 minutes
Cooking Time: about 25 minutes
Serves: four persons
Taste: Medium spicy or even sweet (as per your choice)
Ingredients required making about 10/11 koftas:
Mixed veggies (peas, carrot and beans): each of them 1/2 cup
(Cottage cheese) Paneer: 1/2 cup
Potato: 2 medium sized or half cup boiled & mashed
Corn flour: 3 to 4 teaspoons (It is required for rolling the koftas)
Cashewnuts: about one teaspoon (properly chopped)
Green Chillies: just one and that too finely cut
Red Chilli powder: about 3 to 4 teaspoons
Coriander Powder: two teaspoons only
Cumin Powder: 1 teaspoon only
Salt: as per the taste
Oil: to fry koftas
Ingredients to prepare the kofta gravy
Dairy cream: ¼ cup only
Cashewnuts: 1 teaspoon finely powdered
Oil: one big full tablespoon
Tomatoes: three medium sized
Onion: one big sized
Ginger Garlic paste: one tablespoon
Red Chilli powder: 3 to 4 tablespoons
Cumin Powder: one tablespoon only
Turmeric Powder: only 1/4 tablespoon
Coriander Powder: 2 tablespoons
Salt – As per the taste
Garam Masala: Half tablespoon
HOW TO PREPARE?
Though the process of making any dish differs from one person to another, here we are presenting you one of the best methods to cook yummy Malai Kofta and that too in Restaurant Style. Hope you will enjoy cooking as well as eating this. Make a point; to be ready for every little thing required so that at the time of cooking you can follow all the steps in a concentrated manner without missing any. A single miss can spoil the entire effort of yours.
To begin with, take a pressure cooker and fill it with about half cup of water and steam the veggies (carrot, beans and peas) till the cooker releases two whistles. Then in other turn boil potatoes in the same pressure cooker because they take little more time to cook. Once done, strain the excess water with the help of muslin cloth. Tie all these veggies tight in a muslin cloth, so that remaining water drops out completely. If you wish you can use this stock (veggie water) to add in the gravy later on. This stock is full of vitamins and minerals.
In the mean time, while the vegetables are being cooked, you should not waste time instead grate the paneer and keep it ready for use. Cooking does not mean taking the entire day rather it means taking the required time and completing the task within it. This is the sign of a prefect chef… after all!

METHOD OF COOKING MALAI KOFTA
Take a good sized bowl, and add all the following ingredients together: Mashed potatoes, boiled veggies, finely cut green chillies, grated paneer, diced cashew nuts, coriander powder, red chilli powder, cumin powder, cornflour, salt and finely cut coriander leaves. Mix all this very well and then make the equal divisions of this mixture. Then make small balls of these divisions.

In the mean time keep oil to heat in a pan on the gas. Once the kofta balls are ready to be fried before you pour them into the heated oil roll these balls in the corn flour so that if there any moisture it can be absorbed by the corn flour. Now, fry these balls on medium flame till they turn beautiful golden brown.

This will mean that they have been properly fried. Then immediately, bring them out of the oil and place them on the paper napkins so that the additional oil in them can be absorbed. Now keep them aside because our koftas are ready.
METHOD OF PREPARING THE Kofta GRAVY
Take a shallow pan and pour one tablespoon of oil in it. Fry diced onions with a tinge of oil in it and saute till they turn golden brown.

After this, also add ginger garlic paste and again sauté for some more time.

Now is the time to add the diced tomatoes along with turmeric powder, red chilli powder, coriander powder, cumin powder. Keep cooking till the time tomatoes are mashed properly. Though water should not be added in case if this whole seems to be a little dry, you can add one or two tablespoons of water to bring back the moisture. Once all this process comes to an end, let the kofta gravy cool and then add salt as per your taste to it. Do not forget that already little salt was added at the time of frying onions, so add the salt accordingly else it will spoil your complete kofta gravy.
Now blend this whole to a proper paste.

Once again you will need a shallow pan or kadhai and add about one tablespoon oil to it. Further, add shah-jeera and when it crackles add this finely grounded paste to it. Sauté and cook for some more minutes.
Simmer the gas flame and add one full cup of water along with cashew nut powder. Let it boil for some time. Then add the soft cheesy koftas and switch off the gas flame instantly. Last but not the least, add garam masala powder and sprinkle coriander leaves all over.

Fresh coriander gives a splendid taste to any vegetable. Make sure you add the koftas to the gravy only when the guests have arrived, and you are ready to serve.
Though this entire process takes time and effort, when something is cooked by your own hands, it means a lot to yourself and your loved ones too because it is not only the luscious taste that matters but also your love for them. If you follow every step of the malai kofta recipe given above, you are sure to get a perfect Restaurant Style Malai Kofta for which you always wait for your weekends to go and have. You need not restrict yourself to order one bowl, in fact, you can have as much as you want. The purity of any home-made dish is incomparable because it cannot be compared even to any of the named-famed restaurants or hotels.
Read More- Try out these healthy breakfasts dishes. Easy to make and super healthy breakfast recipes